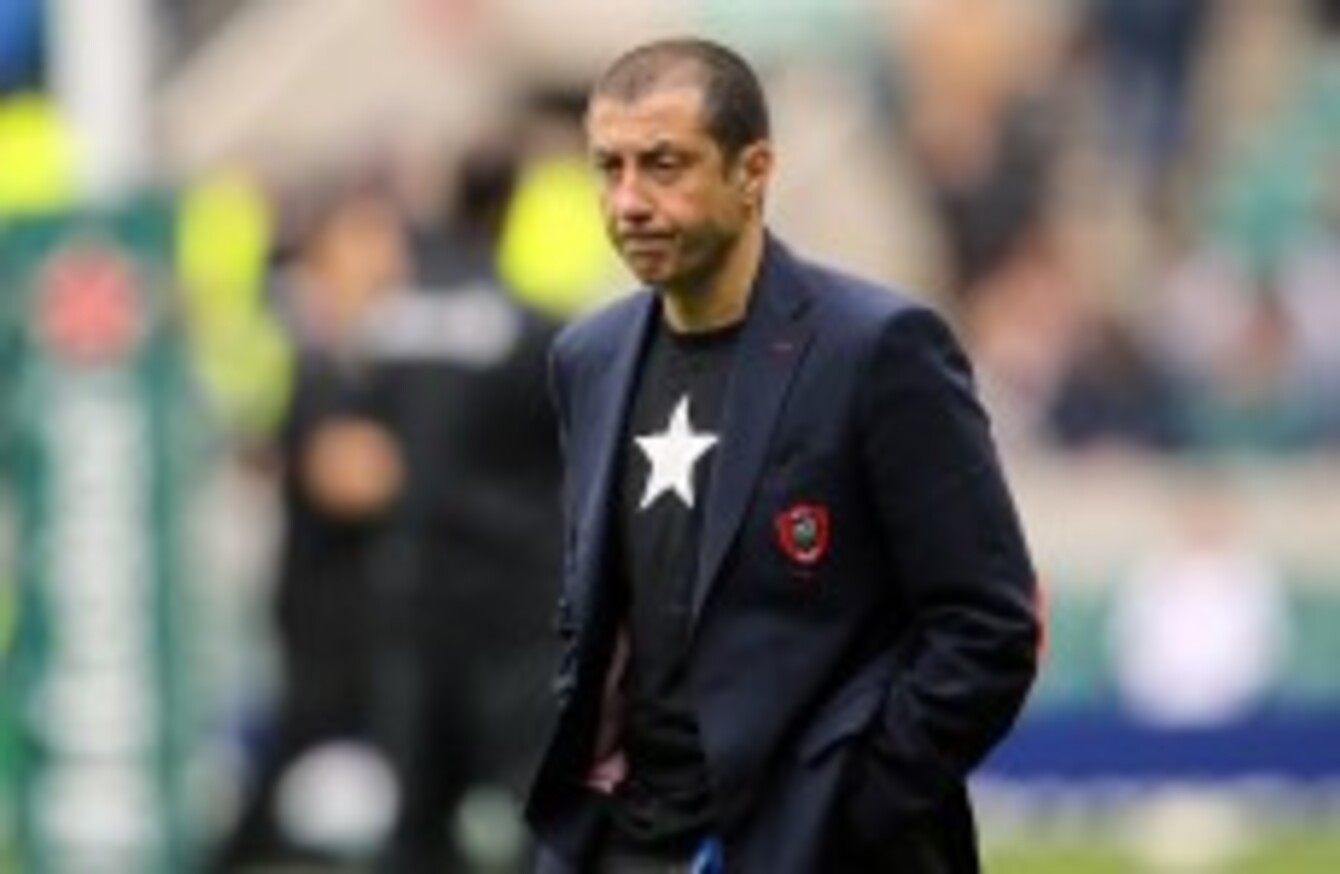 Boudjellal is deeply passionate about RCT.
Image: ©INPHO/Cathal Noonan
Boudjellal is deeply passionate about RCT.
Image: ©INPHO/Cathal Noonan
ONE WOULD PRESUME that all interested parties would be content after the Ligue National de Rugby [LNR] – the umbrella body for the Top 14 clubs – sealed a new five-year TV rights deal with Canal+ worth €355 million.
However, Toulon president Mourad Boudjellal is amongst those who have expressed their concerns.
The multi-millionaire comic book magnate has pointed out that commentators on the deal should not be "deceived" into believing that the new TV rights contract has been secured by all 14 clubs in the league, but rather that "the broadcaster has mainly bought the 'top six'."
Boudjellal is referencing the work of himself at Toulon, Jacky Lorenzetti at Racing Métro, Mohad Altrad in Montpellier, Thomas Savare at Stade Français, René Bouscatel in Toulouse and Eric Cromières at Clermont when he speaks of the lure of the 'top six' for Canal+.
The French league will get more than €70 million per season due to the foreign players who have come to improve the level of competition here and enhance its appeal to the general public," the Toulon president told

La Provence

.
Having pointed out that the LNR has only achieved this record-breaking TV rights deal due to the "risk-taking of certain leaders of [French] clubs" with their recruitment policies, Boudjellal now insists that the money must be split on the basis of meritocracy.
In his eyes, the likes of Toulon deserve a far greater share of the deal than the lower-profile clubs in the Top 14. If that situation does not materialise, Boudjellal claims he is ready to pull the Heineken Cup champions out of France's top-tier professional league.
"The broadcasting rights have been increased, but now we need them to be distributed in a rational manner. Merit has a price. If these criteria are not honoured, I will oppose the screening of RCT's matches at the Stade Mayol.
I repeat, no camera will enter the stadium. And I'm even ready not to participate in the Top 14 and thus boycott the competition."
As well as his insistence that the LNR split the TV money based on meritocracy rather than any 14-way division each season, Boudjellal says the organisation's plans to impose a quota on non-French qualified players in match-day squads and a salary cap will hold the Top 14 back.
The Toulon chief underlined his belief that the league would not be where it is financially if it hadn't been for RCT's investment in high-profile talent from abroad. He cited the example of Tana Umaga joining the club eight years ago as the beginning of a trend which has ended with a "significant increase" in  the TV rights deal.
Boudjellal says he hopes that the LNR will have the "decency to say 'Thank you', but I'm not even sure [if they will]."
Like rugby? Follow TheScore.ie's dedicated Twitter account @rugby_ie >