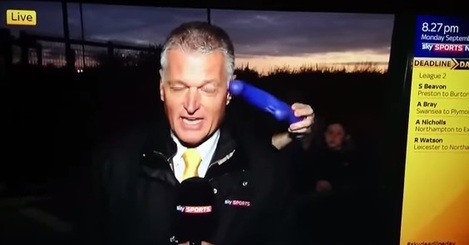 Source: YouTube
SKY SPORTS HAS decided to scrap its tradition of having reporters outside club grounds on transfer deadline.
Since the transfer window system was introduced in 2002/03, the channel has hyped up the final hours by airing live bulletins from various stadia and training grounds around Britain as players and managers attempt to agree late deals.
In recent years, it has become increasing popular for fans to show up and cheer during live broadcasts but a number of unsavory incidents back in September have prompted Sky to take the precautionary step.
Report Alan Irwin had a sex toy poked in his ear outside Everton's Finch Farm, while a blow-up doll was also waved behind Mark McAdam and other fans shouted offensive language — which led to communications watchdog Ofcom receiving a number of complaints.
Source: YouTube
As reported by The Telegraph, Sky has asked clubs to allow its reporters inside their grounds on Monday and the emphasis will shift from on-location updates to studio analysis.
Here are some of the antics from September (contains strong language):
Source: Harry Booth/YouTube