Liveblog
Good morning, football fans. It's not quite like Christmas Day — unless Christmas Day in your house is massively overhyped and inevitably an anti-climax…
There's just over seven hours left in this year's summer transfer window according to the massive yellow doomsday clock on Sky Sports News.
The "totaliser" (is that what we're calling it?) stands at an obscene £792 million.
And David de Gea is still, bizarrely, a Manchester United player.
What else do you need to know?
Niall Kelly here with you to get the ball rolling for the first little while. I'll do my best to keep the cynical, sardonic comments in check — although I've a funny feeling that's the only reason you're here. Nobody cares about the hyped-up speculation, do they?
Lee: Are the Arry' Memes gone? YES!!!
I can never understand the levels of hatred towards poor 'Arry but yes, I can confirm that, due to popular demand, he will not be returning.
It goes without saying that the big news at the moment is imminent collapse of the de Gea-Real Madrid move.
Apart from United themselves, the only person who benefits from all of this madness is Guillem Ballague — you can expect to see him, his three-piece, and open-necked white shirt all over the place today.
He's been on Sky Sports News in the last few minutes. "Manchester United are blameless," he insisted.
This story ain't done yet though.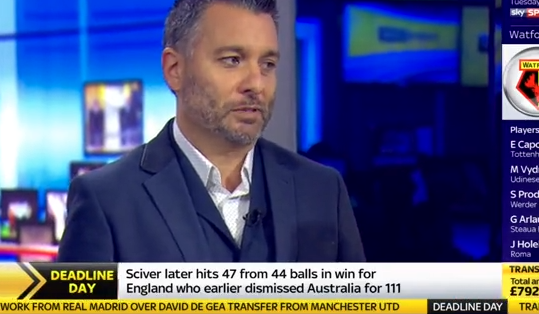 Kurt Barlow: Guillem Balagué has said that not only is it Madrids fault but they stalled on the paperwork, everything was in place and agreed since yesterday evening. Interesting also to hear that a Madrid fan pole done lately said that 80% didn't want De gea at all and we all know who has the the final say at that club. If he still goes good luck to him ( he's going to need it ) if he stay i really hope he gives them the finger and signs the new contract after this .
Big Matty's not happy with the reporting on Sky Sports News:
Let's talk about some actual news for a minute:
Everton have signed Argentinian defender Ramiro Funes Mori from River Plate with reports indicating a final fee of £9.5m
Alex Song has gone back to West Ham on a season-long loan

And that's pretty much it…
So with a stunning lack of actual transfer news to keep us occupied, and only so much we're willing to scrutinise the FIFA TMS system, how about some rumours instead?
Saido Berahino will almost inevitably be a Spurs man by the end of the day but at this moment, he's still at West Brom and veering dangerously close to Peter Odemwingie territory.
Speaking of West Brom, they've been linked with Liverpool's Jose Enrique who isn't getting much of a look-in at Anfield this season.
Sky Sports seem to think that Aston Villa are interested in Dimitar Berbatov. Frankly, we'd approve of seeing the big man back in the Premier League.
Another big man who looks like he'll be back in the top flight shortly is Nikica Jelavic who is reportedly on his way to West Ham for £3m.
Would you fancy this, Arsenal fans?
The biggest piece of Irish interest today is the whereabouts of Jon Walters. Martin O'Neill's squad are training in Abbotstown this morning and Walters is the only absentee to allow him time to sort his club future.
Will he be able to force a move away from Stoke?
Beano: Ed Woodward sounds like the kind of person that if you sent to Lidl to get a pint of milk and a loaf of bread would come back with a power hose and a pair of mens cycling shorts.
News of something that's not happening: Manchester United "have indicated there is no interest in landing Atletico Madrid's Antoine Griezmann," Jamie Jackson of The Guardian reports.
And the latest from Highbury? "Almost certainly no ins or outs today for the Gunners," BBC Sport's David Ornstein reports.
Bayer Leverkusen's Hakan Calhanoglu is the latest man to be linked with a move to Old Trafford. We'll see…
The bookies seem pretty confident that Arsenal's transfer business is done and dusted:
This is magnificent:
https://vine.co/v/e1e3V0FUxEv
WALTERS WATCH: According to the infamous Sky Sources, Leicester City are now in for the Ireland international. Are Norwich about to lose out on their man?
Sounds like Calhanoglu is a no-go so, United fans.
This sounds like a much better game than following actual transfer news!
The latest on de Gea: Real Madrid have in the last few minutes released a statement to clarify their official position.
The TL;DR version is effectively that " Real Madrid has done everything necessary, and at all times, to carry out these two transfers."
If you've Leaving Cert Spanish, you can read the statement here >
We're approaching the four-hour mark but there's no new news of any real interest. Unless you care about Junior Hoilett to Swansea… which I don't.
To paraphrase David O'Doherty, welcome, everyone, to the internet of Jim White.
It looks like those yellow-tied news hounds learned nothing from the Banter era of Gray and Keys.
Adrian Russell strapping in for some lunchtime Deadline Day updates. And some of last night's lasagne.
Done deal!
Glenn Murray is a Bournemouth player and he doesn't care who knows.
Gary Cotterill is running through the timeline of the David De Gea debacle last night in what sounds like the plot to an episode of The Office.
Though, through various blunders on a series of communication devices, they missed the FIFA deadline between them, the world governing body opened up their software again and asked the respective clubs to enter the details.
Real then however refused to do so, Sky say, in case the transfer was later declared void but the Navas element of the trade went through, leaving them worse off.
I think that's a fair reflection of a very detailed update from the Bernabeu.
This looks to be a good bit of business from Bournemouth. The Premier League new boys have signed striker Glenn Murray from Crystal Palace for a fee believed to be in the region of £4 million.
BREAKING NEWS!
The excitement levels have just doubled inside the office as word comes through of an actual deal. Southampton have confirmed the capture of defender Virgil Van Dijk from Celtic.
We can barely contain ourselves.
The 24-year-old follows in the footsteps of Fraser Forster and Dusan Tadic in swapping Celtic Park for St Mary's.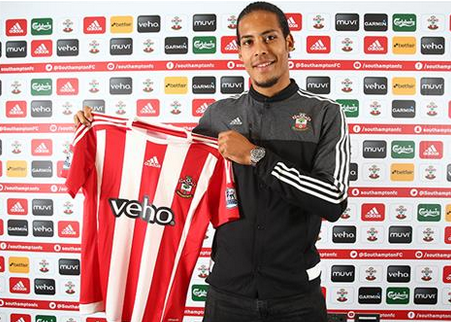 Source: Squawka Football/Twitter
Done deal!
Chelsea have confirmed the signing of Papy Djilobodji from Nantes on a four-year contract. No, us neither!
Strange one from Mourinho but he obviously felt he needed reinforcements and having failed to lure John Stones from Everton, the Blues boss has gone for the Senegal international.
Source: AP/Press Association Images
The club's website, which was in the news recently for that match report after defeat to City, describes the 26-year-old as 'an imposing physical presence.'
The champions are also on the verge of signing Michael Hector from Reading. The Jamaican spent a season on-loan at Dundalk in 2011.
Sound the Boys in Green klaxon.
Eoghan O'Connell, cousin of Paul, has secured himself a loan move to Oldham Athletic from Celtic until January.
The 20-year-old has made six appearances for the SPL champions.
The Scottish Sun are reporting Anthony Stokes has been the subject of a failed bid from Neil Lennon and Bolton Wanderers.
The Celtic striker has fallen out of favour with Ronny Deila and appears to be surplus to requirements at Park Head. Watch this space.
JUST TWO HOURS AND THIRTY MINUTES REMAINING….
Ryan Bailey in the hotseat for the final stretch as that 6pm deadline looms ever closer.
I'm not really one to talk but Villa have signed a new goalkeeper and, quite frankly, he looks about 12 years of age.
More Irish interest here as Sky Sports are reporting that Eoin Doyle is en route to Preston to sign for the club from Cardiff.
Drama!
Tottenham have made a late swoop for West Brom's Saido Beharino. Spurs have already had three bids rejected but it appears they've upped their offer to £23 million.
The clock is ticking.
West Ham have been busy.
Michail Antonio is the latest player to move to Upton Park with Alex Song also completing another season-long loan from Barcelona. Slaven Bilic has a decent squad at his disposal.
With a little over an hour until the window slams shut, Jim White is now firmly in place over at Sky Sports News HQ guiding us through (adding to it) the madness.
Source: Sky Sports
Done deal!
Less than a year after joining West Brom, Joleon Lescott has packed his bags and headed across the city to sign for Aston Villa.
The 33-year-old joins Tim Sherwood's side on a two-year deal and becomes Villa's 11th signing of the summer.
What in God's name is he doing?
https://vine.co/v/eIYtHmLYUgE
#FreeBerahino
Seriously though, this just got personal.
Berahino has just said he will never play for West Brom chairman Jeremy Peace again. He's got 45 minutes to sort out his future or things could get a whole lot messier at the Hawthorns.
Yesterday's news, today.
Jim White has a meltdown as Man United confirm the signing of French teenager Anthony Martial.
Thierry Henry is on Sky Sports and this is what he's had to say about Man United's newest recruit:
"He has pace, but can he score a lot of goals? I actually don't know because he's only played 52 games. So it's a weird one for me to say but it's a massive gamble that you need to take nowadays because of the situation Manchester United are in.
"We saw him at the Emirates last season causing trouble for Arsenal and he has a bright future. But it was always a question mark whether he is going to perform. For example, last season with Angel di Maria, who was an established and experienced player that couldn't make it through the ranks at Manchester United."
And with Martial's move now a done deal, the 'totaliser' has reached a whopping £858,750,000 meaning this is now the most expensive transfer window ever for Premier League clubs.
Bryan Swanson needs to go and lie down in a darkened room for the next hour.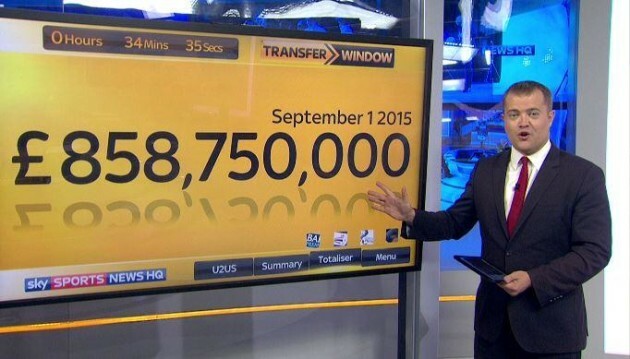 Source: Sky Sports
Sky Sports are now reporting that Jon Walters isn't going anywhere.
The Ireland international had been linked with Leicester but it appears he'll remain at Stoke for now.
Jim White is desperately looking for some last-minute transfer wheeling and dealing. No sign of Harry Redknapp and his car window or Peter Odemwingie turning up at training grounds trying to force a move.
Just seven minutes remaining.
No move for big Jonny Walters.
And Charlie Adam is clearly delighted.
Michael Hector, once of Dundalk, has joined Chelsea.
The 23-year-old signs a five-year contract with the Premier League champions but will head back to Reading for the rest of the season on loan.
THE WINDOW IS CLOSED.
*Breathes sigh of relief*
Late drama!
It's all happening at Melwood (it's not really). Tiago Ilori looks to be on his way to Aston Villa on a season-long loan and Brazilian midfielder Allan Rodrigues de Souza is now a Reds player.
The window may be shit but clubs have until 8pm to complete their transfer dealings but all the relevant paper work but have been finalised before that 6pm deadline.
That's about all for this evening, folks. Thanks for sticking with us throughout the day and we'll have plenty of reaction on the site later.
Contribute to this story: