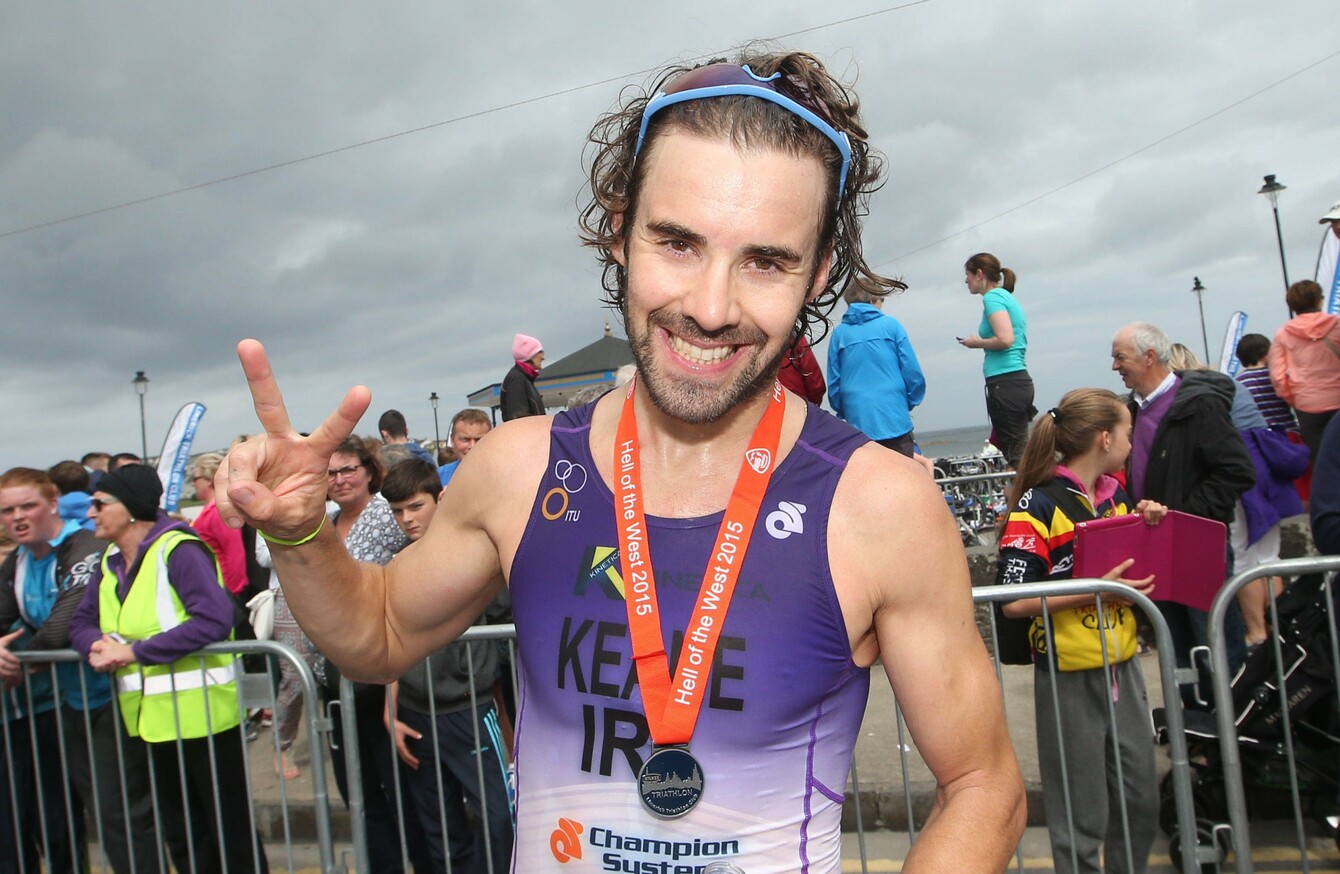 Image: James Crombie/INPHO
Image: James Crombie/INPHO
IN HIS OWN words, Bryan Keane is 35 going on 24 – and how he wishes he was probably still the latter as there'd be other chances.
But as of now, he's staring into the most important few months of his career as he chases what would be a first Olympic appearance at the age of 36.
Should he make the start-line in Rio de Janeiro next August he'll probably be the oldest in the pack.
As things stand he's just inside the qualifying cut-off point determined by accumulated results – and of the top 100 triathletes, he's the second eldest.
It's a cold Monday morning when we chat and he's already swam six kilometres in the pool. Before the day is out he'll have a couple of hours done on the bike, see a physio and clock up another 10-kilometre run. It's an easy week for the Corkman, by the way.
It's been far from easy to get to this point but if the Olympics were on tomorrow he'd have done enough to be there; it's the fact there's still five months to secure an entry that's occupying his mind this morning.
"There is pressure there," he admits, "particularly when I missed London four years ago because of the crash. I missed two years of my career you could say, so it is unfinished business for sure," he added.
Ah, the crash and the moment he hopes will not define him as an athlete.
Five years ago he was training on his bike on a road close to his home when he was clattered side-on by a car travelling at around 40 kph.
Pins and wires, surgeries and rehab was all he knew for the two years afterwards as various therapists ad surgeons worked to piece him back together.
But with the London Games well and truly out of the question he set his sights on Rio, which was six years ago at that point. And he's almost there now.
"To make it to an Olympics is something to truly achieve and it's the pinnacle of sport," he said. "It's not the be all and end all; many other athletes who are really good never went but it's still something I want to do.
"I've put my name in the ring for it and I now need to continue getting the results I know I can achieve."
Results this year have been a bit of a mixed bag for him; a fifth in a World Cup in China was followed 13th overall in the ITU World Series – a league table, essentially.
"If the Games were on tomorrow I'd have a spot but there are still eight more qualifying events. I'll do five or six and they start in March but qualifying closes in May, so there's a window there where you need to be scoring.
"That will decide whether you're in or out…," and he trails off into wonderland.
The plan as of now is Abu Dhabi on 4 March followed by the Gold Coast in Australia,. He'll travel to China a week later and hasn't yet decided whether it'll be Australia, Cape Town or Mexico.
"It's all change when you miss races because you come under pressure quickly," he says. "The top 50 in the world go to the Olympics so you have to put yourself in the mix."
He's spends some of his free time – which is rare, totting up points he reckons he can get between now and the end of May.
"It will determine whether you go or not. We have an Olympic simulation points ranking and it's looking like 25,000 should see you in that top 50.
"I only need 1000 points from the available races so you can break it down; two big results and I'm okay, or five solid results will do too. It'll be close."
A training camp in Spain next week is his next engagement, followed by another one in Florida in the New Year. All the while minding his body and minding his funds. He knows Rio is pretty much it for him in terms of funding and every cent must be counted twice.
"This still excites me, even though I'm seen as very much a veteran. I want to be better all the time; I look at last year and I was disappointed with certain things and looking at how I can be better still drives me on.
"I'm 35 going on 24 so injuries are my biggest worry, especially since the crash. I still need to rehab and keep my hip and knee open.
"As well as my usual routine I need to see a physio twice a week and do two gym sessions, just so I can do the other stuff. Any guys I race will do that, it's a basic requirement for what we do.
"When we're away in camp we've a physio and I'll see him four or five times a week. When you're training 25 hours a week it's what's needed. It's all about the next session. Sleep, train, recover and diet are pretty much my world."