IF LAST YEAR'S FIFA World Cup taught us anything, it's that international sporting bodies really don't like players or fans interfering with their pristine advertising set-pieces.
Further proof was offered today, when it emerged that the International Rugby Board (IRB) had issued a $10,000 fine to Samoan wing Alesana Tuilagi for wearing an inappropriately branded mouthguard during Sunday's Pacific derby with Fiji in Auckland.
Given its coincidence with the announcement of the one-game suspension meted out to England coaches Dave Alred and Paul Stridgeon, news of Tuilagi's punishment has been met with outrage and disbelief.
New Zealander and pundit John Campbell captured the mood of many when he weighed in on Twitter.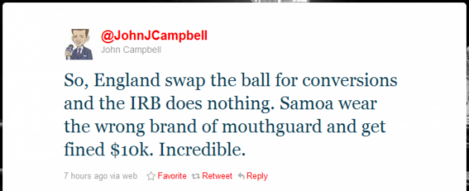 And Tuilagi's teammate Eliota Sapolu, who, you may recall, was sanctioned earlier in the tournament for his hyperbolic criticism of the IRB's scheduling policy, wasn't slow to join the chorus, either.

It is as yet unclear whether Tuilagi has  legitimate grounds on which to challenge the imposition of the fine.