FOOTBALL IS FULL of what-if stories and the League of Ireland is no exception.
There have been a number of top players that failed to male the cut in England, sometimes through nothing more than bad fortune, and ultimately, they went on to establish themselves as key figures in the League of Ireland.
There have been countless examples of players in our League of Ireland legends series — Brendan Bradley, Eamon Zayed and Ollie Cahill to name three — who might have made a decent career for themselves in England had they enjoyed a bit more luck.
Even more recently, Sean Maguire has shown that an initial failure in England does not necessarily make someone a bad player, and the 23-year-old Ireland international is now proving plenty of doubters wrong with his performances over the past year or two.
A prolific striker born on 22 July 1946, Turlough O'Connor is another great what-if story. Had it not been for injuries and a discomfort with life away from family and friends in London, he may well have become a notable player across the water.
Instead, the Athlone native is now regarded by most League of Ireland connoisseurs as one of the greatest players to have ever graced the domestic game with their presence.
While the majority of people reading this article are unlikely to have seen O'Connor play, the stats do not lie. With 178 goals in total, O'Connor is currently fourth on the list of all-time top goalscorers in the League of Ireland, behind Pat Morley (182), Jason Byrne (221) and Brendan Bradley (235).
In addition, the Bohs legend comes from a sporting family. His father, who was also named Turlough, played basketball for Ireland, while he lined out for Athlone Town FC as his son ultimately would too.
Turlough Sr also represented the Irish team at underage level in soccer, featuring in a 1937 game against Scotland in Galway — some 80 years on, his son still has the cap from that memorable day.
Lorraine O'Sullivan / INPHO Turlough's brother, Michael O'Connor (above), enjoyed a similarly impressive League of Ireland career and later managed Athlone Town. Lorraine O'Sullivan / INPHO / INPHO
O'Connor's brothers Padraig and Michael similarly enjoyed distinguished League of Ireland careers at various clubs, with the latter also featuring in the all-time top scorers list having registered 117 goals overall.
So Turlough was surrounded by soccer all his life, despite growing up in the Ireland of the 1950s and '60s, which did not fully embrace the sport as it does now.
Athlone was a

garrison town

," he tells

The42

. "Soccer was the tradition there and it still is. It was very popular and that's where I grew up. You always wanted to play for the Town at some stage and that was it.
"We didn't have the facilities for training and all that goes with the training — the footballs, the gear, everything else.
We had our street leagues and our summer leagues — it was great.
"I was playing junior football at that stage. Athlone were quite strong and there were different cups that they played in.
I also got a youth international cap. I was still 16 at the time.
"There wasn't a lot of things to be doing when you were growing up. Soccer was everything — you got the football out and that's how you spent your time.
Today's kids have so many things to be doing and they probably have the time and opportunities to do them. And they're not actually concentrating on one sport — it could be five or six different sports."
British Pathé / YouTube
The talented teenager ultimately caught the attention of Limerick, and he started as he meant to go on, hitting the decisive goal on his League of Ireland debut.
When I got the youth international cap, Ewan Fenton, who was manager of Limerick at the time (watched me play). He had played for Blackpool in the famous

'Stanley Matthews (FA Cup) final'

. He encouraged me to go to Limerick.
"They picked me up in Athlone on the way to Sligo for my first League of Ireland match, we won 1-0 and I was lucky enough to get the winner."
Despite this encouraging start, O'Connor's stint at Limerick failed to work out, and before long, he was back playing with Athlone, who he had previously represented at youth level, having started out with local side Gentex FC.
There were promises of work and a career, but that didn't work out, so I only spent a couple of months (with Limerick) and I came back to Athlone.
"From there, I played a few matches for Athlone Town, who were in the League of Ireland B league at that stage. Bohemians came in and wanted me to go and play in Dublin, which I did."
By that point, the 18-year-old O'Connor was starting to discover his scoring touch in the League of Ireland. In his debut campaign with Bohs, he was the team's top scorer with eight league goals in 22 games, in the process helping them finish third behind winners Drumcondra and runners-up Shamrock Rovers.
I think I scored two or three in my first game for Bohs," he recalls. "That was the start. We had an amateur side at that time with some very good players.
"We had Willie Browne, a centre-half, who actually got (three) international caps. We had Billy Young, Kevin Murray, Larry Gilmore and Jimmy Conway.
Jimmy and myself (subsequently) both signed for Fulham."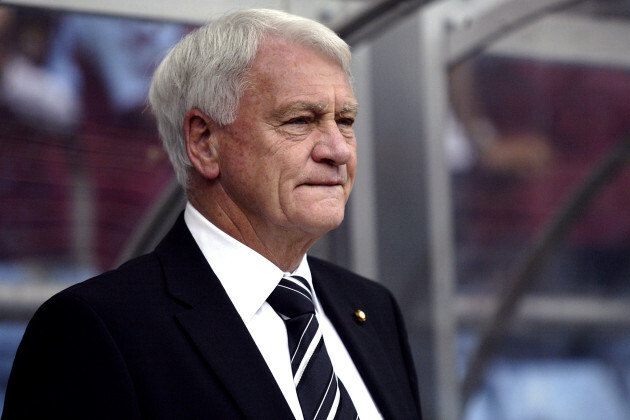 EMPICS Sport O'Connor worked under Bobby Robson (above) briefly at Fulham in 1968. EMPICS Sport
After making the move to England in 1966, however, O'Connor quickly found that the bright lights of London were not for him. Whereas Conway went on make over 300 appearances for the Craven Cottage outfit, his former Bohs teammate would have to be content with just a single outing for the club's first team.
I went from Athlone, a small town in the middle of the country, and next thing I found myself in the middle of London, walking around not knowing what to do with myself.
"It was a super opportunity. Fulham were in the First Division (the equivalent of the Premier League at the time) and they had some great players.
Bobby Robson was there, George Cohen who played when England won the World Cup and the first £100-a-week player Johnny Haynes.
"(Haynes) had a few betting shops in London at the time. He was driving this big Jag and I went to live in Ealing.
I used to jump into Johnny's Jag at the end of training and he'd drop me in Hammersmith to get the Tube back to Ealing. But he was a nice guy, very soft spoken. When you're in a club situation, you get on with people very well.
"Bobby Robson was also a very nice guy to be involved with at that time. As it turns out, when he came here (in his management role for Ireland alongside Steve Staunton in 2006), I met him and we had a good chat looking back over the years.
(Bobby) was a thorough gentleman all the way through his life. No matter what club he'd been with, I don't think anybody spoke a bad word about him."
PA Archive / PA Images Former Man United manager Dave Sexton was a big early influence on O'Connor. PA Archive / PA Images / PA Images
O'Connor also worked with future Chelsea and Man United manager, Dave Sexton, who was a coach at Fulham at the time. "Dave was probably one of the best coaches that was around then," he adds. "I learnt a lot from him."
His sole first-team appearance in two years at Fulham came against Sheffield Wednesday — a memorable moment in an otherwise frustrating period of his life.
Allan Clarke played up front with me. It was a hell of an experience.
"To get an opportunity so young was tremendous, to have made it that far, but my reign was short-lived. I had some operations. They couldn't diagnose what was wrong for months. Then they found out it was a hernia.
The start of the following season, I had the same problem. So the two operations in the two years that I was there didn't help."
Consequently, after a lengthy spell on the sidelines, O'Connor ultimately "couldn't wait to get back" to Ireland.
I remember going to Bobby (Robson) before the holiday period when I came home. I told him I wasn't coming back to England. He said 'you have to come back, you're under contract'. But I said I wasn't (returning).
"London is probably a great place to visit for a weekend, but I found it very impersonal to live in.
I then wrote a letter to Bobby Robson (confirming my intentions).
"It was in the press (in Ireland) that I wasn't going back. Tommy Rowe, the manager of Dundalk, asked if I'd be interested if they could come to an agreement with them. Dundalk paid four grand at that time to get me back, and I was delighted then to play for them."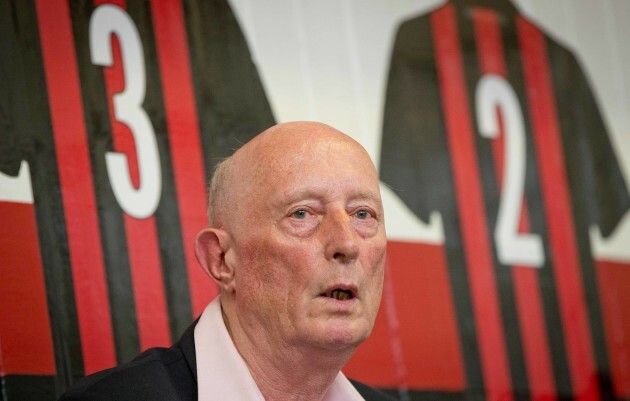 Morgan Treacy / INPHO O'Connor and Tony O'Connell (above) worked for 40 years in business together. Morgan Treacy / INPHO / INPHO
It was at Dundalk where O'Connor's hot scoring streak truly started, and unlike with Fulham, he was a happy man off the pitch as well.
The Dundalk squad had very good players at the time — Kevin Murray and Larry Gilmore. They were (playing with me) with Bohs as amateurs, they had moved on, so I felt very much at home there when I came back.
"The first night up, I met Tony O'Connell. Tony had just started a (clothing manufacturing) business in Duleek. He asked me would I be interested in joining up with him. That was the first night up in Dundalk. I said 'yeah' and that lasted nearly 40 years. So it worked out very well."
That last sentence is an understatement. O'Connor scored an incredible 54 goals in 90 league games for Dundalk, hitting 86 in 156 matches in total. In 1969, he even registered four goals in a single game, as the Lilywhites crushed the reigning league champions Waterford 6-1.
O'Connor managed at least 25 goals in three of his four full seasons at Oriel Park. Nevertheless, with the club suffering from financial problems in 1972, he left and re-joined Bohs.
It was at the Dublin club that O'Connor would consolidate his legendary status. In the league alone, he hit a phenomenal 106 goals in 165 appearances, in the process playing an integral role as they secured two league titles (1974-75 and 1977-78), an FAI Cup (1976), a League of Ireland Cup (1975) and three second-place finishes.
"(Bohs) was probably my most successful time, but Dundalk was good as well. I was lucky enough to score goals no matter where I went.
Billy Young was a very good manager and I'd played with Billy before I'd gone to Fulham. He made me feel very much at home.
"I think (the success is down to) the combination of players that you have and a good manager to hold it together. The players there were very successful and at the early part of their careers.
Gerry Ryan, Mick Martin, Ashley Grimes… They were all lads that, as young fellas came through, but they went on to have good careers themselves."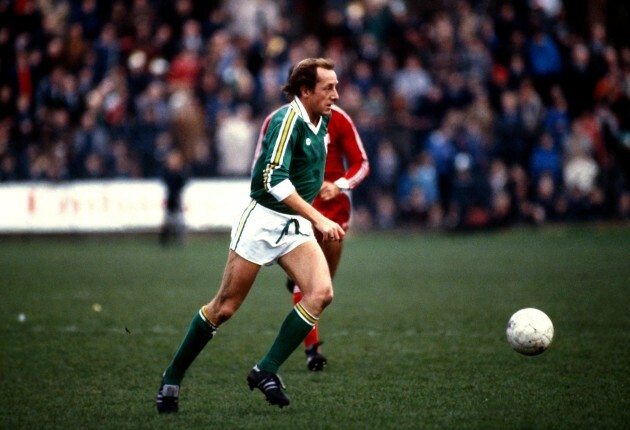 EMPICS Sport O'Connor played alongside former Ireland international Mick Martin at Bohs. EMPICS Sport
Captaining the '78 side to the title was a particular standout memory for O'Connor, while the fervent atmosphere in stadiums during that era of the League of Ireland made the successes all the more enjoyable.
The passionate crowds made a huge difference," he recalls. "I've a bit of sympathy for a lot of the players now, because the standard is pretty good. What it lacks at times is the atmosphere. Some of the crowds are excellent now, but the attendances we were getting at that particular time were super. There'd be 17-20,000 at a match. It was amazing.
"The League of Ireland (today) has suffered with the overall publicity that they get, with the Premier League, TV and everything else happening around it.
But there's nothing like an atmosphere at a match rather than watching it on television. I don't think you get half as much satisfaction (from watching games at home).
"What would annoy you is the amount of talking that goes on as well (before and after games on TV). Half of it is just saying things for the sake of saying it. You could take what happens after a match now and what happens after other matches — it's a draw, so that's the (phrase) that goes with that. It's actually the same speeches coming out. Just change the names of the teams and it's exactly the same stuff that comes out — it's absolutely crazy. And yet we pay to listen to it.
That's what encourages me to still go to the matches, because you have your own ideas on what way the game is played and who does what in different situations. You take far more enjoyment from it."
O'Connor also enjoyed an honour rarely bestowed upon even the best players in the League of Ireland — he was capped by the national team. Furthermore, in seven appearances for Ireland, he managed two goals.
It was Czechoslovakia in '67 where I got a late call-up. I had missed a couple of weeks with an injury, but I was never going to (pass up) the opportunity to play for Ireland naturally enough.
"So I travelled to Czechoslovakia, we won 2-1. We were a goal down, Ray Treacy equalised, and with about 12 minutes to go, Ray Treacy put the ball across and I headed it in.
So it was a marvellous thing to score the winner against Czechoslovakia in '67. They only needed a draw to qualify for the European Championships. It meant that Spain actually qualified and so they sent on a crate of wine for the Irish players.
"I was also lucky enough to play in Brazil in '72 against Ecuador. When it was 2-2, I lobbed the goalkeeper to make it 3-2.
I don't think I'll ever forget those two Ireland goals. They were special. And to turn out to be the winning goals (made them even more special)."
What also made Turlough O'Connor relatively unique among League of Ireland greats is that his achievements as a player were arguably matched as a coach thereafter.
After much deliberation, he left Bohs and agreed to become player-manager of Athlone in 1979.
They asked me down in Athlone (to become manager). I discussed with my dad at the time whether I was going to do it. He was a bit concerned for me because Athlone, being a small town coming back home where everything went so well for you, he said: 'Is it right to take a job in your own town?' I'm glad I did it and he was delighted as well — it was a great six years.
"Athlone had a reasonable side, but I knew we probably needed a bit of experience. At the time, I brought Mick Smyth, the goalkeeper and Padraig, my brother, and we had a good nucleus of local players — my younger brother Michael had started to play, he was very good. Denis Clarke, Noel Larkin, they were local (players) at the time. So we had a good base and we brought a few players.
One lad who helped me tremendously and who I played with at Bohs was Johnny Fullam. Johnny had just decided to retire. I personally went to Johnny and asked him would he give me one year in Athlone. His experience playing in Athlone was tremendous and he absolutely loved it.
"They made him feel very welcome and they had a great first season, winning the League Cup and finishing third in the league."
retroloi / YouTube
From there, Athlone went from strength to strength, as O'Connor guided his hometown club to their first and still only two League of Ireland top-flight titles (1980–81 and 1982–83), in addition to three League of Ireland Cups (1979-80, 1981-82 and 1982/83). However, after six brilliant years at St Mel's Park, he reluctantly stepped down as manager in 1985.
Eamon Quinn and Noel Heavey (were in charge of the club at board level). They were going in a different direction and I thought it was the right direction. They were going to buy a ground and build a new stadium, and there was no money really for the team.
"They were going to go the amateur route and local for a few years to build on this asset with the pitch and the whole lot. So they didn't need me to do that, they needed someone local, and I was still living in Dublin."
Exclusive Six
Nations Analysis
Get Murray Kinsella's exclusive analysis of Ireland's Six Nations campaign this spring
Become a Member
After leaving Athlone, O'Connor returned to another former club, Dundalk, and he enjoyed more success over the course of the next eight seasons there.
In just his second campaign in charge of the Lilywhites (1986-87), they won the League of Ireland Cup, while they would go on to claim the league and FAI Cup double the following year.
The secret of his relatively swift success there, O'Connor says, was "knowing the league well".
I'd been in the league for so long, you got an opportunity to know what was needed. We didn't have a lot of money. But we had great guys on the board and as (we have seen) with the job that Stephen Kenny has done in the last few years, they're very passionate about their football. So it was good to be involved at that time."
CrniGuja / YouTube
O'Connor also experienced countless European matches as a player and a manager, and while he enjoyed some memorable nights, such as the Inter-Cities Fairs Cup win over Utrecht with Dundalk in 1968, the League of Ireland sides were often outclassed in that era by virtue of their inferior physical state. In 1988, when they came up against a Red Star Belgrade side who would go on to win the European Cup three years later, the Lilywhites were comprehensively beaten 8-0 on aggregate.
We weren't full-time, we were part-time, and that made a huge difference. Even in the quality of fitness, it made a big difference. It meant that when we played against these big sides, they were all full-time professionals. It was hard on the physical end of it.
"We had some very good performances and at other times, we didn't do as well as we maybe could have.
But the one thing I always felt, no matter who you played, you always had a chance, especially at home."
Along with the trophies he helped the club secure, during his time in the hotseat at Oriel Park, O'Connor oversaw the development a number of talented young players, including Roddy Collins, Tony Cousins and Jim Gannon, all of whom the club were ultimately forced to sell.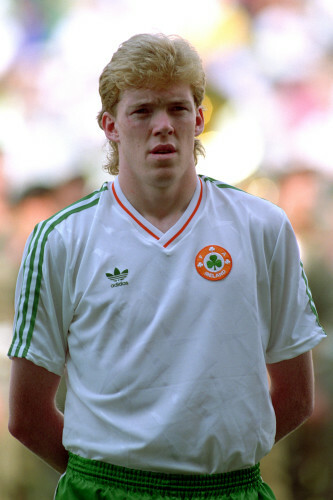 EMPICS Sport O'Connor worked with Steve Staunton during the Ireland legend's early days at Dundalk. EMPICS Sport
O'Connor would also aid the progression of a future Ireland captain and manager, who he always sensed would go on to greater things..
Steve Staunton played with me in the B team, because I was still playing at 40," he laughs. "You knew from day one that he was going to make it, so much so that we actually sent him over for a trial to Liverpool, knowing that they would sign him.
"It was not just his mentality, but his ability. As we all got to know over the years, his left foot (was special). He had that as a kid.
For corner kicks, he'd swing them in (perfectly). With free kicks outside the box, he was able to tuck it into the corner — he was doing that at a young age. He had a good energy about him too."
After the further success encompassing another league title (1990–91), the sixth of O'Connor's career in total, he left Dundalk for a third spell at Bohs, although this time, it would prove to be less successful than his stints there as a player.
Despite two second-place finishes during this period, Bohs were in the process of redeveloping Dalymount Park, so cash was sparse.
It was totally different (to Dundalk), because at the time, Bohemians had no money, no nothing. What they did was put money back into the stadium. That's when they built the new stand. What they were doing at that particular time was keeping afloat.
"It was good to be able to help them out. What happened then is they had the big offer to buy Dalymount just after I left.
The move over the couple of years, that's what had them in the troubles they had. It was just unfortunate at the time."
Since leaving Bohs in 1998, he has stepped away from management, though not, he is keen to point out, from the game itself.
You never step out of football. You always look at it, you always evolve, you always like to think you can do things differently, it almost becomes part of you and it still is part of me.
"But when I stepped back, I knew that was it (in terms of managing teams). The timing was good and it was the right thing to do.
I'm happy enough with my own choice. I have had a few opportunities after that to go back in (to management) and I didn't avail of them. I've no regrets."
Two of his former clubs in particular have experienced contrasting fortunes in recent years. Whereas Dundalk have won three league titles on the bounce as well as enjoying a phenomenal Europa League run last year, Athlone have ended the 2017 season bottom of the First Division and are currently mired in a betting controversy.
I'm absolutely thrilled for Dundalk," O'Connor says. "I think Stephen Kenny has done a fantastic job up there. You have to be pleased. They're great supporters, they love their football, they always did.
"They're a professional outfit now. We ran it professionally, but they now are full-time professionals.
I'd love to see the stadium built up there, better facilities for supporters, I think that could be the next thing in line for Dundalk.
"It'd be great to see the (Europa League money) put back into the stadium, because they've got great support up there."
Unsurprisingly though, O'Connor is less optimistic when asked about embattled Athlone, who have experienced a disastrous few months.
Athlone probably have some of the best facilities in the country," he says. "They have their ground. They've done fantastically in that sense.
"Whatever has happened, it's not the committee that is to blame for this betting thing. It's not Athlone Town.
Hopefully, they'll get ahead and put that behind them, because they've a fantastic youth set-up in Athlone, which Michael (O'Connor) is still involved in. With the All-Ireland leagues, U15s, U17s and U19s, they've all the teams, they have fantastic interest in the football at youth level. They even have two ladies teams as well.
"My wish is that all of this will be put behind them and they can get on to what's important in Athlone — the young people having the facilities and working towards building up the club again to compete, not just in the First Division, but in the Premier Division in future. And hopefully, I'll see it happen."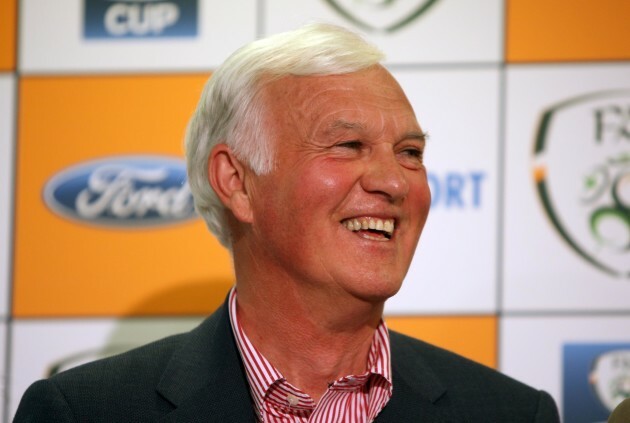 Donall Farmer / INPHO O'Connor remains a keen football fan to this day. Donall Farmer / INPHO / INPHO
Moreover, it speaks volumes for his love of the game that even at the age of 71, O'Connor is still attending Athlone games as a fan, cheering on his hometown club in troubled times, when all but the most passionate supporters have seemingly stopped caring, if an attendance at one of their recent First Division fixtures of an estimated 150 spectators is anything to go by.
I still go to the games. It saddens me that a lot of the lads who played the game and gave so much to the game and were very good players themselves don't actually go to the matches anymore.
"It saddens me, because the live game, actually going to matches, you get a lot from it."
Subscribe to The42 podcasts here: