MAJOR CHANGES ARE coming to international football in Europe.
Uefa has devised a plan to make friendlies between national teams largely a thing of the past from 2018, replacing those matches with a brand-new competition.
The idea is to create a more regular schedule of competitive games in which teams can improve and develop ahead of European Championships and World Cups.
The new competition will also hold four qualification spots for the European Championship, with that tournament having now expanded to 24 teams.
It will be called the Uefa Nations League and on paper, its structure can be rather daunting to get your head around.
What is the Uefa Nations League?
As the name suggests, the Uefa Nations League is a league competition for Uefa's 55 members. It will consist of four different divisions (called 'Leagues') and three stages.
In the first year, the four leagues will be decided on team strength according to Uefa's coefficients, which are essentially their version of Fifa's world rankings.
So the likes of Spain and Germany will play in League A and San Marino and Andorra will play in League D. Leagues A and B will consist of 12 teams each, with Leagues C and D home to 15 and 16 teams respectively.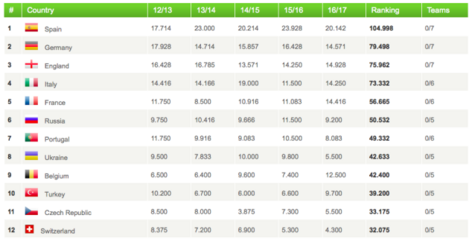 This is how the Uefa coefficient rankings currently look. The Republic of Ireland are 38th.
Within those leagues, the teams will then be split up further into groups.
In Leagues A and B, there will be four groups of three teams each. In League C, there will be one three-team group and three four-team groups. In League D, there will be four groups of four teams each.
The first stage will be group play, which will take place across three consecutive international breaks in September, October and November 2018.
The countries in three-team groups will play four games each, while countries in four-team groups will play six games – both in the normal home-and-away format.
Based on the current coefficient rankings, the Republic of Ireland would slot into Group C along with the likes of Norway, Serbia and Bosnia.
Still with us?
What happens next?
So, what happens once the groups have been played?
In League A, the winners of each of the four groups will advance to the 'Final Four' competition, which will take place in June 2019.
The Final Four will consist of two one-leg semi-finals decided by a random draw and the final, with all three matches taking place in a neutral host country.
The winner of the final is, of course, the first Uefa Nations League champion.
For everyone else, there is promotion and relegation to worry about.
The teams that finish bottom of their group in Leagues A, B and C are relegated and replaced by the teams that finish top of the groups in the League below.
What about Euro 2020 qualification?
That brings us on to the extra European Championship qualification spots, which is where it really gets complicated.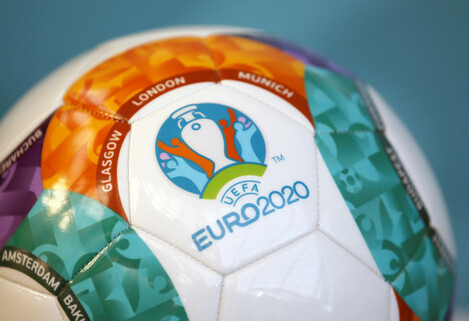 Source: Jane Barlow
To further incentivise teams to take the Nations League seriously, four 'second-chance' places at the finals of the continent's biggest international competition will be up for grabs.
Be part
of the team
Access exclusive podcasts, interviews and analysis with a monthly or annual membership.
Become a Member
Now that the Euros will be contested by 24 teams, the top two teams from each of the 10 regular qualification groups will secure a place at the finals.
The only play-offs that will be played on top of that for the final four spots will be filled with teams who qualify through the Nations League.
One qualification spot will be awarded to each League, giving one of the lowest-ranked teams on the continent a rare chance to go to a European Championship through League D.
It will work like this: by default, the winner of each League's four groups will go into the play-offs.
The four group winners from each League will play semi-finals and a final much like the Final Four, with the winner of each League's mini-tournament qualifying for Euro 2020.
Where it gets messy is if some of the group winners in each League have already qualified for the Euros through the normal qualification process – which they inevitably will have.
Their place in the play-offs will then be allocated to the next-best team in that League as a whole. How that team will be selected is not entirely clear, but it will presumably be based on points and then the normal set of tiebreakers.
If there is not enough unqualified teams in a League – again, this is very likely in League A – to fill the four-team play-off mini-tournament, teams from the League below will slide up to complete the field.
Source: Guy Owen/YouTube
These teams will have not qualified for their own League's play-offs, though, so as not to punish the best teams in the League below by moving them up to a harder competition.
For example, if there are only three unqualified teams for the League A play-offs, the fifth-best unqualified team in League B will join the League A play-offs – not any of the top four.
The introduction of the Nations League will see Euro 2020 qualification condensed into a period between March and November 2019, while the play-offs will be played in March 2020.
So when it this happening?
Let's map it out step by step.
The Nations League group stage will be played across three international breaks between September and November 2018.
Euro 2020 qualifying will then take place between March and November 2019, with the Nations League Final Four also coming in the middle of that in June 2019.
The Euro 2020 qualification play-offs are set for March 2020, and Euro 2020 itself – to be played across the continent – will begin three months later.
None of this will require the international schedule to be changed; Uefa's new structure fits into FIFA's existing international windows.
Subscribe to The42 podcasts here: