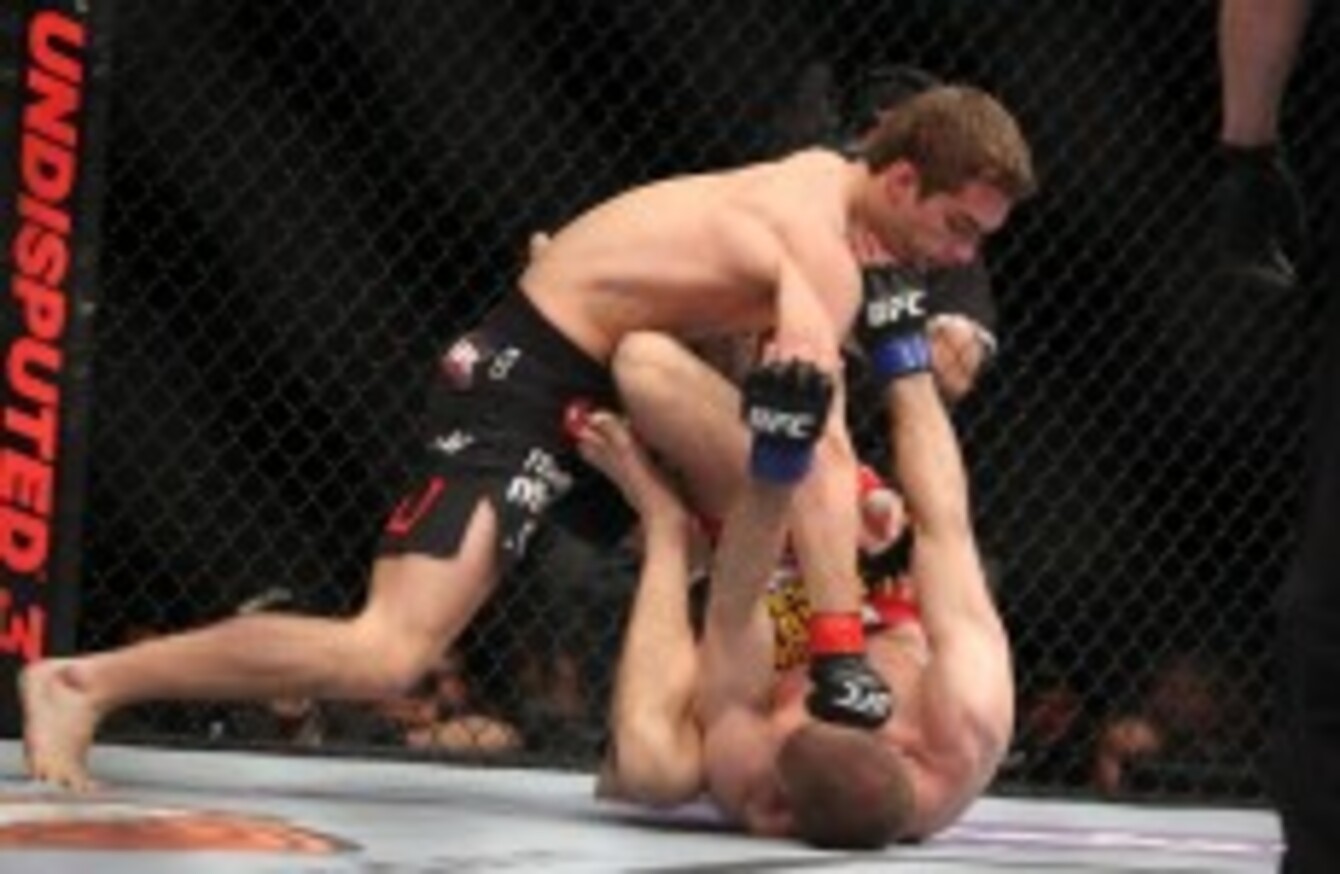 Hathaway in action in 2012 (file photo).
Image: Gregory Payan
Hathaway in action in 2012 (file photo).
Image: Gregory Payan
THE UFC RETURNS to the home of martial arts this weekend as it continues to stamp its global authority on the sport with an event in Cotai, Macau.
The event includes the finale of The Ultimate Fighter: China series with a couple of mainstream fights thrown in to help gather in an inclusive audience.
The headline bout is an exciting matchup between two men looking to climb the welterweight ladder, Dong Hyun Kim and Englishman John Hathaway.
Another Britain, Vaughan Lee has made the long journey to Macau and his reward is a bout against Nam Phan while Matt Mitrione faces "The Savage" Shawn Jordan in the heavyweight division.
Hatsu Hioki versus Ivan Menjivar makes up the main card.
Due to the time difference the event will air at the much more reasonable hour of lunchtime Saturday meaning Irish fight fans can for once take in the action without staying up to all hours.
"The Hitman" looking to neutralise "The Stun Gun"
It may be a surprise that Brighton's John Hathaway sports an impressive 7-1 record in the UFC but a couple of prolonged injury periods have helped him fly under the radar a little.
His opponent Dong Hyun Kim has always been one of the most solid performers in the welterweight division and since his freak loss to Demian Maia he has won three on the bounce, gaining more confidence with every victory.
"The Stun Gun" looked spectacular in his last victory over Erick Silva when he abandoned his usual subdued style and became a lot more aggressive, a tactic which resulted in a somewhat surprising KO win over a potentially top contender.
While Hathaway does sport a decent record, his level of opponent hasn't been quite to the same standard as Kim's and this is by far the toughest test of the Briton's career.
Hathaway's wrestling has come on a lot since his loss to Mike Pyle but his grappling skills wouldn't match up to Kim's and although the South Korean leaves himself open a little on his feet, Hathaway hasn't shown great KO prowess in the UFC yet.
If the South Korean plays it safe and reverts to his grappling to grind out a victory, this might not be the most exciting fight to watch but if he adopts the same tactics as his last fight then it could be over quickly. Either way Kim is strong favourite to pick up the win here.
Source: fistoffury223
Best of the rest
In between the finals of TUF: China there are a couple of other fights that won't impact on divisional standings too greatly but should be entertaining nevertheless.
Heavyweights Shawn Jordan and Matt Mitrione are very similar in build and athleticism and both have backgrounds in the NFL. Jordan possesses spectacular KO ability in his hands while Mitrione is much more well-rounded.
It is doubtful that either man will be looking to make it to the top end of the heavyweight ladder but they will look to put on a show anyway. Mitrione's best chance of victory will be to make this a wrestling match but you get the feeling he is willing to stand and trade with Jordan and that could prove to be his downfall.
In their careers between them, only five of their fights have made to the judges' scorecards so this one may not go the distance. Jordan's heavier hands and Mitrione's questionable chin combine to make "The Savage" slight favourite to pick up the win here.
Source: Kurdinhooo
Ivan Menjivar has fought some of the best in the world during his 36-fight career, including Georges St-Pierre and more recently Urijah Faber. His inability to settle in a particular weight division has perhaps hindered his progress but he has always been a game and watchable fighter.
Hatsu Hioki burst onto the UFC in 2011 and was touted to be a future featherweight challenger but three defeats in a row suggests that he missed the boat in the UFC, leaving his best days in Shoto and Sengoku.
His significant reach advantage in this bout is a massive plus for Hioki here as the diminutive Menjivar will have his work cut out to try and close the distance. This fight is great opportunity to snap his three-fight losing streak.