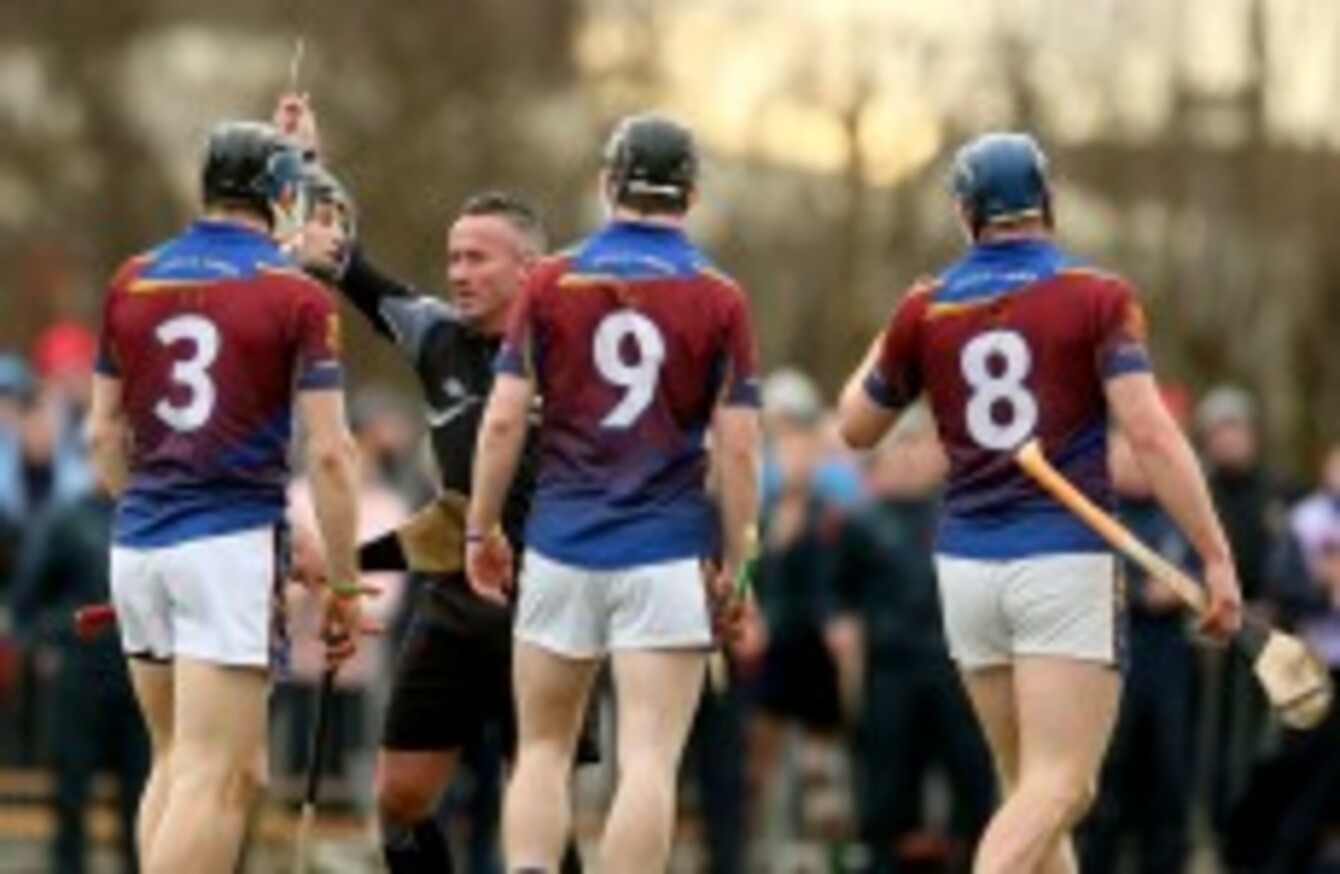 Referee James McGrath brandishes a red card towards UL's Jack Browne.
Image: James Crombie/INPHO
Referee James McGrath brandishes a red card towards UL's Jack Browne.
Image: James Crombie/INPHO
UL MAY FIGHT to overturn the red card shown to Clare senior Jack Browne in today's Fitzgibbon Cup semi-final against Limerick IT.
Browne was dismissed by referee James McGrath and a suspension would rule him out of tomorrow's decider against Waterford IT in the Gaelic Grounds.
But UL boss Brian Lohan hit out at the decision and didn't rule out an appeal. Two years ago Limerick's Declan Hannon got his Fitzgibbon Cup semi-final suspension overturned in time for the following day's final between his Mary Immaculate College team and UCC. James McGrath was also the referee who dismissed Hannon on that occasion.
Last year UCC's Alan Cronin was sent-off in their Sigerson Cup semi-final in Belfast but failed in his appeal to be eligible for the following day's decider against Jordanstown.
"I saw the two guys tangling and I thought it was very much 50-50 between the two of them," stated Lohan after the game.
"But when one man goes down in a tangle of hurleys, Jack is very upset about it. He's looking at me shrugging his shoulders and wondering what the hell? What's the game gone to?
"We haven't spoken to the referee, we don't know what he saw. We'll take counsel on that and see. (There's) video footage there but (I) don't know if they got it. We'll have to see. It looked a tangle between two guys – I can't understand it.
"I was up at that (2013 Fitzgibbon Cup) match as well and in fairness to Declan Hannon, it was no more a sending-off. I didn't think it was a sending-off and it was rightly turned around. What's gong to happen this time? I don't know. Are you allowed interview James McGrath and ask him what he saw?"
Lohan expressed his content after UL prevailed in the local derby clash and praised goalkeeper Paul Maher for his contribution.
"Happy to be through, knew it would be tough coming out here. Always going to be very difficult. Thought that we started fairly well, then let them back into it. The sending-off made it very difficult for us.
"Paul's been excellent, from the start of the year. He's first year Fitz as a second year student. He came in and it's a tough dressing room in there, a lot of good guys in there, but he dominates his patch. He's very vocal in the goals, delighted with him today."