ALREADY THE QUESTION is being asked about Ultan Dillane by a section of Munster supporters.
When will he be coming back?
The 22-year-old Connacht lock is very much one that got away from the southern province, for whom he played underage rugby and represented when winning Ireland honours at U18 and U19 levels.
Tralee remains home in the affable giant's mind, but his provincial ambitions are focused only on Connacht now. Dillane has grasped his opportunity out west, and subsequently with Joe Schmidt's Ireland, with positivity and infectious energy.
It was in Munster that Dillane discovered his love for rugby, so the province will always hold a special place in his heart.
"It's still my home at the end of the day; when I go home it's to Kerry," says Dillane.
"There's still love for the club, I'd support them. After Connacht, I'd be supporting Munster. I'm lucky enough I didn't leave on bad terms, so my relationships are pretty good down there."
How did it come to pass that Dillane ended up moving into Connacht's academy, rather than Munster's?
The involvement of Nigel Carolan and Jimmy Duffy was essential. Carolan – now Ireland U20 boss – was Dillane's coach with the Ireland U19s when Dillane starred for them in 2012.
Duffy had been forwards coach to the Ireland Youths when Dillane excelled at that level a year earlier, with Duffy concurrently acting as an elite player development officer with Connacht at that time, before advancing into the forwards coach role under Pat Lam this season.
Both Duffy and Carolan had seen enough from Dillane as a youth to know they wanted to bring him to Galway. For his part, Dillane was enthusiastic to get the opportunity to work further with the pair.
"They had a lot of belief in us and they really tried to make it a stress-free environment as well," says Dillane of what had impressed him about Duffy and then Carolan.
"They really just wanted to let us play, they didn't control us too much. It was a good boost of confidence to be honest and I was really excited to see what was in store up in Galway. I knew Connacht were on the up, so it would have been a good opportunity."
There was an offer from Munster academy manager Peter Malone in 2012 too, but it was on sub-academy terms rather than the full academy contract Connacht had extended his way.
His desire to be in a position to provide for his family as quickly as possible was part of the decision to take the better offer from Connacht.
"I was lucky enough to leave on really good terms with Munster," says Dillane. "Munster were just in the business of handing out sub-academy contracts at the time and I was keen to help at home, so that was a thing.
"Obviously I had a good relationship with Connacht at this point. I met the academy manager in Munster at the time and he said there was no issue with going up to Galway, that I could come back someday. It was all good."
Dillane laughs when he's told Munster supporters are hoping to see him back in red very soon. He moved onto a two-year senior contract with Connacht at the start of this season, but some will be keeping their fingers crossed that he can be lured to Limerick thereafter.
"I don't know, it's definitely not something I think about, but obviously you never know how things are going to go down the line," says Dillane.
"Connacht is the place to be and I've made such great friends here. At the moment I can't see myself, I can honestly not see myself leaving, but you never know what happens of course."
Dillane is naturally pleased that he continues to have a good relationship with those who aided his development in Munster and, though he is a proud Corinthians RFC man now, memories of his days with Tralee RFC remain cherished.
It was in O'Dowd Park in Ballyard that Dillane began to play rugby in the first place, having initially moved to Ireland at the age of seven.
The second row is a native of Paris and recalls that he could look out the window of his family's apartment in the southern suburbs of the French capital and see the Eiffel Tower.
Rugby forms no part of Dillane's memories of those first seven years of his life before his mother Ellen, a Tralee women, brought them to Ireland. That said, himself and his brother Cian, a year older, were sport lovers from the beginning.
"France was all about testing out loads of sports," says Dillane. "I did swimming one day of the week, we did soccer another day of the week and we did martial arts on the weekend. It was Shorinji Kempo we did, which was a weird one.
"We did it in France for two years and then moving over to Ireland we actually did Taekwando for three or four years. It was a way to blow off steam until we gave rugby a go!"
Dillane recalls that his mother's late brother was 6'6″, while her father was a towering figure. His own 6'6″ frame didn't come as a surprise.
Having sampled basketball and GAA after the move to Ireland, as well as continuing to unleash his energy in martial arts, Dillane finally found his way to Tralee RFC at the age of 12. He took his time to move into the engine room.
"Everyone starts out as a back I think," says Dillane. "I remember I was a centre for the first year or two and then after that they put me at number eight, which I was really reluctant to go into because it was more contact, more rucks and a tougher style of play.
"I played number eight for a season or two and then I got moved into the row. I had to nail down a position and I was 16 or 17 when I started to play second row for good."
Dillane laughs and says he "eventually" grew to enjoy the physical exchanges, as his stature and power grew along with his ability on the ball. Looking back on his years with Tralee, the lock has only positive things to say.
"There was always such great support and love for the club in Tralee, from all my buddies down there. Every kid that plays rugby there has fond memories. My manager, Jay Galvin at the time, and all the others were just so helpful.
"If anyone picked up an injury, you were never out of pocket. They would always help you out even like that and there's a great bond down there. I absolutely loved it down there, I love Tralee rugby."
Initially, Dillane was just another youngster who enjoyed heading along to matches each weekend, but the rugby bug developed and his selection for the West Munster team at the age of 16 was a major turning point.
"Going into the trial, it involved three 20-minute windows in a controlled game," explains Dillane. "You were going to get one full set of 20 minutes to play and perform in, then after that you get swapped out with whoever else is there.
"I remember I played really poorly in my first 20 minutes but I must have slipped under the radar, because they didn't sub me out for the second. I had a good few runs in that second 20 minutes and then I was subbed out. I got picked for West Munster at that point.
"When I got selected I thought, 'Jesus, I want to push on in the sport." I started dreaming of, at the time it was Munster I wanted to play for, and I started dreaming of that. That's when the love really came to it."
There were role models for him in Tralee RFC, with Dillane looking up to Danny Barnes and Pa O'Regan in particular, "two big names in Tralee rugby at the time."
Barnes was breaking through at Munster as Dillane began to think of professional rugby and went on to make 34 senior appearances, winning a Celtic League medal in 2011. The 26-year-old centre is now with Ealing Trailfinders in the English Championship after passing through Newcastle Falcons.
O'Regan had excelled for Munster at underage levels, going on to secure a place in the province's academy, as well as subsequently starring for UL Bohemians and Old Belvedere in the club game.
Their journeys helped convince Dillane he could take a similar path and selection for the Ireland U18 Clubs [also known as Youths] in 2011 was the result of his dedication to training.
Chosen to start in the second row in a squad that also included Peter Dooley, Adam Byrne, Tom Daly, and his future Connacht teammates Sean O'Brien and Eoghan Masterson, Dillane was involved in a particularly special win over France U19s.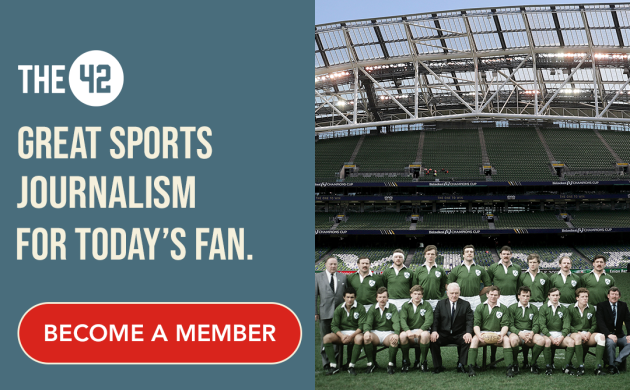 "It was such a great first experience at that level," says Dillane. "It was really surreal and I had an unbelievable experience. We played in Quimper [his pronunciation remains excellent] in France and they were a bit older.
"The Irish Youths hadn't won over there in like seven years and it was our head coach's last season, Greg Lynch. We went out and beat them by 13 points in front of the biggest crowd we'd ever experienced. I think it was 4,000 over there and there was a band and everything."
Dillane was among the Irish try-scorers in the victory and laughs again when he remembers that every player was given a DVD recording of the match in the aftermath, "which was brilliant."
He advanced into the Ireland U19 set up under Carolan and Colin McEntee the following year, enjoying another "good season" and convincing Connacht that they need to sign him.
The move meant a switch of clubs too, with Corinthians benefiting from Dillane's arrival. The Galway club has played an instrumental role in the lock's rise ever since, offering him an invaluable opportunity to progress into senior rugby and play regularly during his time in Connacht's academy.
His brother Cian, a centre, joined Ultan in making the switch up to Galway and Corinthians.
"We would have both played with Tralee RFC growing up," says Dillane. "He injured his cruciate a few years ago and he wasn't quite involved in the system as much as I was. They're tough injuries to come back from and to make full recoveries in, so it niggled it at him."
The younger Dillane brother ploughed on with the fortune to stay largely free of major injuries, breaking into Connacht's senior team in 2014/15 while still an academy player.
That is becoming the norm under Pat Lam in the western province, but Dillane didn't just cope with the exposure, he thrived. Further involvement followed in the first part of this campaign, with Dillane showing his explosive power and polished skills to catch the eye of Schmidt.
His debut off the bench in Twickenham in the Six Nations won't be forgotten any time soon.
"It's been surreal," says Dillane of the 2015/16 campaign so far. "Everyone sets goals for the season, but I wouldn't have thought to set one as high as that. My initial hopes were to maybe get a call-up to the Emerging team at the end of the season, but I guess a few chances came my way."
Dillane won't turn 23 until November and still only has 11 senior starts for Connacht under his belt, but the Test experience of three appearances off the bench has left him hungry for more.
"I think I've set stricter goals on myself to perform better for Connacht now," says Dillane. "After having a taste of it, you only want it again. You're not going to get it by default because there's amazing competition out there all the time, so I'm trying to set a new standard for myself and to work harder and better than what I've been doing."
His hope is to travel to South Africa in June as Ireland look to make history, but more immediately he wants to be an integral part of the mission to do the same with Connacht.
The Pro12 dream is ongoing, but this weekend's visit to Grenoble for the Challenge Cup quarter-final provides a chance for Lam's men to take another step towards possible silverware.
"We said we wanted to get to the quarter-final in Europe, so now we're here and we have a chance to secure a home semi-final for the supporters.
"It's knock-out rugby, which is really exciting to be involved in at this stage of the season. The fact that the winner also gets a place in the Champions Cup really adds to it."
Connacht Rugby star Ultan Dillane was at The Sportsground, Galway where Good4U were announced as the Official Snack Supplier of Connacht Rugby. Visit www.good4u.co.uk to view their range of healthy snacks.
The42 is on Snapchat! Tap the button below on your phone to add!