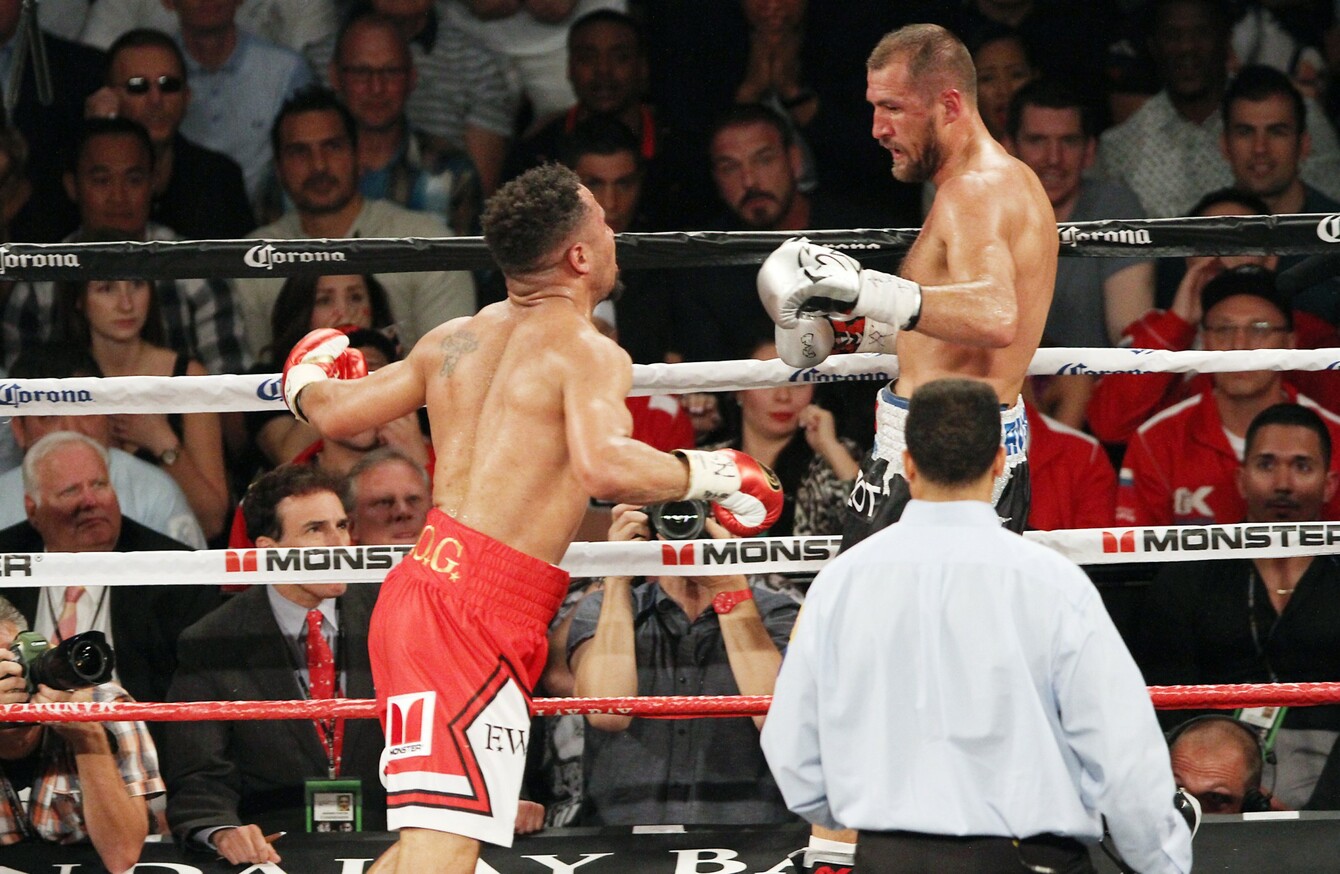 WBA, WBC and IBF Light Heavyweight Boxing champion Andre Ward and challenger Sergey Kovalev battle each other during their rematch.
WBA, WBC and IBF Light Heavyweight Boxing champion Andre Ward and challenger Sergey Kovalev battle each other during their rematch.
AMERICAN CHAMPION BOXER Andre Ward kept his IBF, WBA and WBO titles by stopping Russian brawler Sergey Kovalev in the eighth round of their light heavyweight rematch on Saturday.
The unbeaten Ward hurt Kovalev with a right hand that buckled his knees and then finished him off on the ropes 30 seconds later with a series of body shots around the mid-section at the Mandalay Bay hotel and casino.
"He's a great fighter, not a lot of people are going to beat him," Ward said. "But when you are facing a great fighter you have to raise your game to the next level.
"I hurt him with a head shot and I just had to get the right shot in to finish him."
Referee Tony Weeks stopped the fight with 31 seconds left in the eighth with Kovalev kneeling down from what he said was a low blow.
Ward improved to 32-0 with 16 knockouts as he held onto three of the four major boxing belts that he snatched from Kovalev by winning the first fight in November by a slim unanimous decision.
The 33-year-old Ward needed this victory to validate his first win as many felt the Russian won that fight and that Ward had been given a gift decision by the three judges.
"I have never been the most talented, I have never been the biggest, I just keep knocking down giants one by one," said Ward.
Kovalev (30-2-1, 26 knockouts) sent Ward to the canvas in the first fight, and while he landed several big shots in the rematch, once again he failed to close the deal and appeared to tire after the sixth round.
"I cannot explain," Kovalev said.
Kovalev added he wants an "immediate" rematch because he felt he got hit with a series of low blows in the eighth.
- 'Low blows' -
"It was a low blow, again another one," he said as he watched a replay of the stoppage with an HBO interviewer.
"We are boxers. I could still continue. Why stop the fight?"
Kovalev was the much busier of the two from the opening bell of the entertaining fight. He was the aggressor backing up Ward who seemed content to wait for his opportunity to land a punch.
Both fighters landed solid blows in the fourth round, Kovalev with his stinging jab and Ward scoring with well-timed counter punches.
But by the sixth, Ward said he could sense Kovalev was fading.
"Championship fights start in second half, in the sixth round. When I saw him reacting to the body shots that were borderline I knew I had him," Ward said.
On the undercard, two-time Olympic gold medalist Guillermo Rigondeaux defeated Moises Flores with a controversial fight-ending punch at the close of the first round to retain his WBA junior featherweight title.
The victory was disputed as television replays showed Rigondeaux landed a left hand after the round-ending bell had rang. He also landed three punches while holding Flores' head from behind just before the knockout.
Rigondeaux improved to 18-0 with 12 knockouts, while Flores, of Mexico, dropped to 25-1, with 17 KOs.
Flores stayed down for several minutes and had to be helped back to his corner where he sat during a lengthy review that eventually resulted in Rigondeaux being crowned the winner.