THE JOURNEY HAS been well-documented at this stage, but as Warren Deutrom pulls into Malahide eight days out from a truly momentous day for the organisation he has transformed over the last decade, there are no shortage of reminders of just how quickly Ireland have climbed the ladder.
This is an idyllic cricket ground, a quintessential and serene setting in north Dublin, and on an early-May morning, there isn't a lot of activity other than the walkers and joggers circling the perimeter.
There is still much work to do to upgrade the venue into one of international standard, and while most of the infrastructure is now in place and the overall structure is starting to take shape, the absence of the final fixtures and fittings means there's still a somewhat hollow feel to it.
The pavilion at the Dublin Road end of the ground is the only permanent structure and for a number of reasons, won't be visible come matchday with Cricket Ireland forced to install temporary changing rooms, media facilities and corporate hospitality for the five-day match against Pakistan.
There will be a different atmosphere here come tomorrow week, no doubt, and certainly excitement is reaching fever point ahead of Ireland's historic foray into Test cricket, but the risk attached with building a pop-up stadium at great cost remains the only option for Cricket Ireland.
The staging of next week's match will cost the organisation €1 million and Deutrom, the chief executive, has made no secret of the fact they will come out of it in the red, with ticket sales and other match income only likely to offset half of the expense.
Test match cricket is an expensive business, particularly when the purpose-built stadium needs to be built from scratch in the space of a couple of short weeks, and the risks associated are considerable, with Cricket Ireland left to count the cost of several washed out one-day games in recent years.
But, as has always been the case under Deutrom's innovative and impressive leadership, the potential returns far outweigh the attached risks, no more so than next week when Cricket Ireland will welcome new supporters, commercial partners, corporate clients and media to Malahide, bringing the sport to new audiences and rarefied heights on these shores.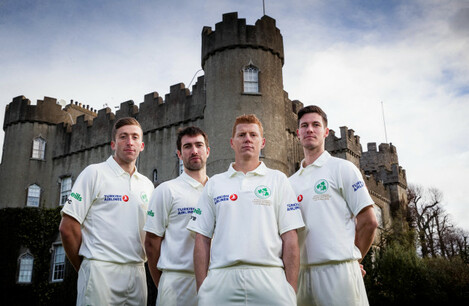 The Ireland Test squad will be announced tomorrow. Source: Ryan Byrne/INPHO
The sale of broadcasting rights to Sky Sports and RTÉ for a reported €1.8 million is unprecedented for Irish cricket, and the willingness of the national broadcaster to show a nightly highlights show underlines the appetite which now exists, as does strong ticket sales, with the first day on course to be a 6,000 sell-out.
"Being granted Test-playing status by the ICC was a benchmark day for us, and while we have achieved this great thing, it has now presented us with an enormous opportunity to take the next step on the journey," Deutrom tells The42.
"We always said Test status wasn't just about becoming a Test nation and then sticking our feet up and slapping ourselves on the back, and we're prepared to take risks.
"And the risk for us is huge because it's an untested format, we've never had Test cricket in Ireland before. In a country like Ireland where the game at international level is still bedding down in the mainstream environment and a five-day game in a country where it probably rains more than others? That's a risk.
"But you know what? The game is thriving, more people are playing it, more people are getting interested in it so we've got to back ourselves. We're prepared to take these pretty significant risks time and time again and the punters and media come and back us.
"We keep getting confidence from the level of interest shown in us."
Deutrom's bold vision has been a central driver in this journey, one which has been travelled at remarkable speed, and his tireless work and lobbying in the corridors of the ICC has made the Test dream into a reality.
The work of his 30 full-time staff must be applauded, too, with Cricket Ireland operating under severe limitations in recent years, yet achieving success both on and off the field, and that hasn't gone unnoticed from the ICC and other full member nations.
An increased fixture list as part of the Future Tours Programme will present Ireland with frequent opportunities to play against higher-ranked nations, both at home and away, and give Cricket Ireland the opportunity to showcase and sell the sport to wider audiences and prospective partners.
Already, the two Twenty20 games against India at Malahide on 27 and 29 June are on course to be sellouts and the added interest from spectators has also been complemented by further engagement from prospective commercial partners since Ireland's ascension to full membership and Test-playing status of the ICC.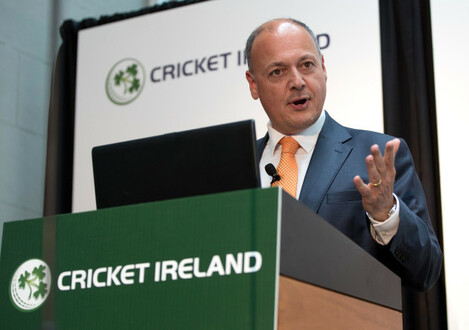 Cricket Ireland CEO Warren Deutrom. Source: Bryan Keane/INPHO
The message from Deutrom has always been clear: the goal is to make cricket mainstream in Ireland and achieving Test status is just one part, albeit a pretty significant one, of the process.
The Irish sporting landscape is dominated by the 'big three' of GAA, rugby and football but Deutrom wants cricket to be in there too. He wants perceptions of cricket as an elitist, exclusive sport to change and it to be visible, accessible, affordable and inspiring to the public.
"For us, it's about making cricket as a sport much more visible so people can read about us more, see us more on TV and then suddenly it becomes more visible," he continues.
"What separates GAA, soccer and rugby is that they have this mass following because it's always visible in the media and in everyday life.
"This is where we want to get to and I know a lot of people have said to me 'come on, Deutrom, get a grip' but then I look back on the things we have achieved over the last 10 years and I strongly believe we can achieve more."
And in monetary terms, all of this means Cricket Ireland's revenue for the year is set to increase by about 50 per cent to €9.3 million, with the two games against India set to boost the coffers considerably and counterbalance the loss of the Test match.
Compare that to the €260,000 profit the organisation recorded in Deutrom's first year at the helm in 2006 and you get an indication of just how far things have come in a relatively short period of time.
"We tend not to look at the Test in isolation, and look at the whole season as a whole like most businesses do," the Cricket Ireland CEO explains.
"The Test will probably cost us around €1 million, and in terms of just ticketing and hospitality, we won't make it back in that but when you add in sponsorship and broadcasting, we'll make a loss in the Test match but make a big revenue hike on the two T20s against India.
"We'll make our money on that but this is about Test cricket and being part of the pantheon of big nations and by virtue of being a full member and Test nation, it gives us that status of being in the top tier of world cricket which enables us to get the best fixtures against the best nations on a multi-year basis. And therefore gives a value to our broadcast and commercial rights we haven't previously had."
With the sale of the TV rights for both the Pakistan and India games to Sky Sports and sports marketing agency Pitch International, who will sell the worldwide rights, Malahide will play host to one of the biggest TV audience events — sporting or otherwise — ever staged in Ireland.
Source: The42.ie/YouTube
It will be a day for the ages, a day to celebrate and a true lesson in commitment, perseverance and how success can be achieved against all odds.
It will not just be an endorsement of all the on-field achievements — those indelible days in Jamaica, Bangalore and Nelson — which have provided the 10-year campaign with such weight but a seal of approval and further recognition for everything that has gone on behind the scenes, led by the instrumental Deutrom.
A proud day for everyone involved — from former players, staff, volunteers, club members and one and all associated with Irish cricket, and for those who had the ambition and persistence to push for change, challenge the traditional structures and strive to become one of the best.
Not least for the unassuming Deutrom, who not only had the courage to proclaim such an ambitious vision when he first arrived, but then the sheer determination and competence to deliver it. And how.
"I don't want to make this about me, it's not really about me," he insists. "But because you've asked the question, I'm probably going to feel pride next Friday, a huge degree of pride that we've come this far in a relatively short period of time.
"A huge degree of pride because we have grown and developed the sport into something it just deserves to be and that's successful because there's such support and such talent here both on and off the pitch.
"It just deserves to succeed, and I'm not saying we should succeed, but we've put our shoulder to the wheel at Cricket Ireland and it's not just me, it's a huge number of people behind me. All of our staff, everyone at grassroots level and at the clubs that has helped along the way.
"It doesn't matter if we're good at tiddlywinks, as a nation the Irish will back it and that's what I've seen. This ability to punch above our weight, the immense pride in the nation and a real sense of community. It'll be a proud day and at this stage the heart is ruling the head as the overriding feeling is spine-tingling excitement.
"We hope the stands are full and people, cricket fans new and old, walk away from Malahide next week with wonderful memories and an appetite for more."
– First published 07.15, 3 May
The42 is on Instagram! Tap the button below on your phone to follow us!