THE GOLDEN STATE Warriors crushed the Cleveland Cavaliers 126-91 on Monday, snapping a four-game losing streak against the reigning NBA champions.
In the season's second meeting between the teams that dueled in the past two NBA championship series, the Warriors started fast and never let up.
Before adoring fans at Oracle Arena in Oakland, Draymond Green notched his third triple-double of the season with 11 points, 11 assists and 13 rebounds for the Warriors, who led wire-to-wire to improve their league-leading record to 35-6.
The Warriors hadn't beaten the Cavaliers since game four of last June's finals.
Cleveland rallied from 3-1 down in the championship series to deny the Warriors a second straight title, and in the first renewal of the rivalry this season the Cavaliers rallied for a 109-108 victory in Cleveland on Christmas Day.
That run of success may have prompted Cavs superstar LeBron James's comment on Sunday that he didn't really count the Warriors as rivals.
"Regardless of if LeBron thinks it's a rivalry, I know he wants to beat us," Green said. "And we want to beat them.
"We've been the top two teams in the league. A team that you beat, that beat you… I see it as a rivalry, and a fun game to play in."
It turned out to be even more fun than Green could have imagined. The Warriors scored 78 points in the first half, building their lead to as many as 39 points in the fourth quarter.
Klay Thompson scored a game-high 26 points, including five three-pointers.
Kevin Durant scored 21 points and two-time NBA Most Valuable Player Stephen Curry had 20 to go with 11 assists.
In their 13th win of the season by 20 points or more, Golden State connected on 50.5 percent of their shots from the field and shared 37 assists.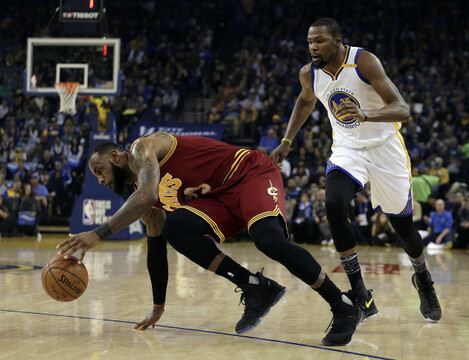 LeBron slips while under pressure from Kevin Durant. Source: Ben Margot/AP/Press Association Images
Almost unstoppable
"To me, it (was an important game) because they beat us four straight times," Thompson said. "It felt good to redeem ourselves for that last effort in Cleveland.
SEE SPORT
DIFFERENTLY
Get closer to the stories that matter with exclusive analysis, insight and debate in The42 Membership.
Become a Member
"We played with a lot of effort and heart. When we do, we're almost unstoppable."
James led the Cavs with 20 points but missed 12 of his 18 attempts.
He was knocked to the floor by Green on a fastbreak in the second quarter, with Green whistled for a flagrant foul.
It wasn't the first time the two have tangled. Green was suspended for game five of last season's finals because of his tally of technical and flagrant fouls — including one during a game-four clash with James.
"His shoulder hit me in the face," James said of what caused his dramatic fall. "I'm all right. I'm a football player."
Warriors coach Steve Kerr downplayed the incident.
"Was that an incident?" he asked. "It looked like just a normal foul."
Kyrie Irving scored 17 points for Cleveland, despite making just six of 19 attempts. Iman Shumpert scored 15 with nine rebounds, but Kevin Love scored just three points with three rebounds in 16 minutes before tightness in his back forced him out of the game for most of the second half.
But the Warriors were in firm control by then. A layup from Curry, a three-pointer from Thompson and a dunk by Durant had the Warriors up 7-0, and the Cavaliers calling a timeout, just 93 seconds into the contest.
The Warriors were up 37-22 after one quarter and led 78-49 at halftime.
"They put it on us, put it on us real good," James said. "They were clicking on all facets of the game. This is a dangerous team. They've got so many different options."
The defeat capped an 11-day, six-game road trip for Cleveland that included defeats at Utah and Portland, although at 29-11 they head home still atop the Eastern Conference.
"We'll shake it off, we've got to," Cavaliers coach Tyronn Lue said. "We've got to go home and regroup."