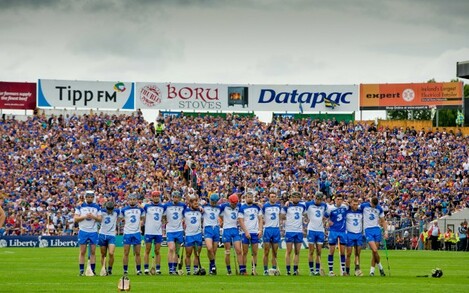 The Waterford team line up before the Munster hurling final. Source: Morgan Treacy/INPHO
INJURIES ARE PART of the game for inter-county hurling managers, a perpetual challenge that must be dealt with.
Routine complaints are expected but a wave of serious injury setbacks is something Waterford boss Derek McGrath wouldn't have envisaged.
April 2013

– As De La Salle manager, McGrath lost one of his key club players Stephen Daniels when he

shattered his patella

in a challenge match for Waterford against Offaly.

May 2014 

- In his first season as Waterford boss McGrath saw defender Philip Mahony suffer a double leg fracture and dislocate his ankle in a club game with Ballygunner.

May 2014 

- In his first Munster outing as Waterford manager McGrath faced Cork and saw clubmate Eddie Barrett dislocate his kneecap in the first-half on his championship debut.

May 2015

– After the glory of their league final win, McGrath and Waterford were then rocked by ace forward Pauric Mahony breaking his shin in action for Ballyunner.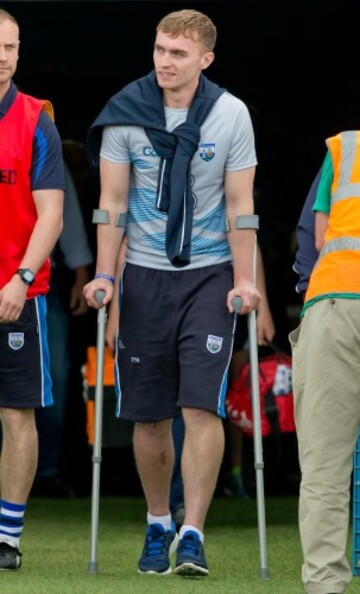 Pauric Mahony on crutches at the Munster hurling final.
Darragh Fives injury woes were not traced to one specific incident but recurring hamstring problems left him out in the cold.
He played in Waterford's qualifier exit against Wexford on 19 July 2014 but didn't feature again for the Deise until he was sprung from the bench for the Munster final on 12 July 2015.
They've been shattering experiences for the individual players while also collectively leaving the Waterford setup reeling.
And yet the rocky road can turn.
When Waterford defeated Dublin last month, Philip Mahony again commanded the left half-back berth he's been the proprietor of this year.
Fives started in that game, back orchestrating matters for Waterford two years after he produced a stunning display as they nearly toppled Kilkenny.
Daniels finally took to the field for Waterford again when entering the fray as a first-half substitute, Barrett was also put on as a sub in the finale.
Pauric Mahony will not be back in action this season but his rehabilitation to date has progressed well.
It's been a gruelling road to recovery from injury for the Waterford crew.
"I have to compliment them all," says Waterford selector Dan Shanahan.
"He's a pure winner that lad (Philip Mahony), if it was a game of golf he'd want to win it, that's the way they are.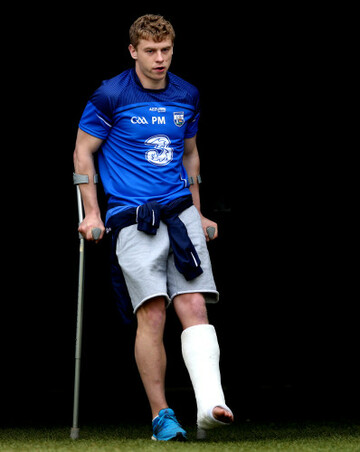 Philip Mahony on crutches at last year's Munster hurling quarter-final Source: James Crombie/INPHO
"Same with Stephen Daniels. We had to trust Stephen some time. He did a great marking job on Paul Ryan who the previous two weeks before that destroyed Limerick.
"Eddie Barrett is another lad who came back fro ma serious knee injury. Other than Paudie Mahony, we've been lucky with injuries this year.
Darragh Fives (left) challenges Dublin's Mark Schutte Source: James Crombie/INPHO
"Noel Connors is back again already. You couldn't hurt them thighs anyway, says you!" He's back anyway."
27 months after suffering his injury, Daniels put his nightmare behind him against Dublin. As his club mate, McGrath always knew Daniels worth to the Waterford cause.
"He's put two years of solid recovery work into it," outlines McGrath.
"I think to be fair to him, he's a fantastic support service at home and he's so mentally strong.
"He's just a believer the whole time and I think that showed when he went on the last day, there was no adjustment or settling in period. He's a confident fella and he believed in himself.
"The specifics of the patella (injury), he needs to be almost at match pace during the warm up.
"That's the key to his recovery and warm up are specific to his own needs. We've worked on that, Conor the physio has worked on that and Fergal the physical trainer."