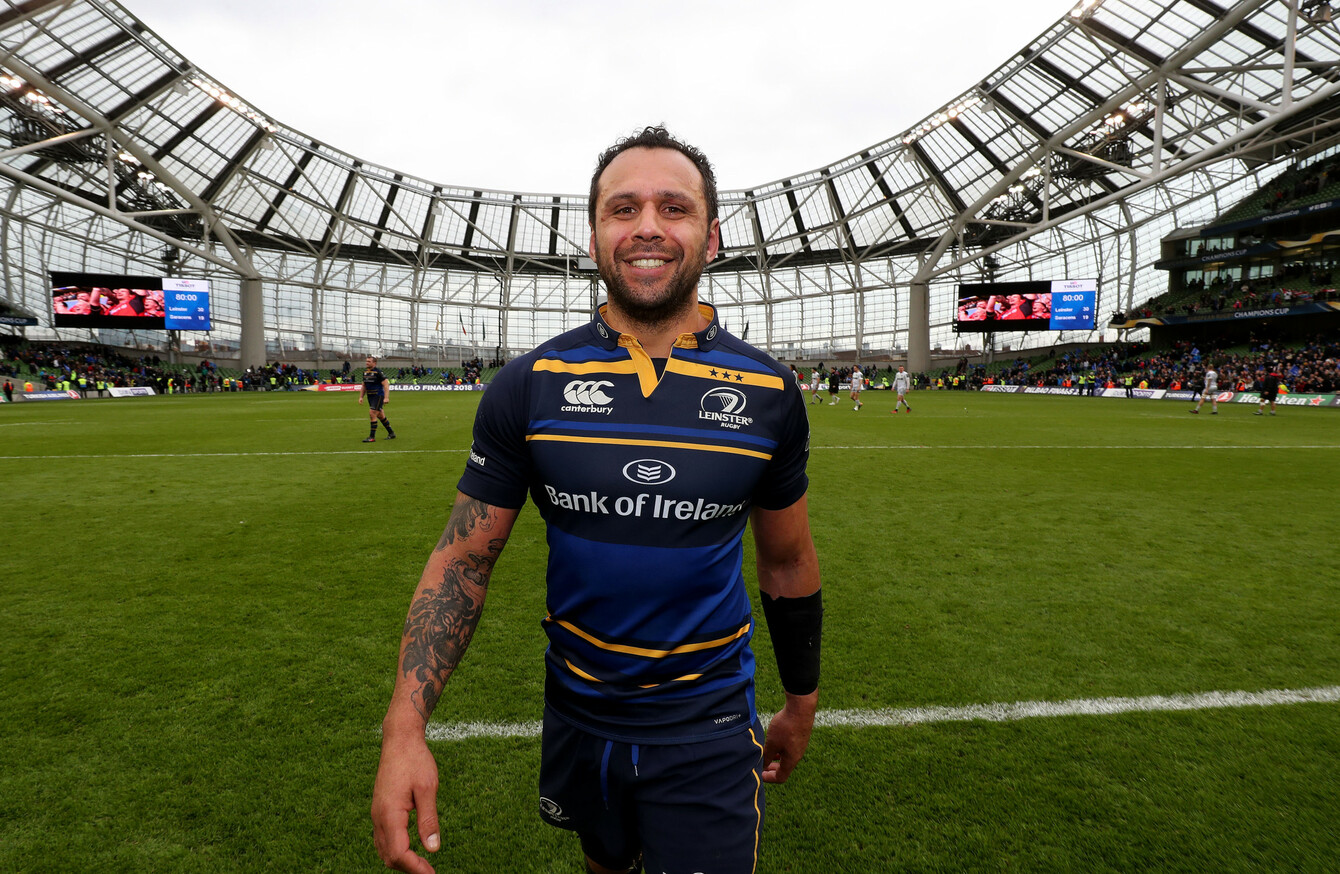 Image: Dan Sheridan/INPHO
Image: Dan Sheridan/INPHO
IT'S BEEN A tough week for Isa Nacewa.
Between being called Leinster's weak link by a Welsh rugby legend, taking over the jersey everyone hoped to see filled by James Lowe and then seeing the club captaincy go out of his stewardship and into the possession of Johnny Sexton, preparation for a Champions Cup semi-final against Scarlets was complicated enough.
And then there was the added interruption of a bug laying the entire Nacewa house hold low.
"My wife and kids were crook last weekend," said the club captain with a wince of the memory, "it just rolled straight through the family. I thought I was bulletproof and thought I wouldn't get it, but this time I did.
"I was away (from training) on Monday. There was no point risking bringing a kid's bug into camp so I was quarantined by the Leinster doctors."
All clear now and even at 35 with a retirement behind him, Nacewa looks a formidable presence as he sits down after training at the Aviva Stadium.
There's no bruised ego either. Be it goal-kicking, leadership duty or the task of hoisting trophies, Sexton and Nacewa have never balked at sharing responsibilities with one another. Indeed, if they manage to claim a cup in their second stints with Leinster then we may well look back on this past Leinster decade as the Sexton-Nacewa era above any other important contributors. Their return has unquestionably been a boost, even if the success hasn't been as immediate as everyone would have liked.
"Well, first season back we didn't even make the play-offs (in Europe), second one we did and now we're back here again. So it's two from three so far. Yeah, it's a different challenge to what it was last year."
While there are many in Wales who will take Shane Williams' critique of Nacewa's centre play as reason to think the veteran a target on the wing today, the most important member of the Scarlets think-tank sees it a different way.
Wayne Pivac played a pivotal role in Nacewa's career, first senior coaches always do, and it's easy to imagine the innately intelligent versatile back slotting in seamlessly with his fellow Aucklander's expansive approach.
"He was a very talented young player," Pivac recalled yesterday of the kid who helped him win an NPC title with Auckland in 2003, a campaign which featured a six-try win in Christchurch to end Canterbury's three-year, 23-match run with the Ranfurly Shield.
Be part
of the team
Access exclusive podcasts, interviews and analysis with a monthly or annual membership.
Become a Member
"A lot of skill, he was only 18 or 19 when he went from the academy into the Auckland side. The thing about Isa back then was that he had a great skill-set, mature for his age back then and he could play a number of positions."
No change there then.
"He's continued to do that over a long career, he's been a fantastic player, he's been a true team guy. Certainly, you take a guy like James Lowe out and put Isa Nacewa in, it's not a bad replacement.
"At his age he's been round the block and he's been part of a lot of winning teams. He brings a lot of experience. He'll be a calm presence out there."
Calm assurance will be invaluable in a semi-final between two teams who set their stall around the ability to attack from anywhere. On a warm day on a hard track, there is the possibility of a shoot-out at the Aviva this afternoon (kick-off 15.30, Sky Sports). But Nacewa has been fully immersed in European rugby since sharing those days with Pivac in the NPC, so a high-scoring spectacle does not feature on his list of priorities.
"You've got to do what got to do to win," says veteran wing, "we have to trust we've learned lessons from last year. Exeter away, it wasn't a pretty flash game, but we did what we had to do to win it. The forwards rolled up their sleeves and did the hard work. So I'll take a 3-0 win every day of the week."
"12 months on from a painful loss in (against Clermont in Lyon) you've got to learn some hard truths.
"A lot of guys have kicked on to a Grand Slam success and taken learnings from that, so you can go a long way in 12 months, but it still comes down to 80 minutes."
"The guys came straight back in on the Tuesday after beating England. They just bring another sense of energy and excitement to the place, especially off the back of success too.
"It adds a massive lift to training and in and around the club. It's a bonus for everyone else. Saracens rolled around pretty quick after a Grand Slam success so you had to turn the page quickly. Saracens seems like a long time ago and now we're here to face Scarlets, so things happen pretty quickly."
All in a week's work.