IN ANY HIGH-PERFORMANCE environment, ego can be both good and bad. 
Legendary San Antonio Spurs coach Gregg Popovich has said that the key to managing high-profile talent is to look for the egos who have gotten over themselves.
And in the cases of Zlatan Ibrahimovic and Wayne Rooney – both newly arrived in Major League Soccer this season – ego is central to how they fared.
When he signed for the LA Galaxy, the veteran Swedish striker took out a full-page ad in the Los Angeles Times newspaper. It carried a simple statement:
"Dear Los Angeles, you're welcome."
It was a cute stunt and – just as all invested parties wanted – it got people talking. He followed that up with an outrageous debut off the bench in the derby against LAFC. The first goal was extraordinary, his second won his side the game in injury time.
And Ibrahimovic was intent on capitalising.
Afterwards, he was selling his wares to the local late-night TV shows. But the appearances just featured variations of the same joke: Zlatan is wonderful and a gift to the city.
He certainly brought goals with him and there can be no argument with his contributions on that front. But, even still, he didn't have a wider, galvanising impact. Despite his personal success, his side endured a difficult campaign. He scored twice against Dallas but the Galaxy lost 3-2. He scored twice against San Jose but they drew 3-3. Even when he racked up his 500th goal for club and country (another spectacular finish), it came in a 5-3 loss in Toronto. There was his usual schtick post-game but it was unhelpful and ill-timed. 
"I'm happy for Toronto because they will be remembered as my 500th victim."
The result was incredibly damaging to his side's hopes of making the play-offs, not that he cared. He gave great copy, assuring himself of the headlines.
But last weekend, the ink went dry.
He was held scoreless at home by a Houston Dynamo side that had nothing to play for. The Galaxy had rallied in previous games and knew a win would guarantee them a place in the postseason. But they surrendered a two-goal lead and inexplicably lost 3-2.
Before the game, there was already talk of Ibrahimovic leaving.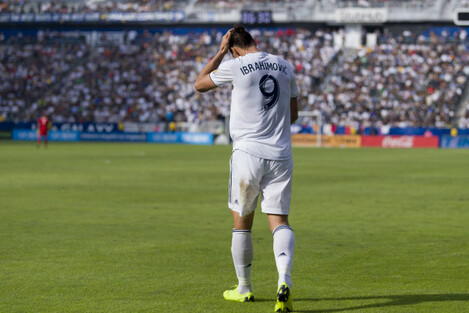 Despite his goals, Zlatan Ibrahimovic hasn't been a galvanising influence for the LA Galaxy. Source: USA TODAY Network
When asked about his future, he was – unsurprisingly – noncommittal. Previously, he'd voiced his frustrations about playing for a side that was struggling. And it appears he has no interest in sticking around to help. Under contract for another season, it seems that after all of the fanfare and the fireworks, the cabaret act will be moving on from MLS.
When Rooney's move to DC United was confirmed in the summer, plenty of media outlets criticised the deal. He was past it. He was a shadow of the player he once was. MLS was better than this. 
But, in actual fact, what Rooney represented was something average US sports fans couldn't quite wrap their heads around. He was an ego-less star. He had gotten over himself a long time ago. There was no razzmatazz. There was no sideshow. There was no agenda.  
"When you get a new teammate, even more when you get a new roommate, you don't know what to expect, especially a guy of his famousness and calibre on the field," said David Ousted, the DC United goalkeeper.
But he's very low key. He's very honest with everybody, and from minute one, I had a really good perspective of what kind of guy he was—no ego."
There were little things – seemingly innocuous to Rooney – that certainly had a big impact. He didn't want his own hotel room. And he didn't want to fly first class. Whatever his team-mates were doing, he'd simply follow suit.
Be part
of the team
Access exclusive podcasts, interviews and analysis with a monthly or annual membership.
Become a Member
"I think it's important you adapt and be close with your teammates," Rooney said.
They asked if I wanted my own room, but I think it would've been wrong for me to have a room on my own and the rest of the players share. … It's something different. But I think it's also important the players see that I'm in it with them and whatever they're doing, I'll be doing the same." 
When he was offered the captain's armband, Rooney went and spoke to Steve Birnbaum, the player who led the side last season, to make sure the decision wouldn't impact the squad or lead to any tension. 
And it all added up. 
Source: USA TODAY Network
Yes, there were the standout moments. Inevitably, the incredible tackle and assist that won DC the game against Orlando in the 96th minute is top of the list.
"It motivates you a lot when you see a player like him sprint back and win that ball—it might have just given us that extra push to finish the game with the euphoria we did," said Luciano Acosta, the player on the receiving end of Rooney's expert, raking pass to the far post.  
There were braces in crucial victories over Montreal and New York City FC too and in 21 games, he managed 12 goals and added six assists.
But, it went deeper than that.
When he arrived, DC United were bottom of the Eastern Conference and going nowhere fast. In some quarters, they were labelled as the worst team in the league. The play-offs didn't seem fanciful but impossible. Still, the Rooney signing was intended to shake things up. A splash of colour on an otherwise blank wall. 
A three-and-a-half year contract suggested it was a medium-term plan, that Rooney could hopefully stir something in an underperforming but talented group and push them forward.
And that's what happened.
They finished the regular season in fourth place in the East. And though there was a play-off defeat to Columbus on Thursday night and Rooney missed a penalty in the shootout, the elimination wasn't greeted with disappointment but optimism for what comes next.
A strange feeling for DC fans and one they haven't had for a long time.
And there's also Rooney's own feelings. 
"Disappointing result last night but there's lots of positives to build on for next year," he said in an Instagram post on Friday.
"Just want to thanks to all the fans and everybody at DC United for your support and making me and my family feel so welcome. Looking forward to next season already." 
He's refocused and reenergised. Just like his team.  
Subscribe to our new podcast, Heineken Rugby Weekly on The42, here: