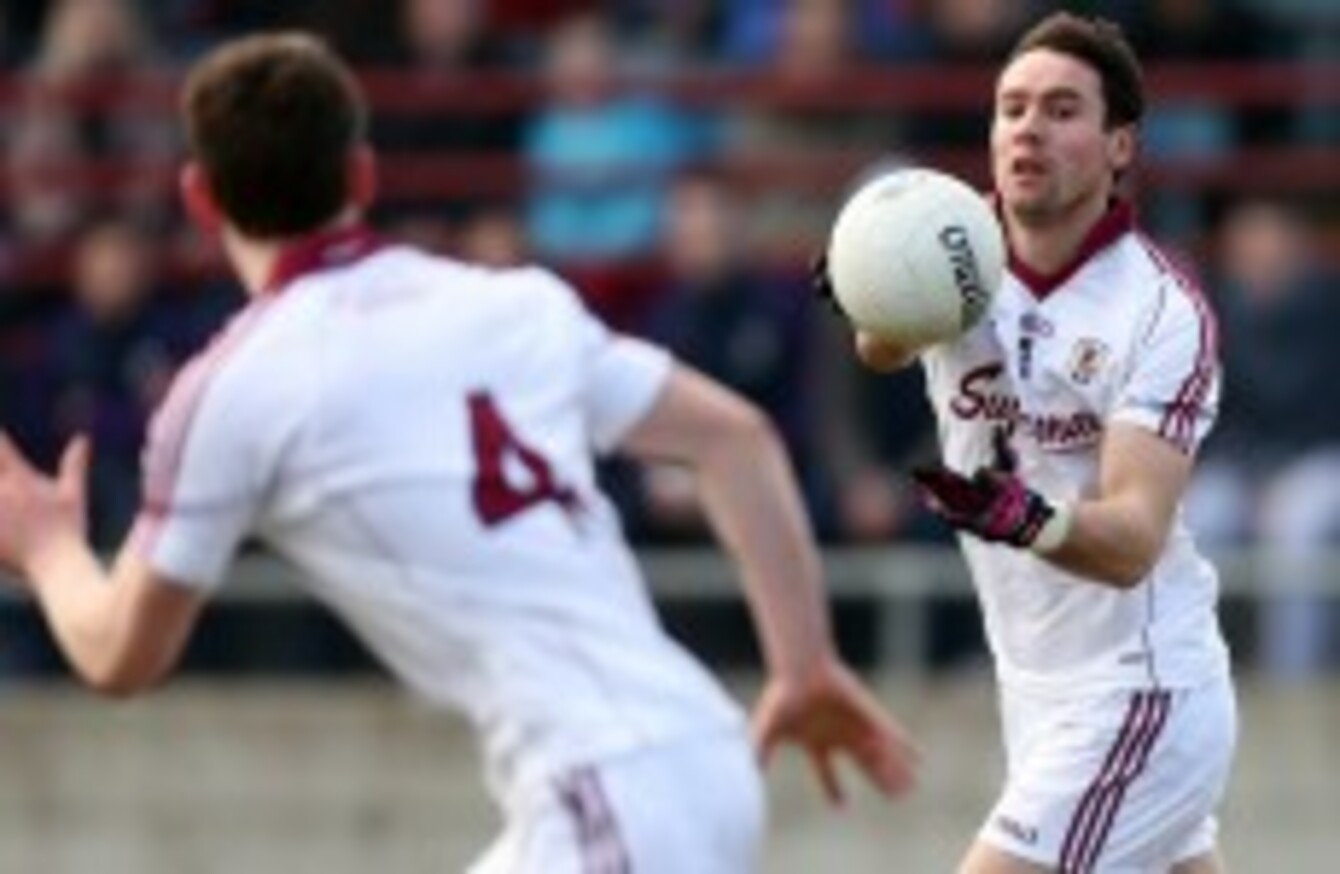 Image: ©INPHO/James Crombie
Image: ©INPHO/James Crombie
GIVEN THEIR RECENT record, Finian Hanley knows that Galway can't afford to rely on the back door if they want to stretch their season into the late summer.
That challenge begins on Sunday when the Connacht football championship kicks off with a quarter-final against Mayo.
Hanley doesn't need to be reminded of the litany of provincial woes that have dogged the Tribesmen since they last lifted the JJ Nestor Cup in 2008. Defeat to their near neighbours in the 2009 final was followed by a run of three straight semi-final exits in the last three seasons — not good enough for the county which is third on the All-Ireland honour roll.
The manner of last year's defeats were particularly galling. First they bowed out meekly against Sligo having surrendered a four-point lead at half-time; then they were shocked in the second round of the qualifiers by Antrim.
"It was a difficult time for us," Hanley recalls. "We had such a great performance in the first round [a 14-point win over Roscommon] and we were really built up for it.
"We had a new manager, we had new players and a lot of emphasis was on that first round and we got the performance against Roscommon and up to half time against Sligo we were cruising as well.
"We were five or six points up as well but whatever happened when we came back out the door, the tide turned on us and unfortunately for us it turned for the summer.
"Then against Antrim we could not get the scores on the board that would give us that gritty, hard-fought win and we kind of tapered out in the end. It was disappointing but we have learned a lot from these kind of experiences and hopefully things are going to turn for us this year."
There's no sugercoating the results and Hanley, now 28, has the experience which permits him to speak freely. Do these set-backs — both their manner and their frequency — drain belief within a squad?
"Absolutely — but I wouldn't come back, and I would say the same for the Michael Meehans, the Gareth Bradshaws and all these guys, we wouldn't come back if we were not up for the challenge.
Surely Galway have learned from these experiences now. We have had a lot of narrow defeats by teams and we have learned a lot. We always say when we come in at the start of the year we are coming in 100%. And the way the game has gone, you have to put everything else on the back-burner and that is what we are doing. There is no point being half-in, half-out.

We are fully committed to this and hopefully our experience will help us over the next few months and get us the narrow wins that we have not been getting.
Hanley with Leitrim's Cathal McCrann, Roscommon's Cathal Cregg, Mayo's Andy Moran, London's Mark Gottfche and Sligo's Ross Donovan (©INPHO/James Crombie)
He adds: "We always think this year is the year and that is the way it is. It has to be the ambition of Galway that we always think that we can get to the top table. It is no different this year.
"If we can get that steely determination that a lot of the winning teams have, I don't think that we will be far away in Connacht anyway and hopefully we will get the consistency in our performance."
The first test comes in Pearse Park this weekend against a Mayo side who will feel they have a lot more potential than they showed during a patchy league campaign.
"Their record speaks for itself. They have proven that they can get to All-Ireland finals and win tight games along the way. They have beaten Dublin in the heat of battle in Croke Park so they are well able to win those kind of games.
I know Galway have done so as well in the past. We are looking to get that consistency that we can grind out these games and when we are ahead in games that we can push on. I think that is what most teams want.

I do think that this is the best Mayo team over the last 20 years by miles. They are difficult opposition and we know that but we are looking forward to it."