IT'S THAT TIME of the year again when we all have good intentions but achieving results is easier said than done.
Unfortunately parting with a membership fee and dragging yourself to the gym a couple of days a week is only laying the foundations for you to achieve your end goal, whatever that may be.
Not all of us have access to a personal trainer to kickstart our training so we've teamed up with a leading personal trainer to design a six-week programme for you to follow.
This is a full body workout and will help you settle into the gym, become familiar with the machines and exercises and help you on your way to discernible results.
The equipment and machines we will be using will be available in any gym. If you have any questions please don't hesitate to email fitness@the42.ie.
Before we get into week two, here's last week's workout.
Week 2
1) Squat & Press
Source: Shutterstock/Syda Productions
So we are going to progress our squat on from last week and make it a bit more difficult by adding a overhead dumbbell press.
As with the squat we start by standing up straight with the dumbbells rested on the shoulders elbows pointing forward not down.
Chest out, inhale deeply, contract your abs. Bend forward pushing the hips back, when the thighs are horizontal to the floor straighten the legs and start to return to your initial position pressing the dummbells overhead as you come up.
The action should be one fluid movement. Avoid rounding the back and repeat for between 12-14 reps for four to five sets.
2) Lat Pulldown (close grip)
Source: Shutterstock/holbox
Place your hands on the bar in a reverse grip position as if you are about to do a chin up.
Sit and face the machine with your knees positioned under the pads. Inhale and and bring the bar to the sternum while expanding your chest and leaning slightly back.
Exhale at the end of the movement and return the bar slowly up keeping it level for a three second count. Repeat this for 12-14 reps for four to five sets.
Progression: chin ups on the bar.
3) Tricep dips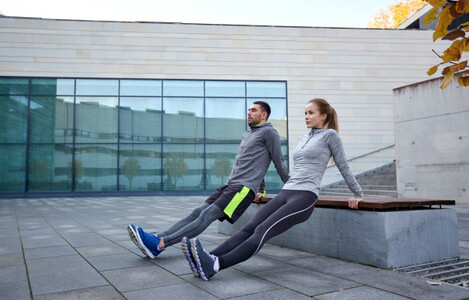 Source: Shutterstock/Syda Productions
For this you will need a bench or step box. Suspend the body by placing your hands on the edge of the bench and legs outstretched in front of you, heels on the ground.
Inhale and dip by bending the elbows and then rise by extending your forearms. Exhale and repeat for as many reps as you can for four sets. This exercise can be done at home all you need is the edge of a chair.
Progression: add a weight to your lap.
4) Bicep curl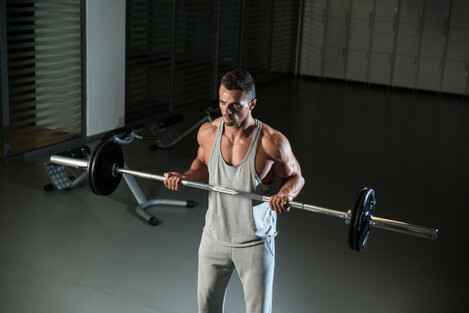 Source: Shutterstock/Jasminko Ibrakovic
You can use either a barbell or dumbbells. We are going to focus on a barbell curl today. You want to start by standing with your back straight, grasp the barbell with an underhand grip and hands just slightly wide of shoulder width.
Inhale and raise the barbell by bending your elbows, taking care to stabilise your torso and spine (we call this midline stabilisation) by contracting your glutes, abs and spinal muscles.
Lower the barbel slowly to its original position counting three to four seconds before repeating.
As many reps as you can but remember to keep good form and don't let your hips push forward, this will result in arching of the back and that's putting pressure on your lower back.
Progression: vary the width of the grip to work different parts of the muscle.
Matt Keatley is a Personal Trainer & Nutritionist. For more information on training programmes and diet check out his Facebook and Instagram. Check back next Wednesday for the third week of the programme.