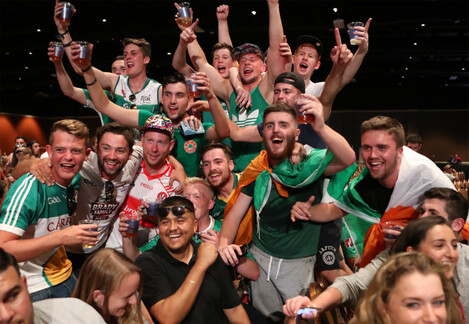 Source: Tom Hogan/INPHO
– Paul Dollery reports from Las Vegas
IT'S BEEN RELATIVELY quiet in Las Vegas this week — and not just by Conor McGregor's standards.
For Sin City in August, there's been more room to meander your way through the casinos and along the strip than you'd normally expect at this time of year. Certainly when compared to his previous visits, Conor McGregor's fourth Vegas fight in the space of 13 months looked set to be rather muted.
But in spite of McGregor's own assertion that he'll be "fighting in enemy territory this time", at least he'll be doing so with substantial back-up. The tricolours and GAA jerseys that have been absent all week finally began to appear yesterday morning.
Ireland's Euro 2016 campaign, the confusion over McGregor's involvement at UFC 200 and the frequency of his fights in this part of the world have all combined to result in a smaller influx of Irish fans to Vegas this weekend. In fact, very few appear to have flown in from Ireland for tonight's rematch with Nate Diaz at UFC 202.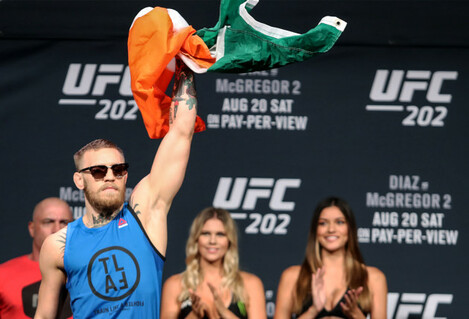 Source: Tom Hogan/INPHO
Instead, the invasion has come from places like San Diego and San Francisco, with Irish students on J1 visas leaving California behind for the weekend to make their way across state lines to be in attendance for McGregor's tilt at revenge in Nevada. It's good news for the UFC, who reduced ticket prices this week in an attempt to fill the 20,000-capacity T-Mobile Arena.
Hundreds of McGregor's supporters queued in temperatures that exceeded 40 degrees celsius to gain access to last night's weigh-ins — an event which was downsized to the MGM Grand's Marquee Ballroom. McGregor weighed in for his bouts against Chad Mendes and Jose Aldo, as well as for March's loss to Diaz, at the MGM's much larger Garden Arena.
"We came in last night from San Diego. There was six of us on a flight but loads more drove and there's others on separate flights as well," said Luke Cotter from Cork at the weigh-ins. "We were planning to do a weekend in Vegas before we headed home anyway so the fight came up at a good time for that to happen.
"I personally wouldn't be into the UFC as much as some of the other lads so I'd be lying to you if I said I'd be flying out here for it if I was still at home, but it should be a serious bit of craic anyway. The other fights looked unreal and the atmosphere here is absolutely mental so I'm delighted we came now, to be honest."
Be part
of the team
Access exclusive podcasts, interviews and analysis with a monthly or annual membership.
Become a Member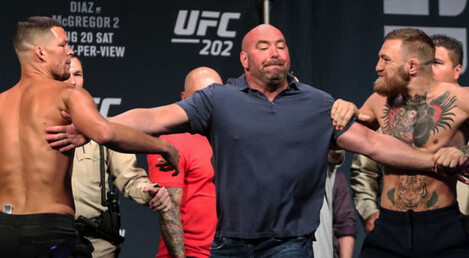 Source: INPHO/Tom Hogan
There's been a sense of fury about Conor McGregor since Wednesday's press conference altercation. The Dubliner was angered by the bottle-throwing incident which was instigated by Diaz's team. How that anger manifests itself in the octagon remains to be seen, but there's no doubt that the antagoniser has become the antagonised.
Nevertheless, when he emerged from behind the curtain to step on the scales, observing such a large Irish presence — which included Niall Horan of One Direction in the front row — seemed to provide McGregor with a psychological fillip.
Chants of "McGregor's on fire, Nate Diaz is terrified" greeted his opponent as the raucous atmosphere cranked up a notch. Dana White was primed to mediate, as were the four Las Vegas police officers who arrived on stage to oversee the final staredown between the UFC 202 welterweight headliners.
"Let's go, motherfucker! Let's go!" McGregor roared at Diaz, as those in the vicinity did their utmost to keep them apart. McGregor had earlier weighed in at 168lbs, with Diaz at 170.5lbs.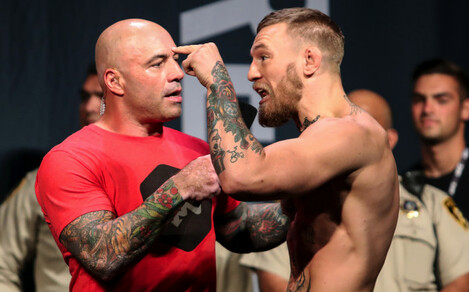 "He should have killed me when he had the chance. Now I'm back, I'm going to kill you and your whole fucking team — you and them bitch kids," McGregor told Joe Rogan before exiting the stage.
Diaz, who submitted McGregor in the second round at UFC 196, responded: "I train always hard to kill. He's already dead from the last time. This is a new guy. It's kill or be killed again. USA, motherfuckers!"
With this rematch, McGregor has vowed to "take the game back under control". Another defeat won't affect his status as a UFC champion — the featherweight belt will still be there for him to defend — but McGregor knows that it could do irreparable damage to his self-portrayal as a peerless martial artist with the ability to achieve the unprecedented.
Just eight months since he disposed of Jose Aldo in 13 seconds to become a UFC champion, avoiding a second consecutive loss in a fight with no implications for any division might prove to be McGregor's most important achievement so far.