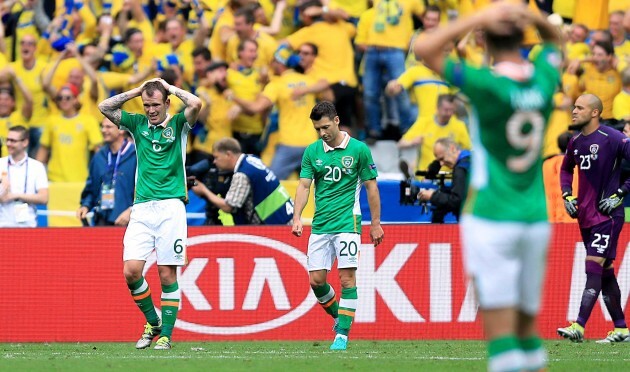 Donall Farmer / INPHO Donall Farmer / INPHO / INPHO
Ireland 1
Sweden 1
– Niall Kelly reports from the Stade de France, Saint-Denis
AS FAIRYTALES GO, it would have been almost too perfect. Wes Hoolahan, the man that Trap forgot, finally taking his place on the biggest stage of all with the goal to put Ireland on the brink of a place of the last 16.
But it only takes a moment for genius to rip up the script and rewrite it. Zlatan Ibrahimovic's intervention which drew an own goal from Ciaran Clark and earned Sweden a point was hardly spectacular — but it was enough.
So Ireland head on to Bordeaux and Lille knowing that this was only a first step, rather than a decisive one, if they are to have any chance of making it to the knockout stages. On the basis of this performance, there is no reason to doubt that they can do it.
With their foot on Sweden's throat for long spells, they created chance after chance, only to retreat after Hoolahan put them into the lead in the 47th minute. When Ibrahimovic jinked past O'Shea for the equaliser it had, in truth, been coming.
Tens of thousands of travelling Irish fans have turned Paris green this weekend but the party atmosphere was tinged with an appreciation that this would be the acid test of their tournament hopes, the most winnable of the three games and the most likely gateway to a place in the last 16.
That imperative seemed to shape Martin O'Neill's team selection for the better and allowed him to revert to the diamond formation and two-man strikeforce that served them so well against Germany last autumn.
James Crombie / INPHO James Crombie / INPHO / INPHO
Hoolahan was left at home to watch the Euro 2012 nightmare unfold on the television; now he was charged with bringing a creative dash to the Irish attack and responded with a man of the match performance. Jon Walters, arguably the man who did most in qualifying to ensure Ireland's place here, thankfully came through that final battery of fitness tests over the weekend while Clark, rather than Shane Duffy, was the man charged with marshalling Ibrahimovic.
To his credit, he handled the Swedish superstar as well as could have been hoped, limiting him to a succession of snatched half-chances until Ireland's resistance finally broke.
O'Neill's strategy seemed to give Ireland the best chance of taking all three points but at the same time, demand the most of his players, forcing James McCarthy and Jeff Hendrick in particular to cover vast tracts of the Stade de France pitch.  A high-stakes game but if you're not brave enough to roll the dice, why bother sitting down at the table?
It resulted in a performance typical of this Ireland side under O'Neill, especially in the first half: a model of organisation at the back, frustrating Sweden until they reverted to deep crosses and then swatting them away when they did.
Hendrick in particular thrived, Eamon Dunphy's criticisms possibly still ringing in his ears, while Brady was another who stood out as he tried to keep Ireland on the front foot.
There was enough bite to the early proceedings as both sides looked to put their stamp on the contest. McCarthy, tirelessly shuttling from touchline to touchline, clipped Mikael Lustig. Marcus Berg returned the favour by clattering into Darren Randolph, and Kim Kallstrom welcomed Walters by planting his studs into his knee.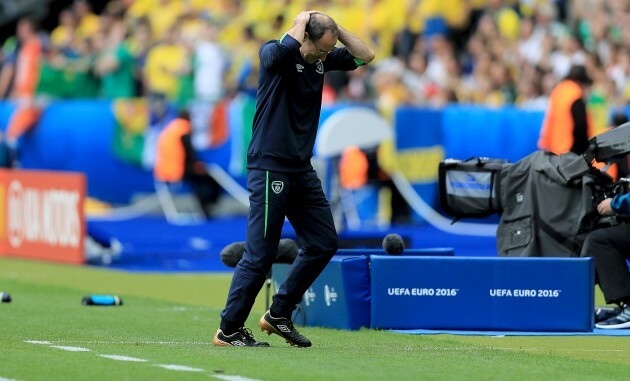 Donall Farmer / INPHO Donall Farmer / INPHO / INPHO
The contrast to Ireland's whimpering start in Poland four years ago could not have been more glaring. Once the game settled into any sort of discernible rhythm, they were the ones who controlled it, outworking the Swedes and creating the better chances.
It was Ireland who had the first meaningful chance as the clock struck 10. Victor Lindelof couldn't get to the loose ball on the edge of the box quickly enough and Hendrick's volley was struck sweetly enough to force Andreas Isaksson to dive and parry away to his right.
Brady's set pieces have been Ireland's most potent weapon for some time now, and had John O'Shea brought stud extensions with him to Paris, he would have had the game's opening goal in the 17th minute. Clark rose highest at the near post to flick the corner across the face of the Swedish goal; O'Shea, unmarked four yards out and with the goal at his mercy, only needed to put a toe on it but couldn't right his legs in time to get a touch.
With Sweden struggling to string together any meaningful attacks, Ireland pressed and nearly had their breakthrough just before the half-hour.
Coleman's cross from the right was only half-cleared as far as Hendrick. Brady arrived on his shoulder and, with the trick of wizardry so often needed to unlock a tight game, rolled his foot over the ball twice before zipping a right-footed effort towards goal. The diving Isaksson got nowhere near it but the net rippled over, rather than under, the crossbar.
Ireland's confidence grew and grew. Long and Hendrick combined to cut Sweden open between the lines, the crossbar still rattling from the latter's thumping drive.
It was a half that Ireland controlled everywhere bar the scoreboard, and the need to translate that superiority into something tangible grew more and more urgent. It took less than two minutes of the second half for them to do it. Coleman wriggled his way past Forsberg and pulled the ball into the space just as Hoolahan peeled away into it, his low shot rising just out of Isaksson's reach.
Donall Farmer / INPHO Donall Farmer / INPHO / INPHO
Rather than signal the moment for Ireland to press on and assert their dominance, the goal did precisely the opposite. They dropped off and surrendered all the initiative, inviting Sweden to do their worst. It didn't take long and within seconds, Clark had to be alive to turn the ball over his own crossbar with Ibrahimovic lurking.
His next hurried attempt at a clearance diverted the ball dangerously towards goal and forced Darren Randolph into his best save of the evening to that point. Panicked, Ireland swung every legal limb at the ball to try and stave off a succession of attacks, the yellow Swedish wall in the Stade de France's south stand trying to suck the ball towards them.
Walters bundled another behind off his thigh, the feeling growing that if Ireland could just buy themselves a breather, they could reset and organise. It finally came, courtesy of a lung-busting Brady run as he challenged Oscar Lewicki to a 50-metre dash down the touchline in front of the dugouts and won.
Erik Hamren switched things up and brought on former Celtic man John Guidetti to replace Berg in attack just before the hour mark. A moment later, Ibrahimovic knocked on the door again, this time with considerably more menace. He got his body across Clark to meet Martin Olsson's cross first; it was inches, rather than feet, off target.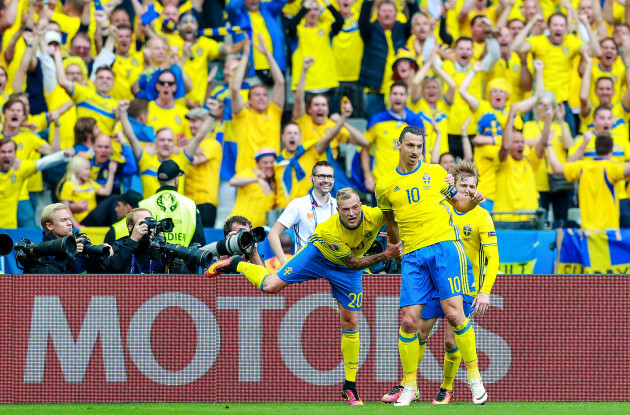 James Crombie / INPHO James Crombie / INPHO / INPHO
There was an inevitability that he would be at the heart of any Swedish breakthrough and so it proved. He danced past O'Shea and tossed the ball into the danger zone; had Clark not headed it past Randolph, the incoming Sebastian Larsson certainly would have.
Before Ireland even had a chance to consider how they would approach the final 20 minutes, Hendrick had a glorious opportunity to restore the advantage. He found himself free in behind the Swedish back four but the ball simply wouldn't drop quickly enough for him and when it did, Isaksson had his angles right.
Sweden could have nicked all three points close to the end had either Ibrahimovic or Larsson got a toe on Olsson's flashed cross but that would have been the greatest injustice of all.
As far as Ireland are concerned, the Stade de France has already played host to enough of those.
IRELAND: Randolph, Coleman, Clark, O'Shea (c), Brady, Whelan, McCarthy (McGeady 85), Hendrick, Walters (McClean 64), Hoolahan (Keane 78), Long.
SWEDEN: Isaksson, Lustig (Johansson 45), Lindelof, Granqvist, M Olsson, Larsson, Lewicki (Ekdal 86), Kallstrom, Forsberg, Berg (Guidetti 59), Ibrahimovic (c).
Referee: Milorad Mazic (SRB)
Attendance: 73,419
The42 is on Snapchat! Tap the button below on your phone to add!