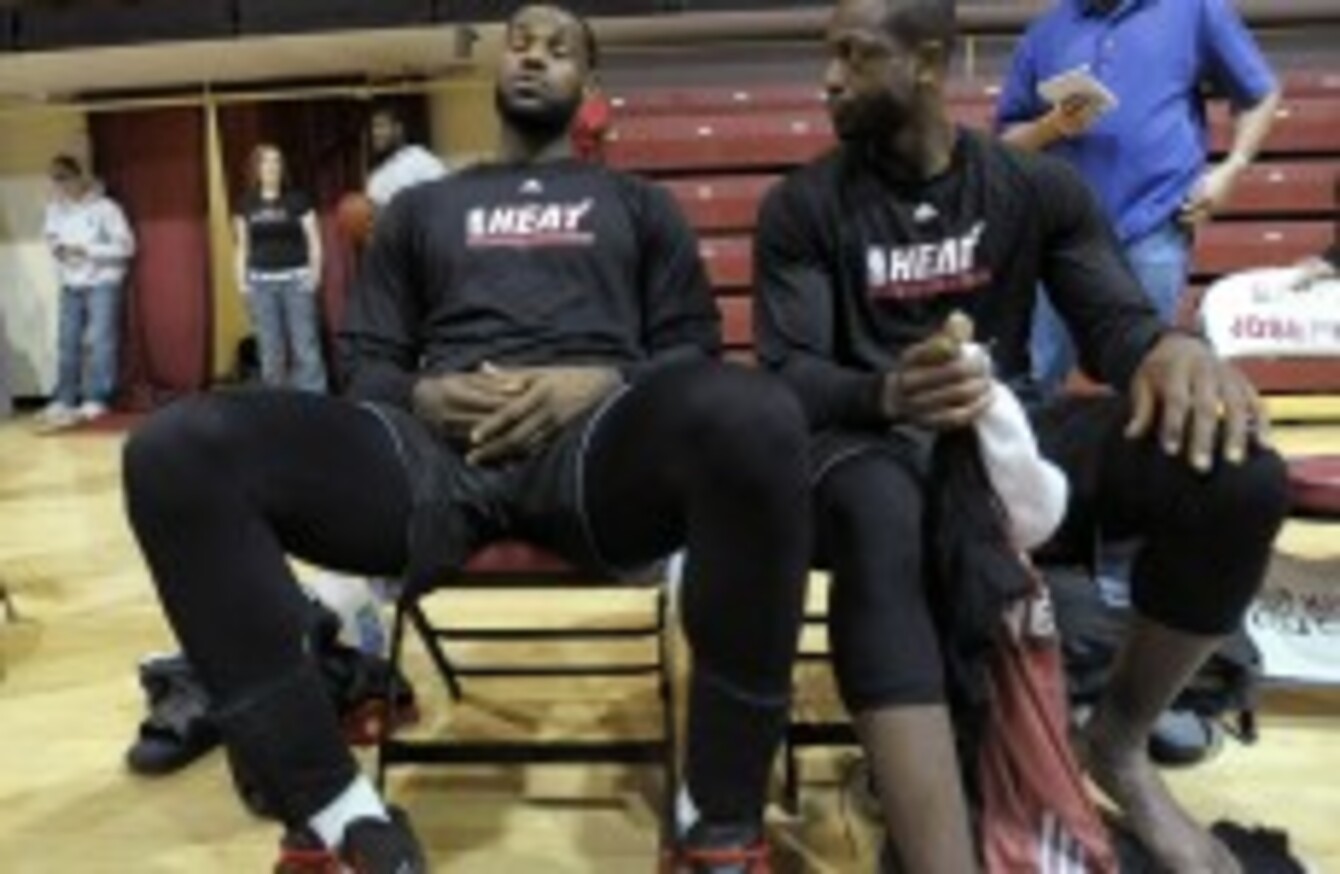 LeBron James and Dwayne Wade chill out before their game in Philly last night.
Image: AP
LeBron James and Dwayne Wade chill out before their game in Philly last night.
Image: AP
Result: Miami Heat beat Philadelphia 97-91
What that means: The star-studded heat win the series; they know face the Boston Celtics in a mouth-watering conference showdown.
How it happened: The day began with LeBron James making a playoff analogy out of breakfast, his way of saying the Miami Heat were focused on the first postseason challenge presented by the Philadelphia 76ers and nothing else.
Clear the table.
"Now," James said about 12 hours later, "we're preparing for lunch."
So this much is obvious: There will be some hunger Sunday afternoon when Boston visit to open a series both teams wanted.
Dwyane Wade scored 26 points, Chris Bosh added 22 points and 11 rebounds, and the Heat advanced to the Eastern Conference semifinals by topping Philadelphia 97-91 on Wednesday night and ousting the 76ers in five games, four of them of the grueling variety, perhaps none more nailbiting than the finale.
"We're going to be ready," Wade said. "Philly got us ready."
Mario Chalmers scored 20 points off the bench and James finished with 16 points, 10 rebounds and eight assists for Miami. Joel Anthony — who played 39 minutes without a single field-goal attempt — made a pair of critical free throws with 16.8 seconds left for the Heat.
Winners of a playoff series for the first time since the 2006 NBA finals, the Heat have little time to savor the winning flavor. Boston took three of four in the regular season, plus ended both Miami's season and James' stint with the Cleveland Cavaliers in the 2010 playoffs.
"We understand where we are in this league and where the Celtics are," Heat coach Erik Spoelstra said. "They've proven themselves. They were the Eastern Conference champions last year. If we want to get to anywhere where we want to go, and the goals that we set for ourselves early in training camp, we have to go through them. And it wouldn't be right if we didn't play them."

Result:
Spurs beat Grizzlies 110-103
What that means: The Spurs survive thanks to a massive buzzer-beater from a rookie
How it happened: The clock showed just 1.7 seconds. That's all that remained for the likes of Tim Duncan and Tony Parker in a miserable playoff run.
But an undrafted rookie didn't let them go down that quickly.
As ESPN report: "Catching the inbounds pass with 1.7 seconds left, Gary Neal forced overtime with a spectacular 3-pointer in the face of O.J. Mayo as time expired, and the top-seeded San Antonio Spurs staved off elimination by stunning the Memphis Grizzlies 110-103.

The eighth-seeded Grizzlies lead the best-of-seven series 3-2. They will host the Spurs on Friday night, but left town knowing they missed a knockout punch.
Result: Oklahoma Thunder beat the Denver Nuggets 100-97
What that means: The Thunder win their first post-season series – 4-1.
How it happened Kevin Durant's teammates kept telling him it was his time to take over the game.
He finally did, and the Oklahoma City Thunder came roaring back to send the Denver Nuggets to another early playoff exit.
Durant matched his best playoff performance with 41 points, including the final nine for Oklahoma City, and the Thunder closed out their first-round series against the Nuggets with a 100-97 victory in Game 5.
The Thunder overcame a nine-point deficit in the final four minutes, and Durant provided all the offense down the stretch to send the Oklahoma City franchise to its first playoff series win since it was still in Seattle in 2005.
"I just tried to seize the moment and take advantage of it," Durant said. "They kept feeding me the rock, I was able to get to some good spots and fortunately I made some shots."
Durant put the Thunder ahead to stay on two free throws with 46 seconds left. Serge Ibaka then swatted Nene's dunk attempt for his ninth block of the game, and what Durant considered the most important play.
Durant followed with a 19-foot jumper to put the Thunder up 100-97 with 12 seconds left.
Durant blocked J.R. Smith's shot at the tie from the left wing, and Arron Afflalo missed one last attempt at a tying 3-pointer at the buzzer.
"Kevin just took over," Oklahoma City forward Nick Collison said. "It was a pretty unbelievable performance."
When the final horn sounded, Ibaka charged across the court thumping his chest before finding James Harden at midcourt to give him a hug. He also celebrated with Durant before the NBA's scoring champion stopped to give his mother and grandmother a kiss in their courtside seats.
The Thunder will face either San Antonio or Memphis in the second round.

- additional reporting AP