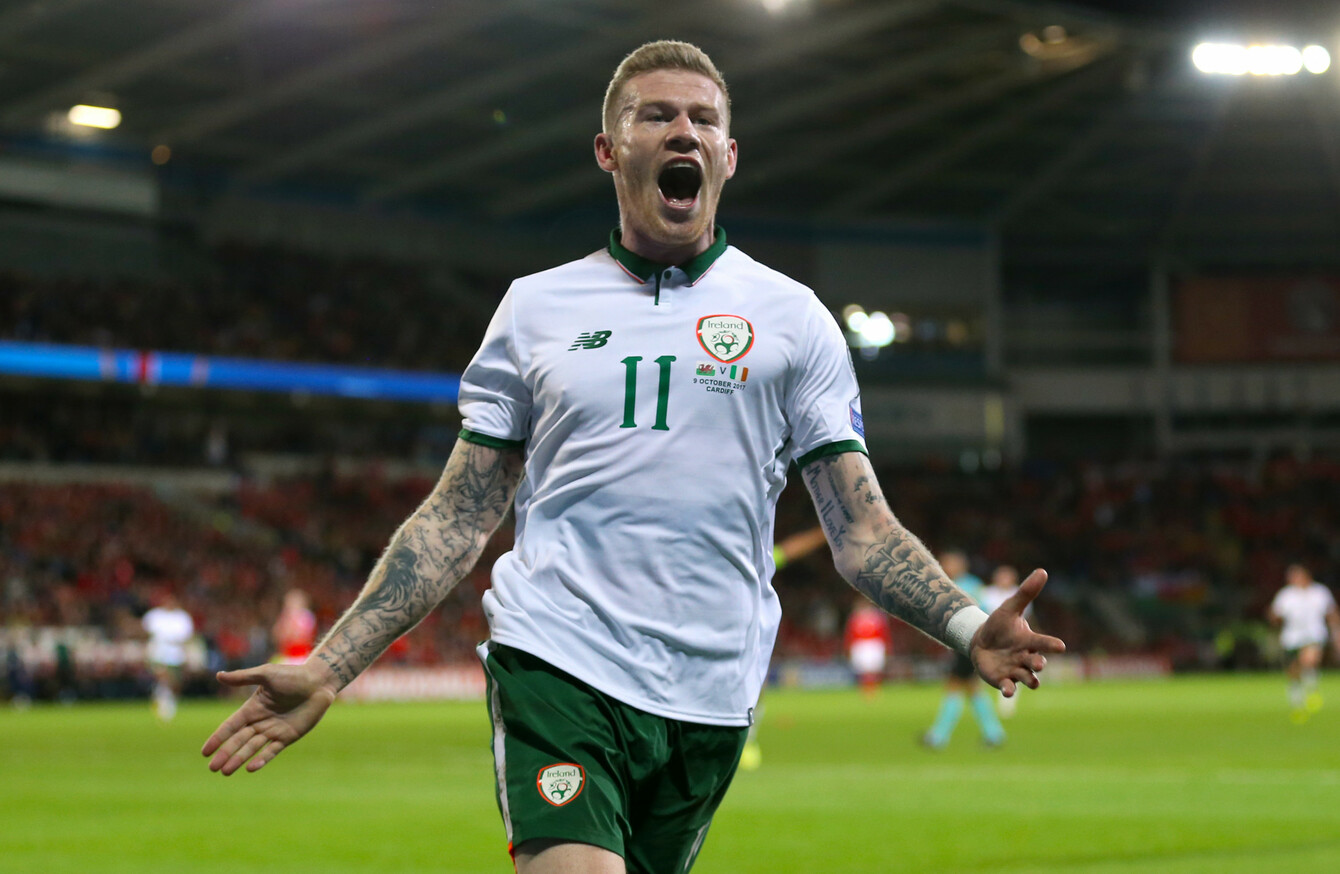 Republic of Ireland's James McClean celebrates scoring against Wales.
Image: Nigel French
Republic of Ireland's James McClean celebrates scoring against Wales.
Image: Nigel French
"IN THE LAST campaign we were the second smallest squad behind Spain… Maybe we get big women and men together and see what we can do."
Blaming bad genetics for his team's World Cup woes, Gordon Strachan suggested selective breeding as a way to stop future Scottish qualifying campaigns coming up short, so to speak.
While introducing eugenics into a nation's youth soccer development plan might be slightly problematic, Strachan also forgot about the giants of the past produced by Scottish genes: 'Big' Billy McNeill, 'Big' Duncan Ferguson and, of course, Hot Shot Hamish.
Not to mention pint-sized Picts like Jimmy Johnstone, Billy Bremner, and indeed, Strachan himself, who didn't let their lesser stature stop them achieving great things.
Strachan's career had many of the characteristics of the small man's struggle: resistance to bullies (whether psychotic defenders or Alex Ferguson), the porridge-and-banana focus on boosting bodily strength, and the waspish wit that warned off liberty-takers. So it was no surprise to see him project his own neurosis onto his nation's great ongoing sporting catastrophe.
The Scottish boss was guilty of something that many do in the aftermath of great international football reckonings. Considered, in the normal run of things, an irrelevant, low-wattage distraction from the carnival of club football, at times like this the international game becomes a receptacle for all sort of cockamamie theories about countries and their peoples.
So France's success in winning the 1998 World Cup was a harbinger of racial integration, Spain's glories reflected a spirit of cooperation overriding regional divisions and England's ongoing major tournament plight is a metaphor for loss of empire, the degenerative effects of immigration and a creeping sense of national decline.
Admittedly, big picture football-explains-the-world thinking can produce some fascinating ideas. David Winner's book 'Brilliant Orange – The Neurotic Genius of Dutch Soccer' posits the theory that the flat terrain of the Netherlands gave Dutch people a more developed sense of spatial awareness, hence the sophisticated passing and movement of Total Football.
Less compelling is the belief espoused by legendary Italian football philosopher and writer Gianni Brera that Italy's defeat in World War Two and subsequent impoverishment made them too physically weak to play attacking football. Brera — who famously proclaimed that the perfect game of football would finish 0-0 — argued that Italians must use strategy and gamesmanship to best stronger opponents, and so catenaccio was born.
Ireland is also susceptible to this sort of pop sociology. The Jack Charlton years were instrumental in kickstarting the Celtic Tiger. Saipan was a battle between gombeen 'it'll be grand' Ireland and the new Roy Keane rationalism. Dunphy and Giles would put the latest disappointment down to the decline of street football and the rise of personal stereos.
The current team is equally amenable to thinkpiece theory. Had things gone badly against Wales, many would have reflected on the highly paid management ticket and, seeing as how we had forked out top dollar for a second-rate service, pointed out that Rip-Off Ireland was alive and well.
Thankfully, victory in Cardiff provided a more stirring version of our national sense of self. "I think he epitomises what we're about as a whole team, and as a nation," Harry Arter said of Monday night's goalscoring hero James McClean, presenting Ireland in the image of the wholehearted, passionate, technically suspect, occasionally reckless, rebel song-yelling, poppy-spurning, social media-warring Derryman.
As seductive as it is in the beery afterglow of Monday to parlay the team's display of pluck and resolve into a broader national narrative, sadly most of this stuff bears as much scrutiny as Strachan's plans for a genetically modified Scottish master race.
France's mirage of racial harmony disappeared faster than Zinedine Zidane's hairline. The Celtic Tiger had more to do with light touch regulation than Ray Houghton's left boot. And personal stereos are popular in Germany too.
But on weeks like this, when you see the explosions of collective sentiment that only international football seems able to generate, it is understandable that people will seek to attach meaning to it. The joyous celebrations of Panama, Egypt and Iceland, the messianic Messi, our own defiance of all accepted norms of possession football — it's so powerful and tumultuous that it seems it has to mean something.
Maybe international football's occasional convulsions are so rousing because its rhythms reflect the very nature of life itself. It punctuates long spells of drab mundanity with climactic interludes of either sapping misery or unbridled joy. Years pass with nothing but a vague sense of humdrum disappointment, and then something amazing happens: a baby, a marriage, a thundering James McClean strike. As with life's big moments – love, family, career — it is the investment in the slog that makes the special days worthwhile.
The elation of Cardiff and Lille would mean nothing without the dour trudges to Tbilisi and Belgrade or the evenings spent grumbling at the Aviva watching Ireland scrap and wheeze past group minnows. On those occasions, it's easy to wonder what the point of it all is, but the pain is part of the pleasure, and we should enjoy the latter until the Scottish mutant giants come to destroy as all.
Subscribe to The42 podcasts here: