AFTER A MONTH in which the All Blacks took high performance culture to  a new level, now is as good a time as any to delve into what separates the truly successful teams from the rest.
The New Zealand approach has taken years to build and probably still has some way to develop, so we have looked to the recent past for wisdom on what makes the best teams special.
Will Greenwood won 55 caps for England from 1997 to 2004, peaking with Rugby World Cup victory under Clive Woodward in 2003. That England side was lucky to have an exceptional group of talented individuals including Jonny Wilkinson, Jason Robinson, Martin Johnson, Josh Lewsey…
The list goes on, but Greenwood insists that talent alone wasn't the reason England won that World Cup. The former Harlequins centre stresses that mindset was the key factor behind their historic win.
"We had parameters on and off the field that determined how we, as individuals, would live in camp and away from it. It was quite an interesting first meeting on the 1st of December, 1997 when Clive Woodward turned over the flip-chart and it just said 'We're going to win the World Cup'.
"There were a few doubting Thomases in there, cynics, who said 'If we can't beat Wales, Scotland and Ireland, how on earth can we possibly hope to beat the likes of Australia, New Zealand and South Africa?'"
Indeed, that leap of belief can be too radical for many teams. Greenwood points out that Woodward made the process of shifting England's mindset manageable by dissecting the ultimate goal into mini-objectives that the players could focus on more realistically.
"It was broken down into attainable objectives, and that was the key to understanding this seemingly impossible goal; it could be broken down into manageable objectives that we could understand, that were tangible and that we could grasp.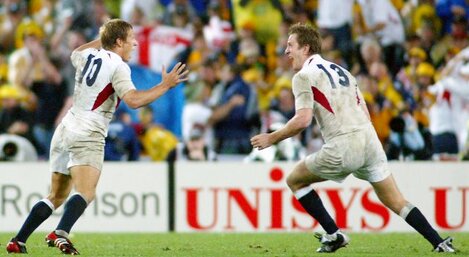 Greenwood celebrates Wilkinson's winning drop goal. Gareth Copley/PA Archive/Press Association Images.
"Examples of those would be to simply break the game of rugby down into seven key components; attack, defence, scrums, line-outs, restarts, counter-attack and the mindset game. We basically came to the conclusion that in the world of black and white – spreadsheets – if we could hit 90% of our targets in those areas, then no matter what came out of the opposition changing room, we would feel totally confident about emerging victorious."
England used a clear, concise and accurate game plan as they developed, something that Woodward himself outlines in his fascinating book Winning. It is obvious that a coherent style of play is necessary to create a culture of high performance in rugby, but Greenwood points out that off the pitch guidelines are equally important.
Off the field, we had a code of conduct that, by and large, we stuck to for five or six years. It gave us a system of living that we all bought into in terms of nutrition, diet, training, public perception, as far down the line as how we coped with autograph hunters, how we dealt with mobile phones in public.
Be part
of the team
Access exclusive podcasts, interviews and analysis with a monthly or annual membership.
Become a Member
"It was intended to make sure we were portraying ourselves as an elite sporting team. Both on and off the field, we had a pretty rigid framework but within that framework, we had a tremendous amount of freedom to go to the field and be the best that we could be on any given day.
"That was a special place to be."
Woodward is famous for his desire to micro-manage every single aspect within the England set-up during his tenure, leaving no stone unturned in his desire to make them the best team in the world. Greenwood says he believes that every little factor that they focused on was important.
"Greatness is achieved through the discipline of attending to detail. We had a simple catchphrase that we used, that said, 'If we can do 100 things 1% better, then we can become world champions.'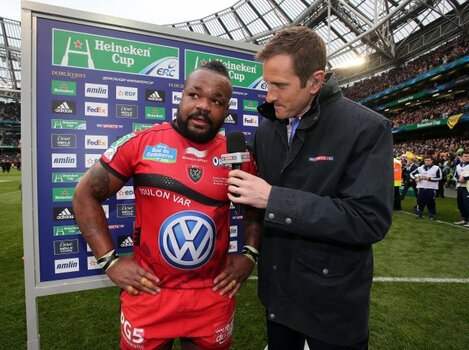 Greenwood has moved into the media world with ease. ©INPHO/Dan Sheridan.
"I know that Sir David Brailsford now talks about the aggregation of marginal gains when he talks about Team Sky, Bradley Wiggins and Chris Froome. Often the ability to say goodbye to the norms helped, to understand that we couldn't keep doing the same things and expect a different result.
"When Clive took over, we were the eighth best team in the world. If we continued down our same path, doing the same things, at best we might have hit seventh or sixth, but we'd have absolutely no chance against the big three. They're the ones you have to go hunting if you want to be the best in the world."
Along the way, there were some truly difficult days for England. The disappointments were always presented as a way of improving though, says Greenwood. England learned from every blow they suffered, starting with a genuine hammering at the hands of Australia.
We got beaten 76-0 in 1998, I actually wasn't there. By and large, that same group of players, five years later, played against Georgia in the Sydney Olympic Stadium. So it was a heck of a journey, and I remember Keith Wood crashing over at the back of a line-out in Dublin in 2001.
"We had Scott Gibbs in 1999 at Wembley, Duncan Hodge in 2000, we had Serge Betsen in 2002; names that roll off the tongue for me. I like to look back on it in a positive manner and view it as escaping from those holes we seem to have dug ourselves, later on in life, which we couldn't do as a younger team."
There is no single route to success that works every time, but Greenwood's words are certainly thought-provoking as Joe Schmidt beings his attempts to build a world-class Ireland team.
Like rugby? Follow TheScore.ie's dedicated Twitter account @rugby_ie >