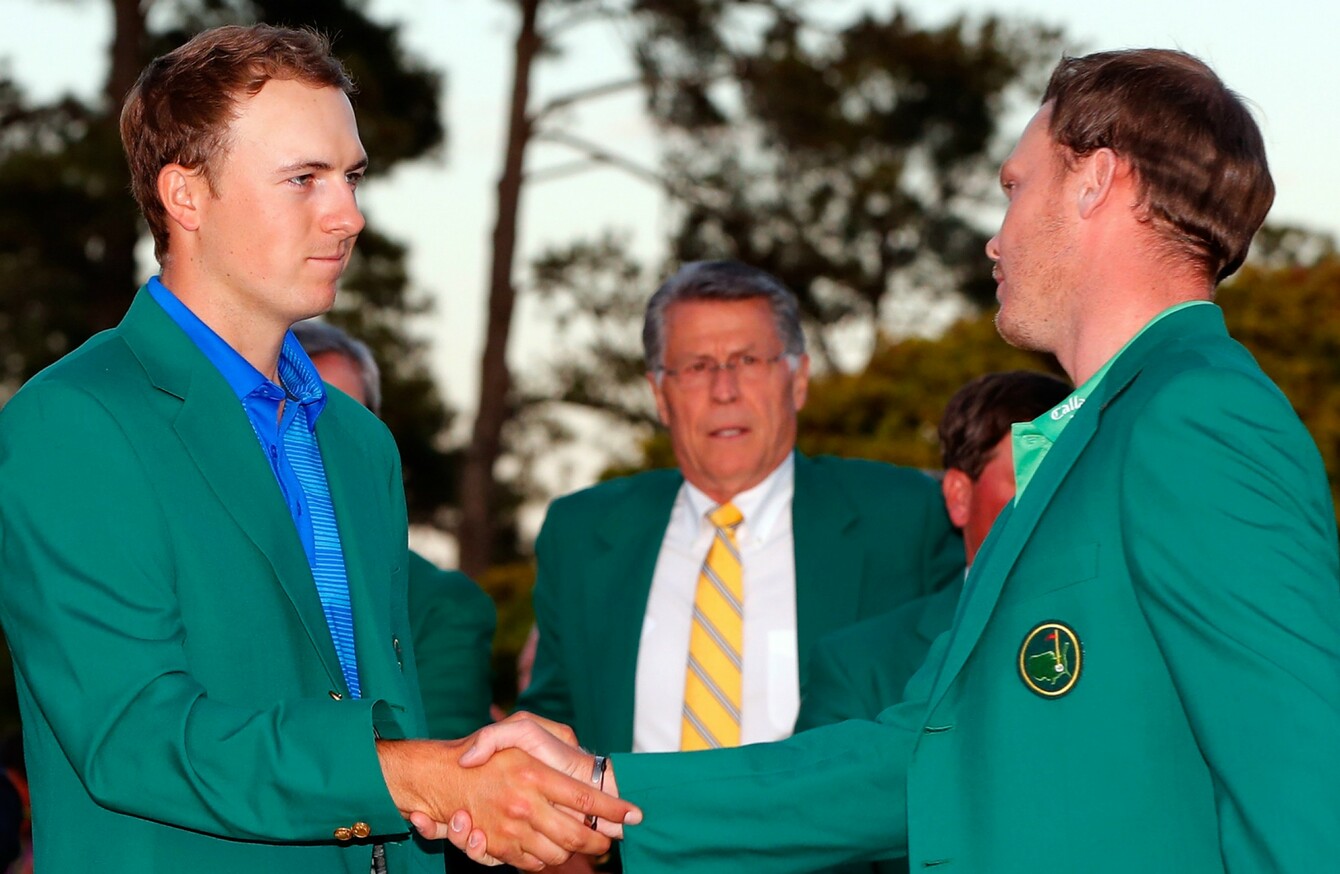 Danny Willett and Jordan Spieth at the 2016 Masters.
Danny Willett and Jordan Spieth at the 2016 Masters.
MASTERS CHAMPION Danny Willett said he has never spoken to Jordan Spieth about his stunning capitulation at Augusta in 2016.
Willett was the toast of the golfing world after becoming the second Englishman to win the Masters thanks to Spieth's dramatic collapse last year.
Spieth led a five-shot lead slip in remarkable scenes in the final round as he handed the green jacket to Willett, who triumphed by three strokes.
However, it is not something spoken about ahead of his title defence at the 81st edition of iconic major next month.
"Obviously it wouldn't be in my nature to bring it up. It's not my place. If he wanted to talk about it, he didn't; why would you?" Willett told reporters as he prepares for the Arnold Palmer Invitational. "I'm pretty sure it was a very difficult time for him, as great of a time as it was for me.
"He really is one of the classiest guys out there in terms of that, especially at his age, it's quite astounding really, in terms of how well he took it and how everything was.
"It would have affected a few guys but because of the class of guy and class of player, he's kept moving forward with his game nicely."
It has been slim pickings since for Willett, without a title on the PGA or European Tour.
Willett's best performance so far has been his tie for fifth at the Maybank Championship in February as he struggles with expectations.
"I don't think anyone can ever be fully prepared for it. For us it has been quite fresh and it's been a bit of a different experience. It is tricky," added Willett, who feels he will go under the radar at the Masters as world number one Dustin Johnson, Jason Day and Spieth attract attention.
"People put expectations on you, just as you do yourself. You win one of the best golf tournaments in the world and you feel like you should do that every week.
"Unfortunately, this isn't a game you can do that. You look at Tiger [Woods], and I think he had a 35-percent win record in his decade of dominance and even that is unheard of. If I'm going to compare every week to that week then I'm going to be disappointed because you can't recreate that week."