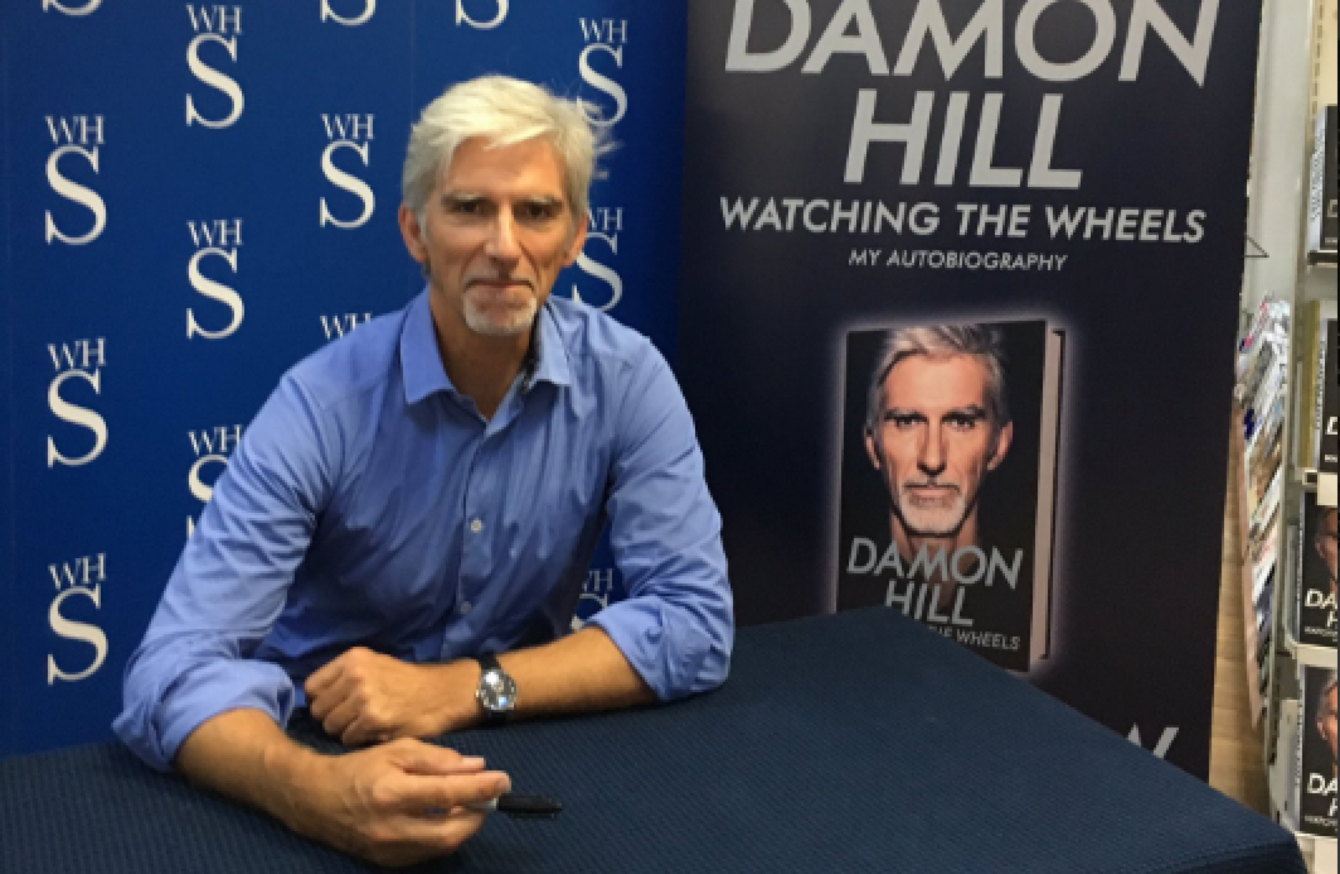 Damon Hill launches his autobiography.
Damon Hill launches his autobiography.
THE AUTOBIOGRAPHIES OF former Formula One world champion Damon Hill and current Rangers footballer Joey Barton are in the running for the prestigious William Hill Sportsbook of the Year award.
Hill's 'Watching the Wheels' and Barton's 'No Nonsense' have been included in the 17-strong longlist for the honour, along with books on athletics legend Emil Zatopek and Nike co-founder and chairman Phil Knight, and 'Forever Young: The Story of Adrian Doherty, Football's Lost Genius' by Oliver Kay.
In 'Watching the Wheels' Hill delves into the relationship he had with his father Graham, who was also a former world champion, while Barton's effort has been described as a 'no-holds-barred' autobiography.
The William Hill Sports Book of the Year Award is the world's longest established and most valuable literary sports-writing prize. This year's winner will receive £28,000 (€32,500), a £2,500 (€2,900) bet with the bookmaker and a day at the races.
Award-winning journalist Hugh McIlvanney, broadcaster John Inverdale and former chairman of the Professional Footballer's Association Clarke Carlisle are among those who make up the judging panel.
Previous winners of the award include 'A Life Too Short: The Tragedy of Robert Enke' by Ronald Reng, 'Fever Pitch: A Fan's Life' by Nick Hornby and 'Rough Ride: An Insight into Pro Cycling' by Paul Kimmage.
Longlist for 2016 William Hill Sportsbook of the Year
Today We Die a Little: The Rise & Fall of Emil Zátopek, Olympic Legend by Richard Askwith (Yellow Jersey Press)
No Nonsense: The Autobiography by Joey Barton, with Michael Calvin (Simon & Schuster)
Endurance: The Extraordinary Life and Times of Emil Zátopek by Rick Broadbent (Wisden)
Football's Coming Out: Life as a Gay Fan and Player by Neil Beasley with Seth Burkett (Floodlit Dreams)
'How's Your Dad?': Embracing Failure in the Shadow of Success by Mick Channon Jr (Racing Post Books)
Barbarian Days: A Surfing Life by William Finnegan (Corsair)
For the Glory: The Life of Eric Liddell by Duncan Hamilton (Doubleday)
Watching the Wheels: My Autobiography by Damon Hill, with Maurice Hamilton (Macmillan)
Forever Young: The Story of Adrian Doherty, Football's Lost Genius by Oliver Kay (Quercus)
Eat Sweat Play: How Sport Can Change Our Lives by Anna Kessel (Macmillan)
Shoe Dog: A Memoir by the Creator of Nike by Phil Knight (Simon & Schuster)
Chasing Shadows: The Life & Death of Peter Roebuck by Tim Lane and Elliot Cartledge (Hardie Grant Books)
The Belt Boy by Kevin Lueshing and Mike Dunn (Austin Macauley Publishers)
Mr Darley's Arabian: High Life, Low Life, Sporting Life – A History of Racing in 25 Horses by Christopher McGrath (John Murray)
Find a Way: One Untamed and Courageous Life by Diana Nyad (Macmillan)
Mister: The Men Who Taught the World How to Beat England at Their Own Game by Rory Smith (Simon & Schuster)
We Had Some Laughs: My Dad, The Darts and Me by Dan Waddell (Bantam Press)
The42 is on Snapchat! Tap the button below on your phone to add!