WILLY O'CONNOR was just 10 years of age when he placed his first bet.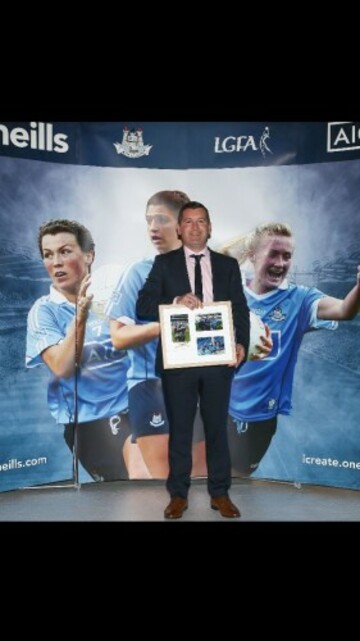 Dublin Ladies' kitman Willy O'Connor. Source: GAApics.com
It was 1988 and he was on a football trip to Liverpool with a local club, carrying the £10 that his mother gave him for the journey.
A slot machine captured his young imagination on the way over and he decided to take a chance.
He changed the money into coins, and made his way over to the machine with his tracksuit bottoms sliding down slightly with the weight of the money in his pockets.
He squandered £9 in consecutive bets and had just £1 left.
And with his last remaining coin, he pushed the button one final time to see a clean sweep of sevens illuminate the screen in front of him.
He'd hit the mother lode – £25 Sterling. For a child in the late 80s it felt more like £25,000 and it made him an instant hit with his teammates when he paid for them all to go to the cinema.
"The gambler wants to be a big shot," he tells The42 in a Dublin café.
The chase and the consequences
For the rest of his gambling life, right up until his last bet in 2010, O'Connor hunted for that feeling of euphoria again and again.
There's a bigger high from gambling than there is from cocaine," he says.
"The feeling you get, I was chasing that all the time. They say you're chasing the dragon, the more money I lost, the more money I chased to win back.
"You couldn't leave. No matter what, you wanted to double it, treble it and quadruple it. They call that the dream world of the compulsive gambler. You want to have big houses and big yachts, you think you're going to win a couple of million."
He thought he was just a lucky 10-year-old who stumbled upon the jackpot. But what seemed like a meaningless moment of good fortune for the Clontarf GAA man ultimately led him down a path of self-destruction.
It ruined his marriage and saw him kicked out of the family home. He stole money from his mother and his ex-wife. It drove him to a suicide attempt.
He robbed purses, maxed out credit cards and even dipped into the money pot that was needed for mortgage repayments.
He had different pockets in his trousers for the various people that he owed money to.
On the first night of their honeymoon in Las Vegas, O'Connor waited for his wife to fall asleep before slipping off to the casino with a fistful of dollars.
He often brought his young children to betting shops and left them sitting in the car with the window down. Other times, he had them in the bookies writing on dockets.
He knew where this was all headed. He knew this would destroy his life. But a force much darker and deeper than love had taken hold of him.
Gambling addiction 'is rife in the GAA,' according to O'Connor and several prominent figures from within the sport have spoken out about their struggles.
All-Ireland winner Oisín McConville, Galway hurler Davy Glennon and recently retired Offaly footballer Niall McNamee have all played their part in raising awareness about the scourge, while several others continue to suffer in silence.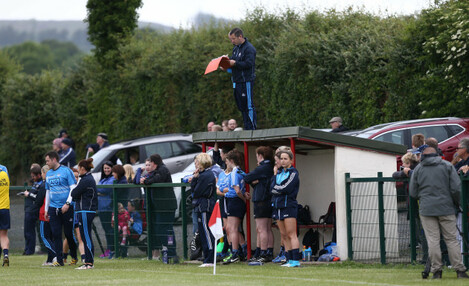 Willy O'Connor on duty with the Dublin Ladies during their TG4 Leinster semi-final this year. Source: GAAPics.com
For O'Connor, he's enjoying his second chance at 39. He's currently the kitman with the All-Ireland winning Dublin Ladies. He's also a referee and is still playing some sport himself.
Along with his kitman duties, he works alongside team analyst Seaghan Kearney for the Dublin Ladies, where his numerical skills from his gambling days come in handy for when he's compiling his notes for the stats and analysis.
His daughter Caoimhe is also playing with the Dublin minors.
Life is good for him now, but it has taken a lot of effort on his part to rehabilitate himself.
O'Connor didn't gamble much after winning his £25 jackpot at 10 years of age. The problem lay dormant within him throughout much of his teenage years and while he was in the army.
But just like other addictions, it manifested itself gradually.
Saturday morning bets soon became a Saturday afternoon activity, before spiraling into a 24-hour obsession.
He gravitated to games where results were instant, and he found a passion in the dogs and the roulette machines. By the time online gambling had sunk its claws into him, he was getting his thrills from virtual races.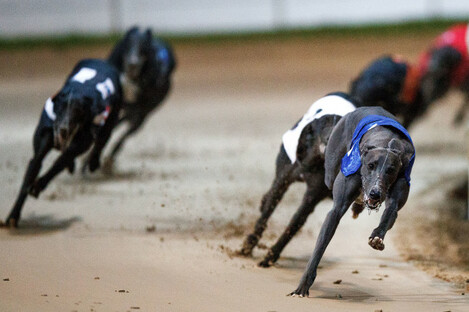 Willy O'Connor enjoyed betting on the dogs. Source: Bryan Keane/INPHO
"The pattern of the way I bet comes from that day when I was 10 because I won the money after one press of a button in less than two seconds.
"The gambling I did all my life after that was all quick.
I wouldn't back golf because it took four days. I didn't like backing matches because it took 90 minutes. I wanted it on the spot. The dogs was 27 seconds around the track so I used to love the dogs on a Saturday morning.
"By the time I got to do the football all my money was gone on the dogs. I'd lose everything before I even did the football bet. I got into the dogs and I loved them."
The art of deception 
O'Connor held down various jobs to fund his gambling. Along with borrowing money from others, he delivered pizzas and started working as a taxi driver after buying a house in 2005.
The house bills were eating into the money he needed for betting, and the taxi fares gave him another outlet to get cash in hand quickly.
His sole focus was on his gambling. During his splurges, he couldn't even spare some money to buy food. Every penny he had was needed for betting.
O'Connor found ways of convincing himself he didn't have a problem and all those who voiced their concerns were to be avoided.
"What do they know?
"They don't know me.
"You're grand," he said to himself.
One one occasion, he took a break for three months after losing €1,300 in one hour, which forced him to ask his best friend for a loan to pay the mortgage.
But the fright he got from that experience couldn't keep him away for long. Nothing could stop him from descending further into addiction.
He piled lie upon lie, misery upon misery, and poured it all into a betting docket with dreams of landing a big win that would fix everything.
Gambling came before everything, ahead of the kids, ahead of everything," says O'Connor.
"But it never stopped me because gambling was much more powerful than I was and I couldn't stop it.
"You keep going and keep going and you don't leave with the money. The odd time I left was when it was closed but I could never leave.
"No matter what I won, I wanted to go again and go again. I often left with not a penny in my pocket after being up thousands.
I often went out to the car looking for coins to go back in and win the thousands I was after leaving in there. That's what you do."
Unlike alcoholism or drug abuse where the evidence is often written all over the victim's face, gambling is largely a silent affliction.
And O'Connor was skilled at keeping it a secret. He could lose thousands in one sitting and still conceal the damage from those around him.
Even when the bills were naturally piling up, he would cover his tracks by calling up the postman to intercept the letters before his wife saw them.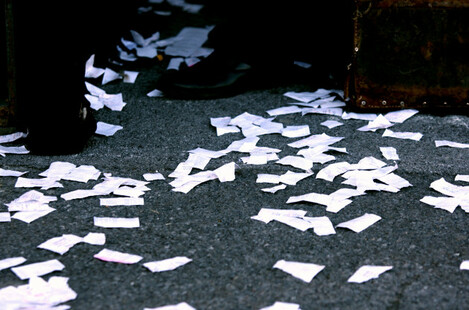 Discarded betting slips. Source: James Crombie/INPHO
He was always inventing ways to avoid getting caught.
"I always had a story ready. One night I was in the casino and I took €400 out of the account.
"My wife saw it online and asked me about it and I said I was out and that such and such was stuck so I lent him €100 and that he'd give it back.
"I went to my mother's the next day to borrow money. I went to the bookies and won €2,000 and then went back to my wife with the money and said, 'There's that money, he paid me back.'
"She could only believe it. A compulsive gambler is a compulsive liar at the same time because you're very good at it and you always have the story ready.
People are so busy in their own lives that it's easy for a compulsive gambler to do it because you're cute, you're sharp, and you're always a step ahead. And no-one has a clue."
He continues: "My mother caught me a few times over in Kilbarrack outside a bookies with the kids in the car. She'd look out and I'd run out and say I was just collecting a few pounds.
I didn't go there the next day because she'd catch me so I'd go over to Edenmore and leave the kids sweating in the car and I'd be in the bookies for an hour or two. I'd leave the window down a small bit and they'd be in there crying."
Can't beat the bookies.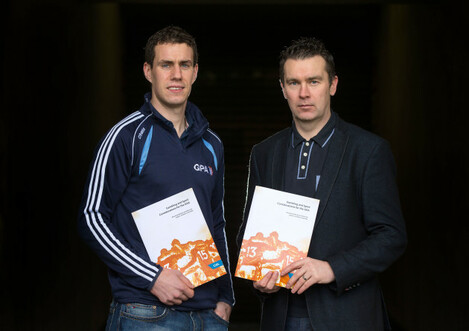 Oisín McConville pictured with Niall McNamee at the launch of the GAA/GPA Gambling Guidelines in 2014. Source: Cathal Noonan/INPHO
There's a line in Oisín McConville's autobiography 'The Gambler' in which he describes gambling as a game where the opposition always wins.
O'Connor had some big wins in his time, but the wins are never the end point. It never stops. Even when he was winning, he was losing.
That's Paddy Power's money," was his mantra for justifying his need to keep gambling.
His schemes were often simple, but he could never pull them off.
During one particular moment of desperation, he decided to sell his taxi plate in order to pay some money he owed to his mother and cover other payments. He got over €6,000 for the plate, and the plan was to buy it back with his winnings, while also putting some aside for his mother.
He doubled his money twice that day and saw his earnings rise and fall dramatically. €12,000 soon dropped to €10,000, then €2,000, and later back up to €8,000. He had no control of the situation and his plan quickly unraveled.
"I was high as a kite and my emotions were the same as the money. Up and down like a gambler.
I couldn't leave and at about 10 past four, the whole lot was gone. I went back to the house like a zombie and then you have to put the brave face on when you get to the house. Your stomach is actually in knots and nearly getting sick.
"[My wife] opens the door and she had to put something in the boot. The taxi plate would either be in the boot or on the roof so she looked in the boot and [there was] no taxi plate.
Be part
of the team
Access exclusive podcasts, interviews and analysis with a monthly or annual membership.
Become a Member
"She asked where it was and I just said I rented it out, that I was doing too many hours. I told her I'd get €50 a week to put towards the shopping.
"The taxi plate was long sold. I never even told her that. She only found that out a couple of years ago."
Rock bottom 
By the time O'Connor placed his last bet on 30 April 2010, he was well aware that his addiction was out of control.
He was neglecting his responsibilities to his children, was snapping at those around him and his humour completely depended on whether or not he had money for gambling.
He was working in Dublin Airport on the day he splurged all of his family's money in under half an hour.
"I took all the money out of the house, all our wages, all my wife's wages and gambled it all in 28 minutes. That's when I had to go home and tell them I was a gambler," he recalls.
Later that day, he ran into his boss and admitted to his problem. His boss could relate to his pain; O'Connor quit his job and agreed to go home and have the conversation he had avoided for so long.
But on the way, he decided to take another course of action.
I got on my bike that day and cycled home. On the way home I said, 'They'd be better off if I wasn't f***ing around.'"
Fate intervened to save him that day.
"I got home on the bike and told her the truth. I don't think she'll ever forget that day.
"She didn't know what to say. She was heartbroken. I was gone out of the house after that and I've been gone out of it ever since. She asked me to leave and when I think back, she was right because I'd never have stopped if she didn't put me out."
O'Connor attended his first Gamblers Anonymous (GA) meeting after that in Gardiner Street in Dublin, where he met three people who he had already come across in bookies.
It was painful to acknowledge the problem in front of strangers but his path to recovery had begun.
Recovery
It took a long time for O'Connor to rebuild his life. He wasn't allowed to have a bank card for two years, and could only be trusted with €1 when attending his GA meetings.
But by committing to his treatment, and revisiting some family issues he had previously suppressed, he gradually learned to conquer his addiction.
It's seven and a half years since he turned his back on that life. There have been no relapses, and he's still going well at 39. But he knows he has to continue with his recovery programme.
His three meetings per week, combined with his work as a counsellor for the Cuan Mhuire Addiction Treatment Centre in Newry, and his ongoing love for the GAA are what enable him to maintain a balance in his life.
He will forever be an addict and his work as a counsellor is a constant reminder of that.
"We've very short memories because we forget the losses that we had and go again. If we forget where we came from or where we were, we'd be gone back there straight away. You listen to fellas coming into the room that are raw and that brings you back to where you were.
"If you weren't going three days a week, you'd forget and you go back.
Your addiction will tell you, 'sure you weren't that bad, you can have one bet.' And once you've one bet, you're gone. I do a relapse prevention group in Gamblers Anonymous, they all say they stopped coming in and went for one bet and did even more damage the next time."
He has cleared his debts and repaired the damage he caused while suffering from the addiction, but some aspects of his former life cannot be restored.
It's great to have the relationship with them [his family] and see them whenever I like, but I still can't put them to bed," says O'Connor.
"I get invited back out for Christmas Day and I do be over the moon but then at six o'clock, I have to go home crying to myself that I can't live with them."
When he first linked up with the Dublin Ladies footballers at the start of the 2017 campaign, the players were hurting from their three previous All-Ireland final defeats. O'Connor, too, was carrying some hurt of his own.
Together they climbed the mountain that ended on that glorious September Sunday with victory over Mayo. O'Connor feels that they helped each other in overcoming that past and is grateful to them for being part of his recovery.
They don't realise how much they've helped me this year getting to where I got through sport. Sport has helped me big time.
"The hurt they've had has brought them on to this level, the same as me. I don't think I've had a better year than this year with getting involved with the Ladies.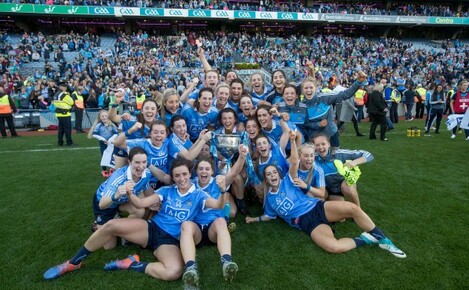 The Dublin Ladies team celebrate their All-Ireland victory. Source: Morgan Treacy/INPHO
"The thing about a gambler is they never finish things, they only do half things. I went to Cuan Mhuire two years ago to be a counselor. I never thought I'd get over the finish line. To be able to bring my mother and the kids down to Cuan Mhuire for my graduation, the All-Ireland, the way I'm able to deal with things now, I'm getting stronger and stronger all the time.
Those women couldn't be any stronger in showing me how they could do it. My graduation was in October and the messages they sent me on our WhatsApp group of how proud they were of me, that's the way they are."
If you need to talk, you can contact Gamblers Anonymous Ireland, Cuan Mhuire and Pieta House at 1800 247 247.
The42 has just published its first book, Behind The Lines, a collection of some of the year's best sports stories. Pick up your copy in Eason's, or order it here today (€10):