AT EVERY WORLD CUP, younger players have the opportunity to put themselves in the shop window or alternatively deliver on some well-documented promise. So, we've selected an XI full to the brim with talented youngsters who shone in Brazil.
To have been considered for FIFA's official award, players had to be born on or after January 1st 1993. But we've pushed the rules out a little further and extended the age-limit to players having been 22 or under at the start of the tournament.
We've gone for a well-organized 4-3-3 that features a disciplined defence and some good balance in the full-back areas. There's a nice mix of graft, composure, delicacy and speed in central midfield while there's an emphasis on movement, high energy and individual magic up front.
GK: Thibaut Courtois (Belgium) – Age: 22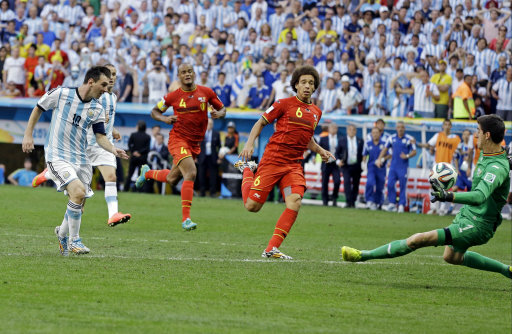 Kirsty Wigglesworth / AP/Press Association Images Kirsty Wigglesworth / AP/Press Association Images / AP/Press Association Images
In five games, Courtois conceded three times (one penalty) but was on the losing side just once. He could trust an impressive defence to keep things tight but when called upon, he was reliable. He made 13 saves it total, the most important coming in the round of sixteen clash against the USA. Deep into extra-time and with the Belgians leading 2-1, a neat free-kick routine resulted in Clint Dempsey being sent through. But Courtois was off his line quickly to smother.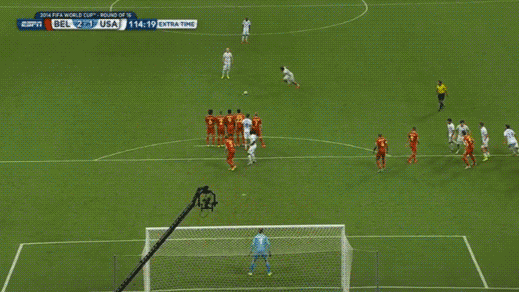 With Courtois finally due to make his long-awaited Premier League debut in August, it's arguably the best bit of summer business Chelsea did.
RB: DeAndre Yedlin (USA) – Age: 19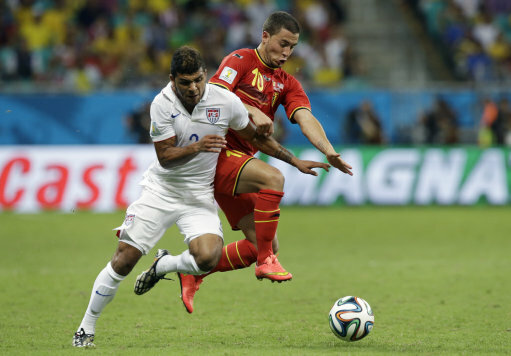 Matt Dunham / AP/Press Association Images Matt Dunham / AP/Press Association Images / AP/Press Association Images
The full-back made his debut for the USA back in February and only racked up 112 minutes of action in Brazil, never being handed a start by Jurgen Klinsmann. But his energy, power and determination perfectly encapsulated the overall philosophy of his team. His biggest impact came against Belgium in the knock-out round – his speed and drive caused Jan Vertonghen numerous headaches and provided the US with a critical attacking outlet.
http://vine.co/v/MFLHZ2mWnWx
CB: Raphael Varane (France) – Age: 21
Frank Augstein / AP/Press Association Images Frank Augstein / AP/Press Association Images / AP/Press Association Images
Calm, composed and elegant, Varane is a stylish centre-back and the 10m euro that Real Madrid spent on bringing him in from Lens looks increasingly like one of the steals of the century.
In five games, France conceded three goals but two came against Switzerland when they were already 5-0 up. Arguably, his best game came against Germany in the quarter-finals. Inside his own area, he made 4 successful clearances, one key interception and one block.
FourFourTwo FourFourTwo
Ultimately though, he was beaten in the air by Mats Hummels for what proved the decisive goal. And despite his impeccable distribution, the chance he created and the shot he had on goal, his performance will be defined by that slack marking. However, to err is human. Varane is a magnificent defender and will continue to be an integral part of this French team for the next decade.
CB: Konstantinos Manolas (Greece) – Age: 22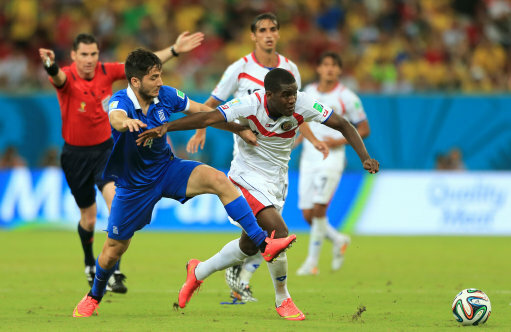 Nick Potts / EMPICS Sport Nick Potts / EMPICS Sport / EMPICS Sport
This was a different Greek side than what went before. In their first game, they shipped three goals against Colombia but they still managed to regroup and qualify for the knock-out round. One traditional element that was retained was a stand-out central defensive performance. At Euro 2012, it was Kyriakos Papadopoulos who put together a string of eye-catching performances.  In Brazil, it was Manolas.
Greece shored things up after their early setback and Manolas was controlled and strong, particularly in the do-or-die group clash with Ivory Coast. He made a string of clearances while his passing was impeccable for a centre-back.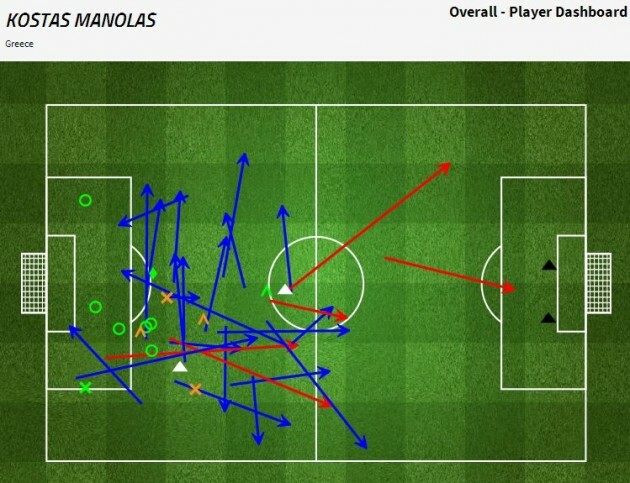 FourFourTwo FourFourTwo
Despite suffering elimination to Costa Rica, Manolas will certainly have piqued plenty of interest and don't be surprised to see him at a more high-profile club soon.
LB: Stefan De Vrij (Holland) – Age: 22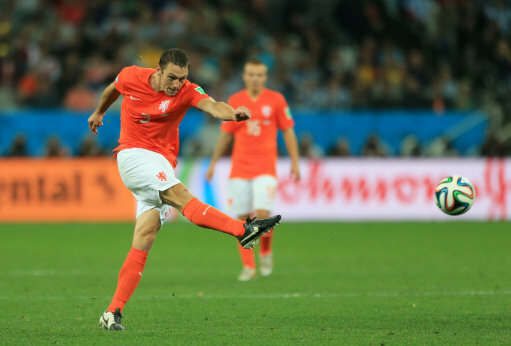 Nick Potts / EMPICS Sport Nick Potts / EMPICS Sport / EMPICS Sport
A quick glance at the official FIFA statistics tells a certain story. The passing figures have a top-5 featuring Lahm, Kroos, Mascherano, Schweinsteiger and Boateng. But, number six on the 'Total Passes' list is Stefan De Vrij. He keeps the ball well and is comfortable in possession. That's why Louis van Gaal brought him into the team.
Though Daley Blind has received plenty of praise for his performances, the Feyenoord defender enjoyed a superb start to the tournament by scoring his very first Dutch goal during the 5-1 humiliation of Spain. And though certainly not adventurous with the ball, he provided the Dutch with plenty of composure at the back.
DM: Muhamed Besic (Bosnia) – Age: 21
Gavin Barker / Sports Inc/Press Association Images Gavin Barker / Sports Inc/Press Association Images / Sports Inc/Press Association Images
Bosnia may not have lasted too long at the tournament but this defensive midfielder provided plenty of quality in their three games.
FourFourTwo FourFourTwo
In their intimidating opener against Argentina, Besic was terrific. A constant screen for his defence, most importantly he never cheaply surrendered possession. He also went close to a goal when he fizzed a shot just wide. In such an important role, he kept his discipline and his performance against Messi and co. seemed to give him confidence for the rest of the tournament. Currently playing with Ferencvaros in Hungary, he won't be there much longer.
CM: Paul Pogba (France) – Age: 21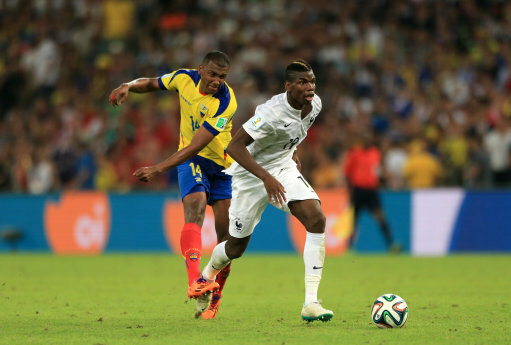 Nick Potts / EMPICS Sport Nick Potts / EMPICS Sport / EMPICS Sport
The former Manchester United midfielder had been tipped to star at this tournament and he didn't disappoint. It could have been a different story though had referee Sandro Ricci sent him off after he hit out at Honduras' Wilson Palacios after shipping a heavy challenge in their opening game.
Pogba's best quality is his self-belief. And even in a difficult quarter-final against Germany, his confidence never wavered. He still tried the same things, determined to wield an influence, particularly in the first-half. After the break, he was well shackled and France had big problems finding space in the German half.
FourFourTwo FourFourTwo
He may have been disappointed with his return of one goal and one assist. But, he kept quite close to his pattern with Juventus last season. There, he averaged two shots per game and racked up a passing accuracy of 84%. At the World Cup, he still managed two shots per game and the passing stats dropped slightly to 82%. Still though, a tournament full of promise for a rapidly developing midfielder.
CM: Kevin De Bruyne (Belgium) – Age: 22 (at start of tournament)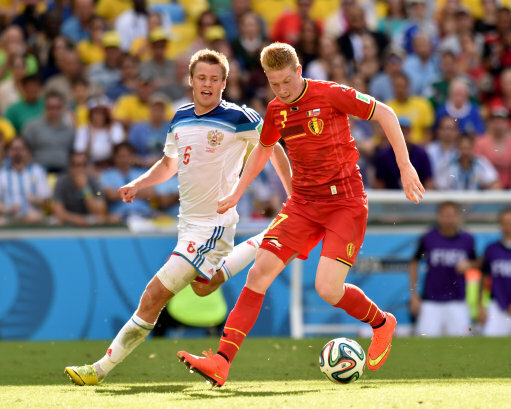 Joe Giddens / EMPICS Sport Joe Giddens / EMPICS Sport / EMPICS Sport
There seemed to be a relatively common thread to this World Cup with certain players who had struggled in the Premier League stepping up and delivering some great performances. For Ron Vlaar and Martin Demichelis, read Kevin de Bruyne.
In two years at Chelsea, the Belgian started two league games. But despite the uncertainty and upheaval in his club career, he remained a critical part of his national team and scored four goals during World Cup qualifying, easily carrying greater influence than the likes of Eden Hazard and Romelu Lukaku.
Despite his team struggling to let loose in their first few games, they thoroughly impressed against the US where a subtle change from Marc Wilmots allowed De Bruyne move to the wing and court a larger impact. As the match ebbed towards an inevitable conclusion, De Bruyne was magnificent, creating a litany of chances for his team-mates before scoring the opening goal. Later, he teed up Lukaku for the all-important second.
FourFourTwo FourFourTwo
AM: Neymar (Brazil) – Age: 22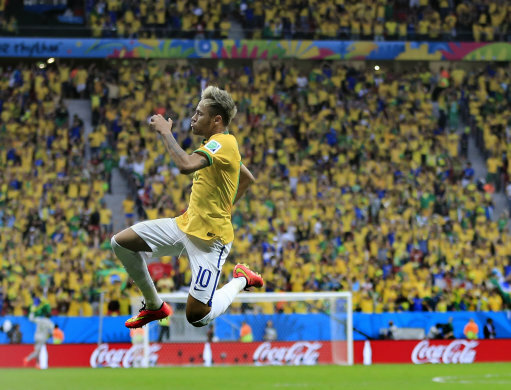 Bernat Armangue / AP/Press Association Images Bernat Armangue / AP/Press Association Images / AP/Press Association Images
Perhaps it's a convenient truth for many: because of Juan Zuniga, Brazil didn't win the World Cup. Look closer and things become more apparent. He scored four goals but none came in the knock-out round. But that's harsh. He had an excellent tournament and was the inspiration for his side. Without him, there's a decent chance Brazil may not have qualified for the round of sixteen. They struggled badly against an impressive Croatia in their opener but it was Neymar who came up trumps with a brace.
He was expertly shackled against Mexico and found it hard to pick the ball up in dangerous positions. Elsewhere, Brazil offered little. He was forced to try and do it on his own.
Against Cameroon, he did just that. He didn't create a single chance for anyone else but still pulled his team to victory with another two goals, the second, in particular, perfectly showcased his desire to take the responsibility on his shoulders.
When Brazil's game against Chile went to penalties, it was Neymar speaking to the players in a huddle beforehand. And when he dropped to the floor late in the quarter-final clash with Colombia because of injury, there were tears because without him Brazil were very average.
He went some way to delivering on the biggest stage and there will be more to come.
AM: James Rodriguez (Colombia)  -Age: 22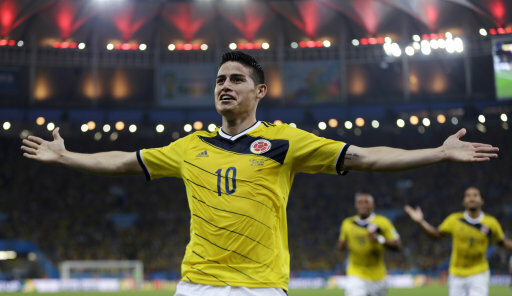 Natacha Pisarenko / AP/Press Association Images Natacha Pisarenko / AP/Press Association Images / AP/Press Association Images
5 games played, 6 goals scored, 2 assists and the world at his feet. It's safe to say that James Rodriguez has experienced a stunning few weeks.
Despite suffering the loss of Falcao before the tournament began, Colombia had a new poster-boy ready and waiting and despite some other team-mates like Juan Cuadrado impressing in the early stages, Rodriguez steadily built momentum as the tournament went on. Three of his goals came in the first-stage though his strike against Japan was a sign of things to come.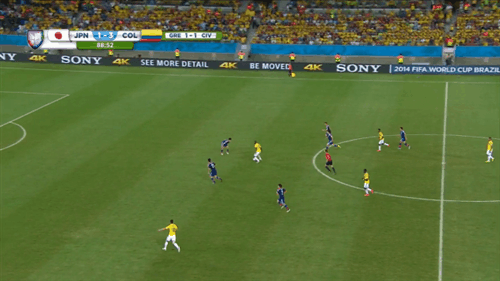 But that goal against Uruguay announced him as a global superstar. It will go down as an iconic World Cup moment, a piece of individual magic that was a perfect mesh of subtlety, skill, power and accuracy. For that strike alone, the plaudits are deserved. Put everything else in the mix and Rodriguez, ominously, will only get better.
F: Mario Goetze (Germany) – Age: 22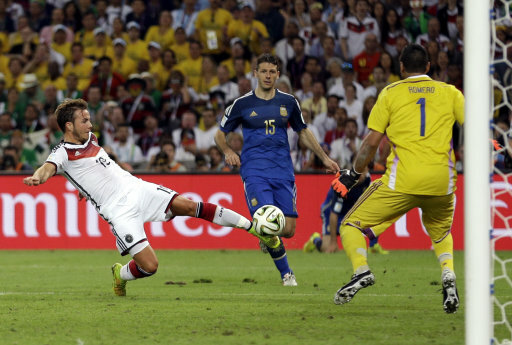 Natacha Pisarenko / AP/Press Association Images Natacha Pisarenko / AP/Press Association Images / AP/Press Association Images
Mario Goetze didn't have a spectacular World Cup but he'll forever be considered a tournament legend. There's a common perception that the great players step up when the pressure is on. But Goetze's winning goal against Argentina was a superb individual goal but came from an overall team approach that Germany had fine-tuned.
Though Klose gave Germany a certain target, Goetze's introduction ensured they could stretch the Argentina defence and move them around a lot more. Picking up the ball in a variety of positions, Goetze's movement was unorthodox and a cause of concern for Alex Sabella's side. Ultimately, Goetze's positional intelligence made space for Andre Schurrle to get in a cross and gave him the room to apply the finishing touch. With Klose's imminent retirement, the path is clear for this young man to excel in Germany coulours for many more years.