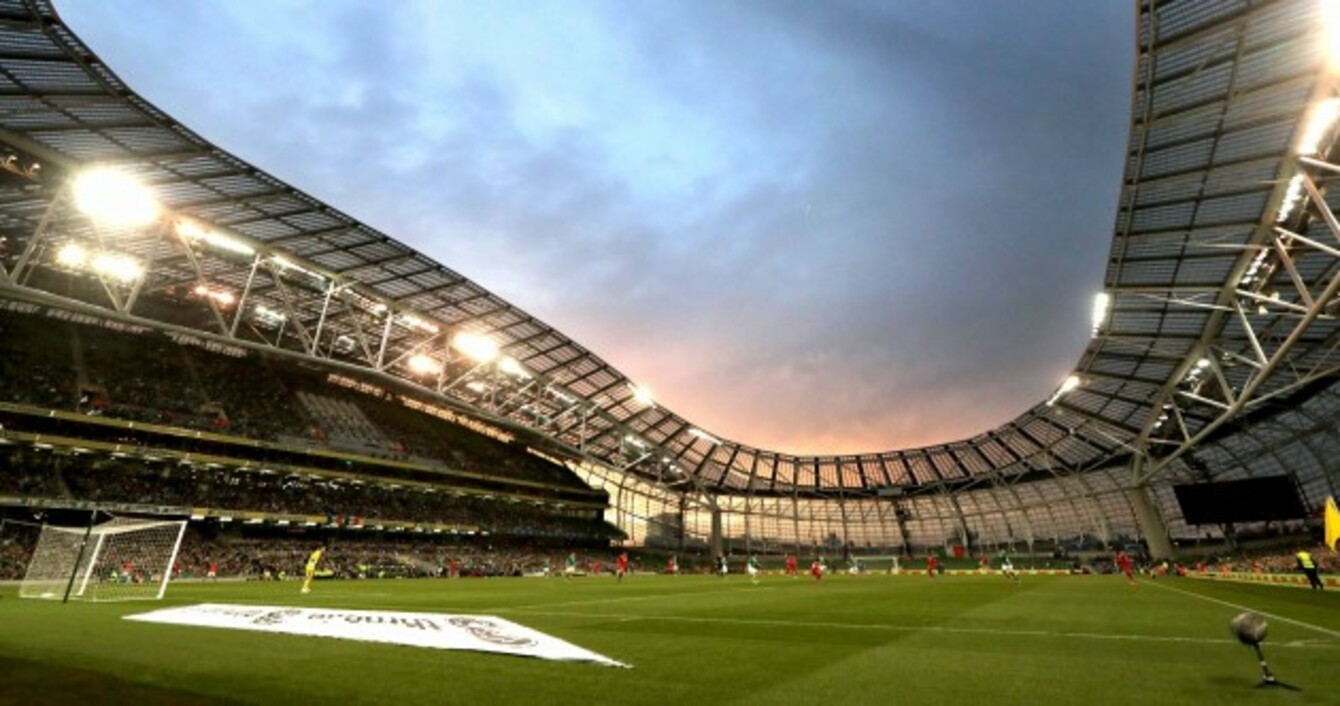 Image: Morgan Treacy; ©INPHO/Morgan Treacy/INPHO
Image: Morgan Treacy; ©INPHO/Morgan Treacy/INPHO
UEFA PRESIDENT ALEKSANDER CEFERIN has said the governing body would 'strongly support' an English or pan-British bid to host the World Cup in 2030.
Speaking to the BBC in Cardiff, as the city prepares for this evening's Champions League final between Real Madrid and Juventus, Ceferin pointed at how the infrastructure and resources were already in place.
"They are capable of organising the World Cup, of that I'm sure," he said.
"If they decide to go, we will strongly support them.It just has to be a decision not just of the FA, probably also the government and others too. But they deserve to have a World Cup in the near future. It's simply time for us [Europe] to host the World Cup in 2030."
He is right. With Russia in the hot-seat next year, the rotation of the World Cup location then moves to Asia in 2022 and, more than likely, North America in 2026. So, Europe and Uefa members would be allowed under Fifa's rotation policies to bid for 2030.
But what would a proposal mean for Ireland?
Well, England could, in theory, manage hosting duties by themselves. But, with an expanded 48-team tournament (Ceferin was part of the committee who recommended the expansion), that's 80 games to arrange and a logistical nightmare for just one country.
As a comparison, for the 2026 tournament, the United States – who also have the resources to run the World Cup all on their own and did so in 1994 – have joined forces with Canada and Mexico to better distribute the weight of responsibility. The deal sees the US take 60 fixtures with the other 20 split evenly between their neighbours.
Could a similar deal be hammered out between the home nations and Ireland?
In 2026, the bid team will look to the marquee, shiny, high-capacity stadia as its selling point. The US can count on the MetLife Stadium in New Jersey (82,500 capacity), the AT&T Stadium in Texas (80,000) and Levi's Stadium in California (68,500). Mexico, meanwhile, has the iconic Azteca (87,000). But Canada has smaller venues like Montreal's Olympic Stadium (60,000) and Vancouver's BC Place (54,500) which will share in hosting 10 games between them.
It's not confirmed just yet how many stadia will be required for 2026 but, already, there appears to be a nice geographic spread of various cities getting their moment in the sun.
Regarding that, England does have a slight issue in that three of their biggest venues are all located in London. During Euro '96, organisers made a point of sharing the tournament around the country and only ventured to the capital to use the old Wembley. But that just may not be possible this time around.
The Olympic Stadium in Stratford is a certainty for any prospective bid while the Emirates boasts a 60,000+ capacity. Old Trafford, Anfield and St. James' Park would all be included though it would be interesting to see how other smaller grounds like the Stadium of Light in Sunderland and Villa Park in Birmingham would fare in any negotiation. But, there seems a disparity between the bigger, modernised venues and the rest.
So, when the package is opened up to include Scotland, Wales and Ireland, the shortlist of venues becomes a lot more impressive with the likes of Hampden Park, the Millennium Stadium and the Aviva Stadium added to the mix.
By including Manchester's Etihad Stadium too, that's 10 venues in total and more will certainly be required.
This is still very much a hypothetical situation but with Ceferin talking up the possibility of it, as well as the upcoming European Championship in 2020 – which sees Dublin, Glasgow and London all hosting games – it's not outside the realms of possibility. An expanded 48-team World Cup is a monstrous project but it already has a template with the US, Canada and Mexico planning to share the burden.
And that template gives Ireland an opportunity if/when any conversations start to happen.
The42 is on Instagram! Tap the button below on your phone to follow us!