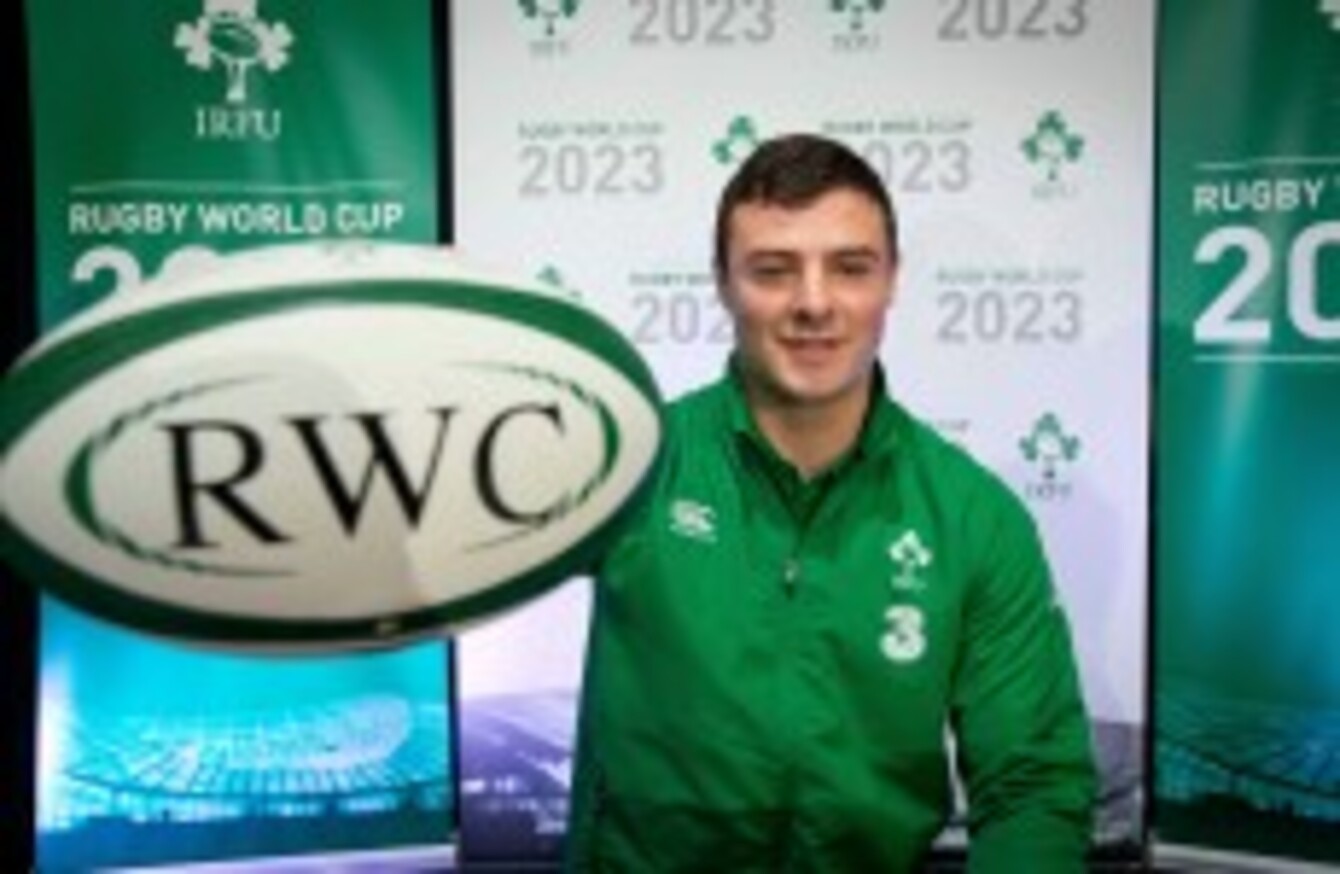 Henshaw was in Armagh yesterday to help launch Ireland's bid.
Image: Morgan Treacy/INPHO
Henshaw was in Armagh yesterday to help launch Ireland's bid.
Image: Morgan Treacy/INPHO
BY THE TIME the 2023 Rugby World Cup gets underway, Robbie Henshaw will be 30, Paddy Jackson will have turned 31 and Jordi Murphy will have reached 32 years of age.
It's an odd thought that three of the younger current Ireland internationals may be veterans of the international scene at that stage, but if they are still involved they will hope to be playing in a home tournament.
The trio were present at the Royal School in Armagh yesterday as Ireland's bid to host RWC2023 was formally launched. Rugby players can be very short-term focused in their goal-setting, but the prospect of a World Cup on Irish soil certainly excites.
"I certainly hope so!" laughed Murphy on the possibility of being involved if Ireland's bid is successful. "We'll see, there's a lot of rugby to be played between now and then, but it would be great."
It may be nine years away, but Ulster out-half Jackson says it's not difficult to imagine how special an Ireland-hosted, cross-border World Cup would be.
Even now, you can see how many people it's brought together and the effort and organisation that's put in," said Jackson. "It's exciting for me, the prospect that I could be involved if I'm still playing, injury-free and get picked.
"If it came to Ireland, it would be something special to play in front of the home crowd."
World Cups are focal points of rugby, the very peak of the international game. In that regard, so many of our vivid memories of the sport revolve around the goings-on at the global tournament, and it's no different for this batch of Ireland players.
"The first World Cup I remember is probably when England won it," said Henshaw. "I don't remember before that, just Jonny Wilkinson kicking the drop goal. The most recent World Cup when Ireland beat Australia is a strong memory; Ireland played out of their skins."
Jackson also points to the 2003 edition as his first World Cup memory, although he recalls being "transfixed" by the entire final itself, rather than just the Wilkinson drop goal that broke Australian hearts.
23-year-old Leinster back row Murphy, who was born in Barcelona before moving to Ireland at the age of nine, can stretch his mind back to the tournament before. In terms of the 2003 vintage, Alan Quinlan's score against Argentina sticks out.
1999, Ireland v Australia," said Murphy of his most distant World Cup memory. "I was still living in Spain; I didn't have a notion what was going on. The rest of my family were watching it and I had to sit through it.
"But that would be the World Cup I remember. I also remember Quinny going over against Argentina [in 2003]. That's definitely a vivid memory."
The fact that Ireland's campaign to host the 2023 version includes GAA stadiums is a point of interest for the trio of internationals, given that they have already become accustomed to the small number of high-class rugby venues on these shores.
"I've obviously never played in any of the GAA stadiums," said Murphy, "but from having chatted to the lads, they say playing in Croke Park is absolutely incredible. The GAA are on board, so they've got some fantastic facilities. It would be exciting to play in new grounds."
Be part
of the team
Access exclusive podcasts, interviews and analysis with a monthly or annual membership.
Become a Member
Henshaw has a far stronger GAA background than Murphy, having been a minor football star for Westmeath in the past. The Connacht centre believes that a World Cup in Ireland would not only grow interest levels in rugby across the nation, but also allow visitors to learn about the GAA.
"I think it would mean a massive amount to places that are GAA-focused, such as Castlebar. There's a big focus on rugby up there now, I know, and if the World Cup came here in 2023, it would boost everything in the rugby aspect.
Not only could people come to Ireland and get a feel for our culture, but get a look at our other sports like hurling as well. It would benefit the whole country."
"My main sport was Gaelic in school; I had rugby as well. It's great to be able to promote the sport, coming from a GAA background. A lot of my friends are now loving watching rugby and supporting rugby, even though they're all playing Gaelic at the moment.
"There's massive excitement and I can't imagine what it'll be like if the World Cup comes here."