SEAMUS COLEMAN SAYS that captaining Ireland for the first time last night was an honour, despite the fact that his side were well beaten in a 3-0 defeat to Germany.
The Killybegs native admitted to being disappointed with the performance Ireland gave, and stressed the need for the players to give caretaker manager Noel King a win on Tuesday against Kazakhstan.
From a personal point of view it was a special night for the Everton man as he wore the captain's armband for the first time in an international.
Very special, it came as a shock really. Obviously Robbie [Keane] wasn't playing so it was up for grabs I suppose. But I was delighted to get the honour and my family back home will be delighted. It's what you want as a kid."
Coleman refused the suggestion that he was under more pressure as captain: "No not at all, it's a massive honour to lead your country. Robbie spoke to me before the game and just said, 'Play your normal game.' That's what I did and I really enjoyed it."
Still only 25, Coleman will now be a candidate for the captaincy in a permanent capacity under whoever takes over as Ireland manager. He says he would be proud to retain the leadership, but acknowledges that there are other players who will be considered too.
"We'll see. We've got a lot of leaders in the team and I'm sure you know Robbie will be about for a while yet. But if the opportunity came up and I was offered it, obviously I'd be delighted to take it."
Asked for his impression of the 3-0 defeat in Germany, the Ireland skipper admitted that Ireland has been fighting a losing battle for the majority of the game. However, he was also keen to point out that his team had created scoring chances of their own.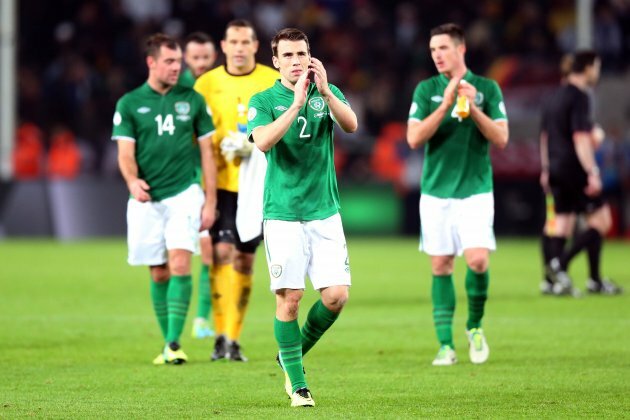 ©INPHO/Donall Farmer
"A tough night. Brilliant team, Germany, with world-class players. Obviously a disappointing scoreline but there was some positives. We had a couple of chances that we could have taken, but we didn't tonight. Hopefully on Tuesday night we can take some of those chances."
Ireland's first half display meant there was little hope of a shock victory, although Coleman felt there was more than a hint of good fortune in Sami Khedira's deflected opening goal. Ireland's inability to hang on to possession was another contributing factor to the loss.
"We knew that they were going to have a fair share of the ball and we had to stay as solid as we could. I thought we were doing that. They got a lucky goal to put them 1-0 up and that's disappointing. From there, we're chasing a game against a world-class team."
I think the best teams in the world now, they're just as good off the ball as they are on the ball. Germany are one of them and they made it difficult for us at times. But I thought we did create some chances as well, we could have scored a couple of goals. Unfortunately, it wasn't to be."
Ireland's final game of the campaign sees them face Kazakhstan on Tuesday, and Coleman says it's crucial that King's short spell in charge of the Irish team is rewarded with a win.
"I think so. For Noel, who's come in for the two games, it would be nice to get a victory for him. As players as well, you want to win every game you take part in and hopefully we can on Tuesday night.
"The third goal [against Germany] kind of put a dampner on it, we were doing alright up until that. The mood was alright. We've got a game on Tuesday, it was never going to be easy to come here, so hopefully we can go into Tuesday and get all three points."
Audio provided by Stephen Doyle of 98FM.