Walking Away…
"From a Tipperary hurling point of view, I'm around a long time and I think it's time somebody else got a shot at it."
- 38 year-old goalkeeper Brendan Cummins calls a halt.
"We had our battles in various games but I wouldn't have a bad word said against Paul. Hopefully down the road we could meet up and have a few drinks and a chat."
- Cork's Noel O'Leary on his Kerry adversary Paul Galvin.
"I like to look back on the positive things. I made great friends and great memories. The game taught me a lot. It's important for me to move onto the next challenge."
- Donal Óg Cusack confirms his retirement in March after being omitted from Cork's league panel.
"I had said this would be my last season so unfortunately this operation has ended my career. I'm quite sad about about it but happy enough to make that decision. Your health is your wealth."
- Dermot Earley calls time after a legendary career with Kildare.
"I went as hard as I could for as long as I could."
- Kerry's iconic defender Tomás Ó Sé retired in October.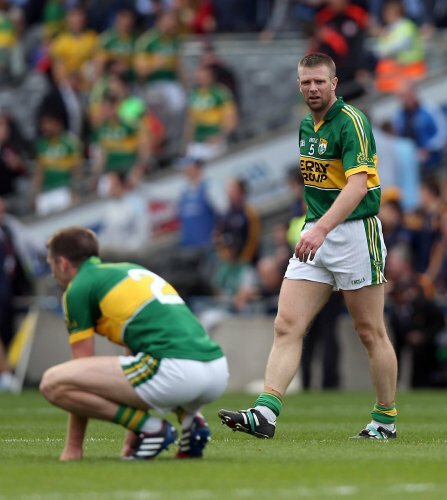 Pic: INPHO/Donall Farmer
The Dubs…
"He's a peculiar fish at the best of times, he just needs a bit of love every now and again! He's massively important. He's not a big talker but he does what he does."
- Bernard Brogan tips his hat towards Dublin captain Stephen Cluxton.
"The team I was with are in a Grand Final next week but I'd firmly rather be here now winning an All-Ireland with the Dublin lads."
- Ciaran Kilkenny happy with his choice to come back from Oz.
"Not only were we playing Mayo but we were playing the referee as well. Anybody here can ask me are Dublin a cynical team and we're not."
- Jim Gavin is not pleased with referee Joe McQuillan after the All-Ireland final.
"I often compare the GAA to the Catholic Church, they're very slow in processing and doing things."
- Ger Brennan on ongoing disciplinary sagas.
"I'm tired but I'm over the moon, I'm just so happy."
- Paul Flynn savours that winning feeling.
Pic: INPHO/Morgan Treacy
Things we learned…
"I remember going down the street and buying the Mi Wadi orange and biscuits. I didn't charge it to expenses, no I managed to scrape it out for that one!"
- Davy Fitz on the meeting that change the course of Clare's season.
"I get slagging that I'm not as good as the mother."
- Cork  hurler Seamus Harnedy on what his UCC teammates have been saying with his mother Cathy having won six All-Ireland camogie medals.
"The day of the lap they tell me is gone. I'd like to be running fellas all the time if I had my way."
- Mick O'Dwyer pines for training methods of the past as he takes over the Clare footballers.
"Thank God we went to Knock on Saturday on the way."
- Paul Coggins reveals the divine intervention that helped London get the better of Leitrim in their Connacht semi-final replay.
"We're off to Bruce Springsteen on Thursday night first, but it's great."
- John Allen outlines his celebration plans after the Munster hurling final.
Pic: INPHO/James Crombie
Ouch…
"I got a bang in the chest in the club match against Courcey Rovers and I started coughing up blood. You'd panic when you see that."
- Cork captain Pa Cronin battled illness in the middle of the summer.
"Your man just drove me out over the front of my knee. There was a big snap. I couldn't get up off the ground after that."
- Wexford's Tomás Waters on the knee injury that resulted in him getting five operations and spending 48 days in hospital.
"I knew straight away it was broken, heard the crack. For a second I was hoping it had come from somewhere else but immediately I looked down I could see it hanging there."
- Paudie O'Sullivan on the moment he broke his tibia and fibula last April.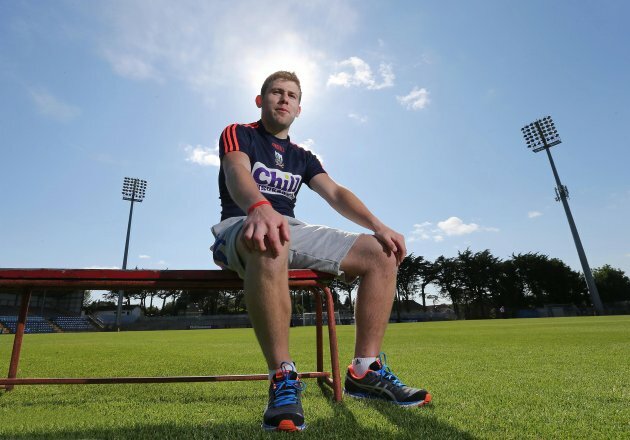 Pic: INPHO/Lorraine O'Sullivan
Unhappy campers…
"A complete tirade is all that I've ever heard from certain individuals."
- Mickey Harte on the response to THAT tackle by Sean Cavanagh.
"It was an unbelievable decision. Anyone that was at the match can judge for themselves."
- Jimmy Barry-Murphy on Patrick Horgan's sending-off in the Munster final.
"It is unacceptable that a player did suffer a bite and that no-one was held to account."
- Paraic Duffy not happy with the controversy where Patrick McBrearty was bitten in a league game in April.
"There was certain allegations made that have no basis in fact."
- Kevin Walsh hits back at Eamonn O'Hara's criticism of him.
"All the journalists were saying 'pot, kettle, black' when it came to Donegal and physicality. You've got physicality on one side, and you've got players being taken out of it. One is manly. One is cowardly."
- Donegal boss Jim McGuinness wasn't happy in August.
Pic: INPHO/James Crombie
The Banner…
"A fella stood up behind me and roared with venom, 'Fitzgerald you haven't a clue. You're ruining Clare hurling'. Roaring at me."
- Davy Fitz on how some supporters weren't happy during the qualifier against Laois.
"I don't know where my mind was at. That backwards handpass was a bit flamboyant."
- Podge Collins on THAT piece of skill against Galway.
"Not getting into that stuff whatsoever. John Allen can say what he wants."
- Davy's pre-match interview on RTE before Clare face Limerick. Tense stuff.
Exclusive Six
Nations Analysis
Get Murray Kinsella's exclusive analysis of Ireland's Six Nations campaign this spring
Become a Member
"I weighed up the options and thought I'd give it a go anyway even though I wouldn't be the best shooter. It was a bit of hit and hope."
- Domhnall O'Donovan describes the most famous hurling point in 2013.
"We're to enjoy our time in Clare and let that recession go to hell."
- The cry from Davy at Clare's homecoming in Ennis.
"It's flattering and borderline embarrassing at some stages."
- Strange times for Shane O'Donnell after scoring a hat-trick in the All-Ireland final replay.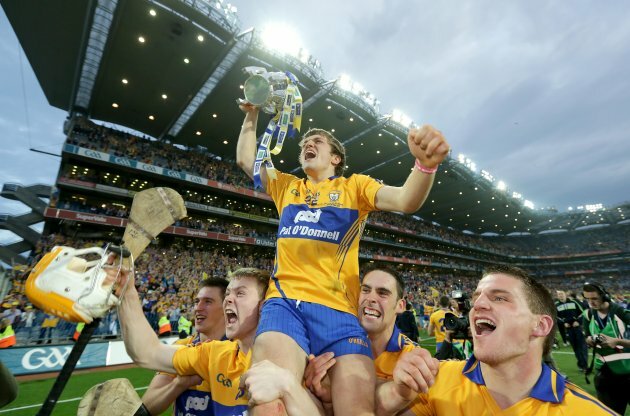 Pic: INPHO/Morgan Treacy
Pundits Corner…
"You both picked Galway. Sweet mother of all the Brolly's."
- Joe Brolly questions Spillane and O'Rourke's forecasting skills.
"These players deserve a lot more. Kevin Walsh has a lot to answer for."
- Eamonn O'Hara hits out at Sligo manager Kevin Walsh.
"It's pure constipated hurling."
- That's a new one on us. Ger Loughnane summarises Dublin's performance against Wexford.
"Gaelic football has been infiltrated by a load of spoofers and bluffers."
- You tell them Pat. The Spillane verdict at half-time of Cavan and Fermanagh.
"I want nothing to do with that. It's an absolute disgrace. He's a brilliant footballer but you can forget about Sean Cavanagh as a man."
- Don't hold back. Joe Brolly had a few words to say about Sean Cavanagh.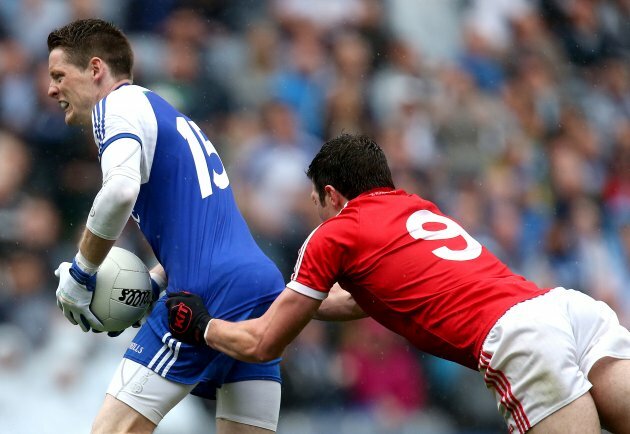 Pic: INPHO/Ryan Byrne
RIP…
"There is a gaping hole in the heart of St Vincent's in Marino now."
- Kevin Heffernan's club pay tribute to the Dublin icon.
"I want to send out my sympathies to his family. It is a sad day."
- Pat Spillane remembers his former inter-county teammate Ray Prenderville.
"As I said to his eldest son Mark shortly before he died, as long as DVDs are in existence, your Dad will never be forgotten."
- Eugene McGee speaks about the late Offaly player Liam Connor
"It's so hard to believe our star, our hero, our idol has been taken from us."
- The people of Kilbeacanty after the tragic passing of Niall Donoghue.
Pic: INPHO/Cathal Noonan