I WAS HOME for the whole of last week and it was great to get back and catch up with family, friends and old teammates. When you are young and away from home, you feel you are missing out on quite a lot. My older sister had a child recently. Riley is five months now and she has already grown so much.
I got along to the Aviva Stadium, too, to see Brian O'Driscoll's final home game for Ireland. I caught some of the pre-match analysis on RTÉ and heard Ronan O'Gara talk about how he couldn't finish on his own terms. He mentioned it in good spirits but it is incredible that he never got a proper send-off.
I was lucky enough to go to the game with a couple of good friends, one of whom is John Fitzgerald, son of Pat, the current IRFU president. We got to attend the president's meal before the match and the after-dinner reception too. For the game, I was sitting close to a man in his early 40s and his father, who must have been in his early 70s. The reception O'Driscoll received, leaving the pitch, was amazing. When he made his speech, as man-of-the-match, after the game, I turned to see the man in his 40s. He had tears running down his face.
Someone like O'Driscoll has represented a bright prospect, and someone to be proud of, during the tough times we have been through as a country. He has brought happiness to so many people through what he has done on the field. He was a key figure in us winning the Grand Slam in a time of real doom and gloom for Ireland.
I don't know what will happen in Paris for his final Test cap but I know he will have a fervent ambition to win the championship. He was taken aback by the reception he received at the Aviva but he managed to keep a calm head and set up tries with some unbelievable passes and offloads.
After the thrill of being at the Ireland game on Saturday, I enjoyed the real highlight of my week back in Ireland — meeting Dublin's Diarmuid Connolly. He is only three or four years older than me but is a real sporting hero of mine. He burst onto the scene with St Vincent's and Dublin teams when he was quite young and I have been following his career since I was a teenager.
These Gaelic football lads are so talented at such a technical sport. They can kick off both feet and are strong and athletic. The dedication it takes to be a top GAA star is impressive. They get up at 6:30am for some personal training, go to work and then go training after work. I would love to experience the feeling of running out against 80,000 people at Croke Park. Hence, I was quite star-struck when I met Diarmuid. He very kindly agreed to meet me and presented me with a signed Dublin jersey. That will have pride of place in my apartment in Grenoble. I must find a frame for it now.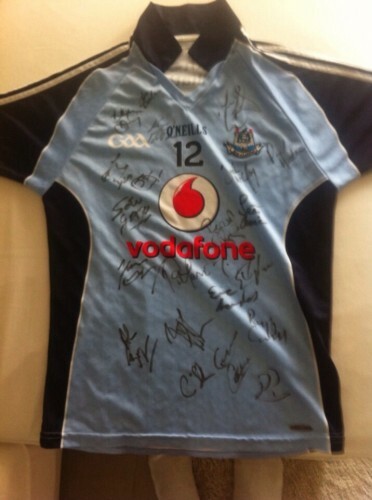 James Hart James Hart
What I have been most impressed about with Ireland is that it really is a squad now. A couple of years ago, if they were to take off one of their main players you'd say 'Jeez, I can't believe they're taking so n' so off'. It is different now. You can see how the bench players have all made a difference now when they come on.
They play a nice brand of rugby and hold onto the ball a lot. The difference, though, is the are a squad of 23 now and everyone makes an impact. Eoin Reddan came on and, while I wouldn't say he changed the outcome of the game, he really brought a quick tempo to the game, buzzing around and taking quick-tap penalties.
Fergus McFadden was brilliant and both Jack McGrath and Marty Moore are so solid now. Rhys Ruddock was in the squad for the first time yet he came off the bench and put in a serious shift. He made one great turnover to set up that Sean Cronin try. As for some of the reliables, Jonny Sexton was outstanding against Wales and Italy. Gordon D'Arcy and O'Driscoll were at their best on Saturday. O'Driscoll's offload flick, for Sexton's second, while being tackled by a big hooker was ridiculous.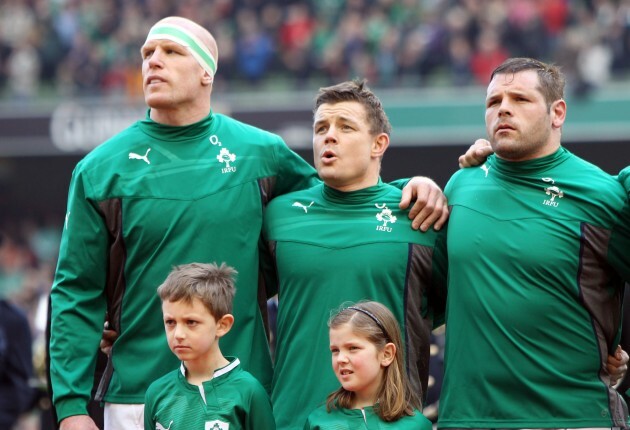 Colm O'Neill / INPHO Colm O'Neill / INPHO / INPHO
Scotland deserved to beat France at the weekend against a French side that are not gelling. The Murrayfield pitch was not in great shape but they struggled to build any phases or put the Scots under sustained pressure. I'm looking forward to reading what the French press has to say this week as it won't make for pretty reading.
I can't see how Ireland are going to lose to France this weekend. There clearly is a game-plan when France take to the field but there is no cohesion in the group. They created no real try-scoring opportunities and had to rely on that excellent intercept and score from the impressive Yoann Huget.
In France, the national side unfortunately suffers from the same malaise as the club sides. They have so many great individual players but rarely work as a team — the selfless tasks that may free up time or space for a teammate. They have guys like Huget, Brice Dulin, Maxime Medard and Wesley Fofana. Any one of them could do you damage but will they take the hit or clear out a ruck to help the other?
The difference, and I watched both games back since Saturday, was in the rucks. The Irish players presented the ball so well for their 9. The players know what they are doing when they are approaching rucks and it is all about presenting quick, clean ball. It is incredible to watch how efficient Ireland are at the ruck. The Irish forwards, who are so mobile, make a real effort to get around the corner and present clean ball back. Looking at the French forwards, they were going to ground and letting their scrum-half scramble it out. It slowed their attacks so much.
Exclusive Six
Nations Analysis
Get Murray Kinsella's exclusive analysis of Ireland's Six Nations campaign this spring
Become a Member
Doing the simple things, like Ireland are doing, makes such a difference. It makes it easier for the attacking team. It might not always pay off but you can see that everyone understands what they are doing. With France, it is the complete opposite. They are pretty lazy. The forwards don't make that extra effort. Doing the small things right makes such a difference at international level. Hopefully that will prove the difference on Saturday.
O'Gara alluded to it on Sunday when he noted our poor record away to France. Given the current feeling of optimism and expectation at the moment, he commented that we have to get off our high horse a bit. Ireland are too well coached to get carried away, though, and I expect Joe Schmidt to have them well drilled and working on a new game-plan to unlock the French defence.
The Heineken Cup chase
FC Grenoble Rugby FC Grenoble Rugby
Our next game in the Top 14 is against Racing Métro on 22 March and it, as well as our away trip to face Oyonnax, are going to make or break our season. We were extremely unhappy with our away defeat to Brive. We were 6-6 at half time but Brive scored an amazing try, after some kicking wars, to start off the second half. We got a yellow card soon after and the floodgates opened.
We were away to Biarritz next and battled back to be in with a chance of winning the game only to give away a penalty right at the death. We went through all that effort and crap only for a small mistake to cost us at the end. We don't want to get to the end of the season and look back on those two games as what cost us a spot in the Heineken Cup.
The only way to get our season back on track is by beating Racing next time out. I really hope Jonny Sexton is able to play but, on this occasion, I hope he will be on the losing side of a result on French soil.
– Follow James Hart @Jameswilliam91 and Grenoble @FCGrugby_EN