URUGUAY DEFENDER DIEGO Lugano lashed out at Giorgio Chiellini after the defender claimed he was bitten by Luis Suarez as Italy crashed out of the World Cup.
Italy's second successive elimination at the group phase was marred by the sending-off of Claudio Marchisio and claims by Chiellini that he was bitten by Liverpool striker Suarez.
Suarez has twice previously served lengthy bans for biting incidents and Chiellini claimed he should have followed Marchisio by being sent off.
However Lugano said he was "disappointed" by the Juventus veteran's claims. Asked to react to the incident after the game, Lugano bolted into a tirade against the Italian.
"You need to show me [the incident] because I didn't see anything.
"Did you see it today or did you see what happened in other years? You couldn't have seen it today because nothing happened.
"The worst of everything is the attitude of Chiellini. He's a great player, who has had a great career it doesn't correspond with Italian football, as sportsmen leaving the field, crying and appealing against a rival.
"As a man he disappointed me totally. I really looked up to him."
Minutes prior to Diego Godin's winner for the South Americans, there was controversy as Chiellini and Suarez tussled for a ball in front of the Italian goal.
Suarez appeared to try and headbutt the defender, who moments later pulled down his jersey to reveal what he later claimed were bite marks.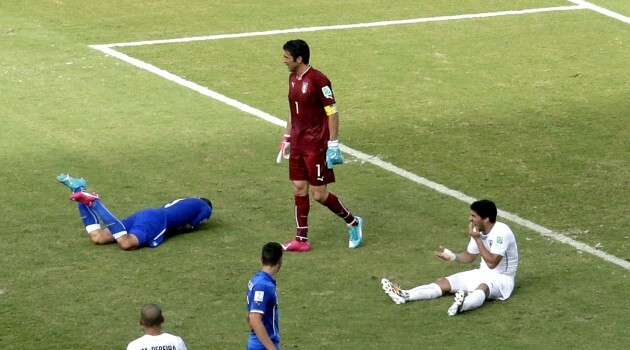 Hassan Ammar Hassan Ammar
Meanwhile, Suarez was seen sitting on the ground with his hand up towards his mouth.
"He bit me, it's clear, I still have the mark," Chiellini told Italian television station Rai after the match.
"The referee should have blown his whistle and given him a red card, also because he was simulating."
 
https://vine.co/v/MtJJb6YVbPt
World governing body FIFA said they could not make an immediate judgement.
"We are awaiting the official match reports and will gather all the necessary elements in order to evaluate the matter," a FIFA spokesperson told AFP.
But other officials were quick to condemn Suarez.
"There is no doubt Luis Suarez is a fantastic footballer but once again his actions have left him open to severe criticism," FIFA vice-president Jim Boyce told the BBC."There is no doubt that Fifa must investigate this incident very seriously and take whatever action is deemed necessary."
Uruguay's 1-0 victory mean they join surprise Group D winners Costa Rica in the last 16.
Uruguay coach Oscar Tabarez said he hadn't seen it.
"I don't know, I don't have anything to say about it. During the game we're concentrating on other things," he said.
"It's a World Cup, we don't do cheap morality."
However when asked how Uruguay would react if Suarez was sanctioned, Tabarez added: "You are making me repeat. I did not see the incident. Luckily we've played many matches without Suarez, in the qualifiers.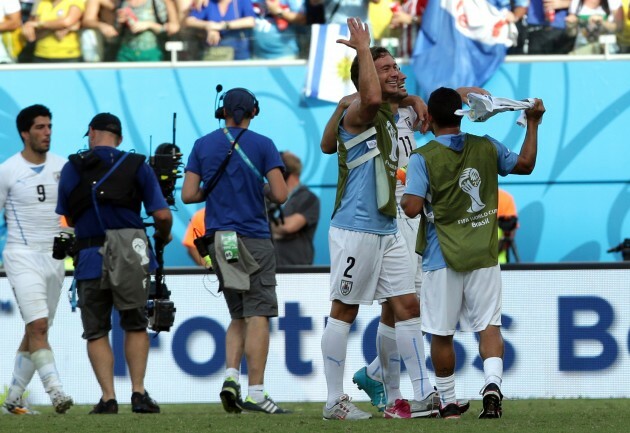 Antonio Calanni Antonio Calanni
"For us he is a very important player within the group. I can already see that he is coming under attack, so we will have to find a way to defend him."
If Suarez is found guilty of another biting incident, it is inconceivable he will face anything other than a lengthy ban.
In November 2010 he was banned for seven matches by the Netherlands FA after biting PSV Eindhoven's Otman Bakkal on the shoulder when he played for Ajax.
In April 2013, he was given a 10-match ban by the English FA after biting Chelsea defender Branislav Ivanovic in a match at Anfield.
He was also banned for eight matches in 2011 for racially abusing Manchester United's Patrice Evra.