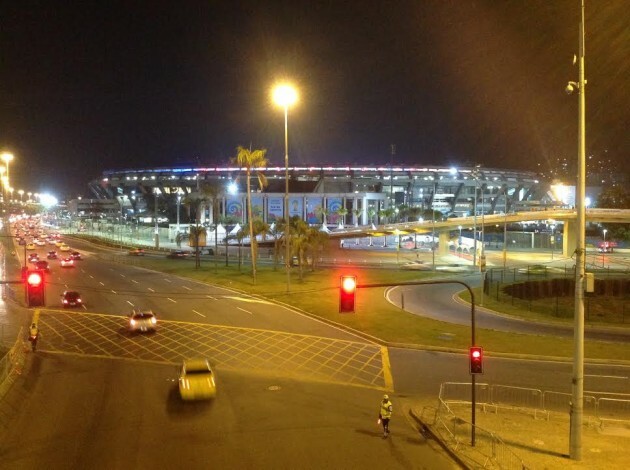 Mikey Stafford Outside the stadium. Mikey Stafford
Mikey Stafford reports from Estadio Maracanã, Rio de Janeiro.
ASKING A QUESTION at a pre-match press conference at the World Cup is not easy.
You need to catch the moderator's attention, convince him with your eyes that your question is profound and important and then hope, if handed the microphone, the translator does your query justice.
The Maracanã press conference room — let's call it a theatre — is in proportion to the rest of the stadium, which is to say it is massive.
On my first visit, for yesterday's France press conference ahead of this afternoon's quarter-final with Germany, it was thronged with reporters, photographers, broadcasters, cameramen and that strange breed of journalist who seems to have nothing to do but update their Facebook.
I did not hold out much hope against the might of the French, German and Brazilian media corps, that TheScore.ie would get a question in but, sitting in the third row with my hand up, metaphorically saying "m'ss, m'ss, m'ss, m'ss" like an eager fifth classer, did the trick and the microphone came my way. Or at least they tried to hand it to me.
In press conferences in your native language most journalists will rely on their trusty dictaphone. They will hold it under the nose of their subject and let the recording device soak up the words, often only half listening, before transcribing them later and realising that said player had indeed some very interesting things to say about taking it one game at a time and the perils of underestimating their next opponents.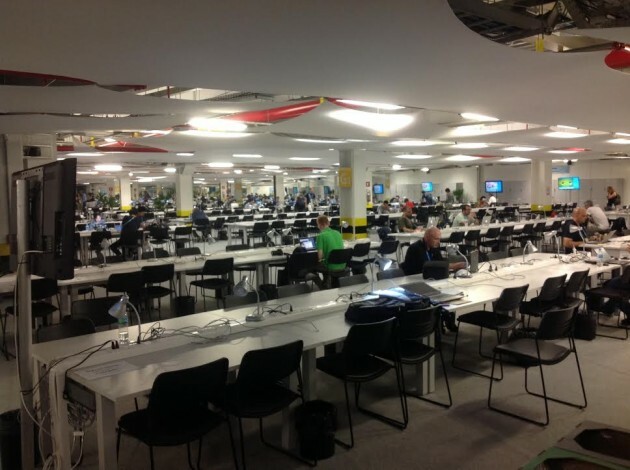 Mikey Stafford The Maracanã media room. Mikey Stafford
At the World Cup most press conferences are not in English — none now with the disqualification of England, Australia, the United States, Nigeria and Ghana — which means you must slap on a pair of headphones, tune your translator walkman to channel 1 for English and furiously type what you hear.
And what you hear is often, we suspect, not a very accurate representation of what has been said in the subject's mother tongue.
No dictaphones, no leisurely transcription at a later date and no peripheral vision because you never listened to your mother and learned to touch type.
"The man in the front," says the moderator. "Sir, please wake up!" At this point I raise my head from my keyboard and realise the moderator is talking to me as a FIFA official to my left is trying to hand me a microphone.
The microphone is necessary not just because the room is huge and some TV network in Timbuktu may wish to broadcast my question, but also because Didier Deschamps and Hugo Lloris are also wearing headphones and they will have my question translated into French.
I ask Lloris for his assessment of Manuel Neuer's remarkable performance against Algeria and, as a goalkeeper fond of a bit of sweeping with his club, could he outline the challenges inherent in coming out of your box so regularly.
Exclusive Six
Nations Analysis
Get Murray Kinsella's exclusive analysis of Ireland's Six Nations campaign this spring
Become a Member
"When the team plays upwards you ask the goalkeeper to play a little bit up. You have to be very complete and the German goalkeeper did it well against Algeria. You have to adapt to the style of your team," said the France captain in reply, via the translator.
It hardly seemed worth the bother and I would like to give Lloris the benefit of the doubt and blame the interpreter but the Spurs keeper is not a scintillating interviewee and anyone who goes into a World Cup press conference expecting fireworks will more than likely end up disappointed.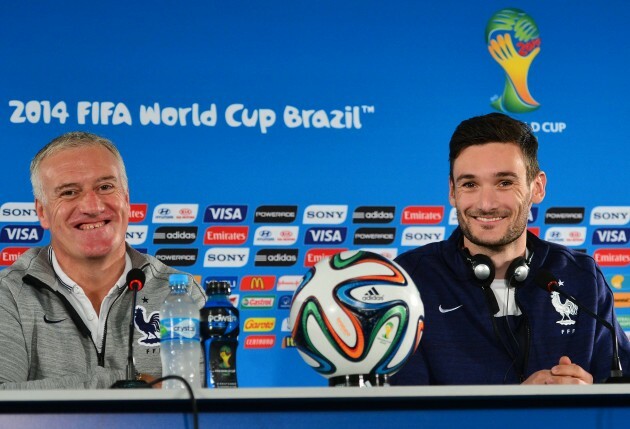 Gavin Barker French manager Didier Deschamps and Hugo Lloris. Gavin Barker
Felipe Scolari telling his critics to "go to hell" yesterday was an exception but for the most part these press conferences serve the purpose of giving broadcasters a few soundbites and may yield a little injury news, if you're lucky.
After the press conference everyone will funnel back to the giant media centre, unless they head out to the stadium to take in 15 minutes of training.This is essential for the photographers and broadcasters, who need the images, but there is very little to be gleaned from watching the team stretch and warm-up for a quarter of an hour.
There will be no tactical clues given and no specifics worked on until the stadium is clear of media. You're unlikely to see Philipp Lahm line up at right full-back or Olivier Giroud wearing a substitute's bib — coaches are not that generous.
So most will go straight from the press conference to the excessively air-conditioned media centre, where the long desks — lined out facing each other in banks of 20 — inspire a tribe mentality.
After weeks roaming the northeast as a lone wolf I yesterday rejoined the pack and was reunited with journalists from the Irish Times, Irish Independent, Irish Examiner and Sunday Independent.
Exclusives are a rare and wonderful thing at a World Cup, especially when your own country are not involved, and a spirit of co-operation prevails.
You will check the precise meaning of a quote if you don't trust your transcription, point out interesting facts from the World Soccer guide, and a pow-wow will ensue on probable teams before everyone just goes with their own hunch anyway.
For a break you may head to the canteen for an overpriced chocolate bar or pau de queijo, or you can go collect your matchday ticket, or you can flop in a beanbag and watch hundreds of journalists type furiously with four fingers.