MUNSTER HEAD COACH Anthony Foley was insistent this week that BJ Botha was incorrectly yellow carded during his side's clash with Leinster on Saturday at the Aviva Stadium.
The first thing to do is take a look at the exact incident that Foley was refereeing to, and one which referee Ian Davies deemed to be worthy of a sin-binning.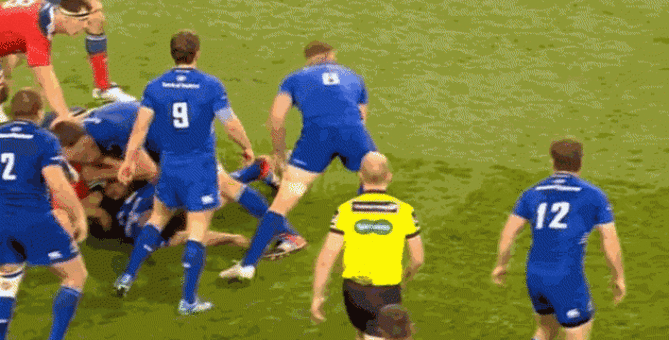 As we can see, the Welsh match official has no hesitation in reaching for the card, and it's fair to say that most people in the stadium or watching the game on TV would have had a similar reaction.
It looks very ugly from Botha, but Foley's argument is that the South African prop was playing within the laws of the game.
"BJ's thing is a point of law," said Foley. "If there's no ruck formed, which there wasn't, he's entitled to play the ball from that direction within the laws of the game. I know it looks horrible, it looks wrong, but it's actually a rule in the game of rugby.
"BJ was entitled to do that. BJ knows the rules, he's a World Cup winner, he knows what he's entitled to do there. There was no ruck called, so he's entitled to immediately play the ball there."
A quick listen back to the match tape, including Davies' ref mic, confirms that the match official hadn't called a ruck.
That said, referees don't call "ruck" every single time there actually is a ruck formed, so it's worth taking a quick look at the definition of a ruck, as per the IRB Laws of the Game:
Law 16: A ruck is a phase of play where one or more players from each team, who are on their feet, in physical contact, close around the ball on the ground. Open play has ended.

Players are rucking when they are in a ruck and using their feet to try to win or keep possession of the ball, without being guilty of foul play.
So, was there a ruck formed after Botha and Paul O'Connell tackled Ian Madigan?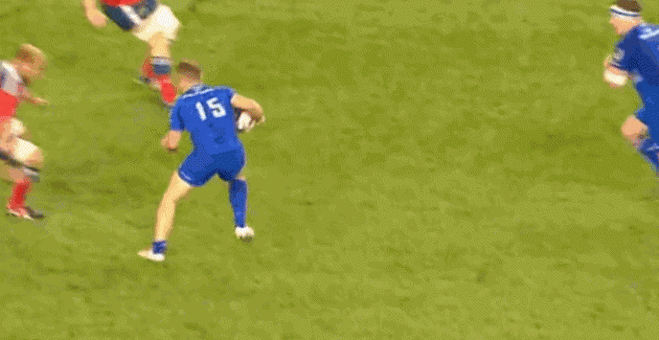 It would appear not. "One or more players from each team, who are on their feet, in physical contact, close around the ball on the ground," says the IRB definition of a ruck.
Leinster have two players present over the tackle in Michael Bent and Kane Douglas, but Munster don't have a man on his feet over the tackle to actually form a ruck. It seems that Foley's assertion that there was "no ruck formed" is, in fact, accurate.
So what about Botha's actions post-tackle? Is he legally entitled to play the ball from that direction? Should he not have to come 'in the gate' at the back of the ruck to compete for the pill? We turn to the IRB Laws of the Game again: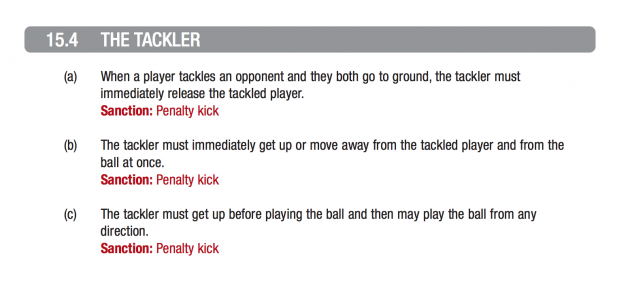 IRB / Laws of the Game IRB / Laws of the Game / Laws of the Game
Botha certainly carries out Law 15.4 (a), as he immediately releases Madigan as soon as both players hit the deck. It is arguable whether or not he moves away from the tackled players as per Law 15.4 (b), but it's Law 15.4 (c) that is in Botha's mind as he picks up the ball.
That law allows Botha to play the ball "from any direction" after he has risen from the ground.
Calling IRB Law 16.4 (b) into the mix also proves to be in Botha's favour, given that it is difficult to claim that a ruck has been formed in this instance.
Law 16.4 (b): Players must not handle the ball in a ruck expect after a tackle if they are on their feet and have their hands on the ball before the ruck is formed.
Exclusive Six
Nations Analysis
Get Murray Kinsella's exclusive analysis of Ireland's Six Nations campaign this spring
Become a Member
Botha does appear to handle the ball "after a tackle" when he was on his feet, and had his "hands on the ball before the ruck is formed," as long as it is agreed that there was no ruck formed.
There was a similar incident to the one that saw Botha sin-binned during last weekend's Rugby Championship clash between South Africa and New Zealand that went unpunished by referee Wayne Barnes.
Again, it's one that looks all wrong on first viewing – surely McCaw can't do that? Another case of the All Blacks captain getting away with murder at the breakdown?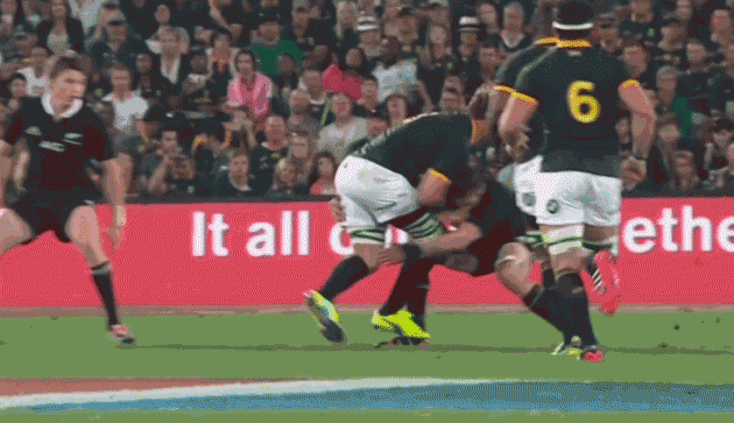 Barnes was content with the openside flanker's actions, however, telling the Springboks that McCaw was the "tackler" as he allowed play to continue. Applying the same laws as those outlined above explains exactly why the English referee did so.
There is no intention of being overly critical of Davies here – he's probably had a tough week anyway – but it is an interesting aspect of the game, and highlights the demands on referees at the top level.
With the speed of the game now, and the fact that professional and amateur players will push the laws to breaking point to get an advantage, it's certainly not an easy job.
However, Munster coach Foley had his say on the decision, and it appears that he has a strong case.