DID IT LOOK bad on TV? Because it was a thoroughly miserable experience to see unfold live.
Bordeaux and the World Cup was supposed to be everything our little rugby-shaped hearts could dream of. Instead, we left the south west city believing the Stade Chaban Delmas was a truly cursed placed.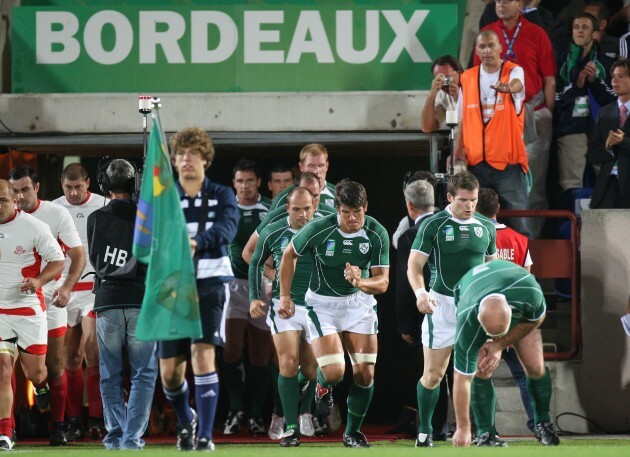 Billy Stickland / INPHO Billy Stickland / INPHO / INPHO
Things have changed in the seven years since Ireland last played Georgia, but that fixture will always haunt Irish sports fans who dare to think that victories should ever be straightforward.
In hindsight, it should have been obvious what was coming. We had heard talk of the battle of Bayonne, watched defeat to Scotland and a victory over Italy in the final warm-up game that was nothing short of robbery in Ravenhill.
Then Eddie O'Sullivan's men laboured to victory over Namibia in the opening game…. ah but never mind, it'll all come together – sure we won a Triple Crown!
Ireland, we told ourselves, should be cooked just enough by the time we arrive in Bordeaux. A Tier 2 nation a decent pack? No problem. On we marched up Rue D'Ornano, watching tram after tram pass by, each one packed tightly with men, women and children with as much green as they could handle.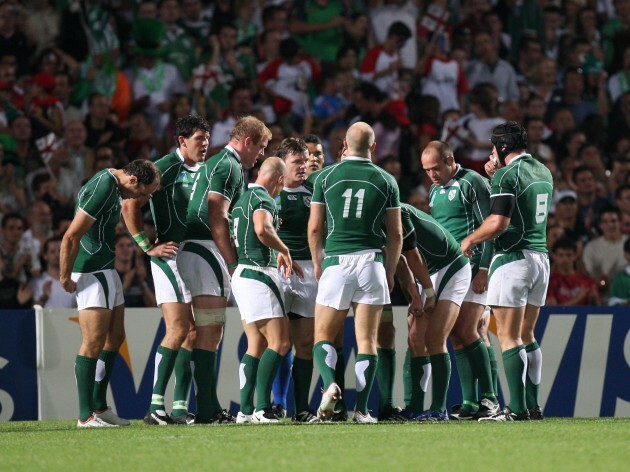 Billy Stickland / INPHO Billy Stickland / INPHO / INPHO
Before venturing into the YouTube archive this week, I had very few true memories of this game – and not solely because our first impression of the stadium was the makeshift beer stall. For the most part the match was watched with chin on hands; the rest of it, through our fingers.
"The Georgia game was nightmarish," Eddie O'Sullivan said in his book, Never Die Wondering, and no part of the game was more grotesque than Peter Stringer's long, looping pass in roughly the general direction of Brian O'Driscoll.
Ruddy Darter / YouTube
Though Rory Best's try gave Ireland a valuable early foothold in the game, the most vivid memory of the entire World Cup journey is looking down to our left as Girvan Dempsey shrugged off a weak tackle on the way to putting Ireland back into the lead. Typically, the initial line break came on the back of a set move off a line-out.
Exclusive Six
Nations Analysis
Get Murray Kinsella's exclusive analysis of Ireland's Six Nations campaign this spring
Become a Member
docathail / YouTube
Under normal circumstances, that should have been the breathing space Ireland needed. It should have paved the way for the team that only missed out on a Six Nations Championship on points difference to pull clear of Georgia convincingly.
Instead, every hit and every loss of yardage gained more support from the home crowd. Géorgie! Géorgie! Géorgie!
As Irish fans, we're all used to patting ourselves on the back for taking over grounds at various points around the globe. Yet here was a third party making all the noise. The French were on Ireland's case: howling derision at every error and willing the underdogs to finish the job, dump out the side Les Bleus had expected to be their rivals for top place in the pool.
Madforrugby99 / YouTube
The above video, if you can bear to watch it, shows the nail-biting final 10 minutes. Almost the entirety of that period was spent within Ireland's half.
In my own mind, the final seconds had been spent watching tired bodies away off to the right of where we were sitting defending pick and drives and praying to anyone that would listen to allow the TMO come up with a decision of 'no try'.
He did, but there were three minutes of defending still to be done after that lucky escape. Forgotten, and in hindsight, unimportant minutes.
That's how winning felt. And the hard games were yet to come.
Cursed Chaban Delmas.
– First published 12.45