ANTHONY FOLEY SAYS Munster are in the market for high-quality imports ahead of next season, and refuted suggestions that the province's financial situation rules them out of competing for such players.
In the wake of last weekend's 33-10 defeat to Saracens, which ended Munster's European hopes for the season, there has been much discussion around the need for the province to supplement their homegrown players with world-class talent from abroad.
The likes of Toulon and Racing Métro are leading the way in terms of recruitment in France, while English sides like Bath and Gloucester are increasingly ambitious and active on the transfer market.
There have been worries that Munster will be left behind by the ever-growing wealth of such clubs, but Foley is adamant that the southern province can compete and stated that finances have never been an issue in signing players.
"It's never been a concern," said Foley at the Castletroy Park Hotel this afternoon. "We've never been ruled out of a player because we haven't matched the financial side of things. I don't know, I'm told there's a lot of stuff being written around that.
I haven't listened to a radio, watched TV or read any of that, but there is a lot of stuff out there that is wrong and is inaccurate.
"It's not for me to worry about that. It's for me to worry about trying to get a squad together so that we can compete like we did in rounds one and two [of the Champions Cup]."
The conclusion of this year's Rugby World Cup will see the transfer market blown wide open, as a large number of Southern Hemisphere players come off contract and look for lucrative moves to Europe.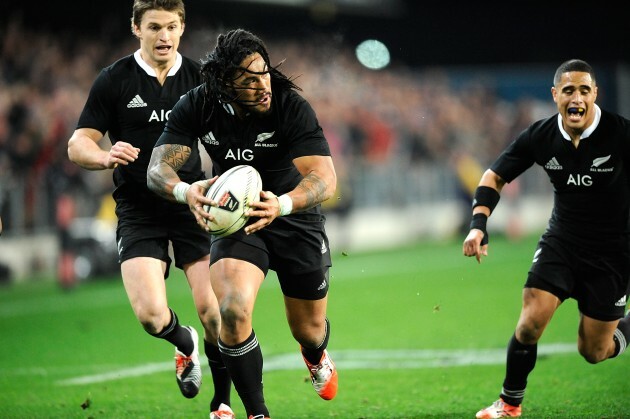 Photosport / Richard Hood/INPHO Ma'a Nonu will be playing at Toulon next season. Photosport / Richard Hood/INPHO / Richard Hood/INPHO
Already, the likes of Ma'a Nonu [Toulon], Adam Ashley-Cooper, Sekope Kepu [both Bordeaux], James Horwill [Harlequins], Ben Franks [London Irish] and Dan Carter [Racing Métro] have had post-RWC transfers confirmed.
Foley says Munster will be among those competing for some of the other quality foreign players who will become available, although he underlines that signing the right player is essential.
"We're entitled within the rules of the IRFU to five foreign signings, so we have that at the moment. Obviously, you go out there and look, see what's around. You don't buy for the sake of buying. It's about what will make our squad better.
"When we find that person, we'll hopefully do our best to sign him and see if we can beat off other teams. We are looking, we are in the market and we are looking to improve our squad. We're in there and competing with the best of them."
Asked which areas of his squad Foley is looking to add players in, he was unsurprisingly evasive.
It's a difficult one to answer because across the board you want to have competition in your team," said the former number eight.
"There are quality players out there that we're currently speaking to in those areas. It would be foolish of me to give out anything other than that, but we are looking to add and we're looking to add quality."
The goal in the coming months for Foley and his coaching staff is to ensure that the level of competition within their Munster squad is fierce. Injuries have not helped, but Foley recalls his own playing days when himself, Jim Williams, Alan Quinlan, Denis Leamy and David Wallace all scrapped for starting places in the back row.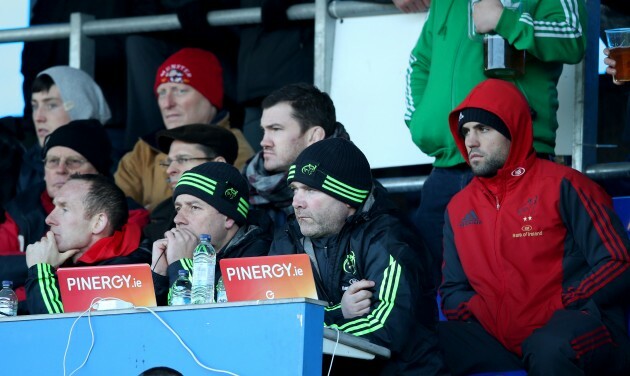 Dan Sheridan / INPHO Foley and his coaching staff were left highly disappointed last weekend. Dan Sheridan / INPHO / INPHO
"We need to get our players out on the pitch, we need to have competition across all levels to make fellas fight that little bit harder at times. Fellas have to understand that there's somebody breathing down your neck."
The calls for an influx of non-Irish imports are understandable after such disappointment at Allianz Park last weekend, but Foley says Munster must stay true to their roots even if they do add new faces next season.
"You need to be recruiting well, bringing in good players, but also bringing through your own players, which is always important because that's our identity.
You can't have an influx of foreign people because you lose that identity. Through my time here as a player and a coach, I've seen the ups and downs of recruitment.
"I've seen top-quality players coming in and making an impact, but I've seen players come in and have zero impact.
"So you kind of have to be careful about what you wish for at times. It's about making sure the character of the person that's being brought in, or back, is of a standard that will add to the identity of Munster rugby."