"I THINK EVERY guy in Ireland has been thinking about this for the last year or two."
With Leinster's season done and dusted, Luke Fitzgerald doesn't have to keep up the pretence that he and others are not spending waking minutes thinking ahead to the World Cup in September and October.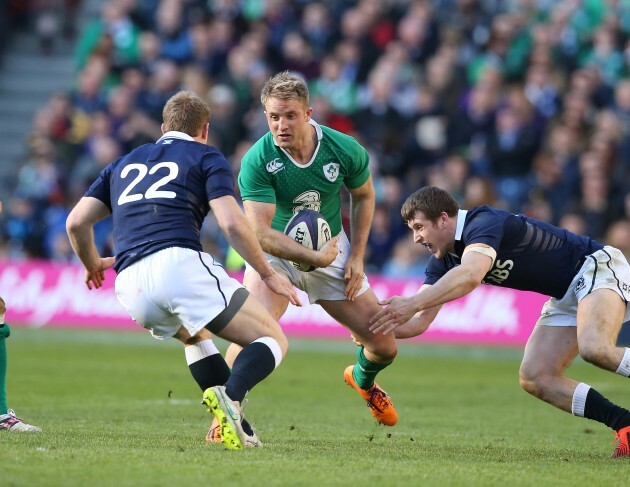 Billy Stickland / INPHO Fitzgerald broke back into the Ireland team during the Six Nations. Billy Stickland / INPHO / INPHO
Players are loyal beings. When they're competing for Guinness Pro12 or Champions Cup titles with their provinces, they're not too keen to chat about international rugby.
'This game is my only focus right now' is a regularly-heard refrain during the provincial season, but Fitzgerald can now speak freely about the England/Wales-hosted tournament.
The 27-year-old is currently ramping up his rehab after shoulder surgery, expecting to be fit in time for the warm-up friendlies beginning on 8 August against Wales. The majority of June is supposed to be holiday time, but Fitzgerald rejects the idea that he'll switch off mentally.
No, no, I've been thinking about it, even when I was making out my goals last season. It's been in guys' goals in terms of getting back, getting fit and playing well. I'm happy now that I've got a good body of work done and can get myself in a good position for it."
Positive mindset, positive results. Fitzgerald has never been a man short on confidence and despite a raft of wings and centres for Joe Schmidt to choose from, the Leinster wing will be assured in his belief that he has an important part to play at the World Cup.
Mentally, Fitzgerald is as strong a player as you'll come across. That has been both developed by and helped him to overcome his repeated injury problems across the course of his career.
Even in the short-term when he's fit and firing, the mental side of the game plays a part in Fitzgerald's approach to rugby. He's one of many professionals who uses the power of visualisation, particularly in regards to his defence.
"I do bits and bobs, it's always been a bit of a natural thing," said Fitzgerald. "I have different processes for different things. From an attack perspective you'd be more fluent and you're maybe looking for opportunities you can expose during the game.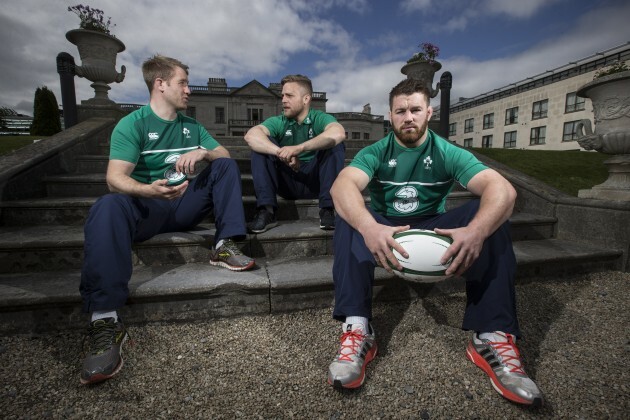 Cathal Noonan / INPHO Fitzgerald, Ian Madigan and Sean O'Brien this afternoon launched the new IRFU Canterbury training wear. Cathal Noonan / INPHO / INPHO
"I do an awful lot of visualisation for my defensive perspective and you can kind of get a good sense of that in your video work, how different guys will use footwork and different things like that. I use that an awful lot from that perspective.
"It's hard to describe it, it's just how my brain works. I think it makes me a good defender one-on-one and I think that's why the coaches like me, I feel they do and hope they do anyway!
"From that perspective you'd like to think you're a bit of a locked-down defender and I suppose I've a good idea of how different guys do different things and it makes it easier to see it coming up in the game."
Wayne Rooney is another pro sportsperson who has indicated that visualisation came naturally to him before it become widespread. Fitzgerald is in good company as he previews what's going to happen when he defends and creates 'memories' before the event.
It's been a big help for me throughout my career but then for other things, visualisation probably isn't the word," said Fitzgerald. "I'd be more focused on process, that's what I do before the games. So going through my little checklist about different things.
"What I do before the high ball comes through? It just helps me focus and get my timing right, different little things like that. You put yourself in those positions before you actually play."
As he goes through the slog of a month of rehab while other internationals head away for holidays in June, Fitzgerald will surely be visualising running in tries against Canada, Romania, Italy, France, Argentina, maybe even New Zealand.
It may be foolish to say it of a Grand Slam-winning wing, but the sense is that there is still much more to come from Fitzgerald in international rugby.
Dan Sheridan / INPHO Fitzgerald on debut in 2006 against the Pacific Islands. Dan Sheridan / INPHO / INPHO
Having made his debut as a 19-year-old in November 2006 against the Pacific Islands, Fitzgerald missed the 2007 World Cup due to his lack of experience and then was left out of the 2011 squad after his form took a dip.
He laughs and says it's "a little bit depressing" to think that it's been nine years since his first cap, that appearance having come shortly after he had left Blackrock College and spent the summer adding 10kg to his frame.
The details of being called upon by Eddie O'Sullivan are hazy now, although Fitzgerald remembers having avoided the infamous initiation ceremony that night thanks to the quick thinking of team doctor Jim McShane.
Jim in fairness was a life saver that day," said Fitzgerald. "He said, 'Listen, it looks like he got a bit of a knock on the head, he better head home early.' I hadn't got a knock on the head, he just was saving me because it was looking pretty intense!
"It was my first experience, although I'd some experience training with Leinster, but there was some big boys there and they'd be well able for their shenanigans. I was only a young kid, so he saw an opportunity to save me and he did.
"I was forever thankful for avoiding probably the worst hangover of all time."
********************
Canterbury, the official kit supplier to the Irish Rugby Football Union, today unveiled the official range of training wear that will be worn by the Irish rugby team throughout the 2015 Rugby World Cup and beyond.
Available from www.Canterbury.com, shop.irishrugby.ie and in stores nationwide, Canterbury's new training product gives the fans a first glimpse of Ireland's official RWC performance range.
Originally published at 7.00