KEITH EARLS STARTED his rugby life as a flanker, you know.
The Limerick man reeled back the years with an excellent performance in the rucks for Ireland against Canada as Ireland opened their World Cup campaign with a strong win at the Millennium Stadium last weekend.
Dan Sheridan / INPHO Ireland had a good start at the rucks against Canada. Dan Sheridan / INPHO / INPHO
We're huge fans of the post-tackle zone here at The42 and we're bringing the ruck analysis of Ireland's games we carried out during the Six Nations back to life for the World Cup.
It barely needs repeating that the ruck commands huge focus within Joe Schmidt's squad, as it should with every side in the world. This is the key battleground in modern rugby and goes a long way towards deciding games.
Let's dig into the numbers to see exactly how effective Earls and others were in this area against the Canadians. For anyone new to this type of analysis, we've outlined our marking system below.
For those who are familiar with it, feel free to skip the section below.
What we're looking at
For the purposes of this article, we've studied and noted every single action by Ireland's players at the breakdown and ruck against Canada, both in attack and defence.
Just to clarify, when we refer to the 'breakdown' here, we mean the situation in the split second after a tackle has been made and no ruck has formed. The term 'ruck' signifies the meeting of at least one player from each team over the tackle in a contest for the ball.
When looking at Ireland's rucking in attack, we have marked players in terms of their arrival to the ruck. That is, was the player first on the scene post-tackle, second, or third?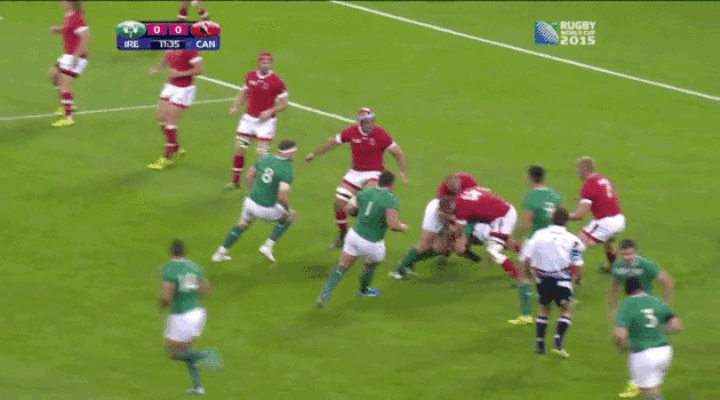 World Rugby Jack McGrath is the first arriving player for Ireland here. World Rugby
It's useful to know who was first to the breakdown in attack most often, but we also need to account for the quality of each player's rucking effort too. Otherwise, we're just left with a pile of arguably meaningless numbers.
Earls was the first man to arrive to the breakdown on 10 occasions against Canada, but how effective was he once in position? Rory Best was the second Irish player into the ruck eight times, but did he have a positive impact?
In order to attribute quality to each rucking effort, we've gone for five degrees of competence - dominant, effective, guard, present and ineffective.
A dominant act of rucking signifies a moment where we actively think 'that's an exceptional clear-out.' These incidences are rare, and involve cleaning a defensive player out extremely swiftly and powerfully, ensuring optimal quick ball. Removal of a major turnover threat would also generally qualify as dominant.
An effective rucking action is one that effectively clears out a defensive player, in a less breathtaking way than the dominant category. It generally involves moving a body that is not an immediate and major turnover threat, but ensures quick attacking ball.
A guard action signifies a player who does not actually engage a defensive player, but is present at the breakdown/ruck to guard the ball, discouraging the defence from attempting to make a steal.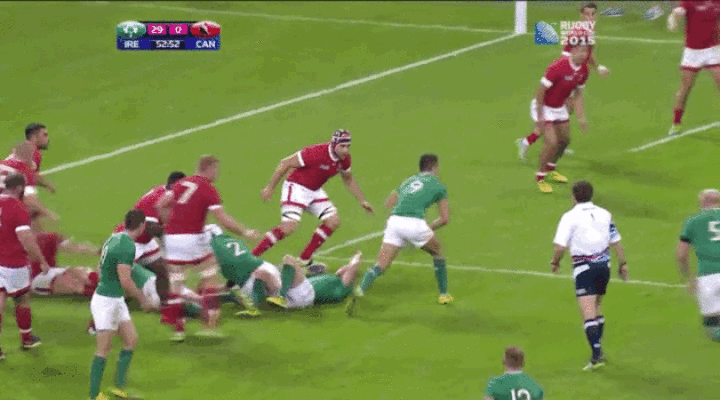 World Rugby Paul O'Connell and Peter O'Mahony guard Irish ball. World Rugby
The present marker is used to note any player who is involved in the ruck, but has no major effect on it either positively or negatively. It's quite a vague label admittedly, but are so many different things that can happen in a ruck that it serves a purpose here.
Finally, an ineffective marking indicates poor rucking from an Ireland player, whereby they perhaps failed to clear a turnover danger or were very slow to shift a body when that needed to be done.
As with so many other aspects of the game, rucking is complex and nuanced. A brilliant clear-out can come in the form of smashing a defender off his feet as he looks to poach the ball, or using a tin-opener technique to roll them away when that is more ideal.
A poor rucking effort could see the attacking player allow a defender into position for a turnover, slide up their back and beyond them, fall off their feet too easily, not arrive with a strong base beneath them, or lack aggression in the hit, to cite a few examples.
That means that every dominant (or effective or ineffective) rucking effort is not of the same type. In that regard, you'll have to trust our judgement on these actions, or go back and watch the game yourself.
Defensively, we've gone with four categories to indicate the quality of the effort.
A turnover means the player has won possession from the opposition, while a turnover assist signifies that another player may not have won the turnover without the assistance of that assisting action.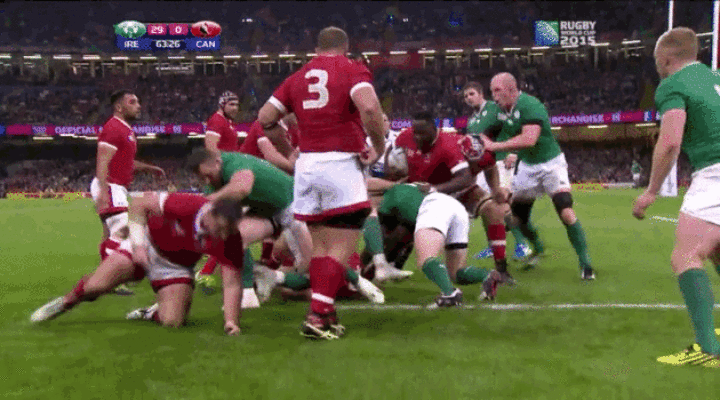 World Rugby O'Connell makes the turnover for Ireland. World Rugby
Slowing indicates that the defensive player has clearly done that to the opposition's possession, while the present category is for a player that needed to be cleared away even though they were not involved in completing the tackle.
That present tag might not always be a completely positive thing, especially if a player makes a poor decision to target the ball, but it does generally indicate to us which players are focused on competing to slow or turnover possession.
*This analysis of the Ireland v Canada match was undertaken through one set of eyes and over the course of a stop-start-rewind-pause-fast forward-pause viewing of the game. If there are any minor inaccuracies, for that we apologise.
As we have mentioned before, this analysis is heavily inspired by the magnificent 'Ruck Marks' articles done by the excellent Digging Like a Demented Mole blog.
The Earl of the Ruck
Keith Earls' father Ger was a flanker of high quality and some might say that a thirst for hitting rucks is in the Munster wing's blood. Others will say Ger should have been capped by Ireland, but that's a conversation for another day.
Earls was hugely effective for Ireland last weekend, leading the charge with his 10 first arrivals. There was a dominant hit and seven effective marks among them, while the 27-year-old was similarly efficient with his three second arrivals.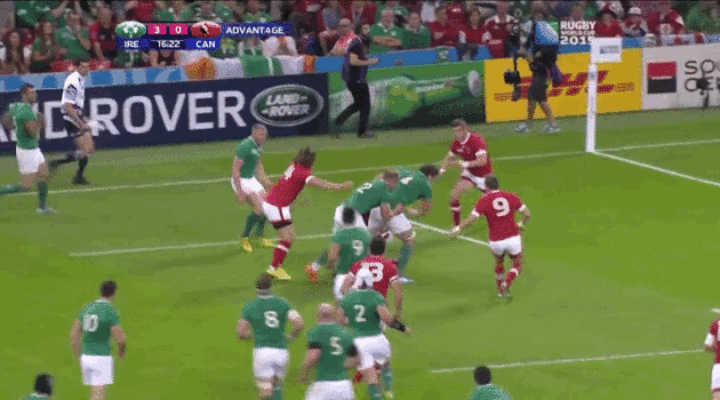 World Rugby Earls makes a dominant ruck hit to open up the back of the ruck for Conor Murray. World Rugby
Defensively, Earls was a handful too, winning one turnover and being present on three further occasions. Overall, the left wing had 20 involvements in the rucks in Cardiff and not a single negative one among them.
The flow of the game comes into this of course; Dave Kearney on the other side only had 11 involvements in comparison, but Earls' power in the hit at ruck time was notable. He appears to have grown as an athlete in the last year or so, and it told at the rucks.
Most importantly, his technique and aggression were excellent, allowing him to excel in this area.
The destructive manchild
In truth, Iain Henderson has outgrown the 'manchild' tag at this stage. The 23-year-old looks like he is ready to graduate from the role of highly-promising impact sub into an essential part of Ireland's XV.
With 33 total involvements in the rucks, the Ulsterman was busy and he caused havoc on Canadian ball. With nine defensive contributions, four of them slowing and five present, he didn't allow Kieran Crowley's side to get comfortable at all.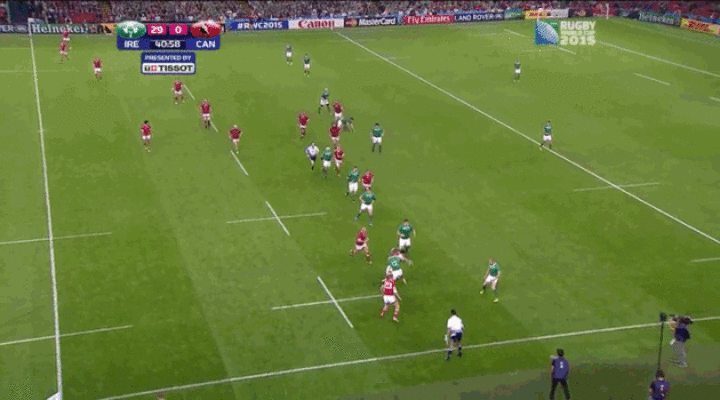 World Rugby Henderson is defensively present here. World Rugby
Those numbers don't even include the three turnovers Henderson was directly involved in in tackles. His destructiveness defensively is a major plus for Ireland, essentially giving them an extra back row with the number four on his shirt.
Henderson was also effective with his seven first arrivals and seven second arrivals, while he tidied things up with nine third arrivals to the scene. This is just one area of the game, but Henderson delivered in this sector.
Looseheads, tight rucks
It's generally been accepted that if Cian Healy can get fully fit, he's going to be Ireland's automatic first-choice loosehead prop. He's a wonderful scrummager, superb ball carrier, has experience and also contributes heavily at the breakdown. No arguments here.
The headache for Schmidt and his coaches is that Jack McGrath is excellent. His experience is obviously less than Healy's and his ball carrying is weaker (everyone's is compared to Healy), but McGrath's breakdown work in the last two years has been sublime.
With 28 total involvements in his time on the pitch last weekend, McGrath was in Ireland's top five in terms of rucks per minute. He was first man in nine times, with seven of those effective, even if he would have been annoyed with two ineffective efforts.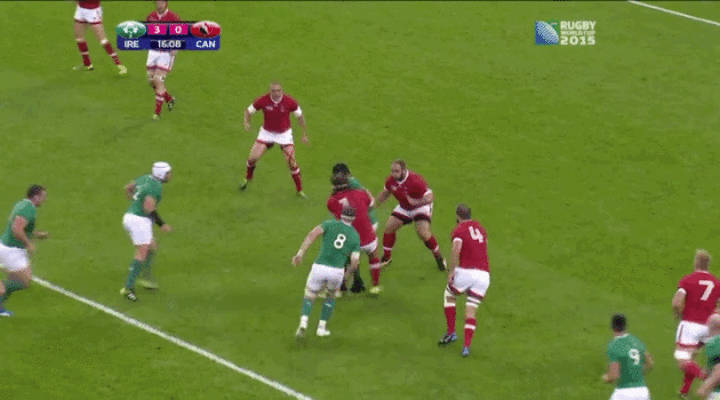 World Rugby Effective Jack McGrath. World Rugby
It was as second arrival that McGrath did his best work, being that man on a team-leading 12 occasions. A dominant hit and four effective marks were the highlights.
The problem for McGrath was that Healy made his return from a neck issue with a huge appetite to get stuck in. Healy had 10 total involvements in the final quarter, slowing ball once and generally proving a nuisance with three defensive presents.
Add in a handful of effective ruck hits and it was a solid return from Healy that promises much more. Ireland possess two looseheads capable of doing damage at the rucks, defensively and in attack.
Usual suspects
One of hooker Rory Best's key strengths is his ruck work and he was once again a presence for Ireland in this area last weekend, admittedly against poor opposition. You can only clear what's in front of you, however, and Best did exactly that.
With 25 total involvements in just over 60 minutes, the Ulsterman was excellent. With two dominant hits and eight effectives, Best left his mark on a fair few Canadian defenders, offering a ruthless example to his teammates.

Sean O'Brien was a force too, particularly on defence. He had eight defensive ruck involvements, including two slowing actions. All in, the Leinster openside hit 28 rucks in his 63 minutes on the pitch, with two dominants standing out.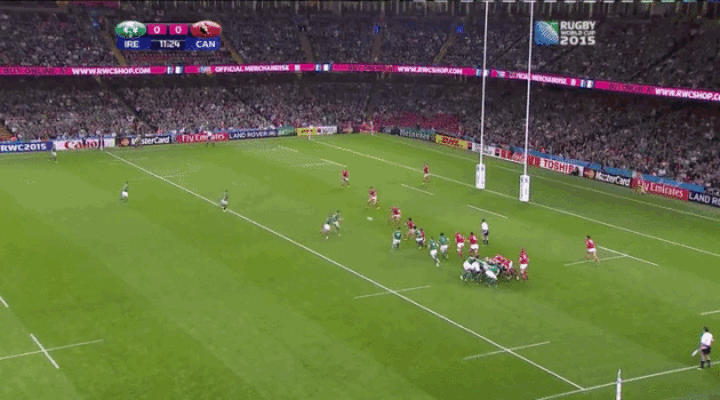 World Rugby After Dave Kearney misses first up, Sean O'Brien removes Johnny Moonlight's turnover threat. World Rugby
Paul O'Connell is usually top of the charts in terms of ruck involvements and he wasn't far off in this fixture. With 25 contributions, limited by a yellow card and his early withdrawal, the Ireland captain didn't register a single poor action.
His turnover and turnover assist helped Ireland to negate some of the Canadian threat too.
A word for Jamie Heaslip, who was quietly efficient over the course of 29 involvements in the rucks. 12 effective marks put him among the top hitters. Mike Ross was busy around the post-tackle area too, sixth in terms of rucks per minute, although nine of those came as third man in.
Eager back-up
Ireland had a quite a bit of possession in the closing stages of the game and that allowed some of their replacements to make an impact on the ruck. We've already mentioned Cian Healy – his total figure was swollen by defensive actions - but Chris Henry was equally impressive.
It's worth remembering that the Ulster flanker was at openside for the 2014 Six Nations, arguably Ireland's most impressive rucking campaign. He had 12 total involvements against Canada, seven of them effective and with a bit of defensive disruption thrown in too.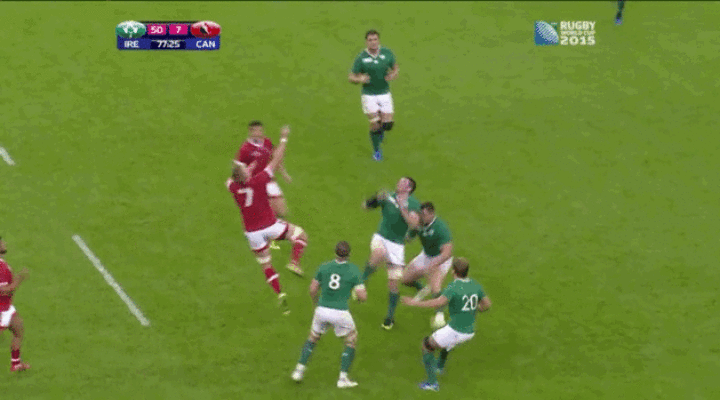 World Rugby Healy and Henry combine. World Rugby
Donnacha Ryan, meanwhile, has been growing in form since his return to the international squad and contributed to the rucks 13 times in just seven minutes on the pitch. The majority were guard actions, but there were four effective clear-outs too.
Henry and Ryan have both earned their starting spots for this weekend against Romania. Sean Cronin also provided a turnover off the bench, while Simon Zebo had three effective hits.
Top of the Pops
Below, we've listed the rucking involvements for each Irish player in the starting team and those who came off the replacements bench.
First arrivals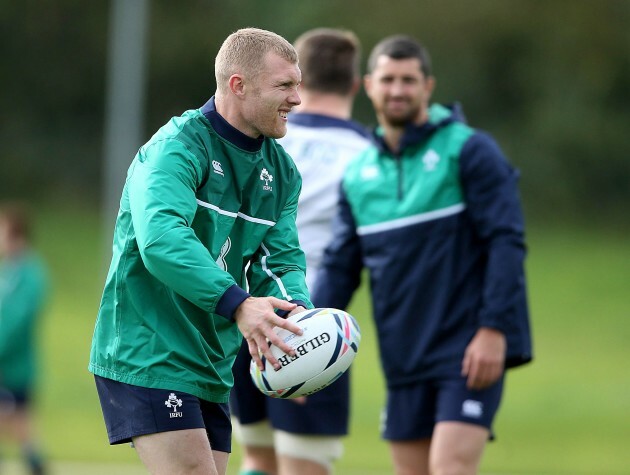 Dan Sheridan / INPHO Earls was presented with lots of rucks to hit. Dan Sheridan / INPHO / INPHO
10 Keith Earls – 1 dominant, 7 effective, 2 guard
10 Jamie Heaslip – 8 effective, 2 guard
10 Peter O'Mahony – 8 effective, 1 guard, 1 present
9 Paul O'Connell – 8 effective, 1 guard
9 Jack McGrath – 7 effective, 2 ineffective
7 Sean O'Brien – 1 dominant, 5 effective, 1 guard
7 Rory Best – 1 dominant, 5 effective, 1 ineffective
7 Iain Henderson – 1 dominant, 4 effective, 1 guard, 1 present
7 Mike Ross – 6 effective, 1 ineffective
7 Cian Healy – 4 effective, 3 guard
6 Jared Payne – 1 effective, 2 present, 2 ineffective
4 Chris Henry – 3 effective, 1 guard
4 Donnacha Ryan – 4 effective
4 Dave Kearney – 3 effective, 1 ineffective
3 Johnny Sexton – 1 dominant, 1 effective, 1 ineffective
3 Luke Fitzgerald – 2 effective, 1 ineffective
3 Cian Healy – 1 effective, 2 guard
2 Rob Kearney – 1 dominant, 1 effective
2 Conor Murray – 1 dominant, 1 effective
2 Simon Zebo – 2 effective
2 Sean Cronin – 1 effective, 1 guard
2 Nathan White – 2 guard
1 Eoin Reddan – 1 effective
Second arrivals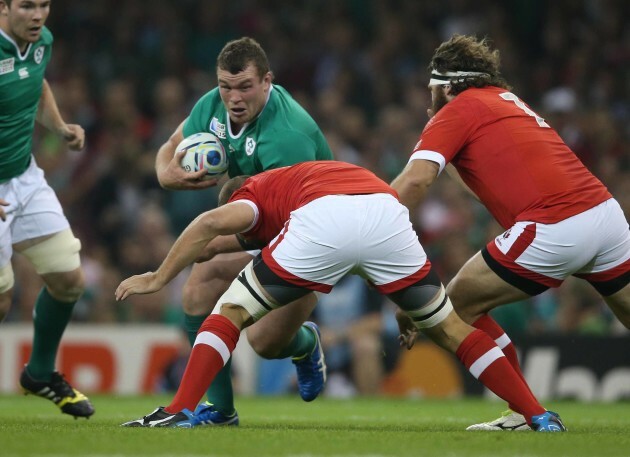 McGrath was effective again for Ireland.
12 Jack McGrath – 1 dominant, 6 effective, 4 guard, 1 present
10 Jamie Heaslip – 2 effective, 8 guard
9 Sean O'Brien – 1 dominant, 1 effective, 6 guard, 1 ineffective
9 Luke Fitzgerald – 6 effective, 2 guard, 1 ineffective
8 Rory Best – 1 dominant, 2 effective, 4 guard, 1 present
7 Iain Henderson – 3 effective, 3 guard, 1 present
7 Peter O'Mahony – 1 effective, 4 guard, 2 present
7 Paul O'Connell – 4 effective, 2 guard, 1 present
7 Mike Ross – 3 effective, 2 guard, 2 present
6 Donnacha Ryan – 1 effective, 5 guard
4 Chris Henry – 4 effective
4 Dave Kearney – 1 effective, 2 guard, 2 present
3 Keith Earls – 1 effective, 2 guard
3 Cian Healy – 1 effective, 1 guard, 1 present
1 Simon Zebo – 1 effective
1 Rob Kearney – 1 guard
1 Jared Payne – 1 guard
1 Nathan White – 1 guard
1 Sean Cronin – 1 guard
Third arrivals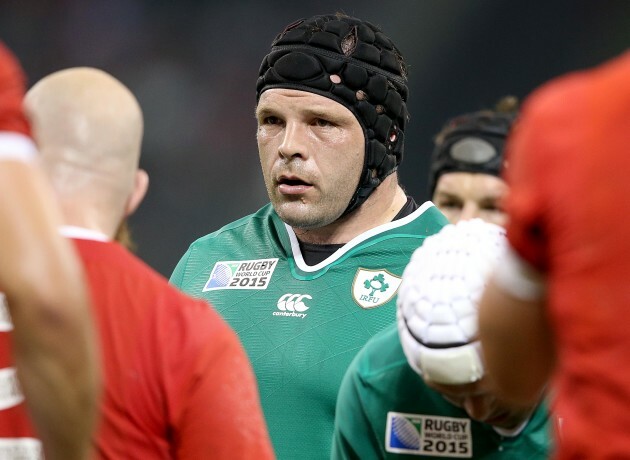 Dan Sheridan / INPHO Ross was top of the third arrivals. Dan Sheridan / INPHO / INPHO
9 Mike Ross – 5 guard, 4 present
9 Iain Henderson – 4 guard, 5 present
Exclusive Six
Nations Analysis
Get Murray Kinsella's exclusive analysis of Ireland's Six Nations campaign this spring
Become a Member
7 Jamie Heaslip – 2 effective, 4 guard, 1 present
5 Peter O'Mahony – 5 guard
5 Paul O'Connell – 4 guard, 1 present
4 Rory Best – 1 effective, 3 guard
3 Jack McGrath – 1 effective, 2 guard
3 Sean O'Brien – 3 guard
3 Donnacha Ryan – 3 guard
2 Keith Earls – 1 effective, 1 guard
2 Jared Payne – 2 guard
2 Sean Cronin – 2 guard
2 Rob Kearney – 1 guard, 1 present
Defensive efforts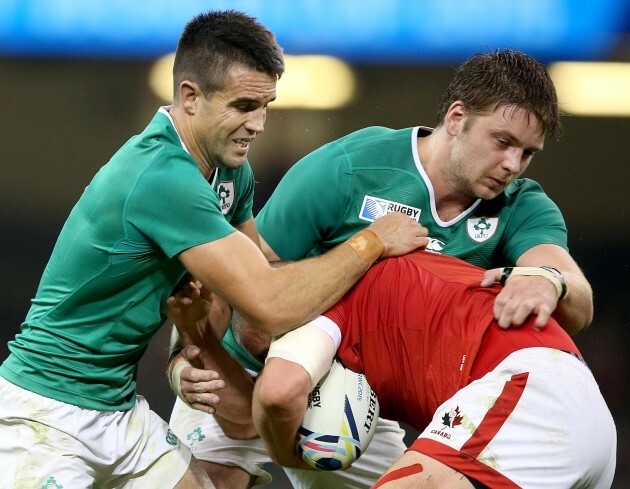 Dan Sheridan / INPHO Henderson was a busy man. Dan Sheridan / INPHO / INPHO
9 Iain Henderson – 4 slowing, 5 present
8 Sean O'Brien – 2 slowing, 5 present, 1 miss
4 Keith Earls – 1 turnover, 3 present
4 Cian Healy – 1 slowing, 3 present
4 Jared Payne – 4 present
3 Paul O'Connell – 1 turnover, 1 turnover assist, 2 present
3 Rob Kearney – 1 slowing, 2 present
2 Sean Cronin – 1 turnover, 1 present
2 Jack McGrath – 1 slowing, 1 present
2 Conor Murray – 1 slowing, 1 present
2 Dave Kearney – 2 present
2 Mike Ross – 2 present
2 Chris Henry – 2 present
1 Luke Fitzgerald – 1 turnover assist
1 Jamie Heaslip – 1 slowing
1 Peter O'Mahony – 1 slowing
1 Johnny Sexton – 1 present
1 Nathan White – 1 present
Rucking actions per minute of game time
Dan Sheridan / INPHO Ryan was very busy for Ireland. Dan Sheridan / INPHO / INPHO
1.86 Donnacha Ryan
0.67 Chris Henry
0.50 Cian Healy
0.46 Jack McGrath
0.44 Sean O'Brien
0.44 Mike Ross
0.43 Simon Zebo
0.41 Rory Best
0.41 Iain Henderson
0.39 Paul O'Connell
0.36 Jamie Heaslip
0.35 Sean Cronin
0.34 Peter O'Mahony
0.25 Keith Earls
0.25 Nathan White
0.18 Luke Fitzgerald
0.16 Jared Payne
0.14 Dave Kearney
0.11 Rob Kearney
0.07 Eoin Reddan
0.07 Johnny Sexton
0.06 Conor Murray