IRELAND SECURED WHAT is destined to be remembered as one of their greatest ever victories on Thursday night, but how exactly did they achieve this feat?
We've taken an in-depth look at what Martin O'Neill and the Boys in Green did to pull off this extraordinary victory…
Teams and formation
Both sides arguably started with a more attacking lineup than expected. Ireland began with a midfield diamond, with Wes Hoolahan in the number 10 position and James McCarthy sitting, while Robbie Brady and Jeff Hendrick occupied the two positions in between.
Stephen Ward was handed a surprise selection at left-back, while Daryl Murphy was preferred ahead of Shane Long to partner Jon Walters up front.
For Germany, the absence of Bastian Schweinsteiger through injury meant Toni Kroos and İlkay Gündoğan were the holding midfielders. Mesut Özil, Thomas Müller and Marco Reus formed a three-man attack just behind Mario Götze, who was the lone front man.
Elsewhere, the team was more or less as expected, with Jonas Hector and Matthias Ginter given licence to get forward in the full-back positions.
Predictable opening
Both sides signalled their intentions early on. As expected, Ireland were clearly resigned to the fact that Germany would enjoy the majority of the possession.
O'Neill's side sat back to a degree, and put little pressure on the German centre-backs, allowing them time on the ball, given their perceived lack of threat.
Germany, by contrast, pressed high up the field and attempted to impose their gameplan on proceedings.
This pattern was developing from the very first minute of the match.
However, Ireland did try to gain territory and pin Germany back at times. When the ball was in the visitors' final third, the hosts pressed as a unit and put the backline under pressure.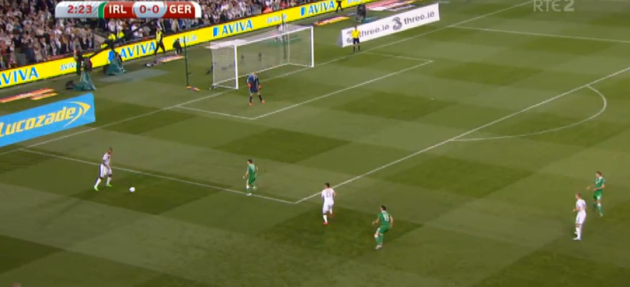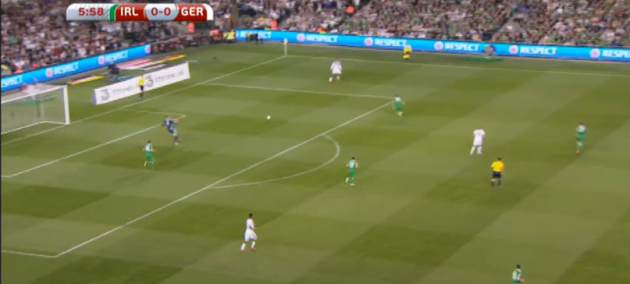 Ireland played with remarkable discipline and concentration throughout the 90 minutes and significantly restricted the German attack — they had did not have a shot on target until after half-time and registered just three in total over the 90 minutes.
German gameplan
For all Germany's possession, they often struggled to break the Irish team down. In the first 15 minutes, the away team enjoyed 74% of the ball, but seldom looked like creating a clear-cut opening.
Their inability to create a genuine chance was partially down to O'Neill's clever tactics. As expected, Müller, Özil and Reus constituted their three-man attack behind Götze. They were very narrow and relied largely on intricate passing to create chances.
It felt at times that Germany were trying to thread the ball through the eye of a needle. Ireland astutely chose to go similarly narrow, with Hoolahan, Brady, Hendrick and McCarthy all playing fairly centrally and tucking in to alleviate the threat posed by Germans' wingless attack. Jon Walters also often served as a makeshift winger when the opposition had the ball.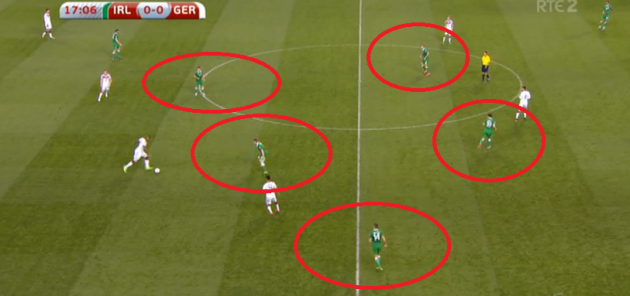 With little space to exploit centrally, the Germans were overly reliant on their full-backs getting forward and creating two-on-one situations for the overworked Irish defenders to deal with. On the occasions when Germany managed to work these situations, the delivery was all too often disappointing. However, they did manage to create occasional openings.
Check out the chance below, where Cyrus Christie is out-numbered on the German left-side. Götze sets up Gundogan perfectly, but O'Shea manages to make a goal-saving block by throwing himself at the ball in a Richard Dunne-esque manner.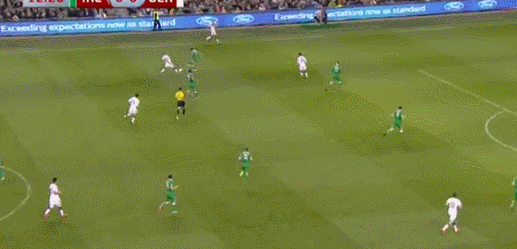 If Ireland were to win, it seemed inevitable that they would have to survive a few of these type of heart-stopping moments, but they were surprisingly few and far between by normal standards.
Organisation and discipline
The Irish defence has conceded just five goals during this Euro 2016 qualifying campaign and the backline were as well organised as ever on Thursday night.
Another nervous moment came when Özil slotted in Müller's cross, but the goal was correctly ruled out for offside, with replays revealing that the back four did their job.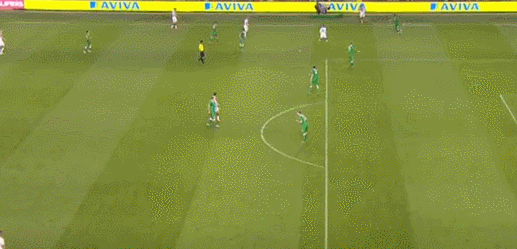 The Germans were growing increasingly frustrated as the half wore on. World-class players such as Toni Kroos began uncharacteristically misplacing passes.
Ireland's narrow midfield was continually combating their opponents' all-too-predictable attack, with the visitors struggling to come up with an answer to O'Neill's astute gameplan.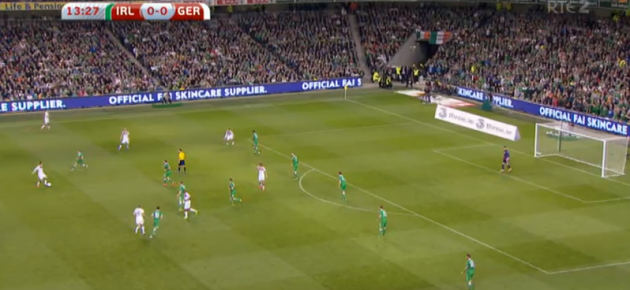 The one concern was that the German full-backs were being left free and given too much space at times. Ireland offered minimal attacking threat and had a lack of pace in behind, with Daryl Murphy utilised more for his strength and ability to hold up the ball, so Ginter and Hector frequently could afford to get into dangerous positions down the flanks.
Thomas Müller, who had experienced little joy centrally, increasingly drifted out to the right wing, and one of these situations resulted in probably Germany's best chance of the half. The Bayern Munich man delivered an excellent cross to Özil, who steered his shot narrowly to the wrong side of the post. It was beginning to feel like luck was on Ireland's side.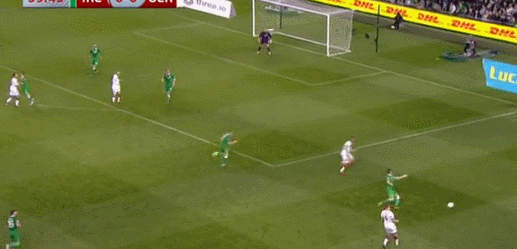 Sporadic ambition
Although it was a clearly pragmatic performance from Ireland, it wasn't quite Giovanni Trapattoni levels of negativity.
With James McCarthy provding a solid foundation in front of the backline, Wes Hoolahan in particular was at the heart of some decent passing moves.
The full-backs also were willing to get forward when the opportunity arose, though Stephen Ward and Cyrus Christie struggled to add attacking incision to their faultless defensive display.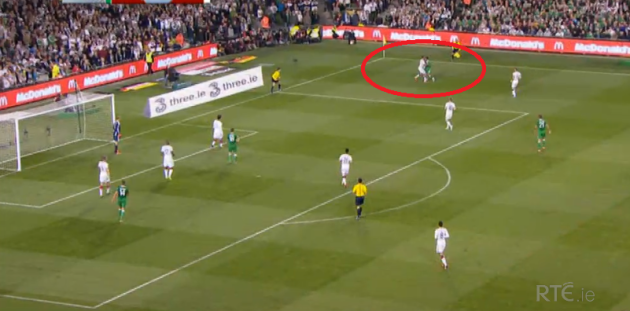 Nevertheless, Ireland never really looked liken scoring in the opening 45 minutes — a deflected Jon Walters shot that failed to trouble Manuel Neuer was their only real half-chance of note.
Yet the Boys in Green were still playing an intelligent, effective strategy, picking and choosing when to aggressively press the opposition and when to sit back.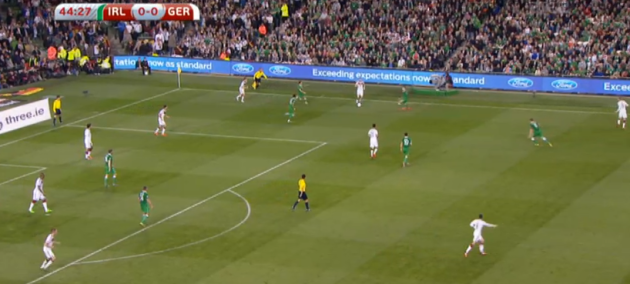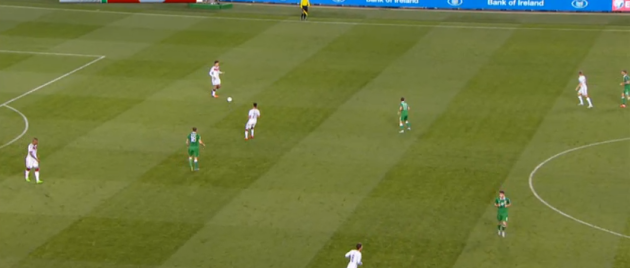 Increased intensity
You could clearly see the Irish team grow in confidence as the game wore on. There was much greater conviction about the Boys in Green's attack play in the second half, and they began to enjoy more territory and possession.
As had been the case in the first half, Ireland were pressing as a unit and affording their opponents minimal space in attack.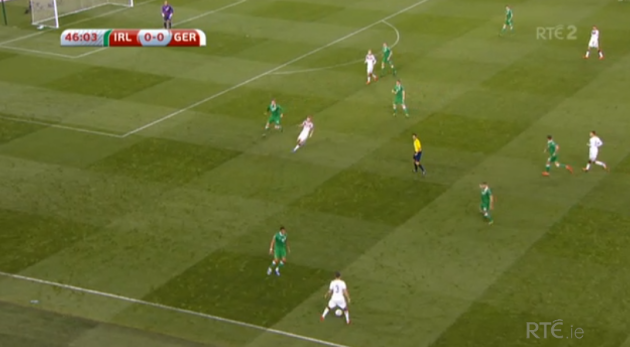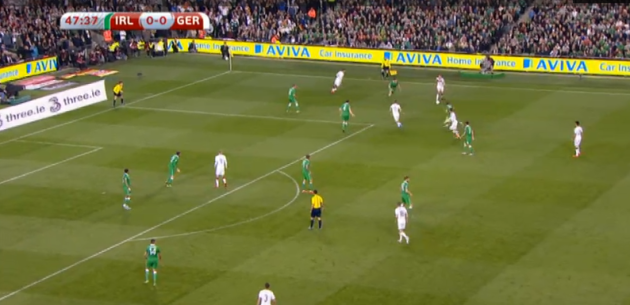 They were pressing Germany higher up the field on a more regular basis, with strong running by the likes of James McCarthy frequently breaking up attacks.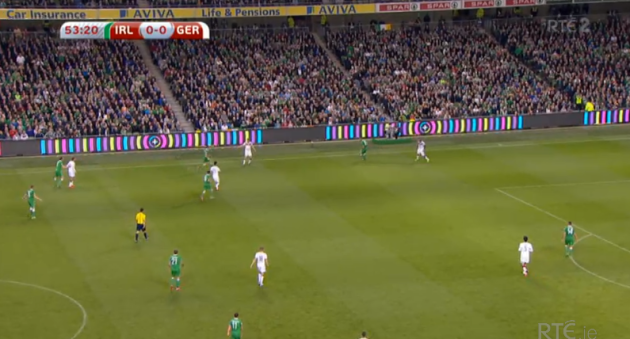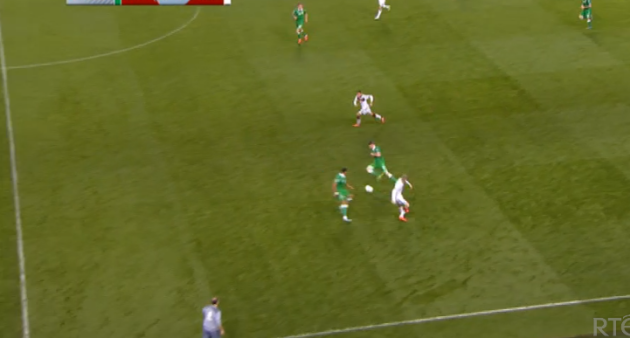 Look at the image below and notice how many Irish players are far forward at 0-0 with just over an hour played. Increasingly, there were signs that the Boys in Green wanted to do more than just hang on to the ball, with the Germans appearing to lose momentum in the game.
Inevitably though, the intensity of Ireland's play led to casualties. Daryl Murphy had put in a good shift and held the ball up well on occasion, but offered little attacking threat and looked shattered by the time he was taken off for Shane Long.
Similarly, having played just one competitive game for Burnley all season, it was hardly a big surprise when Stephen Ward departed the field with cramp. Substitute David Meyler went into midfield in his place, with Robbie Brady reverting to left-back.
A crazy few minutes
With Ireland adopting an increasingly risky approach, they began to look vulnerable on the counter-attack.
Manuel Neuer produced the second best pass by a goalkeeper on the night, releasing Reus, but substitute André Schürrle – a first-half replacement for the injured Götze – volleyed wastefully off target.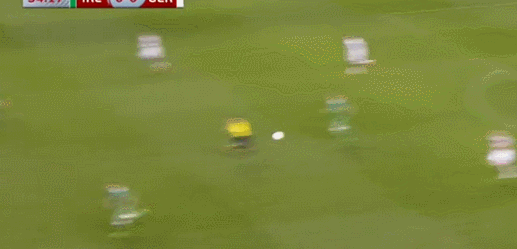 The game was finally starting to open up, but few would have expected Ireland to strike the decisive blow as a result.
The decision to introduce Shane Long was vindicated, as the Tipperary native exposed the lack of pace in Germany's high defensive line before finishing supremely following Darren Randolph's well-executed kick-out.
After the match, coach Joachim Löw sardonically remarked that it was Ireland's 100th long ball. By my count, it was in fact their 14th of the game.
Late flurry
Realising they needed a goal to secure Euro 2016 qualification, Germany suddenly started to play with added urgency.
Check out how many people are ahead of the ball right after the concession of the opening goal.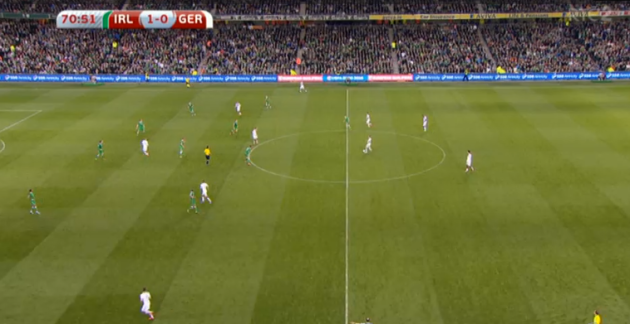 Ireland continued to maintain their discipline and remarkably, hardly looked like tiring.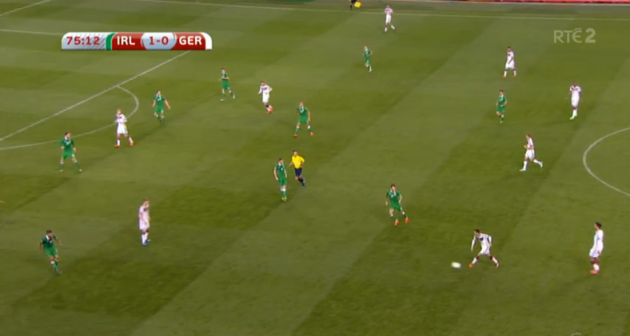 The Boys in Green retained their basic gameplan, but naturally played with even more conservatism as the clock ticked away.
David Meyler was now in the Glenn Whelan-type role, sitting in front of the back four along with James McCarthy, while Jon Walters effectively became a permanent right winger.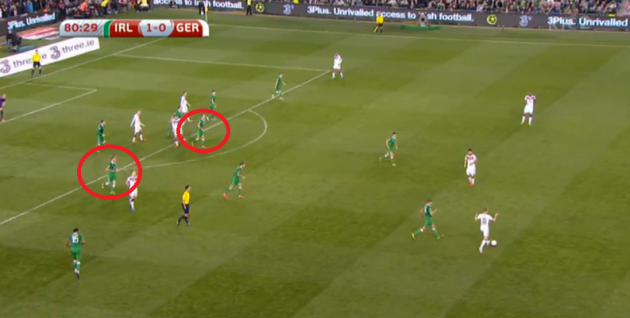 Germany had one golden chance in particular to equalise, as the ball narrowly eluded a lunging Meyler and fell to Müller in the last few minutes. With an impressive 33 goals in 60 games at international level for the Bayern Munich star, it'd take a brave man not to back him, yet the 26-year-old attacker somehow placed his shot wide with the goal at his mercy. By that point, an Irish victory felt written in the stars.
It's a testament to the attitude Martin O'Neill has instilled in this side that the intensity and work ethic did not let up at any point over the course of this game. It was arguably Ireland's finest defensive display since their similarly triumphant 1994 win over Italy at the Giants Stadium (or Russia in 2011 if you prefer last-ditch blocks to supreme organisation). There was ultimately a level of solidity that's rarely apparent even in the most heroic of displays by the Boys in Green.
The image below demonstrates how hard O'Neill's men worked, with every Irish player visible in this shot after a late German attack has just petered out.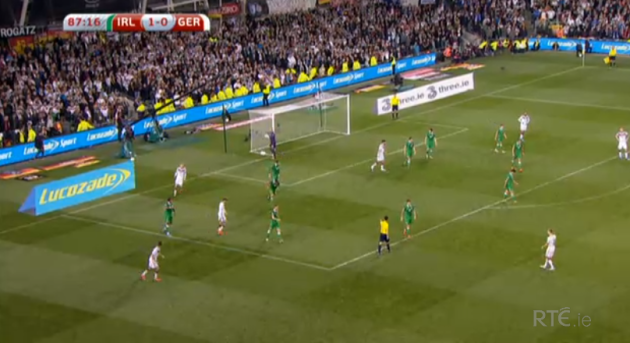 Germany never reverted to hoofball tactics, but there was still a sense of desperation about their game in the dying minutes, as Walters and Hendrick intensified their frustration by keeping the ball at the corner flag for a sustained period.
By the end of the match, the visitors were effectively playing with a six-man strike force, however, it still wasn't enough to break down the mighty Irish backline.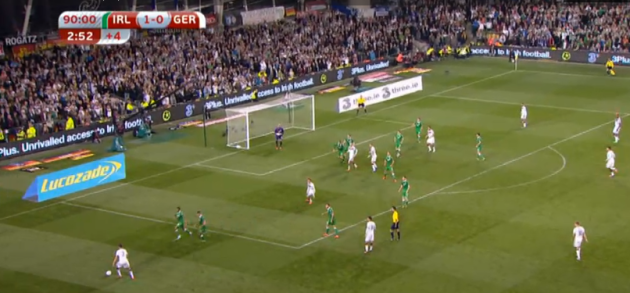 Conclusion
Some people considered it impossible, but Ireland pulled off a huge shock with a 1-0 victory over the world champions at the Aviva Stadium, enhancing their prospects of Euro 2016 qualification in the process.
A meticulously executed gameplan, coupled with a bit of luck and a moment of inspiration from Shane Long sealed a historic win that is up there with all the Irish team's great victories of the past.
The entire team were superb, but in particular, Thursday night saw arguably career-best performances in an Irish shirt from Wes Hoolahan, James McCarthy, John O'Shea and Jon Walters, all of whom formed a formidable spine of the team, which is undoubtedly good enough to take the side further in international football over the coming months.
The most credit, however, surely belongs to Martin O'Neill, who silenced his critics by orchestrating the most tactically impressive performance from an Irish team in recent memory.