BILL WALSH, THE legendary former head coach of the San Francisco 49ers once said, 'Almost always, your road to victory goes through a place called failure.'
Joe Schmidt's Ireland haven't passed through this place too often since the New Zealander took over in 2013, but their intention of being World Cup trailblazers for this country went up in smoke.
Billy Stickland / INPHO Ireland failed to hit their target in this World Cup. Billy Stickland / INPHO / INPHO
Now the players, management and the IRFU must leave their egos at the door to get honest answers about what needs to change in order for us to win a World Cup in the future.
If Ireland can react positively to this early exit, it could mark the beginning of the rebuild towards Ireland's success in 2019.
British cycling famously documented how a structured review done well – with results accurately interpreted by skilled people – can direct very positive change.
In 1996, British cycling was ranked 17th in the world and faced insolvency.
Performance director Dave Brailford believed that if it was possible to make 1% improvements in identified areas (e.g. technological developments, athlete psychology), as well as continuing to drive key statistics like athlete power output, the cumulative gains would be hugely significant.
By 2012, British cycling was ranked number one in the world, with 12 Olympic medals and consecutive Tour de France victories in 2012 and 2013.
Rugby cannot be directly compared to cycling, or to any individual sport for that matter, and it's worth stressing that Ireland remain in a good place.
This is not about changing everything, it's not about a complete alteration of their operating philosophy, rather identifying those 1% changes they can make, all of them adding up to a better chance of success in 2019.
Regardless of the base from which the team or organisation begins, the review principles remain the same.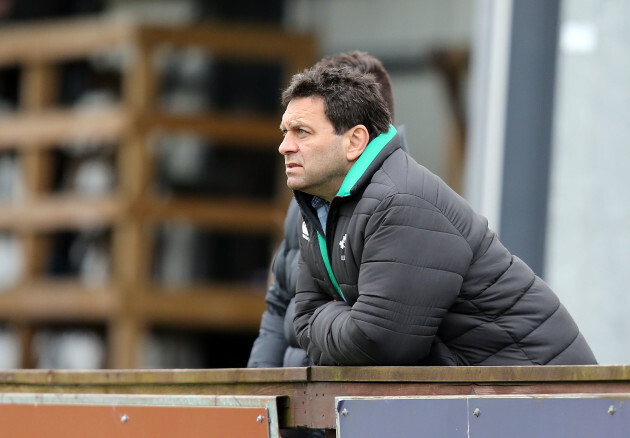 Colm O'Neill / INPHO David Nucifora is heading up the IRFU's review. Colm O'Neill / INPHO / INPHO
What have you learned about your players and the staff? What have you learned about your technical preparation? What have you learned about the organisation you work within?
It's only then that the clearest picture can be painted of which positive elements you should continue to improve upon and what challenges you must focus on to supplement the strengths. Ultimately, the goal is to create an even stronger, more capable version of Ireland.
World Cup reviews are commonplace, but there is an onus on the reviewers – led by IRFU performance director David Nucifora this time – to be extremely thorough.
Reviews are tough environments for everyone involved but teasing out the honest answers is important. Afterwards, interpreting the information accurately is vital, to understand fully what changes need to be made to build a stronger future.
The players and coaches face a couple of long, miserable weeks. They will torture themselves with thoughts involving 'what if', 'if only' and 'could I have done better?'
The media is never kind at a time like this, but there will be no worse critics than the players themselves. They will need to find ways to cope with what's happened and come to terms with losing to Argentina. Silver linings will be far from sight.
The game itself has already been analysed in depth and the review team will now attempt to get the full answers as to what factors played the biggest part in Ireland's underperformance.
Exclusive Six
Nations Analysis
Get Murray Kinsella's exclusive analysis of Ireland's Six Nations campaign this spring
Become a Member
I really feel for the players who won't get another chance at the World Cup. I know how Paul O'Connell, Mike Ross and a handful of others feel. Walking away from the 2014 World Cup after we had been well beaten by England in the semi-finals was agony.
There is no way for these players to pump their energies into regrouping for next international season, righting the wrongs, and starting the next World Cup cycle positively.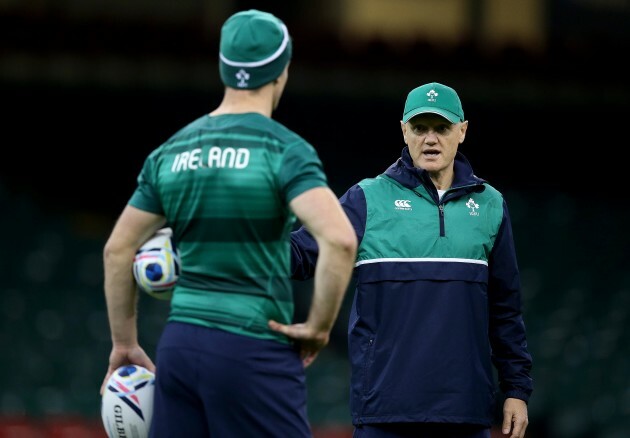 Dan Sheridan / INPHO Schmidt will be working hard to make improvements in the short term. Dan Sheridan / INPHO / INPHO
Younger players can find it harder to cope with the emotions of what's happened, not having gone through something so intense before.
Ian Madigan's overwhelming emotions were obvious after beating France to top the pool. Being able to manage highs and lows is part of a skillset players have to possess, something they have to learn about. You'd hope that the players will get support to help with this process.
When we lost that semi-final to England in the 2104 World Cup, we went through similar disappointment. These are dark times. There were similarities in the build-up of hope and expectation, followed by a comprehensive defeat. We lost 40-7 that day in Paris.
What helped a lot of us pull through were the simplest of messages from supporters who had been behind us all the way. It might sound a bit corny, but when you are going through this mental anguish, those messages can help.
Irish people reached out to us from all over the world, people who had been following our progress. Friends from childhood, some of whom had taken drastically different paths in life, contacted me out of the blue to share their pride at what we'd done.
Below is one of the messages we received, one that was really important for us.
"With the help of others, you have launched women's rugby into a new stratosphere within Ireland. For that, Irish people will be eternally grateful. Thank you for your commitment and tenacity throughout the years, especially when things got tough.
"Thank you for bringing so much joy to the people of Ireland and for changing their lives and perceptions of women's sport. You all are true ambassadors and role models."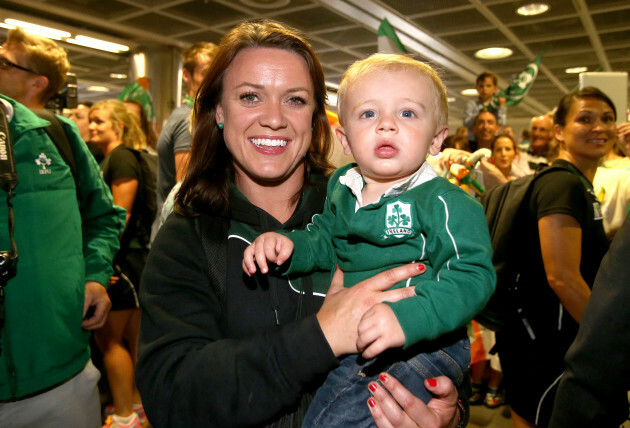 Dan Sheridan / INPHO The support Ireland Women received in 2014 was important. Dan Sheridan / INPHO / INPHO
That kind of message hammers home to you exactly the importance of sport to Irish people. It brings back into focus the need to react positively to the disappointment, to make sure you get better for the next challenge.
Ireland Women responded by regrouping, bringing in new players and a new coach, and winning the 2015 Six Nations. I wasn't involved after retirement and that was hard at times, but I took joy from the reaction. Joe Schmidt's side now face the same task.
The support around this World Cup has been record-breaking. Thousands of young athletes and players have been following Ireland's campaign for the past year, and the hope is they they have been inspired to take up rugby or keep playing.
If the appropriate reviews are done, in a supportive and honest environment, that alone may be the most significant step in preparing these players for success of a different level in the future.