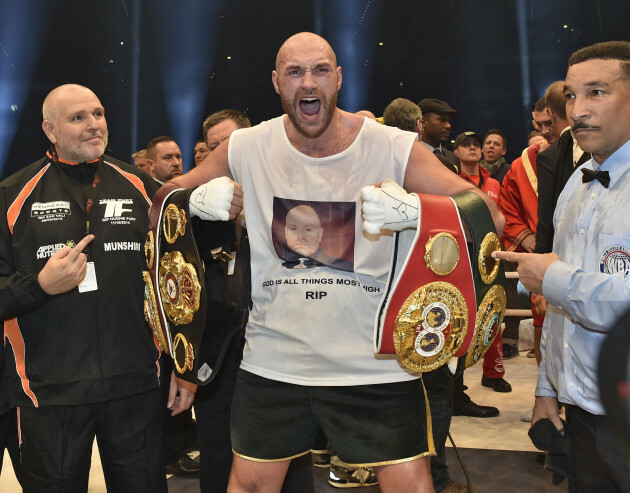 AP / Press Association Images AP / Press Association Images / Press Association Images
Ciarán Gallagher reports from Dusseldorf
TYSON FURY SERENADED a 55,000-capacity crowd with a rendition of Aerosmith's 'I Don't Want to Miss A Thing' at Dusselforf's Esprit Arena, which he dedicated to his wife Paris, after claiming the heavyweight championship of the world.
Fury, 27 and now undefeated in 25 fights, took a unanimous points win over 39-year-old Wladimir Klitschko (64-4) as the Manchester native, a former Irish heavyweight champion, produced a disciplined display which was completely at odds with his brazed and vocal pre-fight approach.
Fury, who has sometimes boxed as a switch-hitter in previous fights, boxed orthodox in the first round and appeared to have the better of the opening, boxing in a conservative yet effective style and utilising his jab.
The challenger continued to fight in a sensible fashion in the second round, but his posing and confident attitude in the third saw him throw less shots as Klitschko attempted to work an opening with Fury boxing southpaw during that round.
Sebastian Konopka Sebastian Konopka
Both continued to fight in a tentative fashion throughout the opening half of the bout and few shots were thrown during the sixth, with Klitschko's cool and clam approach gradually starting to pay dividends.
Despite the pre-fight bluster and trash talk, which mostly came from Fury, the fight was a relatively disciplined affair with referee Tony Weeks not having to interfere too often.
Klitschko, a Ukrainian born in Kazkhstan who has built his career in Germany, raised a cheer from the 'home' support in the ninth round as he showed real intent for the first time in attack but Fury battled back and threw some combinations in reply towards the end of the round.
The champion looked short on ideas in the 10th and 11th  rounds with Fury throwing hooks in the latter round, which he was in control of but the challenger suffered a point deduction as Weeks disciplined him for a rabbit punch to the back of Klitschko's head.
Martin Meissner Martin Meissner
The shackles finally came off in the 12th and final round as both fighters traded, with Klitschko clearly marked up under his left eye.
The challenger took the three titles on offer, with two judges calling it 115-112 and the remaining official scoring it 116-111. This reporter scored the fight 116-112.
Meanwhile, Meath-based Finglas super-featherweight Jono Carroll extended his undefeated record to 9-0 on the undercard of the big Dusseldorf show, defeating Miguel Gonzalez of Honduras on points.
Carroll looked comfortable boxing over 10 rounds for the first time as he recorded his third win of the year.