ENGLISH TEAMS' PERFORMANCES in Europe in recent years have undermined claims from certain quarters that the Premier League is the best in the world.
However, in terms of entertainment and global reach, there are few who can rival England's top flight.
The Premier League's unprecedented popularity was emphasised earlier this year, when it sold television rights to its games for a record £5.136bn, which dwarfed the previous figure in 2013 of £3.01bn.
Despite some people over the years suggesting the league's considerable riches would soon diminish, it has continued to go from strength to strength since its formation, and effectively the beginning of modern football as we know it, in 1992.
Clubs will start enjoying the benefits of the deal from next season onwards, and many have predicted that soon, rival leagues could struggle to compete with England's super rich clubs, on the field as well as off it.
But is there any danger of the Premier League's immense power collapsing in the near future? Will people get bored of it sooner rather than later?
Simon Chadwick, who is set to take up a role as 'Class of 92′ Professor of Sports Enterprise, Centre for Sports Business, Salford University Manchester in January, and who has lectured on topics such as 'Where to now for sport in the 21st Century?' sees no sign of the league's popularity decreasing in the short term.
I don't foresee the Premier League bubble bursting anytime soon," he tells The42. "Fueled by TV money in 2016, when the new TV contract starts, you could envisage someone like Neymar, or dare we say Lionel Messi, coming here. Obviously, there are also rumours around Pep Guardiola.
"In entertainment terms at least, the Premier League continues to be the greatest show on Earth and it's a virtuous circle. The more money you earn from TV, the higher the profile of players you can buy in, the more entertainment is provided, the more entertaining it is, the more TV companies will pay for the rights to the Premier League. So short to medium term, I don't foresee any bursting of the bubble."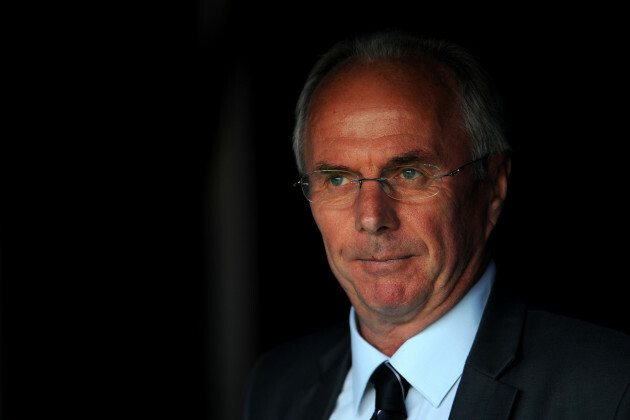 EMPICS Sport Sven-Göran Eriksson is the current manager of Chinese Super League club Shanghai SIPG. EMPICS Sport
While less convinced that the likes of MLS will threaten the Premier League's foothold on the global market, Chadwick believes that the Chinese Super League could eventually be English football's biggest threat, while also not ruling out some of Europe's other top leagues from ultimately taking the much-coveted throne at the top of the ladder.
Medium to long term, there are some real pressures starting to build up. Obviously, other leagues have started to fight back, so La Liga has started to fight back. It can only be a matter of time before we see Serie A in Italy starting to fight back. And countries like China have a strong predisposition towards Serie A and Italian clubs for historic reasons. So other leagues will respond.
Exclusive Six
Nations Analysis
Get Murray Kinsella's exclusive analysis of Ireland's Six Nations campaign this spring
Become a Member
"As far as the Premier League is concerned, I think this season is exceptional, because of Leicester City being at the top, but we've seen domination of the league for large periods of its history. And when you do get that kind of repetitiveness, that's counter-productive to engaging fans and audiences around the world.
We're also starting to see the rise of other countries outside of Europe. I'm thinking specifically of the Chinese… I do see the Chinese Super League becoming a threat, maybe not over the next five years, but certainly over the next 10 years, it will be become much more of a threat than it has ever been before."
Chadwick points to one club in particular – Guangzhou Evergrande — as evidence for the country's burgeoning growth in the beautiful game. Having only been semi-professional up until 1993, the club have won two of the last three Asian Champions Leagues — a feat that had previously never been accomplished by a Chinese side — while they have won their domestic league for the past five successive seasons. Consequently, Guangzhou are being referred to in some circles as China's first super club.
Moreover, the club's owner is one of China's richest men, Jack Ma, founder of Alibaba — a sort of Chinese equivalent to eBay – and unsurprisingly, he has already shown a willingness to plough plenty of cash into the team. High-profile names have joined Guangzhou, including ex-Brazil manager Luis Felipe Scolari, former Tottenham midfielder Paulinho and fellow Brazilian Robinho, who previously played for Real Madrid, Milan and Man City among others.
"We're starting to see very slowly the emergence of Chinese football," Chadwick explains. "Reportedly, a Shanghai club managed by Sven-Göran Eriksson put a (£75million) bid in for Wayne Rooney and wanted him to go there.
So I would keep an eye on China, because I think significant things are happening there right now and the Premier League needs to be aware of what's happening there. Its hierarchy need to know that they may have to respond to some of the developments there to ensure the Premier League stays robust and relevant."
Look out for part 2 of our interview with Professor Simon Chadwick on the site in the coming days, which will focus on the Class of 92 as a 'classic brand' and whether Man United can sustain their current levels of wealth if their recent lack of on-field success continues.