IRELAND'S MOST FRUSTRATING defeats almost inevitably involve passive, reactive defensive performances.
The most hurtful example was last year's World Cup quarter-final defeat to Argentina, when a lack of proactive and aggressive defensive intent cost Ireland so dearly in the opening quarter.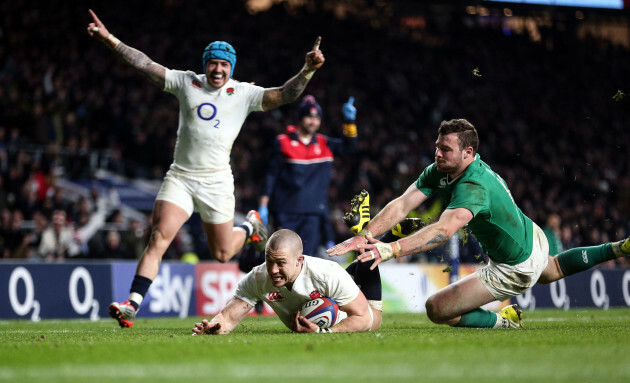 Andrew Fosker / INPHO Andrew Fosker / INPHO / INPHO
While the defensive display against England at Twickenham on Saturday involved some excellent moments and many instances that Joe Schmidt felt were reflective of the "character in the group," Ireland were too soft for the large parts of the game.
Schmidt's men invited England to apply pressure on them in the first half with poor kicking and their attacking errors, and a more clinical team than Eddie Jones' would have been more than three points ahead at the interval.
While the try-scoring damage was done in a six-minute spell in the second half, the manner in which Ireland soaked up huge amounts of pressure from the English in the opening 40 minutes took a mental and physical toll.
Come back at us
The possession and territory stats from what was a fascinating Test match at Twickenham are of the game-of-two-halves variety.
England had 60% possession in the opening half and spent 72% of those opening 40 minutes inside Ireland's half of the pitch. After the break, Ireland had 71% of the possession and a 73% share of the territory.
So why exactly did England have such a healthy percentage of the territory in the opening half?
Part of the issue was Ireland's stuttering attack, which we will look at in more depth in a separate piece. Briefly, Schmidt's men continued where they had left off against France with their attacking ambitions – lots of errors and creating very little pressure on the opposition.
Along with that, Ireland's exiting was uncharacteristically poor and that repeatedly invited the English to attack back at at them.
We get one of several examples in the clip above, as Conor Murray fires a poor box kick out of Ireland's half. The ball travels too far with too little hang time and it means primary chaser Rob Kearney is never going to be able to compete to win it back.
Billy Vunipola is lying deep, as Ireland knew he would be, and thunders back at the Irish defence to begin a new stint of attacking pressure. Two phases later, CJ Stander fails to roll out of a tackle and England win a penalty in front of the posts.
While the actual kick itself is poor from Murray here, he receives very little in the way of meaningful protection from the screening players ahead of him, Stander and Devin Toner in this case.
Look again at the beginning of the clip and note the pressure England are able to get right on top of Murray.
Now watch the actions of Dylan Hartley in the incident below.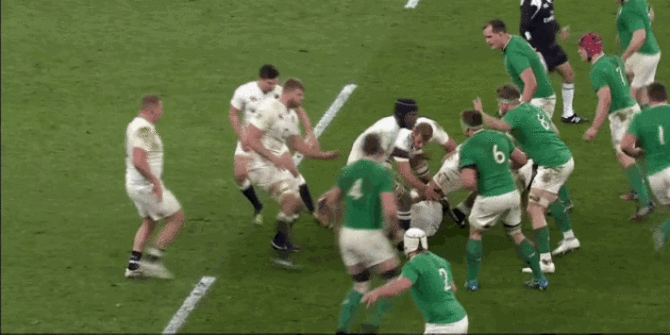 The England captain gets a nudge on Stander, just preventing him from getting right on top of Ben Youngs. Youngs' kick is not perfect, but it is lofted high enough and drops short enough to force Keith Earls off the ground in his attempt to gather. The knock-on follows.
It's a tiny action from Hartley and technically he shouldn't be stepping into Stander as he does here, but this moment is symptomatic of the manner in which Ireland were once again second best in the streetwise-stakes last weekend.
The vast majority of the confrontational, savvy, niggly moments came from England.
Ireland take pride in stating themselves as a clean team, but that image ignores how clever the likes of Brian O'Driscoll, Paul O'Connell, Sean O'Brien and Peter O'Mahony have been with little details like the above in the recent past.
Sitting off
"Defensively we can't afford to be passive. We can't afford to wait for things to happen. We've really got to be as competitive and as combative as we can be on that side of the ball."
Schmidt summed up the Irish defensive performance succinctly with the above words, and the head coach will have major frustration at his players' inability to bring the linespeed on which they often thrive.
England's hungry defence was far from perfect, conceding a try to Ireland and giving up seven linebreaks, but their mindset offered something of a contrast. Paul Gustard's charges look like hunters, they attempt to make things happen by getting up hard and pressuring the attack into making a decision.
Ireland did that at times of course, but far too often they painted the opposite picture, sitting back and allowing the English to make their decisions.
Above is one of the most basic phases we could take from the game, but it's illustrative of the Irish issue.
Even with Toner folding across to the right late, it's a three-on-three and a chance for Ireland to hammer up on the first few steps, take the tackle to Vunipola and make an early statement. Instead, Ireland stand off and give up yards easily.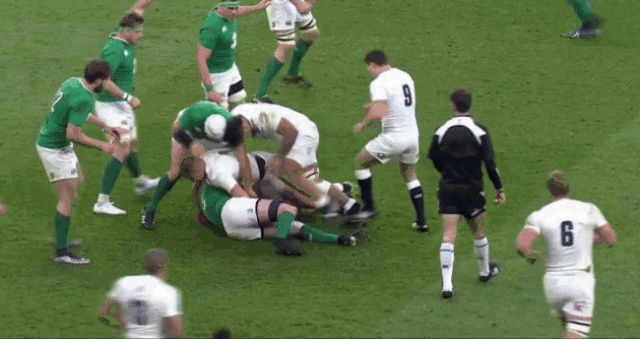 In the incident above, one England pass takes three Ireland defenders completely out of the game and leaves Ireland suddenly looking in trouble on the outside edge.
We see below how tight those first four Irish defenders are close in the ruck.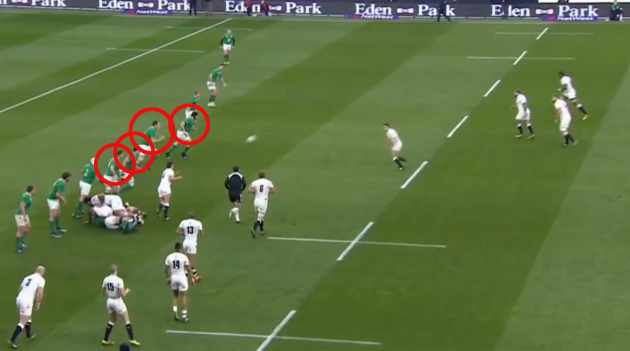 That's absolutely the ideal set-up if England have a forward carrying pod thundering around the corner or set up to accept a pass on the right, but it's quite clear where the ball is going in this case.
The narrowness means Robbie Henshaw is suddenly indecisive about whether to come up with Josh van der Flier inside him, or to sit off and ensure he can drift if the ball is moved wide by Maro Itoje.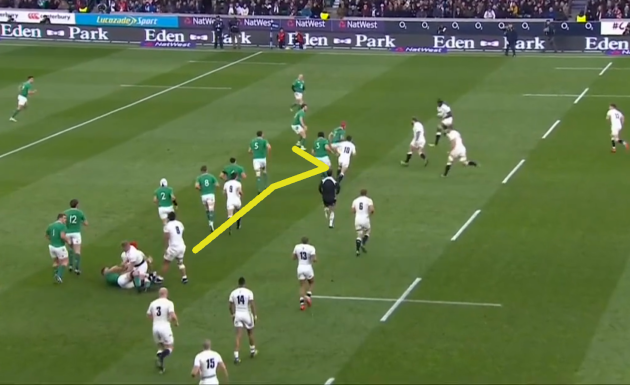 Even with the narrow bank of forwards inside Henshaw, Ireland probably need to be more aggressive here. Henshaw knows he has Earls outside him and that there will be a sweeper in behind to take the last English attacker on the outside edge.
Can Henshaw push up a little harder and take that tackle to Itoje, to force the England lock into making a decision under pressure? Instead, Henshaw actually stops moving and invites the Saracens man to thunder forward into him for another big gainline.
The effects of that dominant collision for England are immediately obvious.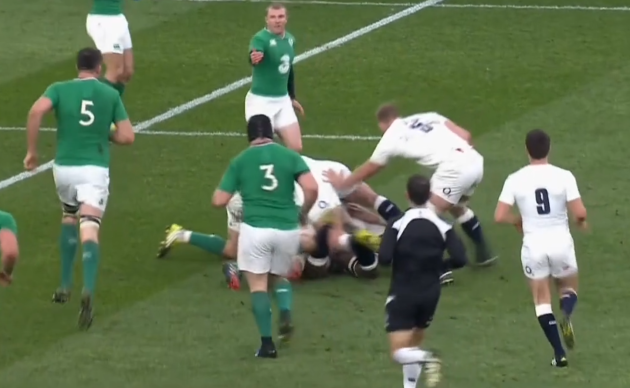 Ireland have no prospect of getting competition onto the ball as Itoje is finally grounded, meaning quick ball for England to attack with. Above, we can see Earls has recognised the danger and is communicating for players to fold over.
Toner cannot get across in time to mark up on George Ford, meaning Earls is checked by the out-half before he can drift onto Owen Farrell. Earls barely and brilliantly makes the tackle low on Farrell.
While Ireland do actually regain possession two phases later as a brilliant Donnacha Ryan hit forces James Haskell to spill the ball, this passage was a strong example of the issues throughout – narrow to begin with, unable to slow English ball at key times, indecisive about hammering up and putting pressure on Jones' men and then a difficulty in folding in time to have an effect on the far side of the ruck.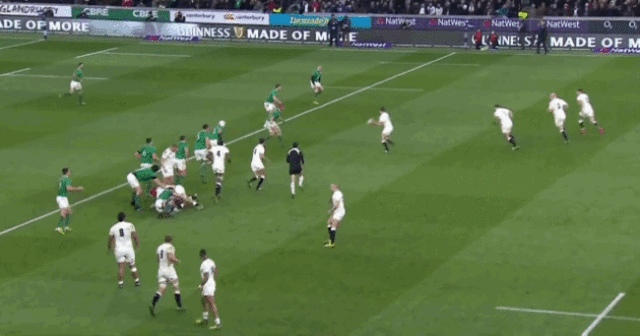 We see some of those issues in action again above, as the English make more gains with quick ball that forces Ireland's outside defenders to sit off.
Schmidt's men hang on and make the tackle in the outside channel, but as England come back to the left there simply has to be good linespeed and a firm hit. Ireland have 11 of their players on their feet on that side of the ruck as viable defenders, but again there's an error and Jack Nowell bursts through for further gains.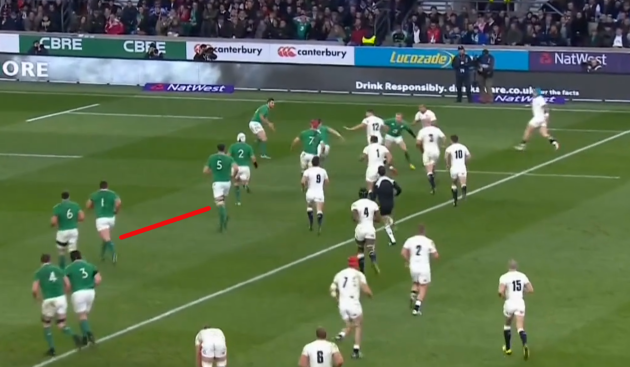 The issue for Ireland is their spacing on the right side of the ruck and it's present even before Farrell is tackled on the initial phase of attack. We can see above the gap between Toner and Jack McGrath as they retreat and it's a hole they have to close before the next phase.
However, McGrath remains wide of Toner, with Youngs and Nowell clever enough to exploit the obvious soft spot and give England more gainline. Ireland pile in to halt Nowell and then attempt to turn it into a choke tackle, but England recycle and should score on the next phase.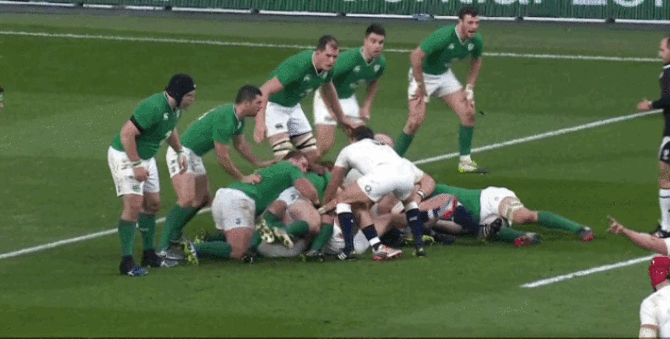 It's an excellent read by Sexton that saves Ireland – one of several brilliant defensive contributions from the out-half in this game. He knocks the ball on in the process but his decision to hammer up and in on Ford prevents an almost certain try.
Even when Ireland did manage to get onto England's ball at the breakdown and slow it, there was a hesitance in their defensive folding.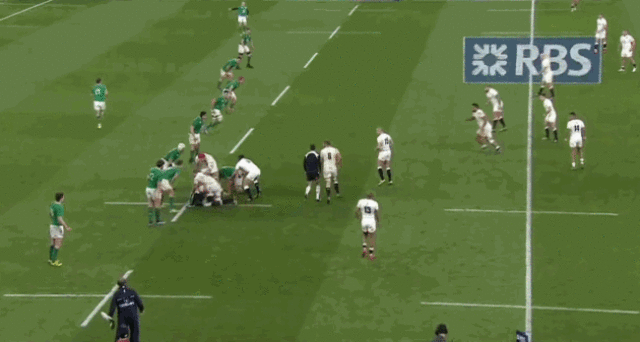 Note above how slow the English ruck is as Best and Stander make nuisances of themselves after Chris Robshaw makes yet another gainline-breaking carry against a disjointed Ireland defence.
That breakdown competition gives Ireland time to get their defensive line in really good shape and ideally numbered up, folding at least one body over to the left side of the ruck and therefore allowing them to generate linespeed.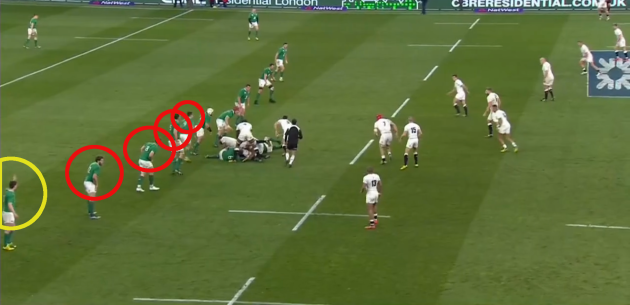 As Youngs releases the pass in the image above, Ireland have five defenders on their feet on the right side of their ruck, though England have just a single attacking player opposite them.
Sexton [yellow] is communicating the need to fold, but it's too late at this point. Ireland are numbers down and give up big yardage.
England – in a typically Jonesian pattern – immediately switch play back to their left and a phase later they very nearly beat Ireland around the corner.
Note how hard England work around the corner – out-half Ford in particular – in this effort to beat Ireland. They very nearly pull it off to get outside the Irish defence, but again Sexton does very well to apply pressure and force Mike Brown into a forward tip-on to Jonathan Joseph.
Ireland, as throughout much of the first half, cling on.
Giving up scores
That's what will have been most frustrating for Ireland; that they prevented England from scoring a try in the first half but then gave up two in the second 40 minutes, when Jones' side had only 29% possession and spent just 27% of the half in Ireland's territory.
Both of England's tries were excellent, but Ireland will look for ways they can learn from them.
The first score comes from a typically strong England scrum in midfield, a prime area from which to strike on first phase.
Because Ireland have to cover both sides of the pitch, they're always going to have to give up metres on the first phase. Murray has to work extremely hard to get across to Brown in this instance, completing the tackle with McCloskey.
The main issue for Ireland here is that England get an incredibly quick recycle after that first carry, and the large part of the damage for this try is done on the second 'phase' of the attack.
Youngs, Ford and Farrell do brilliantly to shift the ball to Nowell in space, but could Ireland have done better here?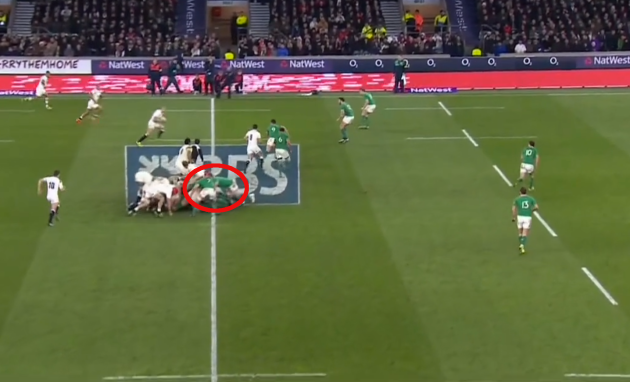 Above we can see that Jamie Heaslip and van der Flier are still bound to the scrum even with the ball in Brown's hands. Obviously Stander can see the ball exiting the scrum over on the blindside, so he joins Murray in chasing across the pitch, but the other two back rows are stuck in the set-piece.
Ireland have been caught late in breaking from the scrum for two other tries in this championship, though this is a different situation of course. Nonetheless, there has to be strong communication in these instances in order to ensure Ireland's back row are getting away from the scrum as early as possible.
Heaslip and van der Flier do make it back to form the beginnings of a defensive line, but they are still working towards their own tryline as Youngs picks and snipes at Ireland.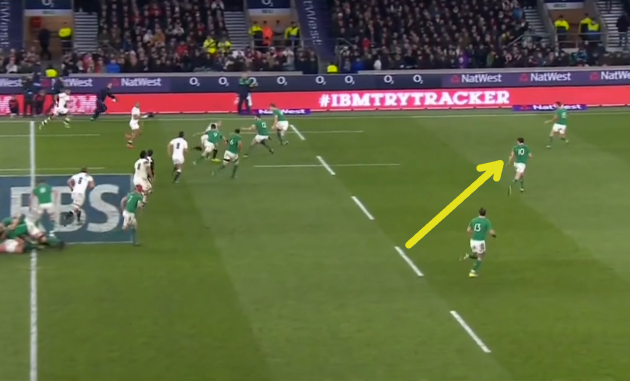 There is lots of space for Heaslip and van der Flier to fill due to the movement of Sexton on that first-phase attack. The out-half identifies the England threat on Ireland's right-hand side and covers across deep behind the line.
With Rob Kearney moving across to cover that space, however, it's arguable that Sexton doesn't need to commit across. We don't know Ireland's system in this case, but Sexton may have been better to stay in the midfield and therefore, with Henshaw outside him, be in a position to push up and shut down Ford and Farrell.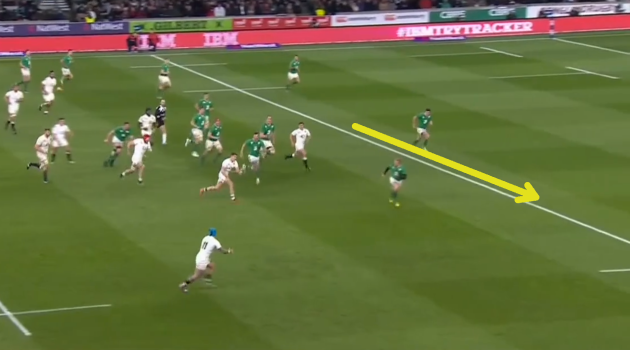 Instead, Sexton is left tracking across behind the defensive line in the manner above. He does become an important presence after making such a strong effort to cover back across the pitch, but the initial movement leaves Ireland bare in midfield.
Compounding that is the decision by Henshaw to shoot up towards Ford after Youngs finds his out-half.
The Ireland 13 is very much on his own in the middle of the park, and opts to hammer up when he sees Youngs bounce away from the ruck.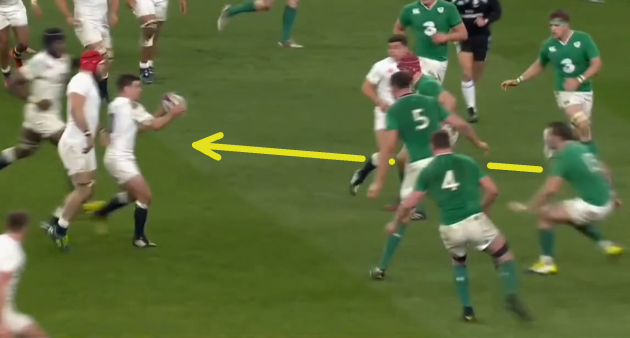 The idea is to burst up and smash Ford ball-and-all, but Henshaw soon realises that he's never going to get near enough to the England out-half to stop the ball on him, so instantly re-reads the situation and drifts back out out to Farrell.
Ireland's disorganised and scrambling defence is left struggling and the space for Nowell to run into is clear. Earls manages to make an excellent tackle on the touchline, although he gets his head in a dangerous position in halting the England wing.
One interesting point to note as an aside here is that referee Poite calls what sounds very like, "No ruck formed" after the very first carry by Brown in this attack.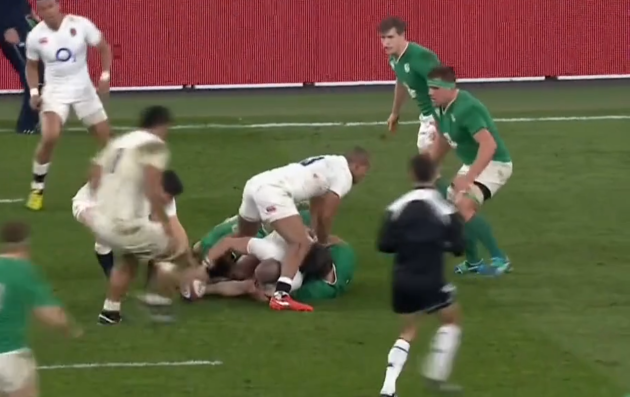 Indeed, go back to the breakdown point [above] and we can see that only Jonathan Joseph is over the ball. Stander has not engaged with the England centre over the ball, so there is actually no ruck here at all.
What does that mean? It's doubtful that the likes of Toner and Ryan hear Poite in this instance as they retreat from the scrum, but if they had it would have been fascinating to see their reactions.
If there's no ruck over Brown, then Toner and Ryan are not offside as they retreat from the scrum. It's open play, so they are technically entitled to tackle Youngs or Ford even as they move towards their own tryline. Toner could even step into the space between Youngs and Ford to close off the passing option.
Exclusive Six
Nations Analysis
Get Murray Kinsella's exclusive analysis of Ireland's Six Nations campaign this spring
Become a Member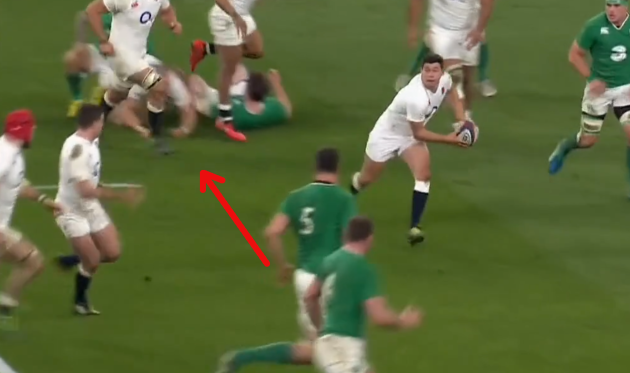 It would be hyper critical to suggest that Ireland's second rows should have been more aware here as they work hard to retreat from the scrum, but it's an interesting situation nonetheless. What would O'Connell have done?
Back to reality and England make big gains up their right-hand side, but Ireland subsequently do superbly to slow the ball, Sexton and Henshaw playing their part after working hard to cover across. However, England are now in prime position within six or seven metres of the Irish tryline just two phases into their scrum-launched attack.
Schmidt's men recover well, but in the end an excellent piece of rucking creates the opportunity as they again beat Ireland around the corner.
The rucking work of Farrell after the fourth phase is worth noting, before Marler goes deep in the image above to not only remove tackle assist Murray from the breakdown, but also up-end Mike Ross as the prop attempts to fold around the corner.
The depth of Marler's clear out also means that Toner is never going to get to the far side and England are numbers-up immediately.
McCloskey is forced to bite in on Youngs, who snipes cleverly once again, and although the Ulsterman knocks the ball on in the tackle to deny the English that particular opportunity, Robshaw scoops the ball up wonderfully and floats it over the head of the completely stranded Kearney for Anthony Watson to finish.
Messy
Schmidt's Ireland will look at every opposition try as preventable, but the second scored by England on Saturday will almost certainly be viewed as the more frustrating one to have given up.
The lineout is the possession platform on this occasion for England, as they attempt to rumble a maul forward off it but are repelled solidly by the Irish pack.
Replacement scrum-half Danny Care resets their attack by hitting James Haskell to the right off Mako Vunipola's carry, before the English once again bounce back against the grain to pose a different question to Ireland.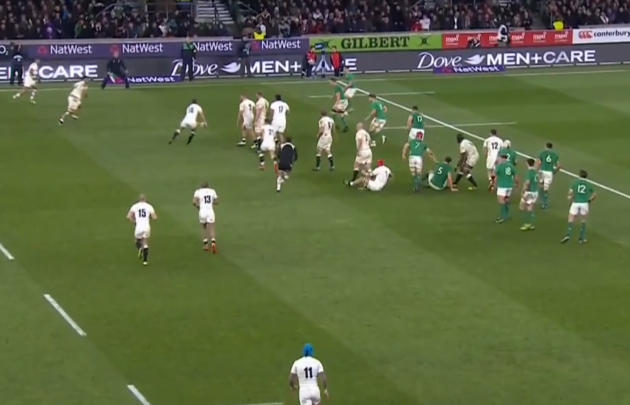 Ireland are in relatively healthy defensive shape down that blindside channel here and once again the question must be, 'when do you get up hard off the line and take the tackle to England?'
It's three-on-three and though Ireland begin tight, they get to a point where they are clearly man on and must come forward to make the hit. Instead, it's passive and Ireland stand off number eight Vunipola for the umpteenth time.
As ever, it's easy to comment on these things from the stands and Vunipola is a freakish player in the form of his life, but Ryan and Heaslip might feel they could have been more proactive in this instance.
Vunipola gets England right beyond the gainline again and rapid ruck ball beckons.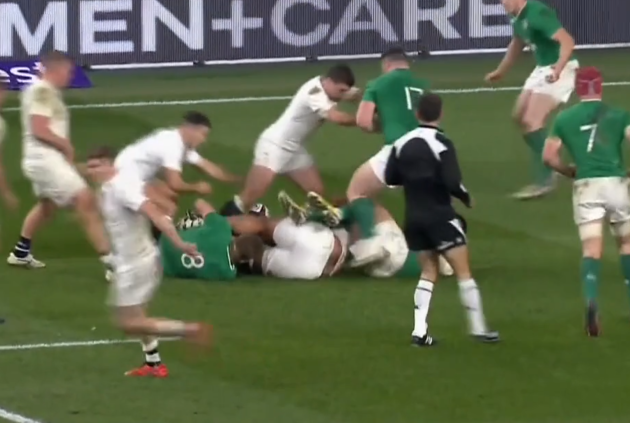 There is a brief chance for Cian Healy to slow the ball in the instance above, even if he approaches from the side. If the replacement loosehead can get even a decent counter-rucking shunt on out-half Ford over the ball, he'll probably tip him back into Care and slow the ball.
Instead, Healy is pushed backwards by Ford and actually bumps into van der Flier, who is attempting to fold to the blindside.
Care has incredibly quick ball again and snipes off to the left, drawing in wing Andrew Trimble and feeding Watson to make further gains along the touchline before fullback Kearney halts him.
Again, Ireland have to question if they can add even a second at that next ruck.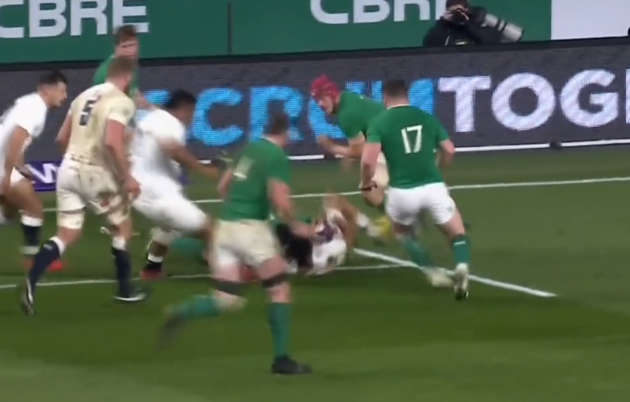 Van der Flier is in the vicinity, but Mako Vunipola beats him to the ball before the openside can get a grip on it and offer Ireland even that extra second to get into better defensive shape.
Without the likes of O'Brien, O'Mahony and O'Connell, Ireland have struggled to consistently add that extra second to the opposition ball during this championship.
The movement of Ireland's left wing Earls is worth noting in this defensive passage too.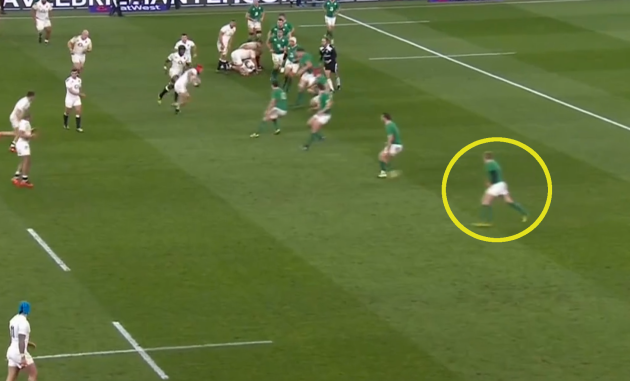 When we go back to Haskell's carry in the image above, we see Earls in his standard position at the left edge of Ireland's defence.
However, with Trimble and then Kearney being dragged over to the far right side to make tackles as England surge forward, Earls drops in behind Ireland's defensive line and finds himself in the position below as the English begin to shift infield again.
By the moment above, Robshaw is carrying off Care's one-out pass and Earls should be thinking about getting back into the defensive line to allow Ireland to cover greater width and generate greater linespeed.
He actually moves towards the breakdown when Robshaw is tackled, however, and it means he's in no position to rejoin Ireland's defensive line when England shift the ball wide to the right.
Ideally, the defensive team will always have this sort of sweeper in behind the line, but scrum-half Murray [who generally occupies the role] is back on his feet at this point and Ireland could certainly use Earls up in the line and pushing Sexton out wider.
England get more rapid attacking ball as Billy Vunipola denies Best the chance to get his hands on the ball.
The wonderfully-organised English run a screen play behind Haskell to out-half Ford and England have a five-on-three that is begging to be finished.
Sexton recognises the big overlap and makes the decision to hammer up in the hope of stopping the ball on Ford, as highlighted above.
That thinking is certainly proactive and it's probably the only way Ireland can save the situation here. However, Sexton needs McCloskey outside him to make an identical read and shoot up hard on Farrell.
While neither Sexton nor McCloskey might stop the ball in this instance, the pair of them might apply enough pressure to force a breakdown in England's skills, a poor pass from Farrell out the line for example, as with Brown to Joseph earlier.
Henshaw on the outside seems to read Sexton's intention and actually hammers in from a wide position, but it's a defensive line at sixes and sevens, with Earls and Murray also powerless to halt the English as they attempt to track across from the inside.
In truth, the real damage was done far earlier.