AT AN INTRINSIC level, athletes are all motivated differently and are driven to succeed by different means.
In the 1980s, psychologist Carol Dweck proposed that there are those motivated by achieving results and performances, and those who are motivated by learning and self-improvement.
Billy Stickland / INPHO Billy Stickland / INPHO / INPHO
Both types of motivation can be attributed to achievement and both are hugely valuable. The ideal situation is one where athletes can achieve both at the same time, undertaking challenges with the aim of constantly improving and learning, but being able to succeed along the way.
In all teams you'll have a mixture of both and when I played, our Irish women's team was no different. Personally, I'm motivated by self-improvement and have always been intrigued and driven by being better.
I was often more fascinated by how good others can be, and of most importance is what that looks like and produces when achieved together as a team.
This way of thinking probably stood me well in my first few seasons with Ireland, when winning games was far beyond us.
Ireland had three wins in my first five Six Nations campaigns from 2002 to 2006. That's 22 painful defeats out of 25 games. We had a single win at the 2002 World Cup in Barcelona and one again in the 2006 tournament in Canada.
Those were tough times, but for us the focus was on improving and seeing every game as an opportunity to get better. We had no other option really.
Our early amateur days cannot be directly compared to playing now, but I think that the ability to focus on improving and learning with every opportunity, especially defeats, and regardless of professional or amateur status, can help in situations like those Ireland's men's and women's teams find themselves in at the moment.
Both Irish teams are coming off the back of defeats in Twickenham, and both of the sides are trying to problem-solve where their errors are coming from as they look to restore their form.
Both the men's and women's teams are going through the process of blooding new players, which is a essential when building towards their new phase, and both sides are trying to establish their on-pitch directors and the understanding behind this.
Joe Schmidt's Ireland and Tom Tierney's Ireland are both developing, learning and growing at present. Those things are now the clear priority, as neither squad can defend their Six Nations crown this time around.
I feel the remaining two games against Italy and Scotland are invaluable learning opportunities. This is a development phase.
I understand it's easy to label a championship as 'a development period,' but the reality is that no team or coach would ever want to sacrifice a campaign for growth.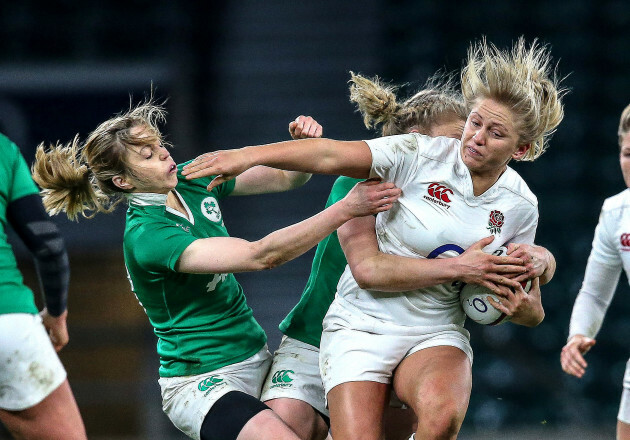 Billy Stickland / INPHO Billy Stickland / INPHO / INPHO
However, when winning the campaign is taken out of your hands, it allows you to truly focus on learning and this type of development. Both sides have been afforded that opportunity now.
The men's 21-10 defeat to England last weekend had some striking similarities to the women's 13-9 loss.
Both Irish teams had to soak up huge pressure from England's power in the opening half, both managed to keep themselves in the game and then get into the lead with the final quarter looming.
The men were 14-10 ahead after Conor Murray's try, while the women held a 9-8 lead going into the last quarter and spent an extended period of time camped on or near the English try line at that point.
England Women seemed the stronger outfit on the day, but Ireland very much stayed in contention throughout the first-half, capitalising on England's indiscipline by converting penalties.
There's no doubt Ireland Women could have taken their first victory in Twickenham had England not stolen an easy 67th-minute try, finding a hole at the side of the ruck in Ireland's 22, but closer inspection may highlight mistakes Ireland are making that I think if addressed and fixed, will propel them back towards the form they are capable of.
This loss may be an opportunity for the squad to sit down and identify these mistakes, to continue to improve.
For both sides, there are longer-term goals on the horizon.
Ireland plays host to the 2017 Women's World Cup, where we should be targeting history. The men, meanwhile, have a tour to South Africa, two games against New Zealand and a clash with Australia to come this later year.
Those things have to take a back seat right now as Ireland focus on getting better in these next two games. It's easy to dismiss fixtures against Italy and Scotland, but this is a key time on the journey.
It's an interesting time for Niamh Briggs and the girls. After the 2014 World Cup, beating the unbeaten Black Ferns and a first-ever semi-final, everything was great.
They may have worried about post World Cup changes to the squad, but they went into the 2015 Six Nations and won it, as did the men.
Exclusive Six
Nations Analysis
Get Murray Kinsella's exclusive analysis of Ireland's Six Nations campaign this spring
Become a Member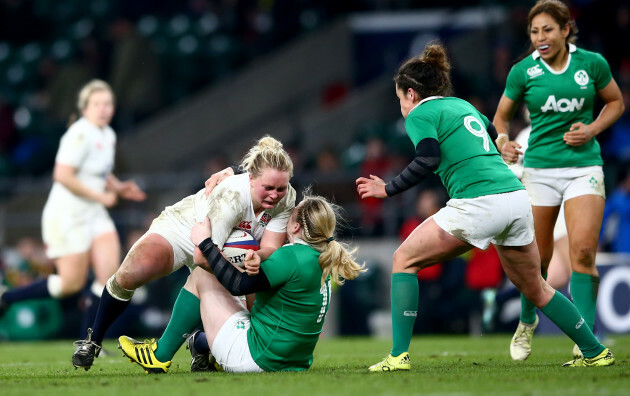 James Crombie / INPHO James Crombie / INPHO / INPHO
I think its important to recognise that Ireland Women have the talent and potential to be rolling Six Nations champions, but this is no mean feat. For them to do this, I think they need to play intelligent, alert rugby, which is the crux of how they rose to success in the first place.
Ireland are not a big team, so their strength was and is in their mobility and understanding of where space is and what's the most effective way to get there.
Last year's Six Nations was competitive but this year's Six Nations is more competitive. England and France have rebuilt and are playing a high standard of rugby.
I think Ireland are well able to compete at this standard but I think they potentially need to rebuild their structure and, similar to the men, reestablish their direction via the players.
The new players who have come in are learning their trade like all must do. I think they need to be given the freedom to do this, while being aware of the high standards set by the rest of the team.
There have been some excellent performances to date by Sene Naoupu and Cliodhna Moloney, which is a hugely positive sign for the future.
Similarly to the men, I would imagine the senior players will be frustrated by some of their on-pitch decisions on Saturday, such as not being able to capitalise after England's sin binning in the 59th minute.
As a team, I think they have buckets of leadership talent in the likes of Niamh Briggs, Claire Molloy, Paula Fitzpatrick, Ailis Egan and more, but I feel a need to, as a group, take more ownership for what the team does on the pitch, and where and how they should be playing.
Nothing, I think, is beyond them.
For the men and women alike, the remaining two Six Nations games are important fixtures. Having the stage where you can put the things you're practicing into action under Test match pressure is invaluable. You simply can't replicate it in training.
I think both teams will benefit naturally from more tactical challenges in each game, and importantly, maybe under slightly less pressure, have a little more space that's needed to settle and rebuild confidence playing the way we know Ireland are capable of, so that they can bring this forward and progress towards both their next steps.