STUART HOGG IS having a spectacularly good Six Nations, but the reality is that he's only standing out so much because the team around him is humming at the moment.
What impresses me most about this Scotland side is their collective understanding of what they're doing.
James Crombie / INPHO Hogg is at the heart of this Scotland team, but it's about collective strength. James Crombie / INPHO / INPHO
Tim Visser try's in the corner against France last weekend, from Hogg's flick-on, is an example. There's probably a little bit of luck involved in that outrageous moment of skill to finish it off, but look back at the phases that built up to that point.
A dummy maul lineout move allowed an excellent midfield hit-up to get gainline, with Richie Gray then coming around the corner into space. There's a glimpse of an opportunity to offload but he doesn't throw it given the major risk of losing possession.
Ryan Wilson hits the ruck and Greig Laidlaw recognises the need to resource it too. He gets stuck in to ensure the team attack retains tempo. Jonny Gray plays scrum-half for WP Nel to make an excellent carry.
Duncan Taylor, Jonny Gray and Ross Ford clear out, but France look to kill the ball illegally. Many teams would now simply use their penalty advantage to try to pick and jam that final metre over the line, but Laidlaw and co. understand that the penalty advantage is an opportunity. They're all on the same page.
Laidlaw passes long, and Hogg produces his moment of magic. Four phases of focused collective understanding and accuracy for a Scotland score. Seeing that flick in isolation might make us think that Scotland are playing a brand of flair rugby with big risks being taken, but the preceding phases show their organisational strength.
Hogg has understandably been the centre of attention for Scotland, but I'm also fascinated to see how Ireland's fullback performs on Saturday. With Rob Kearney injured, Simon Zebo retains his place and gets another opportunity to show his value.
The most impressive thing in Ireland's nine-try win over Italy was how willing and hungry they were to play reactive and creative rugby. I felt that was spurred on by the selection and particularly by Zebo from 15.
The Italian defence was very poor and Ireland had more time and space to be agile and threatening. Zebo was the main player who stood out in the backline.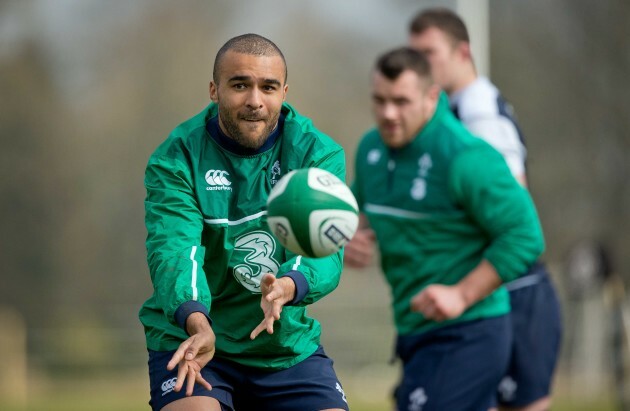 Morgan Treacy / INPHO Zebo was very impressive against the Italians. Morgan Treacy / INPHO / INPHO
Zebo's strengths are what Ireland need more of in attack. Like all players, however, he still has aspects of his game that can improve, which in tighter matches are vital. It's his challenge to be able to supplement these gaps and threaten in every aspect of the game.
Equally as important is that he has that raw flair for invention and creation, something I have mentioned before in relation to Ireland. If Zebo can continue to grow as a player with strict direction, he is a huge asset for Ireland at the age of 26.
He does seem to lose concentration in games at times and has been caught out of position defensively on occasion.
Italy's 57th-minute try last weekend was conceded through one loopy pass from Guglielmo Palazzani to David Odiete, skirting past four Irish players defending nervously close, with Zebo on the end.
It's every player's responsibility to scan the attack and allocate defenders accordingly,  but one of the fullback's jobs to ensure this is done to counter any threat out wide. For the Italian try, Zebo, Keith Earls and Andrew Trimble were all caught on the outside, which potentially could have been avoided with better concentration.
Joe Schmidt is known for his technical standards in the ruck area and no doubt Zebo will have been at the receiving end of some critical feedback here.
With every player, there will be a decision-making process you go through approaching a ruck to decide what's needed to be effective.
'Where and how can I be most effective here? Where is the threat? Do I need to clear past the ball or secure it? Do I need to crocodile roll a player bridging over the ball? Am I needed at all?'
Zebo has been criticised in the past for a looseness in his rucking. Continuing to develop his decision-making process in this area will be of huge benefit to him.
Morgan Treacy / INPHO Ireland have gone with a largely unchanged team this weekend. Morgan Treacy / INPHO / INPHO
A largely unchanged Ireland team – Tommy O'Donnell getting his chance aside – seems sensible this week, given how important it is to win this game and how impressive the Scots have been recently.
I think there's a fluidity to how Vern Cotter's team are playing. When they make different types of linebreak, they understand that to do next.
The main advantage of a linebreak is that a defence is disorganised and the defenders are usually going to rush towards an attack. Technically as a defender, when you see a linebreak you're supposed to assess the situation and rely on whoever is close to the ball carrier to make their tackle.
If you're an outside defender, you're not supposed to honeypot in towards the subsequent ruck, instead tracking back in your zone to defend the second wave of attack.
When defenders do honeypot, there's often space on the next phase, once the ball is recycled quickly, for the attack to continue to breach the line by attacking flat. Conversely, your next phase after a line break won't be effective if you are passing to deep receivers. This gives the defence time to regroup and negates the original break.
Scotland have clearly been working hard on this, as converting linebreaks was a longstanding issue for them even before Cotter arrived as head coach.
The quality of players Cotter is working with seems better than in the past. Gregor Townsend at Glasgow Warriors and Alan Solomons with Edinburgh deserve their share of credit for the calibre of players they are producing.
We can relate this back to Ireland of course, in that we need players at provincial level getting the very best coaching every day if they are to come into national camp and play in a certain way with certain skills.
With the Ireland women's team, the union continues to work on establishing a comprehensive elite player development pathway. Historically, our international learning occurred in international camp and competition.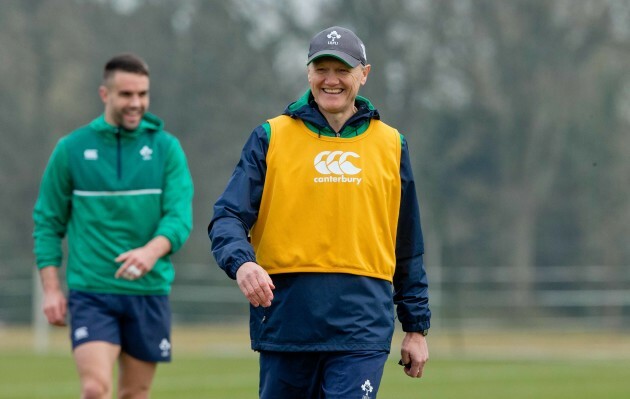 Morgan Treacy / INPHO Joe Schmidt at Ireland training. Morgan Treacy / INPHO / INPHO
An underage pathway or elite player development program didn't exist to direct talent centrally. Naturally, this is not sustainable as it lacks the depth needed to be competitive on the world stage. Hopefully, the IRFU continue to invest in this vision going forward.
Of consideration for Schmidt and Ireland this weekend is whether Scotland's win over France will officially mark their turning point in form in this era.
They have been threatening consistently for two seasons, without always getting the results, and continued this form into last year's World Cup. Having strung some excellent performances together in this Six Nations campaign, I wonder if last weekend's win over the French genuinely marks the start of a new competitive Scotland?
In my time with the Irish women's team, I remember two or three key turning points in our fortunes that changed our course in the future.
The three most significant turning points for us were the first time we beat England in Ashbourne in 2013, winning the Six Nations and Grand Slam in 2013 and beating New Zealand in 2014.
After victories like those, there is a staunch mentality and belief within the squad and a confidence that you won't go back to the way it was before. The only way is forward from there.
The women's team should be able to finish their Six Nations campaign off with a win against Scotland in Donnybrook at 1pm on Sunday.
The victory over Italy last weekend signalled Ireland's work in progress. You would expect mistakes with all the changes and new faces that came into the side. Some of the players from the sevens program returned, including Alison Miller – who was scarily threatening with ball in hand.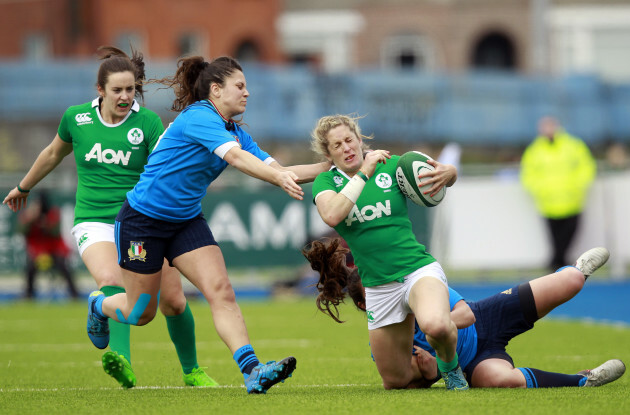 Colm O'Neill / INPHO Ireland beat the Italians last weekend in Donnybrook. Colm O'Neill / INPHO / INPHO
Many of the other girls were very fresh and of course that meant there were was a disjointed nature to it. Mistakes are expected when blooding new players and it's up to the senior players to set high standards for the newer players to rise to.
I think Ireland will benefit from the new decision makers continuing to learn their roles in making game-management decisions, which is essential going forward into next year's home World Cup.
I felt the changes in the pack made it difficult last weekend and I'm sure they will be edging to get back to this job this weekend. Ireland have made changes again for this week, going back to what they've had previously in the backline, with Miller in again.
It's a strong team and as a result I don't think Scotland should cause them too much trouble at home. Finishing on a winning note is important, but managing the game as effectively and intelligently as possible is the priority.
The42 is on Snapchat! Tap the button below on your phone to add!