IRELAND'S SHEER RESILIENCE and defensive work rate was the story of their historic win in Cape Town and will justifiably draw the majority of the plaudits.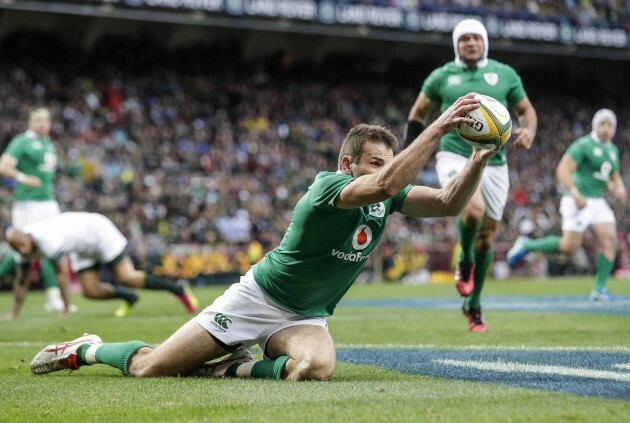 Billy Stickland / INPHO Payne finished an excellent Ireland try. Billy Stickland / INPHO / INPHO
However, their opening quarter performance with 15 men was also impressive as Ireland went about building a 10-3 lead that perfectly set them up for the huge challenge that lay ahead following CJ Stander's red card.
Schmidt's men began positively and the Kiwi head coach stated afterwards that the good start allowed confidence to filter through his players. Most encouragingly, Ireland's attacking intent was sharp and their accuracy with ball in hand was impressive too.
We will look at other aspects of Ireland's performance in depth elsewhere but it's worth examining the opening 19 minutes from Ireland in light of the two Tests ahead.
It will be fascinating to see how Ireland perform with, they hope, 15 players on the pitch for 80 minutes in Johannesburg next weekend.
This year's Six Nations suggested Ireland's attack was moving forward and the opening exchanges yesterday backed that impression up.
Strike with width
The first of 10 penalties conceded by South Africa [Ireland gave up seven] yesterday came directly from kick off as JP Pietersen clattered into the airbourne Devin Toner. Toner was a vital figure on the restarts for Ireland, as well as elsewhere.
Ireland kicked the resulting penalty up the line and launched their first attack of the evening. Immediately, they went to width.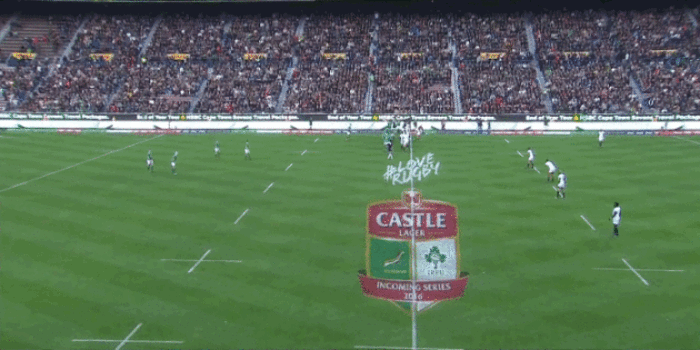 Jamie Heaslip is the man who takes the lineout ball and pops to Conor Murray after landing back on the ground, before Paddy Jackson fires his pass to Robbie Henshaw behind the flat decoy-running Luke Marshall and in front of left wing Keith Earls short to his right.
It's interesting to note what the South Africa defence is expecting as the ball lands in Henshaw's hands.
Left wing Lwazi Mvovo shoots up to join the line and appears to think Henshaw is either going to carry or hit Payne directly outside him.
We can see above that Lionel Mapoe is in a good position to drift onto Payne but Mvovo has closed on the Ireland fullback and now there's space outside the wing for Henshaw to find.
To see Ireland's outside centre throwing a pass like this early in a game is encouraging.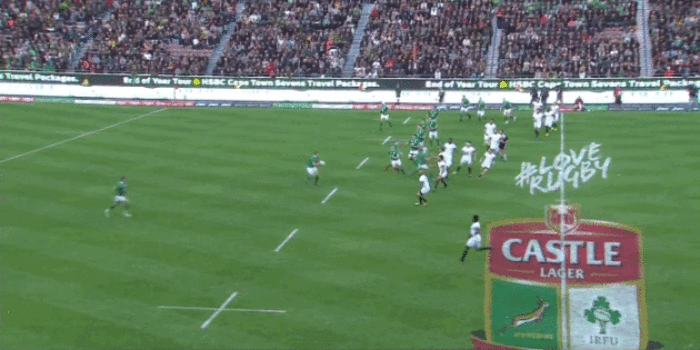 The 22-year-old has been heavily used as a battering ram by Ireland in recent seasons, which is understandable given his pre-contact footwork and power through the tackle. The impression has always been that Henshaw is capable of more, however, and moments like this back that up.
Henshaw's more direct carrying [he always uses his feet well to find a softer shoulder] will remain important but it's positive to see Schmidt using Henshaw's distribution now that he's in the 13 shirt.
The long left-handed pass allows Andrew Trimble to make the gains for Ireland up the right-hand 15-metre channel and two phases later, the Boks infringe again, allowing Ireland to kick up to the 22.
The flash of width from Ireland early in the game echoes what they did against England in the Six Nations. A broad attacking palate from Ireland is desirable and will keep the opposition guessing but the width will continue to be married with more direct play and a strong kicking game.
Tester for Mvovo
Having earned good field position, Ireland's next attacking tactic was to test Mvovo's assurance under kicks and again they got good reward.
After a lineout peel to the tail produces negative yards as Jack McGrath is driven back in the tackle of Faf de Klerk and Pat Lambie, Murray puts up the contestable kick.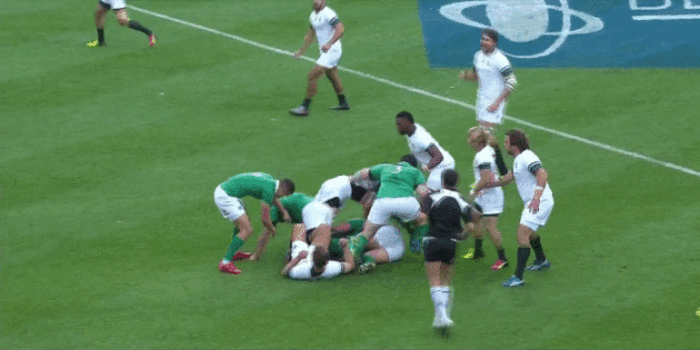 This type of wing-testing kick early in the game is well established for Schmidt's Ireland at this stage. They like to challenge one or more of the opposition back three to deliver under the high ball before being properly settled into the game.
On this occasion, Ireland's analysis tells them that Mvovo may not be the most comfortable and Murray picks him out, getting around three seconds of hang time to allow Trimble to get in the air and force the error from Mvovo.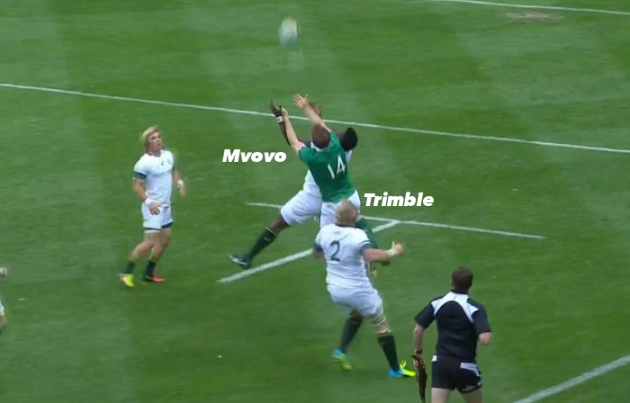 Again, this is a central tenet of Ireland's play under Schmidt – get off the ground on kick chase. Even if the chasing player isn't going to win the ball back directly, their job is to force the mistake from their opponent.
In this case, the match officials call a knock-on against Mvovo and suddenly Ireland have an attacking scrum 10 metres from the South Africa tryline. Unfortunately for Schmidt, Mathieu Raynal awards the Boks a free-kick at that scrum as Murray delays his put-in.
A negative outcome on the first possession platform in the opposition 22 but certainly Ireland will have felt they imposed themselves on the game.
Kick return
A deep kick from the Boks in the ninth minute saw Payne run back at the hosts from his own 22-metre line.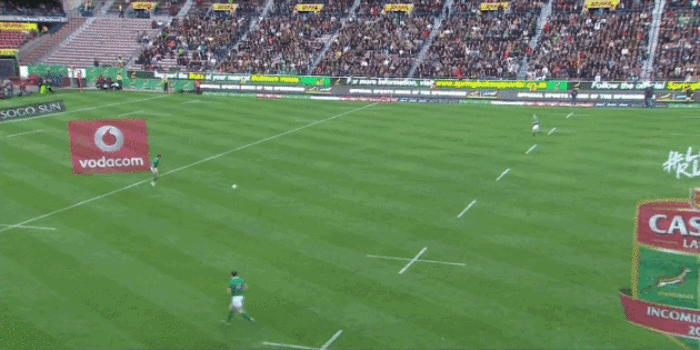 Clearly Payne has the chance to hammer this ball back at the Boks with the boot but Ireland's tactics early in this game, along with Payne's own attacking instincts, mean he instead returns with ball in hand.
He slips at the 10-metre line but the clearout work from Jordi Murphy, Mike Ross and Rory Best results in quick ball for Ireland to play off.
What's the next move? A one-out, direct carry to take that physical challenge to the Boks? No, Ireland want to play to the outside of South Africa's muscular defenders.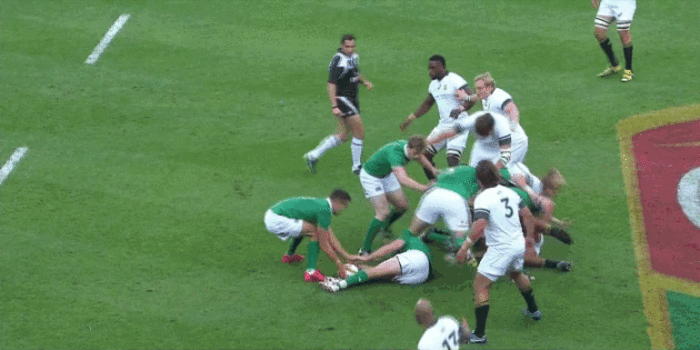 Devin Toner, whose skills are perhaps somewhat underrated, is the fulcrum of the forward pod to Murray's left as the scrum-half fires the ball from the base of the ruck.
Inside Toner is CJ Stander, while Jamie Heaslip and Jack McGrath are lined up to his left.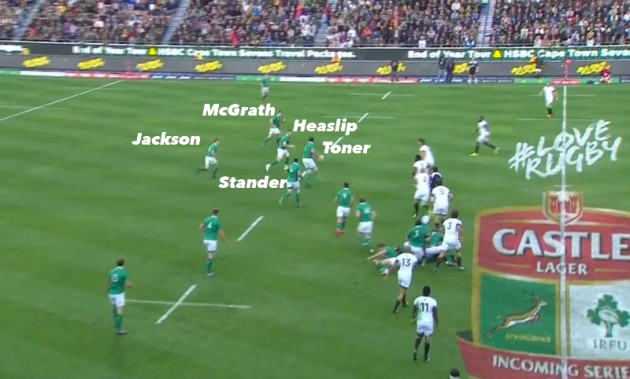 As we can see above, Jackson is hovering in behind Toner as the second wave and he proves to be the link as Ireland again move the ball wide to Keith Earls.
There is no big gain this time and Earls' grubber kick attempt bounces off Pietersen but again the intent from Ireland is positive. They're not keen to simply lump into contact, instead looking to attack to where the space is.
Furthermore, the use of a forward to pass the ball is welcome. Ireland have intermittently used this kind of play in recent seasons, with the likes of Toner and Heaslip passing the ball, but it does tend to fade out of their game in the more high-pressure contests.
Forwards passing the ball is not always the answer but it is certainly to Ireland's benefit if it is a genuine part of their repertoire at all times.
Marshall's magic
Ireland's second visit to the South Africa 22 yielded their first try through Payne, with the fullback taking advantage of Marshall's delightful grubber kick to finish well.
Some superb mauling work by Ireland's pack lays the platform for the Ireland score, as they first trundle the Boks 10 metres back starting near the 22 and then fire up again after Allister Coetzee's come in the side of that initial maul.
With advantage playing for Lood de Jager' deliberate collapse as Ireland head for the tryline, Schmidt's men strike.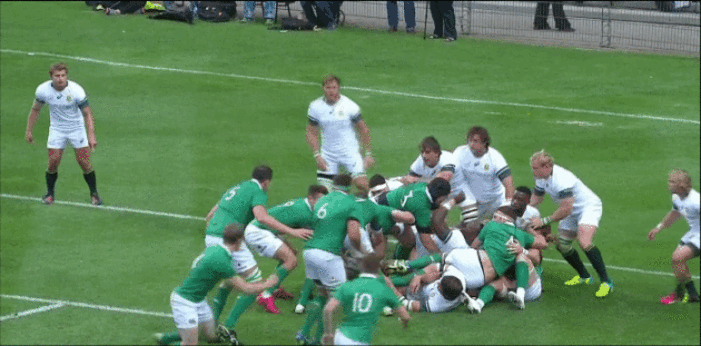 Stander's carry, above, on the second phase of the attack is crucial to the try being scored by Ireland.
Boks scrum-half de Klerk is always an eager defender despite his diminutive stature and we can see that he's needed as a tackler as Stander carries off the collapsed maul.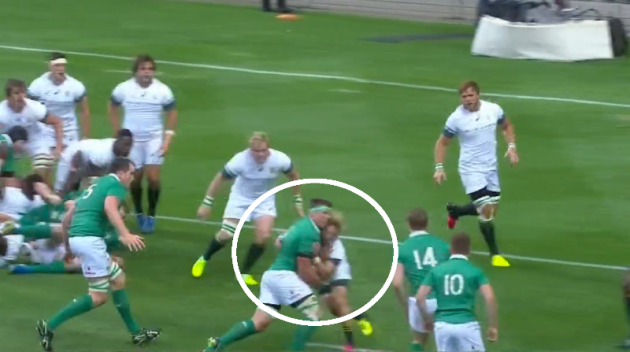 It's de Klerk who halts Stander's surge for the tryline and this obviously removes him from the game on the next phase and – most importantly – on the phase after that.
As the scrum-half, de Klerk is generally tasked with being the man who sweeps in behind the frontline defence to cover any grubber or chip kicks from the attacking side. As we'll see, tackling Stander in the instance above means he cannot get back into position to sweep.
Ireland exploit that empty zone ruthlessly.
After Trimble and Toner aggressively clear Adriaan Strauss away from the ball following Stander's carry, Iain Henderson is the next ball carrier for Ireland as they move left.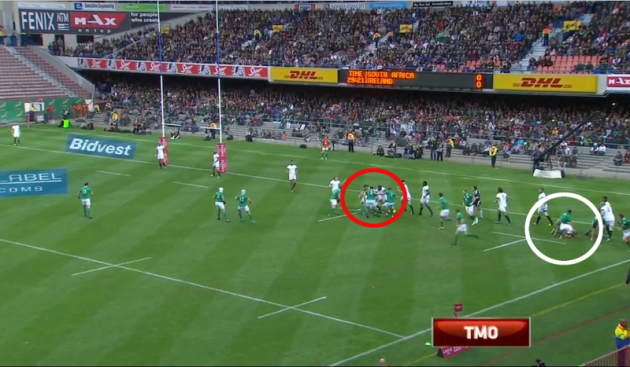 The red circle above indicates where Henderson is carrying the ball and we can see de Klerk circled in white, still on the ground after his tackle on Stander.
With the rucking work of McGrath, Ross and Murphy meaning Ireland get quick ball from the subsequent ruck, de Klerk has no time to even really think about getting into position to sweep.
Marshall and Ireland's backs realise the opportunity they have. It's unclear exactly who identifies the opportunity but below we can see the Ulster inside centre take command of the situation.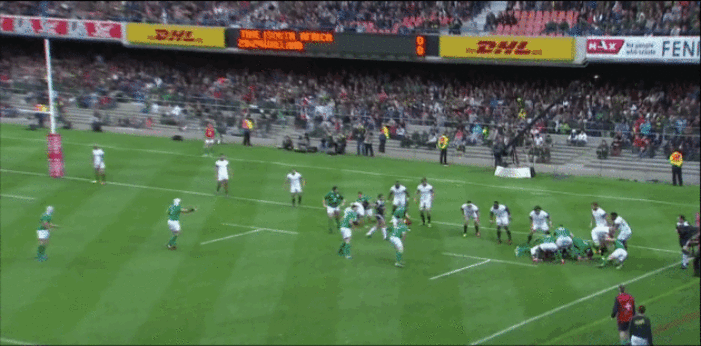 We can see below that Marshall is in behind Best as Henderson carries the ball to the left for Ireland.
Note too that Henshaw is communicating with Marshall, sending the message in.
"We're on, no sweeper," or words to that effect.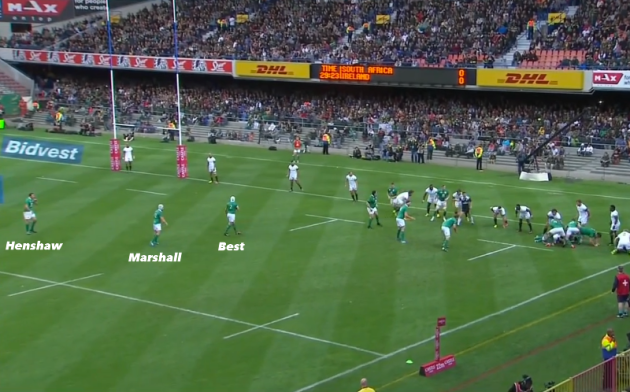 With that information to hand, Marshall takes control. His composure on his return to Test rugby was extremely impressive and this is a fine example of what he offered.
As a former out-half, Marshall is comfortable with making decisions. He had a nice balance of 4/4/5 on his kick/pass/carry stats overall yesterday, showing that he was utilised as more than a carrier at 12.
We see below that Marshall steps out in front of Best, directing him out of the way, and gives two big claps of the hands and a shout to Murray to deliver him the ball.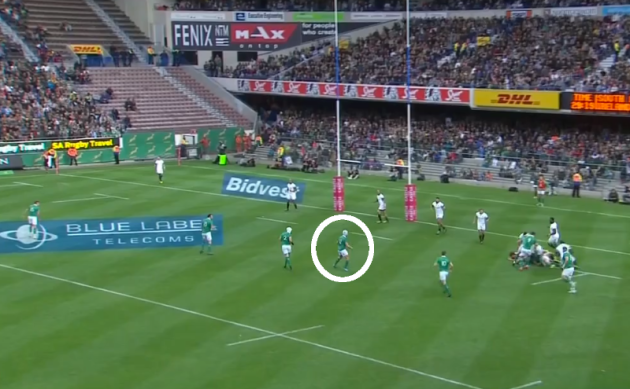 The actions of Henshaw and Payne outside Marshall are crucial to the try being scored.
Exclusive Six
Nations Analysis
Get Murray Kinsella's exclusive analysis of Ireland's Six Nations campaign this spring
Become a Member
Payne begins in a wide position and that width is important as it adds an extra stress for the Boks' midfield defence in having to worry about Ireland passing out to Payne and Earls.
Instead, Marshall produces the most delicious grubber kick, nutmegging Damian de Allende to find the space that is open without any sweeper in behind for the Boks.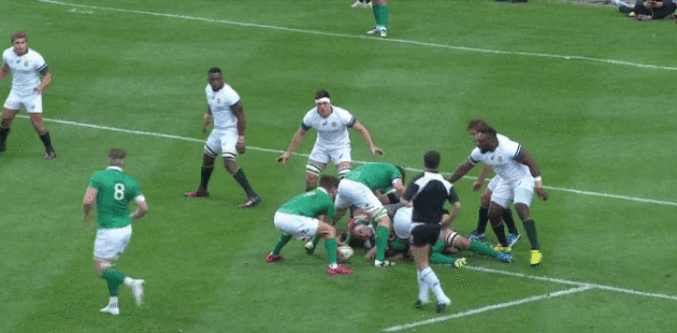 The kick is weighted almost to perfection as Payne bursts to the inside of the turning Pietersen.
Without any sweeper, Ireland's fullback has enough time to get to the ball and finish convincingly. Henshaw's effort to flood through is actually stopped by an instinctive but deliberate trip by Mapoe, which Raynal seemed to overlook.
All in all, it's a clinical exploitation of the available space by Ireland, with their identification, communication and execution all impressing.
Advantage is playing for Ireland but this remains a pressure situation. Marshall and co. manage it and deliver a seven-point reward. The yellow card for de Jager after collapsing the initial maul is the forwards' badge of honour.
Add-ons
With Lambie having slotted his first shot at goal after Heaslip competed for the ball while not supporting his own body weight legally, Ireland then produced a strong passage of play on their next visit to the Boks' 22 to earn three points and a 10-3 lead.
The attack originates with de Klerk's box kick exit, which Murray gathers before captain Best makes a pick and jam for negative yards.
Re-setting his team, Jackson uses Marshall to carry hard in midfield and then we see a lovely show of simple handling from Ireland out to the left.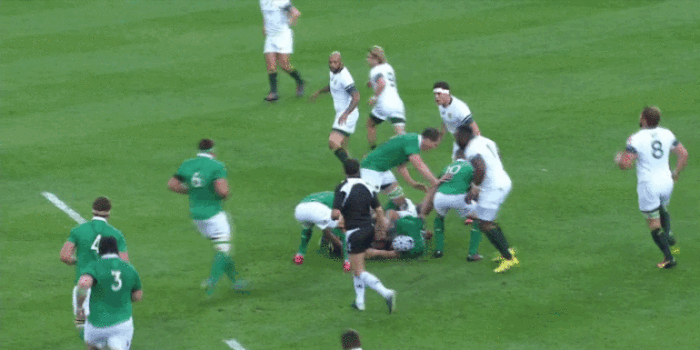 There's nothing intricate from Ireland here, just simple hands, but it's well done and takes advantage of the space the Boks are showing out on the left.
Murphy – who had another gorgeous pass to free Earls up the left in the second half – moves the ball to Payne when the easier thing to do is simply trundle into contact. Payne and Henshaw catch and pass to Earls, who is just about grounded by the advancing le Roux.
Ireland's handling was generally much-improved on the Six Nations in yesterday's win and simple but effective phases like the one above are encouraging as they look to continue to develop.
Following Earls' carry, Henderson and Heaslip make yards one-out from the ruck before a clever inside pass from Jackson allows Payne to make his first offload of the game.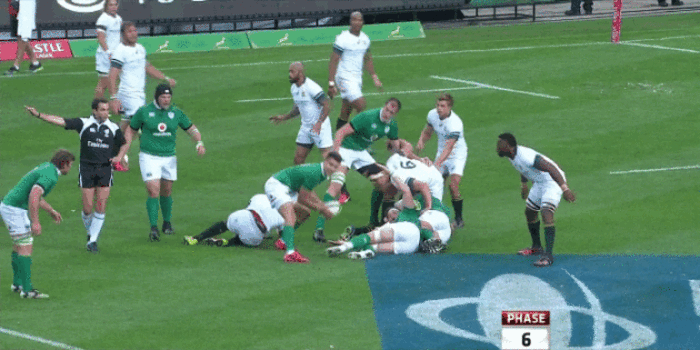 We will look at Payne's offloading and general play elsewhere but this is a lovely glimpse of what he offers when roaming around from fullback and inserting himself into play in the ideal place.
Following that inside pass, we see Heaslip tip on a short pass to Stander on his right shoulder.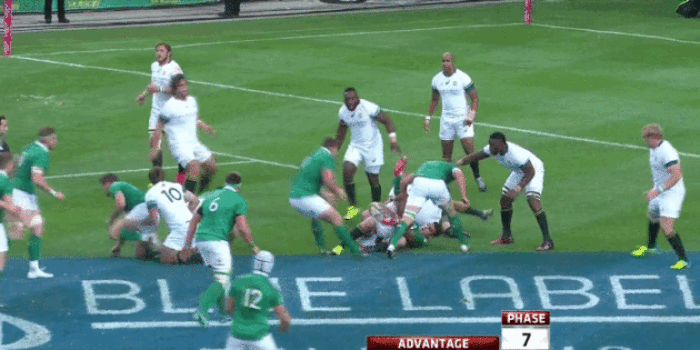 McGrath plays scrum-half above to ensure the tempo remains high – a pillar in Schmidt's Ireland when they attack in the 22 – and again it's basic handling from Heaslip.
But that simple tip-on gives Ireland another good gainline and asks even more questions of the Boks' defence.
With variety very much becoming the theme of this multi-phase passage from Ireland, Murray then screens two forwards runners to find Jackson in behind.
There's a nice clearout from McGrath in between and the quick ball allows Jackson to run at the Boks, drawing a high tackle from de Allende as their defence begins to stretch.
Ireland play the advantage with a bomb from Jackson but return to kick the penalty for their crucial 10-3 advantage after just 19 minutes.
There's nothing revolutionary about the above attack into the Boks' 22 but there is a pleasing variety that poses a number of different challenges for the defence. It's not simply one-out carrying where the carrier is clearly defined and ready to be smashed in the tackle.
Instead, Ireland showed a range of different tools to stretch the Boks' defence.
As we know, this game was altered utterly by Stander's red card in the 23rd minute but the opening quarter before that was impressive and positive from Schmidt's side.
Seeing what they can do with 15 men at altitude in Johannesburg will be fascinating.
- This article was updated at 4.32pm to correct the opening of the excerpt from 'Luke Marshall's try' to 'Jared Payne's try'.
The42 is on Snapchat! Tap the button below on your phone to add!