QUINTON FORTUNE TELLS a story about how Cristiano Ronaldo would stay behind after Manchester United training sessions, put on some ankle weights and go back to the pitch to practice some step-overs.
There was always a desire to be better and strive for more.
Many remember his formative years in the Premier League – the blonde highlights, the braces, the baggy shirt hanging over his shorts.
EMPICS Sports Photo Agency EMPICS Sports Photo Agency
He was fast and skillful but needed to work hard on other areas of his game. Rene Meulensteen told him his selfishness was costing him, that his pursuit of the 'perfect goal' was preventing him from scoring more goals and contributing more for his team.
For his first two seasons at the club, he'd agreed to bet on his goal return with Sir Alex Ferguson. The target for his debut campaign was 10. He managed six. The following season, the target was 15. He managed nine.
But something happened during the summer of 2006. Ronaldo had a target on his back after his role in Wayne Rooney's red card in their World Cup quarter-final clash but he returned to Manchester a different athlete.
"Physically, he changed from a boy to man", Gary Neville told The Independent years later.
It was like he left as a featherweight and returned as a light heavyweight. That brought him a level of power he didn't have before. His power output increased through his body strength. And in the course of that summer his decision-making seemed to have improved as well. Before, he would cross or go one-on-one rather than pass."
Between 2006 and 2009, Ronaldo would score 91 times for United. He would lift three Premier League titles, two League Cups, the Club World Cup and the 2008 Champions League.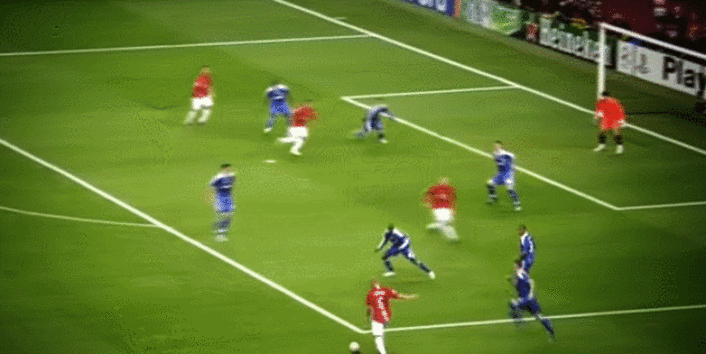 That night in Moscow, he soared through the air to send a superb header past Petr Cech for United's opener against Chelsea.
There had already been some excellent headed goals – namely against Roma in the quarter-finals – but this was different. As much as Michael Essien didn't get off the ground, Ronaldo seemed to 'hang' mid-air before powering the ball to the net.
And as he showed countless times since joining Real Madrid in 2009, he's fine-tuned and essentially trademarked that style.
Last night against Wales was yet another example.
So, how does he do it? Is he blessed with a naturally explosive aerial ability or does it reflect Ronaldo's dedication to his art?
Well, the scientists have already been tracking his remarkable physical condition and in 2011, it was the subject of a documentary – Ronaldo: Tested To The Limit.
JumboShit69 / YouTube
With state-of-the-art technology, a variety of his attributes were forensically analysed by a team of sports scientists
It established some key numbers: Ronaldo had 3% less body fat than a supermodel. He had a thigh circumference of 61.7cm. He could run 25m in 3.61 seconds – just 0.3 seconds slower than a professional sprinter.
And it all factors into his ability to climb so high in the air.
When measuring Ronaldo's leg power, he was instructed to jump straight in the air with his hands on his hips.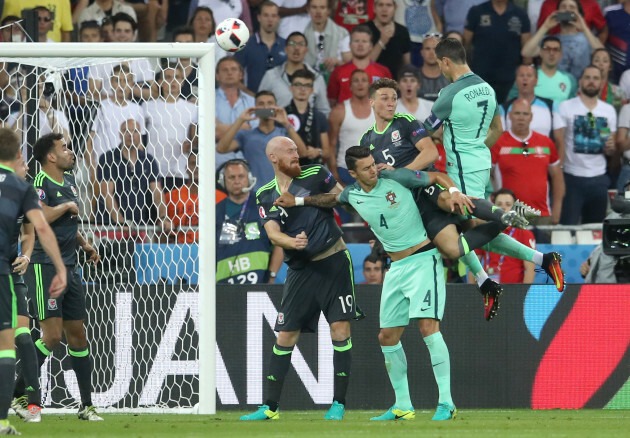 Petr David Josek Petr David Josek
The result was 44cm – very average.
But the experiment needed tweaking. Ronaldo would never adopt that position when heading a ball during a game.
Exclusive Six
Nations Analysis
Get Murray Kinsella's exclusive analysis of Ireland's Six Nations campaign this spring
Become a Member
So, they measured him as he stepped into a jump and was able to use his hands to gain extra elevation, as you would in any sports discipline.
Using his body conditioning – those muscles in his legs that were so well developed and maintained – Ronaldo jumped 78cm, higher than an average NBA player (71cm).
The force Ronaldo used to push off was almost 5g – similar to what an astronaut experiences during take-off.
Furkan Akın / YouTube
But the test also revealed just how aware Ronaldo is of his technique.
He brings his legs and knees up during a jump, tucking them behind his backside. It raises his centre of gravity and also gives the impression that he's hanging in the air.
Ronaldo knows his approach gives him something extra and sticks rigidly to his own unique style.
It's certainly markedly different to what he was doing pre-2008 and a testament to his desire to become the best – something he's had for a very, very long time.
The42 is on Snapchat! Tap the button below on your phone to add!