THOSE EXPECTING AN announcement on Joe Schmidt's future this summer might be waiting a little longer yet.
Back in May, the 50-year-old said he would be making a decision on whether to extend his Ireland contract through until the 2019 Rugby World Cup following the June tour to South Africa.
Dan Sheridan / INPHO Heaslip would love Schmidt to stay until 2019. Dan Sheridan / INPHO / INPHO
More than six weeks have ticked by since the disappointing conclusion of that Test series – Schmidt spent three of those weeks in his native New Zealand – but there has been no confirmation of any such decision.
The IRFU's offer to extend Schmidt's deal, currently set to expire in June 2017, remains on the table, while the interest in Schmidt from Super Rugby heavyweights the Highlanders and the Chiefs is also still live.
The union says conversations continue between themselves and Schmidt, and stress that they are in no major rush to finalise anything. It may even be mid-September before we get the official confirmation on whether or not he is staying beyond 2017.
Schmidt is back in Ireland now and has launched into preparations for the November Test, when his side face New Zealand twice, as well as playing Canada and Australia.
The Kiwi will bring together his Ireland squad for a three-day training camp later this month, from 21 August until 23 August, to accelerate the process he hopes will lead to a first-ever victory over New Zealand. The upcoming Rugby Championship will provide Schmidt with ample footage for analysis of the Kiwis, but he must reach his decision in the coming weeks too.
Unsurprisingly, the message from Ireland's players is that they hope Schmidt will re-sign until the 2019 World Cup in Japan. Number eight Jamie Heaslip, a trusted lieutenant of Schmidt's, has added his voice to that chorus.
"From a purely selfish point of view and for the team, I think everyone would love Joe to stay here," said Heaslip yesterday. "But, you know, things happen, things change and we'll see where the cards fall.
"I would love it if Joe was here all the way through to the next World Cup, I think a lot of players would as well. I think a lot of players benefit under his tutelage in Ireland camp."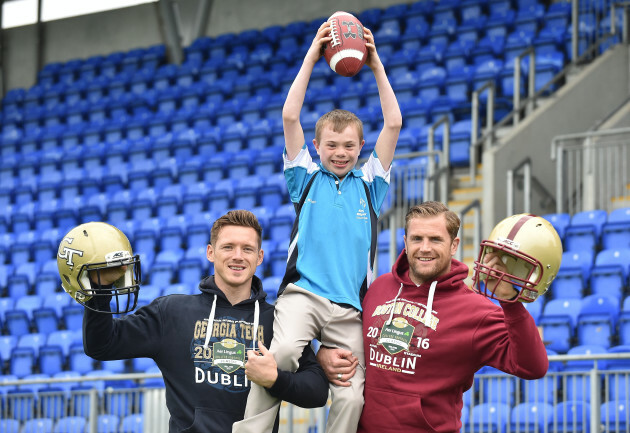 SPORTSFILE Three high school American Football games will be played in Donnybrook Stadium next month, with proceeds going to Special Olympics Ireland. SPORTSFILE
At the age of 32 and with 88 Ireland caps on his CV, Heaslip feels he is still learning from Schmidt. The Leinster back row stresses that the demands Schmidt places on his players will continue to drive high performance, if the Kiwi stays.
From time to time, whispers emanate from Ireland camp that Schmidt's relentless nature can be fatiguing, but Heaslip welcomes that aspect of his coach's approach.
"Joe is a driven man," said Heaslip. "He expects high standards at training and culture is a big thing for him. He's always watching, he is always watching. Joe just wants you to know your shit.
"He places different pressures at different times on players. He places a lot of pressure on training and expects you to know it. Training isn't time to learn, it's time to execute. You've got to do a lot of work off the field, he expects that.
"He expects you to deliver on the basics done well. He makes you be a good pro because he makes you cover all your bases, to make sure that everything you can do is done coming into a game or a really busy period. Then he's always watching the videos, he's always watching.
"You've got to know in the back of your head that if someone makes a linebreak, get upfield. Because if they score or someone else scores, he will pull the video back and make sure that everyone ran up the field and didn't just sit back and wait. I've got caught out on that before!"
If Schmidt is to bring his famous video expertise back to New Zealand next summer, along with the rest of his coaching skills, it will be fascinating to see where the IRFU turn next.
Performance director David Nucifora said in June that there is enough "coaching intellect" in Ireland to provide a number of options to potentially succeed Schmidt, name checking Ulster director of rugby Les Kiss and Ireland defence coach Andy Farrell.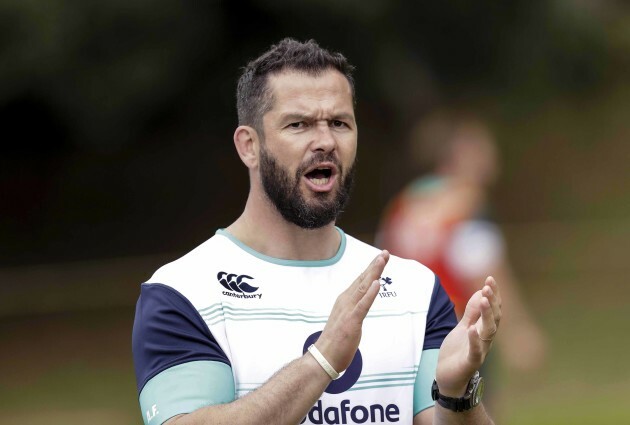 Billy Stickland / INPHO Heaslip praised the impact of Farrell in South Africa. Billy Stickland / INPHO / INPHO
Connacht's Pat Lam would be in the mix too, given the western province's rise under his watch. If the IRFU were to look abroad, current Chiefs boss Dave Rennie appears to be an ideal candidate, particularly given his desire to move to Europe next year.
The above is hypothetical, of course, and the IRFU remain hopeful that Schmidt will agree to extend his contract.
Once the matter is resolved, Schmidt can focus wholly on the challenge that awaits against his native New Zealand later this year.
Heaslip is excited by the prospect of having another two shots at the Kiwis under Schmidt, with the heartbreaking 2013 defeat in Dublin remaining fresh in his mind.
It's a great opportunity," said the number eight. "You always want to play the best and go up against the best.
"[2013] is up there with one of the things that irks me most in my career. We had two minutes to win a game against the All Blacks, do something that we've never done, just like the summer [against South Africa]. They're a good side and we sat back a little. You can't do that against good sides.
"You've got to attack with and without the ball for the entire 80 minutes and they showed their class. That's why they're back-to-back world champions. To go up against the best of the best, be it in Chicago or the Aviva, is a great opportunity. They know that as well.
"They've a record where we've never beaten them so they're thinking 'We don't want to be the first team to lose to Ireland.' It's a great collision of two different mindsets and two very, very proud teams."
Jamie Heaslip and Paul Flynn have been unveiled as Honourary Chairmen for the three high school American Football games that will be played in Donnybrook Stadium on Friday 2 September. The three showcase games will mark the opening of the Aer Lingus College Football Classic and will see all proceeds going to Special Olympics Ireland. For more information and tickets go to www.collegefootballireland.com.
The42 is on Snapchat! Tap the button below on your phone to add!