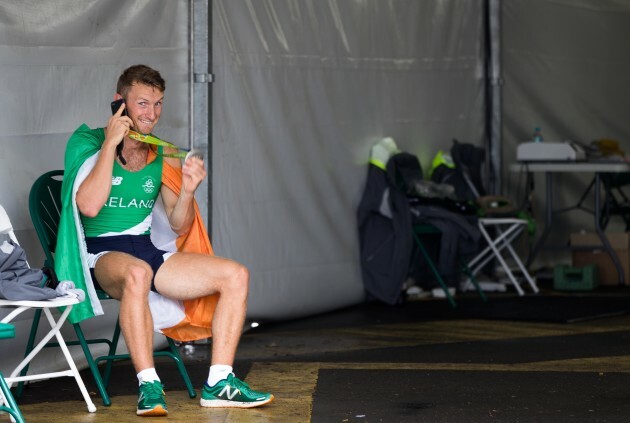 Morgan Treacy / INPHO "We did it!" Gary O'Donovan phones home after winning Olympic silver with brother Paul. Morgan Treacy / INPHO / INPHO
– Niall Kelly reports from Lagoa Stadium, Rio de Janeiro
GARY O'DONOVAN was the first man to walk into the room, tricolour draped around the shoulders that had propelled Ireland to an Olympic silver medal about 90 minutes earlier.
He tapped the mic in front of him. "Is this on?"
For a 23-year-old who was barely known outside of rowing circles before this week, he's far from shy when he finds himself in the spotlight.
Norway's bronze-winning crew of Are Strandli and Kristoffer Brun joined him at the top table, leaving space for the French gold medallists to sit front and centre at what, by rights, should have been their press conference.
The older O'Donovan, buzzing, wasn't in the mood for hanging around, not even for brother Paul who joined proceedings a few minutes late.
"Where are you from – Germany?" he asked, turning to the official who had arrived on his right shoulder.
"We beat your boys," he laughed, and then decided to kick off his own press conference, peppering his Norwegian friends with questions.
The O'Donovans, Strandli and Brun share a rare rapport for competitive rivals. "When we qualified last year we had a bit of a party, a kind of a celebration-type thing, and Arie there took good care of me on a night out and he promised he'd do the same this time," Gary explained when asked about plans for this evening.
We beat him and I'm sure if he'd beat us, it would have been the other way around. We've got good friends over there who will look out for us while we're socialising around Brazil."
"We're good friends," Strandli concurred. "We take care of each other.
"We're great enemies on the water and really great friends afterwards."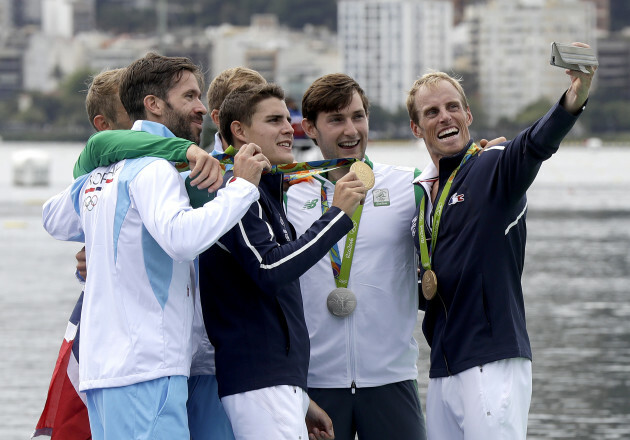 Luca Bruno France's Jeremie Azou takes a very Olympic selfie with the Irish and Norwegian crews. Luca Bruno
There was little to separate them out there when it mattered. The Norwegian crew crossed the line just 0.16 seconds behind the O'Donovans; on their other side, there was only 0.53 seconds splitting Ireland's newest heroes and France's Pierre Houin and Jeremie Azou, now Olympic champions.
Houin was the ace up the French sleeve, selected for Rio at the expense of Stany Delayre, Azou's long-time partner with whom he won the world championships in 2015.
"Once we got qualification we set ourselves the goal of winning the Olympics in Rio," Gary explained when asked how Ireland's double act, only rowing together since 2014, had managed to join the world's elite so quickly.
At the time we knew we had to beat one of the greatest doubles that there ever has been in France. Then they went and made their boat a little bit stronger again.
"That was another challenge but we've been training our best and doing the hardest work we can to put ourselves in a position to win. We're very happy to come away with a silver medal."
Exclusive Six
Nations Analysis
Get Murray Kinsella's exclusive analysis of Ireland's Six Nations campaign this spring
Become a Member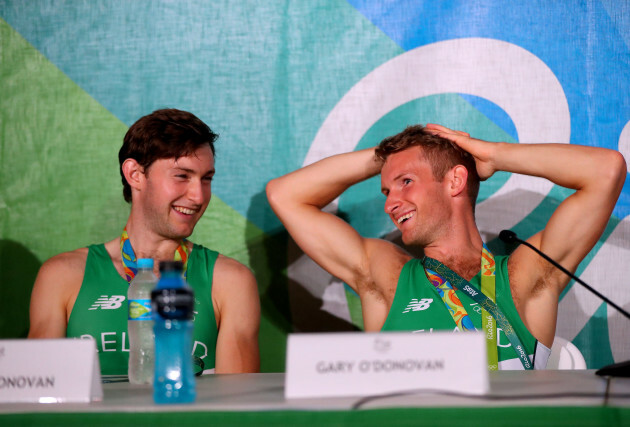 James Crombie / INPHO "The way things are going, we'll have to start patenting a lot of words we use." James Crombie / INPHO / INPHO
Virtually every answer was accompanied with a nudge and a wink, the brothers' skittish charm obviously not just reserved for the audience watching back home.
"It isn't too complex really," Paul had told RTÉ when asked about their strategy for today's final.
"A to B as fast as you can go and hope for the best. Close the eyes and pull like a dog."
Any plans to leverage their Olympic fame and glory to cash in on what has become, overnight, their trademark phrase?
"We haven't thought that far ahead," Gary smiled. "The way things are going, we'll have to start patenting a lot of words we use.
Ah no, it's all good. It's just a bit of fun. We're enjoying what we're doing. We've had a great regatta.
"We always said that this sport of rowing is hard enough as it is so we try to make it as easy as we can."
Ireland's RowBros are racking up friends at home and abroad; Rio is going to see some party tonight.